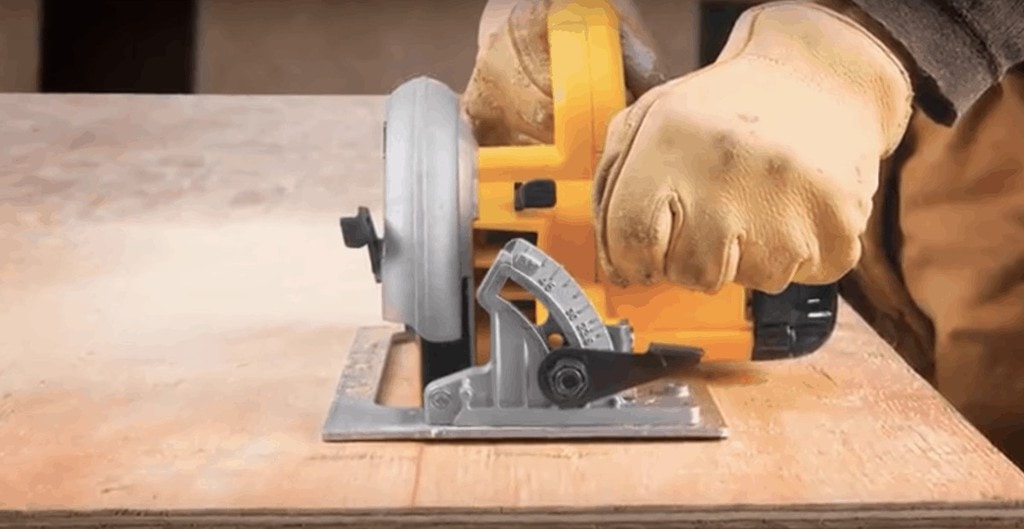 Look into any handyman's tool bag and you're sure to find the best circular saw. It is easily one of the most essential tools for any project that requires the cutting of wood. Whether building anything from decks to tree houses one thing is for sure, your circular saw will get used.
Our circular saw buying guide will help you narrow down a few of the top models on the market.
Needless to say, there are literally hundreds of different options – for all budgets. We're here to help you decode all the choices so you can pick the one that's going to be best for you and your needs.
When beginning your search for the best circular saw for you, there is one thing you will notice right away…the distinctions between circular saws aren't always obvious. You can find one circular saw and think "looks good to me", and right next to it is another and nothing seems noticeably different. Yet, there is a one hundred dollar price difference.
In this guide, I've attempted to find eight circular saws across a range of prices and platforms. Each saw is unique, which is good because so are people. Hopefully there is a saw here that gets your attention.
The Hitachi C7ST has distinct styling, a powerful motor and low center of gravity. Bosch brings us the CS5 and its left-blade design that can make the lives of right-handers much easier. Makita has some feature rich powerhouses if that's your thing.
It all comes down to what is important to you, the operator.
Two Types of Drives for Circular Saws
There are two styles of drive for circular saws: sidewinder and worm drive. Sidewinders are also known as direct drive. These are the most common type of circular saw and are likely the ones you are most familiar with.
Worm drive circular saws are slightly different. They use a worm gear to run the blade and as a result they are longer than the more compact sidewinders. Worm drive circular saws also tend to keep the blade on the left versus the right which is most common in sidewinders.
Worm drive saws tend to be a lot heavier, much more expensive, and they require oil to keep them lubricated. They are best suited for regular, heavy duty use and abuse. They don't do anything else significantly better than a sidewinder other than take the abuse a contractor would dish out.
However, there are plenty of sidewinder circular saws that will stand the test of time even for someone who uses them on a daily basis. There are probably more than a few people who would love to slap me for this, but for the average homeowner I just can't see owning a worm drive circular saw over a sidewinder. For that reason, no worm drive saws are on this list.
Best Circular Saws Summary
DeWALT DWE575SB 7 ¼-inch, 15-amp Circular Saw
The DeWALT DWE575SB is designed for durability and ease of use. The lower guard is a ball bearing design which allows for smooth retraction. The shoe is made up of high grade stamped aluminum that provides a durable and accurate base for cutting. There is even a built-in dust blower that clears the cut line while cutting.
The DeWalt DWE575SB is an very light saw at only 8.8 lbs and powerful reaching up to 5,100 RPM. It will also make bevel cuts up to 57° with stops at 22.5° and 45°. The cutting depth is tops too at 2.55 inches at 90° and 1.9 inches at 45°. But perhaps one of the best features is the electric brake which will quickly bring the blade to a halt when the trigger is released.
The bottom line is the DeWALT DWE575SB is a well-balance, light, and powerful saw that runs smoothly and ranks high on safety due to the inclusion of an electric brake.
Facts and Features of the DeWALT Circular Saw
90° cutting depth of 2.55 inches
45° cutting depth of 1.9 inches
Bevels up to 57° with stops at 22.5° and 45°
Very light, weighs only 8.8 lbs
Right side blade
Electric brake
Spindle lock
Dust blower
Hitachi C7ST 7 ¼-inch, 15-amp Circular Saw
Hitachi is an often-overlooked brand but consumers should be paying closer attention to this relative newcomer to the power tool world. The company's first product was Japan's first 5-horsepower electric induction motor. Hitachi power tools are great quality and relatively inexpensive.
The C7ST will offer you a powerful 15-amp motor boasting up to 6,000 RPM. You won't find much you can't do with the Hitachi C7ST circular saw. This circular saw is well-made, strong, and durable. The base is steel and aluminum and offers easy-to-read side scales. It's also light at 9.5 lbs.
The price on the Hitachi C7ST is on the lower end of the range for this group. With the Hitachi C7ST you are getting a capable, reliable circular saw at a great price.
Facts and Features of the Hitachi Circular Saw
90° cutting depth of 2.44 inches
45° cutting depth of 1.875 inches
Bevels up to 45°
Light weighing in at just 9.5 lbs
Right side blade
Soft grip handle reduces vibrations to hands
Single-hand depth and bevel adjustments
Spindle lock
Dust blower and dust chute
5-year warranty
Bosch CS5 7 ¼-inch, 15-amp Circular Saw
The Bosch CS5 is a lightweight saw with a lot of grunty power. The 15-amp motor will reach a no-load speed of 6,200 RPM. I have a friend that uses this saw every day. Let's call him Eric. Eric builds decks for a living and has put the Bosch CS5 circular saw through the proverbial ringer.
Eric has had the Bosch CS5 for about a year now and has boasted that this little monster will cut through anything. He frequently uses the Bosch CS5 to cut through hard woods like Grappa and wet pressure-treated 2x's.
The Bosch CS5 has an anti-snag lower guard which allows you to continue cutting without having to retract the guard, which is a pretty nice feature for seamless transitions or tricky cuts. The most notable feature is that it is a left-blade saw which some people prefer over a right-blade saw whether they are right-handed or left-handed. A left-blade saw with a right-handed person allows the operator to better see their cut-line. However, since the CS5 lacks a dust blower, it might end up as a wash.
The Bosch CS5 circular saw is a mid-range priced saw. However, for a left-blade designed saw it is actually quite affordable. Generally, a left-blade design means you'll pay a little more – but the Bosch version is competitively priced.
Facts and Features of the Bosch Circular Saw
90° cutting depth of 2.44 inches
45° cutting depth of 1.875 inches
Bevels up to 56°
Weighs an even 10.0 lbs
Left side blade
Spindle lock
Anti-snag lower guard so you don't have to retract the guard before a tricky cut
Makita 5007MG 7 ¼-inch, 15-amp Circular Saw
Makita seems to have a great understanding of how to balance some useful features with a capable saw. The saw includes a number of magnesium components that are durable but light. The 15-amp motor is powerful and produces 5,800 RPM.
Two of the most notable features really play very well with one another. Those are the two LED work lights and the integrated dust blower. Both will allow you to clearly see your cut-line and ensure you are getting the most accurate cut you can. The scales on the shoe and the bevels are easy to read and all adjustments can be made with a single hand.
The Makita 5007MG is on the upper end of the price range and that is understandably a deal breaker for some. But Makita tools are known for having a long and reliable life and this saw in particular seems hard to improve upon.
Facts and Features of the Makita Circular Saw
90° cutting depth of 2.5 inches
45° cutting depth of 1.75 inches
Bevels up to 56° with stops at 22.5° and 45°
Single-hand depth and bevel adjustments
Durable but light 10.6 lbs
Right side blade
Spindle lock
Dust blower
Two LED work lights
Easy-to-read scales
SKILSAW SPT77WML-01 15-Amp 7-1/4-Inch Lightweight Worm Drive Circular Saw
If you've been sleeping on the SKILSAW brand, you've missed a lot recently. SKILSAW has become a serious contender in the power tool market with recent additions of high quality and affordable products. One of those products is the lightweight worm drive SKILSAW SPT77WML Circular Saw. At 11.6 lbs, sporting 53 degree bevel, and 15 amps of power, this thing is a beast and, if you don't mind me saying, quite a looker as well. Aside from the worm drive, the SKILSAW SPT77WML Circular Saw has some really cool features that you won't find on many other circular saws. Our favorite feature just might be the "cut ready" indents at 1/4 in, 1/2 in, and 3/4 in for super easy and quick adjustments. Why worm drive over a traditional circular saw? I'll tell you why. Because it's finally affordable to have a circular saw that is super tough and has the torque to make those difficult cuts. Because why choose a weaker circular saw when you can have a workhorse worm drive circular saw for a comparable price. The SKILSAW SPT77WML Circular Saw is a no-brainer really.
Facts and Features of the SKILSAW Circular Saw
Worm drive for tons of torqueSuper lightweight construction decreases fatigue. Cut Ready indents for easy adjustments. Broad range of cuts up to 53 degree bevel. 15 amp best-in-class dual-field motor. Anti snag lower guard.
The Best Cordless Circular Saws
Ryobi P507 6 ½-inch, 18-Volt Circular Saw
Ryobi's P507 cordless circular saw puts its emphasis on getting good, solid performance for a low price. This price moves even lower if you have already built a collection on the Ryobi ONE+ platform. But if you haven't, those will obviously add to the cost.
The P507 doesn't have any major features such as work lights, dust blowers, or lasers and that's to be expected for the price. But the P507 does produce plenty of cutting power at 4,700 RPM and does have a left side blade to help you watch your cut line.
With the 6 ½-inch blade you'll be able to cut to a depth of just over 2 inches at 90° and just under 1 ½ inches at 45°. The P507 will bevel up to 56° and weighs an astonishing 5 lbs before you install a battery.
Overall, this is a great cordless saw for the price and if you're the type of user who doesn't want any frills.
Facts and Features of the Ryobi Circular Saw
90° cutting depth of 2.06 inches
45° cutting depth of 1.44 inches
Bevels up to 56°
Single-hand depth and bevel adjustments
Only 5 lbs (without battery)
Left side blade
Spindle lock
Milwaukee M18 Fuel 2731 7 ¼-inch, 18-Volt Circular Saw
The M18 Fuel 2731 from Milwaukee is a very powerful, well-designed, and capable saw. It's also the only 7 ¼-inch cordless circular saw on the list. The 18-volt motor produces up to 5,000 RPM and carries enough juice to make 300+ cuts. That should be more than plenty for your average homeowner.
Milwaukee has used magnesium in the blade guard and shoe to keep durability high and weight low as this saw weighs only 9 lbs with the battery. They've also included some key features such as an LED work light, easy-to-read scales, and an integrated rafter hook.
Milwaukee is known for top notch products and the fact they back the M18 Fuel 2731 with a 5-year warranty demonstrates that they put their money where their mouth is.
Facts and Features of the Milwaukee Circular Saw
90° cutting depth of 2.5 inches
45° cutting depth of 1.875 inches
Bevels up to 50°
Single-hand depth and bevel adjustments
Weighs only 9 lbs with battery
Right side blade
Spindle lock
LED work light
Easy-to-read scales
300+ cuts on a charge
5-year warranty
DeWALT DCS391B 6 ½-inch, 20-Volt Circular Saw
Similar to the Ryobi, the DeWALT DCS391B focuses on function with aggressive power and keeping the cost down. This saw runs on a stout 20-volt motor up to 5,1250 RPM that powers through even 45° bevel cuts in 2x material with moxie.
It can bevel up to 50° but even at 45° you will be barely clearing 2x material. DeWALT has gone with a magnesium shoe to ensure durability but the lower guard is plastic. This plastic lower guard is a bit of a conundrum, given how much abuse the lower guard takes, and for some users is a deal breaker.
The DCS391B is available for a decent price but that doesn't include a battery or charger. If you already own tools on the 20V Max platform then this saw is a great addition. If not, then you'll need to pick up a charger and battery at a significant additional cost.
Facts and Features of the DeWALT Circular Saw
90° cutting depth of 2.25 inches
45° cutting depth of 1.625 inches
Bevels up to 50°
Single-hand depth and bevel adjustments
Weighs 7 lbs without battery
Left side blade
Spindle lock
Makita XSH03Z 6 ½-inch, 18-Volt Circular Saw
If you like a premium saw with tons of features and supremely innovative technology, you will love the XSH03Z from Makita as it is loaded. It has LED work lights, an electric brake, a dust blower, a battery charge indicator, and more.
Make no mistake though, the XSH03Z has plenty of go included with its show. The BL brushless motor creates 5,000 RPM and bevels up to 50°. It has a feature called Automatic Speed Change which will adjust the speed of the blade and torque on the fly depending on the saws needs.
This saw is also built using plenty of magnesium on the shoe, upper guard, and lower guard which keeps this saw at a very light 7.3 lbs. This all adds up to a premium saw which commands a premium but definitely not unreasonable price. All in all, there is a lot to love about the XSH03Z.
Facts and Features of the Makita Circular Saw
90° cutting depth of 2.25 inches
45° cutting depth of 1.625 inches
Bevels up to 50° with a stop at 45°
Single-hand depth and bevel adjustments
Weighs only 7.3 lbs with battery
Left side blade
Spindle lock
Two LED work lights
Easy-to-read scales
Automatic Speed Change alters the speed of the blade depending on the difficulty of the cut
Battery life indicator
Electric brake
Dust blower
Improved dust and water resistance for long life
Integrated rafter hook
DEWALT DCS577B FLEXVOLT 60V MAX 7-1/4" Worm Drive Style Circular Saw
As one of the most popular tool brands on the planet, Dewalt is thoroughly tried and tested. Add a cordless worm drive circular saw to the mix and you know you have a winner. The DEWALT DCS577B 60V 7-1/4" Worm Drive Circular Saw does not disappoint and certainly upholds the standards we've come to expect from such a legendary tool brand.Not only is this a 60V cordless worm drive circular saw, but the DEWALT DCS577B is a rear handled circular saw optimizing line of sight. Let's not forget the brushless motor delivering 5,800 RPM and up to 2,400 max watts output. If that isn't enough to convince you, the DEWALT DCS577B Circular Saw has an electronic brake designed to increase battery life and safety. Bevel capacity is 53 degrees and cuts up to a depth of 2-7/16 which will certainly suffice for most projects. Last but not least, Dealt offers its signature 3 year limited warranty.
Facts and Features of the DEWALT DCS577B
Convenient rafter hook to hang your tool when not in use
Integrated dust blower
Electronic brake
Worm Drive
Powerful 60V Brushless motor
Rear handle for better handling and line of sight
PORTER-CABLE PCC660B 20V Max Lithium Bare 6-1/2-Inch Circular Saw
Bigger is not always better. Sometimes a larger tool can be excessive and its size can cause issues depending on the job. That's where the cordless PORTER-CABLE PCC660B 20V Max Lithium Bare 6-1/2″ Circular Saw comes in. This slightly smaller circular saw has a 6-1/2 in blade that is perfect for the DIY warrior. One of the greatest attributes about this circular saw is the fact that it only weighs 6.5 lbs whereas the average circular saw varies between 8-10 lbs. That's a whole 1.5 to 3.5 lbs lighter! Trust me, working a circular saw for any extended period of time can be exhausting, which can easily lead to serious injury. The PORTER-CABLE PCC660B 20V Max even bevels to an astounding 50 degrees for a less typical cutting application. Although this circular saw is somewhat smaller than normal, it still delivers over 4,000 RPM and has a cutting capacity of up to 2-1/8".
Facts and Features of the PORTER-CABLE PCC660B Circular Saw
Super lightweight at only 6.5 lbs
20V for up to 4,000 RPM
Cutting capacity up to 2-1/8"Non-traditional bevel up to 50 degrees
Very affordable
Makita XSR01Z 18V 36V Brushless Cordless Rear Handle 7-1/4″ Circular Saw
Rear handled circular saws are beginning to pick up steam and for good reason. Additionally, cordless circular saws have become less of a gimmick and more of a practical power tool. With the Makita XSR01Z 36V Brushless 7-1/4" Circular Saw, you get to experience the benefits of all of the above, in one solid package. Combining two 18V Lithium-Ion batteries, the Makita XSR01Z provides 36 powerful volts to handle the jobs previously reserved for the corded variety of circular saws. You are now free to roam without being held back by limited power. Pretty awesome if you ask me (which I guess you are). The brushless motor delivers 5,100 RPM and is controlled electronically for greater efficiency. Speaking of efficiency, the Makita XSR01Z made over 500 cross cuts of 2×4 lumber in a single charge. That's enough to get through just about any days work. If you've been wavering about taking the step into the cordless world of circular saws, the Makita XSR01Z might just put you over the edge.
Facts and Features of the Makita XSR01Z Circular Saw
Over 550 cross cuts of 2×4 in a single charge
Auto adjustments to speed and torque for greater performance
Brushless motor delivers 5,100 RPM
36V provided by two 18V L-ion batteries
Rear handled for greater comfort and visibility
Time for a Cordless Circular Saw?
Circular saws can be either corded or cordless (battery-operated). I've used both and they both have their strengths and weaknesses. I'll do my best to outline a complete list of why you would or why you would not choose each platform.
Best Circular Saw Guide – Corded Pros and Cons
A corded circular saw is in almost all instances more powerful than a cordless one. So, if you ever intend on being able to use your circular saw to cut through very hard woods or thick lumber a corded one is going to be your best bet. It's not that a cordless one can't make these cuts, but doing so will drain the batteries in a hurry.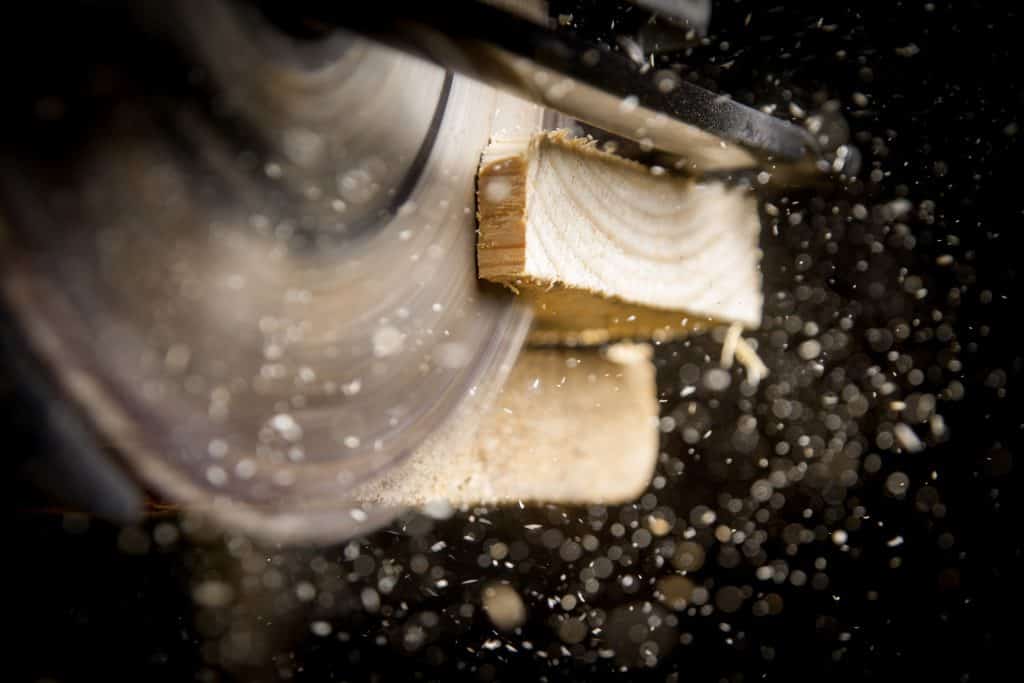 And uptime is another place a corded saw comes out ahead. If you have lots of cutting to do, you won't find yourself high and dry if the batteries run out. So long as you have an outlet nearby or an extension cord to reach one, you're golden.
But therein lies the only significant con of a corded circular saw, the cord. This means you'll be limited as to where you can do your work by the maximum length of your extension cord. Normally, this isn't much of a problem but when it is, there is next to nothing you can do about it. A good extension cord will also add to the overall cost of the saw you purchase unless you already have one.
Cordless Circular Saw Pros and Cons
The most obvious pro for a cordless circular saw is no cord. It may not seem like a big deal but imagine if suddenly your cordless drill had to have a cord on it. Still think it's not a big deal?
Not only does using a cordless circular saw allow you the freedom to take the saw virtually anywhere, but if you just wanna make a quick cut, you can. You don't have to find and untangle the extension cord before doing so.
Not having a cord means one less thing to manage, one less thing to forget. I know you can forget batteries but I can't count how many times I've taken an extension cord for granted and forgotten one. I haven't done that with my batteries. If you only do projects at home, this is less of an issue.
Cordless circular saws tend to be significantly more expensive than a corded one, if you need to buy the batteries to go with it. Often, the batteries will be a part of a larger platform and will be compatible with other tools that use the same style of battery.
This is good and bad. It simplifies things in that all your tools can use the same batteries, but it also means you need to buy into a single platform with a single brand. It narrows down your options. I like options. I also don't like the possibility of needing to completely replace my entire tool collection should a platform be discontinued.
One last thing, cordless circular saws tend to have smaller blades, usually about 6 ½ inches versus the more common 7 ¼-inch blades on corded saws. A 6 ½-inch blade is just barely enough to get through a 2×4 at 45°. Any smaller than 6 ½ inches severely limits the capabilities of the tool. There are some 7 ¼-inch cordless circular saws, but they are not as common.
About that Extension Cord
Not all extension cords are equal, they vary significantly on the amperage they are rated for. If you choose a corded circular saw, you'll need to ensure you also have an extension cord that can meet the power needs of your saw.
Failing to get enough power to the saw not only prevents the saw from performing at its maximum, but will also shorten the life of your saw. However, you can go bigger on the extension cord as the saw will only draw the maximum amps its built for. You just don't want the saw power starved. Generally, corded circular saws run in the neighborhood of 15 amps so you'll probably want to invest in a minimum of a good 14-gauge extension cord.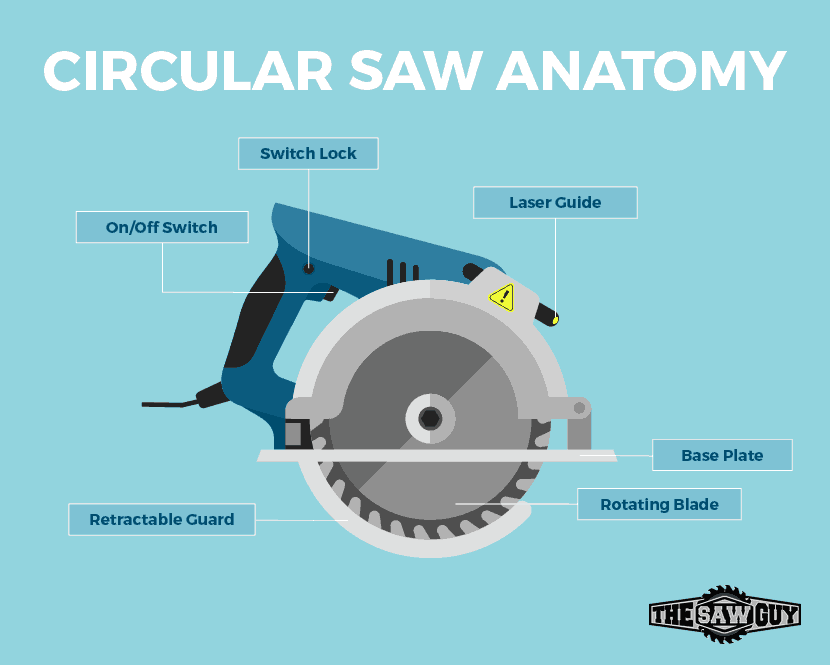 Circular Saw Features that Matter
Dust Blower
Using a saw creates dust and that dust will be thrown all over the place with careless abandon. Sometimes that means even your cut-line will get covered in sawdust making it difficult or impossible to see even with a laser or LED work light. Obviously, this can negatively affect the quality of your cuts.
This is less of an issue on short cuts (trimming a 2×4 for instance) as the cut is done before you get a whole lot of dust. But on longer cuts, and especially when ripping pieces down, this can be a big problem. Enter the dust blower.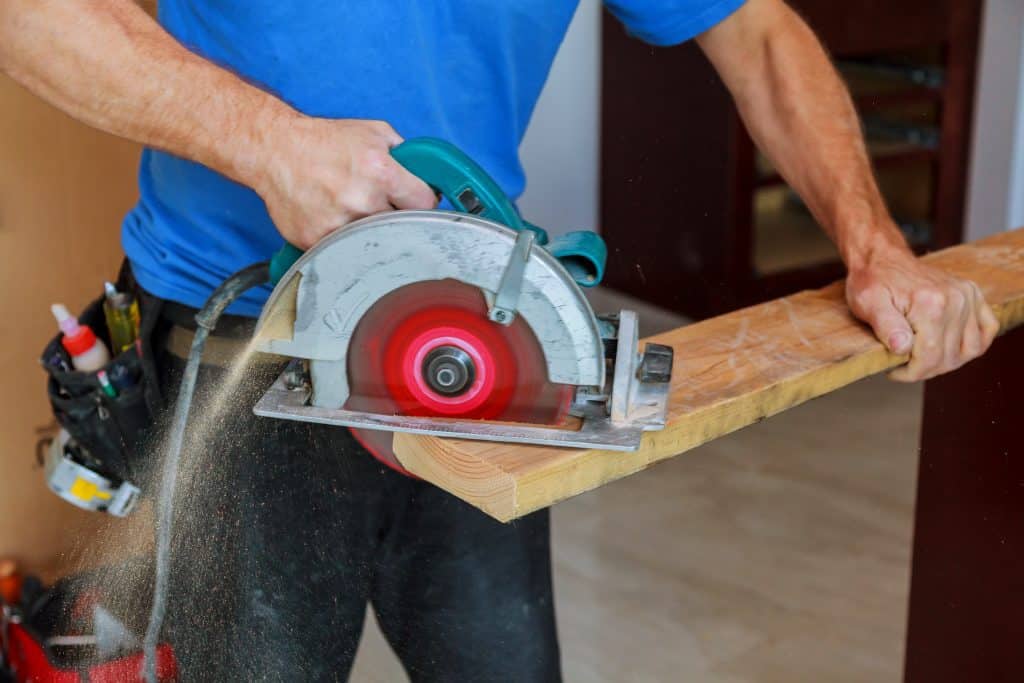 The dust blower is exactly what its name says it is, it blows the dust away that collects ahead of the saw when you're cutting. It really is a handy feature and pairs well with an LED work light or a laser.
Electric Brake
An electric brake will reverse the current in the saw to stop the saw blade very quickly once the trigger is released. In the best saws the electric brake can stop the blade in as few as 2 seconds.
This is a great feature because often we assume once we've released the trigger the saw is no longer running and therefore no longer dangerous. It's really easy to put your hands in the wrong place or to set the saw down while the blade is still moving, and that's an ugly scenario. An electric brake will drastically reduce the chances of this happening.
Laser Guide
While they sound cool and are fun to brag about, I haven't personally found them more than slightly useful for setting up a cut initially. Not only are they only nominally accurate, but once I've begun cutting, I'm too focused on paying attention to the guide on the shoe to really be able to use the laser. Combine that with accuracy problems on the lasers and I personally don't get a lot of mileage out of them.
LED Work Light
As opposed to lasers, this is a feature I can really get behind. An LED work light is a small flashlight on the saw that turns on when the trigger is engaged even a little. This makes seeing your cut-line significantly easier if you're in any place other than outside on a sunny day.
Even in my well-lit workshop, standing in the wrong place can throw a shadow on the work-piece and make the line harder to see. Couple the LED work light with a dust blower and you've got a really handy combination.
Cut Depth and Depth Adjustment
In general, a circular saw will be best suited to cutting 2x (or smaller) materials. It's not that you can't cut thicker material but it won't be your cleanest work as you'll have to rotate it. With regards to blade depth, you'll want the bottommost tooth to be able to pass through the material by about 1/8 to 1/4 of an inch.
So, all the 6 ½-inch and 7 ¼ -inch saws will be able to make a cut through a 2-inch piece of lumber at 90°. Things get a little trickier when we talk about beveled cuts. At 45° all the 7 ¼-inch saws will make it through with some room to spare but 6 ½-inch saws are cutting it really close. Literally. If you have a saw that goes beyond 45°, it can be hit or miss as to whether or not you'll be able to make that cut in 2x material.
Being able to adjust the depth of your cut quickly and easily is something you'll come to appreciate in a hurry. Many models allow you to make these changes using only one hand and some quick locking/unlocking levers, while others may require a little more effort.
If you plan on making a lot of beveled cuts with your circular saw, it's important to be sure the saw you select will have the depth to make the cuts you need it to make and that it's simple to adjust.
Bevel Capacity and Bevel Adjustment
A bevel cut is any cut where the blade is not perpendicular to the material. The ability to tilt the saw housing (or shoe depending on how you see it) is an almost required feature. I'm not even sure you could find a circular saw incapable of doing this and even if you could, the price couldn't be low enough to justify the loss in versatility.
However, some do the job better than others. For instance, some of the 6 ½-inch blade saws may not even make a 45° or better cut through 2x material and even if they had the depth, they may not have the oomph to get it done. There is a rare need to go over 45° but if that's something you anticipate you could need, then you'll want to make sure you find a saw with that capability.
Also, it goes without saying but bears repeating. A saw that is easy to change the bevel on is a confidence booster. Easy to read scales help ensure you've got the saw in the right place and stops will help take nearly all the fuss and worry out of some cuts.
Left Blade Circular Saw or Right Blade Circular Saw
What side of the saw the blade is on may seem superficial but it can definitely have a significant impact on your satisfaction with the saw. And if you aren't aware of the differences, it may make or break a saw for you.
Having said that, it is largely a matter of preference. Fair warning, I can only really speak about this as a right-handed person as I have never had the pleasure of being left-handed.
A right blade saw (where the blade is located on the right-hand side of the saw) is the traditional arrangement for a circular saw. In this configuration you guide the blade primarily by running the notch in the shoe along your cut line.
A left blade saw is just the opposite of a right blade saw. The advantage here is being able to better see your cut line as you are operating the saw. It seems like this would be the obvious, go-to way to design the saw but it's not without its disadvantages.
To begin with, a left blade saw will expel saw dust to the left-hand side instead of the right. This is directly where you'll be standing. This might mean a little extra mess on your clothes or worse, in your eyes.
The second disadvantage is where your body will be positioned if there is a kickback. With a right blade saw generally your body will be off to the side of the saw, reducing the chance a kickback will hit you. With a left blade saw, you move the blade closer and so your body is more in line with the saw if it kicks back. Also, on a left blade saw, your left arm will have to cross over the top of the saw blade if you are cutting with your right hand on the trigger.
Like with sidewinder vs worm drive, there are people who swear by both camps. So, this may be something you just have to try on and see how it feels. Like shoes.
Safety Information
Whenever you're operating a power tool safety should be at the forefront of your mind. Circular saws are common and it's easy to become overconfident in our abilities. When we do, it's also easy to put ourselves in bad spots.
Kickback on a circular saw is the most significant danger. This can happen if the blade becomes pinched or binds. Kickback can cause the saw to shoot backward at the operator and will happen so quickly you won't have a chance to react. That's why it's essential to understand how to prepare a cut.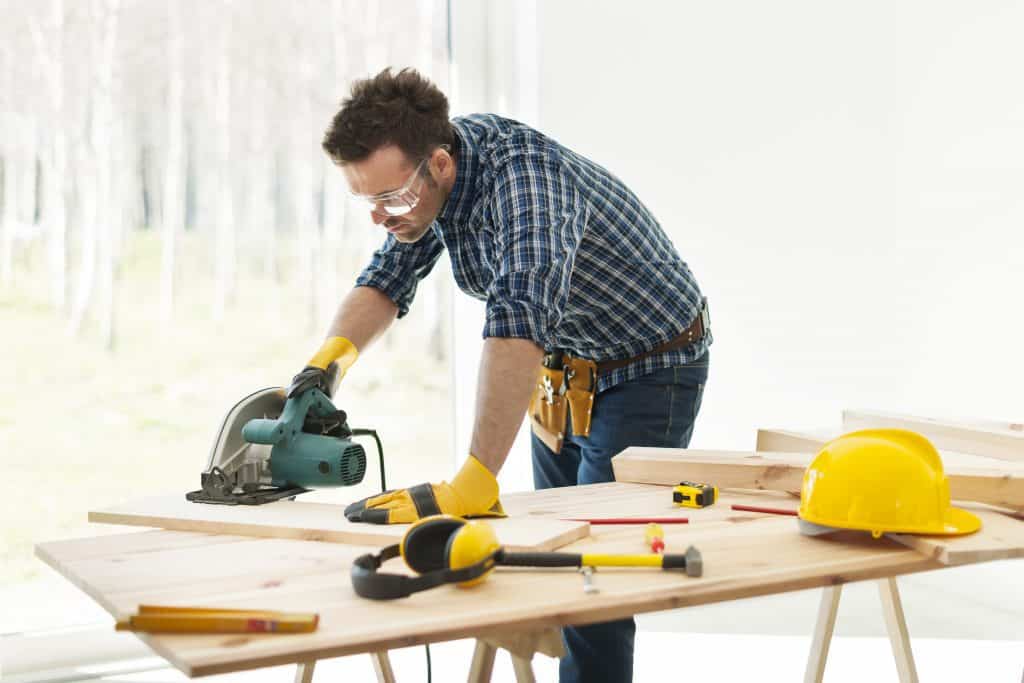 You'll want to allow your "waste" side material to freefall off to the side or set the cut up in such a way that the blade will not become pinched. An electric brake just might be the exact sort of option you need if you have concerns about kickback, but that brake will only work if you have let go of the trigger.
Whenever you're cutting, you should be wearing safety glasses. It only took one shot below the eye to convince me this was advice worth following. Hearing protection and a dust mask are also equipment to be considered if you'll be making a lot of cuts.
What Cuts Can Circular Saws Make?
Circular saws are perhaps one of the most versatile tools to be included in your tool arsenal. The two main cuts you'll typically see made with a circular saw are cross cuts (perpendicular to the grain) and rip cuts (parallel to the grain).
You can also make bevel cuts (angled across the edge of the wood) by adjusting the bevel settings on your saw and plunge cuts. With a little practice, you'll even be able to manage miter cuts (angled across the face of the wood) and if you really feel like stretching your limits go ahead and try making some dadoes, rabbets, and lap joints with multiple passes.
You can even manage to make curved cuts if the curve is not too tight. There really isn't too much a circular saw can't manage which is why they are one of the first saws in a toolbox.
Best Circular Saw Brands
DeWALT
DeWALT was founded in 1924 with the creation of a universal woodworking machine. Since then, DeWALT has become a household name known for professional grade and durable products. And their product line is vast, ranging from radios and work lights to axes and nail sets.
Makita
Makita got its start more than 100 years ago in 1915 as an electric motor sales and repair business. In that time, Makita has grown into a well-known global giant in power tools. Whether it runs on gas, electricity, or battery, there isn't much Makita doesn't make of professional quality.
Hitachi
Hitachi is one of those brands you didn't realize was into making power tools and then you realize that not only do they make them, but they make some great tools. Hitachi was originally founded in 1948 manufacturing coal mining machinery and electric power tools. Since then, they've grown their tool lineup to include pneumatics, metalworking, woodworking, drills, saws, and much more.
Bosch
Bosch was founded in 1886 by Robert Bosch who is known for having said he'd "rather lose money than trust." Since then Bosch has cultivated a reputation for quality and innovation across a broad spectrum of equipment and services beyond just power tools. They create auto parts and accessories, have automotive service centers, garden tools, appliances, and more.
Ryobi
Founded in Japan in 1943, Ryobi started out making die cast products. Eventually the business grew into making parts for automobiles, electronics, and telecommunications. They also have a wide range of consumer and professional grade power tools and lawn and garden equipment.
Milwaukee
Milwaukee got its start in 1924 with their first version of a portable, ¼-inch drill known as the Hole-Shooter. Milwaukee is a brand perhaps best known for their professional quality, heavy duty tools but they've also made their mark in the world of tools by innovation of new products such as the Sawzall, revolutionizing the 7 ¼-inch circular saw, and being the first to utilize Lithium-Ion batteries to power their tools.
Frequently Asked Questions
Q: Can I use my circular saw to cut metal, stone, or laminate?
A: You wouldn't want to use a circular saw intended for wood to cut metal or stone. This is very hard on the saw as it has an open housing. You could cut laminate with a circular saw using a blade with 100 or more teeth.
Q: Will I need a specific saw blade for certain cuts?
A: Yes and no. It's a matter of could versus should. You could use a crosscut blade for ripping but you probably shouldn't and vice versa. It also depends on the finish you want. A general-purpose blade will do a decent job across a wide range but if you want a smooth and professional finish you'll want to consider a specialty blade.
Q: Can I sharpen my circular saw blade?
A: If it's steel you can probably sharpen it yourself using a file or a sharpening tool. If the blade is carbide, then you'll most likely want to find a professional to sharpen it for you as carbide requires special equipment to sharpen.
Q: Why isn't my saw cutting square?
A:  If it's not cutting square this can be a few things. The first to check would be to ensure the bevel is set to 0° on your bevel adjustment. Then check if the blade is secure and not damaged or warped. If all else checks out, then you might need to make a bevel adjustment to return it to square. This video gives a good example of how you would need to do this.
Final Thoughts on How to Buy the Best Circular Saw for the Money
Circular saws are a fantastic and almost necessary addition to any homeowner or DIYer's lineup of tools. Honestly, it's probably one of the first power saws most people will own. They are capable of making just about any cut you can imagine but they must also be respected to avoid getting hurt.
When you're looking for a circular saw that will match your needs, be sure to be honest with yourself about how you will use it and whether or not things like a cord will be an afterthought or an aggravation. I would encourage you to try both cordless and corded, as well as left and right blade to get a better feel for what works for you.
Price is always important, but this is not a purchase you'll be making regularly so be sure to get a saw that meets your needs and gets you revved up to use it.
Did you like this guide? Check out some other articles/guides I have written: