In this article, we've hand-selected the best woodworking planer in both the portable and benchtop varieties. When we were picking out the best woodworking planers, we focused on four key areas:
Price
Reputation
Durability
Overall performance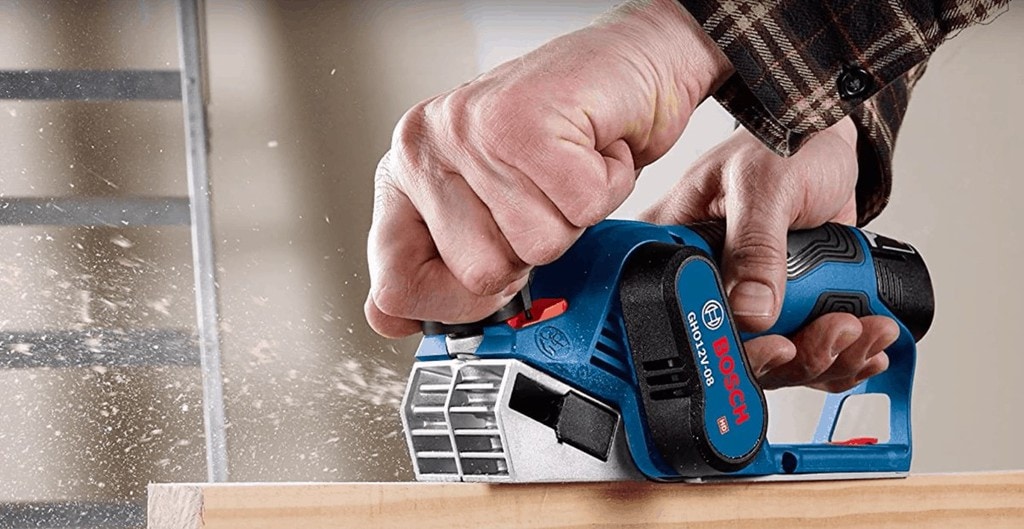 In short, we are here to help you determine the best woodworking planer for the money.
Depending on what type of woodworking planer you buy (portable, benchtop, or full-size), a woodworking planer can be a big-time investment. But, on the other hand, they're phenomenally valuable tools for the serious woodworker. Yet, you want to ensure that you get the right one for your specific needs and workspace.
Most importantly, we don't want you to end up with a several hundred dollar paperweight. Instead, you want a wood planer that works.
(Also, keep in mind that a planer is typically used in conjunction with a jointer when squaring raw lumber. For a detailed overview of the differences between the two, check out our full-length article on planers vs. jointers).
Buy the Best Woodworking Planers for the Money
Best All-Around​ Bench Wood Planer
The 12.5" DeWalt DW734 gets our pick for the best all-around bench planer.
This is as good of intermediate as you'll find between a small hand planer and a large, very expensive industrial shop planer – excellent quality and outstanding performance for the DIY woodworker.
The DeWalt is easily the best woodworking planer for the money. ​
Buy the Best Budget Bench Planer​
If you're dead set on adding a wood thickness planer to your garage but aren't able and/or willing to drop a few hundred dollars on the DeWalt, the WEN 6550 is a very popular, well-reviewed option gets our pick for the best inexpensive planer.
Like the DeWalt, it's a 15 amp, 12.5" planer — a step down in quality but still a good option for those wanting to add an essential tool to their collection at a minimal price.
Best Performance Bench Planer​
On the other hand, if money is not an issue, the Makita 2012NB is a fantastic tool that gets our pick for the best-in-class, best performance planer.
This is an excellently-designed tool and is a huge step up in class and performance from the DeWalt; both are good planers, but the Makita has an extra edge in precision, efficiency, and finish.
Best Performance Hand Planer​
As far as portable hand planers, the three ¼" Makita KP0810 gets our nod as the best performer.
Hand planers can be enjoyable tools to use, and you won't find a better quality or better performing one than this one.
Best Budget Hand Planer​
On the contrary, if you're trying to get something just a little cheaper, the three ¼" Bosch PL2632K is another good option. Again, it's up there in terms of quality and performance with the Makita; it lacks a few minor details. An excellent tool for the price, though.
Reviews: Let's Take A Closer Look
Best Bench Top Planer
DeWalt DW734 15-amp 12.5" Benchtop Thickness Planer
As mentioned in the intro, the DeWalt gets our nod for the best overall 12.5" benchtop planer. Of course, planers are out there that perform better, but they're much more expensive.
On the flip side, there are certainly cheaper planers out there, but they're not going to perform nearly as well. So in our book, this is (and has been for years) the best option in terms of overall value.
The Skinny​
The 15-amp, 20,000 RPM motor is powerful enough to handle rough hardwoods, and the three-knife helical cutterhead produces 96 individual cuts per inch – an impressive feat for a bench planer in this price range.
However, what people like most about the DW734 is the extra-long infeed and outfeed tables, which give up to 33 ½" of material support with virtually no snipe.
Many folks were also impressed by how long the knife blades lasted before wearing out and needing to be replaced. Many reported going through several hundred linear feet of hardwoods with the tool still producing perfect cuts.
(If you're interested, here's a quick video of the DW734 in action).
Things we liked:
Compared to industrial, heavy machinery planers, great value for the price
Good dust-collection potential (needs to be hooked up to your vac system)
30,000 cuts per minute — produce an excellent quality finish
Things we didn't like:
Will take several passes to thickness hardwoods like birch, cherry, maple, and oak
The motor will strain and risk blowing a fuse if there are a lot of heavy warps/bows on the board
It is pretty loud (but then again, what planer isn't)
Best Cheap Bench Planer:
WEN 6550 15-amp 12.5" Thickness Planer w/ Granite Table
We're not ones to support buying cheap, low-quality, imported Chinese products, but the bottom line is that there are tons of folks out there who don't have the means to drop big loads of cash on the finest quality power tools—costly ones like a benchtop thickness planer.
That being said, the WEN 6550 is far and away from the best-performing planer that you'll find for the price. It's a minimal investment (as far as planers go), and take a look at this customer feedback video: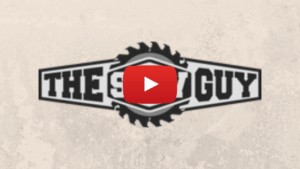 Like the DeWalt, this is a 12.5", 15-amp planer that can be adjusted to plane up to 3/32" with a single pass.
The motor produces 18,800 cuts per minute, so it's not as efficient as the DeWalt, but that, of course can be expected considering the big differences in price.
The tool has about a 26 ft per minute feed rate, and one of the most impressive features of this tool – and one of the things people like best about – it are the granite infeed/outfeed tables, which are guaranteed to never warp or mar your lumber.
The planer can accept boards up to 12.5" wide and up to 6" thick, and unlike the DeWalt it comes standard with a dust collection port that works fairly well.
Things we liked:
The price … naturally
Same general specs as the much more expensive DeWalt
Comes with a port for dust collectors
Adjustable infeed/outfeed tables can be folded up for storage
Blades are easy/cheap to replace
Things we didn't like
Like the DeWalt, it's pretty loud
It's rated to be able to plane up to 3/32" at a time, but 1/64" is more realistic if you're looking for quality results
Best Performance Planer
Makita 2012NB 12" Benchtop Planer w/ Automated Intera-Lock ™ Headclamp
Alright, onto the good stuff.
The Makita 2012NB is actually ½" smaller than both the DeWalt and the WEN (it's a 12" thickness planer), but it is definitely a step up in quality and performance over both tools.
This is far and away the quietest benchtop planer that you'll find (only 83 decibels, to be exact), and you'll be hard-pressed to find one that produces better or more reliable cuts, short of spending thousands of dollars on heavy machinery.
The flagship feature of the 2012NB is the Interna-Lok Automated Head Clamp, which greatly improves efficiency and all but eliminates snipe — even on passes up to 1/8" deep.
The planer will accept boards up to 12" wide and 6 3/32" thick, and the infeed/outfeed tables provide good support even for long pieces like 2×8's or 2×10's.
If you're one of the many folks who like to go buy customer reviews before making a purchase, you'll find out quickly that this thing is absolutely top-rated. People rave about the quality of engineering and craftsmanship (it's constructed mostly of cast aluminum parts), and a lot of people even came back years after their initial review to update and say the planer was still working flawlessly).
Things we liked:
Hands down best in class performance, engineering, and build quality
Super quiet for a planer
Comes with the option for an attachable dust collection port
Comes with a detachable tool box
One of the lightest benchtop planers in the 12-13" range
Things we didn't like:
It is a hefty investment … there's no getting around that
Same warranty as the DeWalt (only 1 year)
Best Portable Power Hand Planer
Makita KP0810 3 ¼" Portable Planer
Why You Should Buy the Best Portable Power Hand Planer
For a good majority of DIY woodworkers, a portable power hand wood planer is more practical than a bench planer. Of course, they do have their limitations – they're not as precise or reliable as bench wood planers, and they can only be used on small stock a little over 3" wide.
This Makita KP0810 will take any boards up to 3 ¼" wide, and has a maximum plane of 5/32" on a single pass.
As with most Makita tools, this planer is one of the quietest on the market, and people love the build quality and ease of use as much as they do the efficiency and finish of the cuts.
As far as popularity it's probably the most-used planer on professional jobsites, and is a really popular tool for on-site framing. And not to mention at just over 7 lbs, a lot of folks say they have no problems with fatigue – even after using it for hours on end.
Things we liked:
Unmatched Makita quality and engineering
Comfortable, quiet, and easy to use
Super simple depth of cut adjustment
Things we didn't like:
Doesn't come with dust collection
Pretty pricey for a hand planer
Honorable Mention Portable Planer:
Bosch PL2632K 3 ¼" Planer w/ case
The Bosch 2632K is another really popular, well-reviewed power planer among DIY woodworkers that's a bit cheaper than the Makita.
It boasts pretty much the same specs, with a 16,500 RPM motor (except it draws 6.5 amps as opposed to 7.5 on the Makita) and a max width of 3 ¼".
The Skinny​ About the Bosch PL2632K 3 ¼" Planer w/ case
One noticeable difference is that it's a good deal heavier than the Makita – beginner users who've never used a planer before might find it a bit intimidating and/or cumbersome compared to the lighter, more user-friendly Makita.
One thing that people really do comment on though is the quality of the finish – the dual micro grain blades are very clean and efficient, even on raw hardwoods with lots of knots and bows.
Things We Liked About the Bosch PL2632K 3 ¼" Planer w/ case
Cheaper than the Makita — a good value buy for a Bosch tool
Dual razor micro grain blades will last over a thousand linear feet of cutting
Spring-loaded stand props the planer up and protects blades from wear when not in use
Has an ambidextrous lock on/off feature that protects against unwanted starts, as well as helps with extended operation
Can be converted for use with large high-speed steel blades
Things We Didn't Like About the Bosch PL2632K 3 ¼" planer w/ case
Some people weren't too impressed with the machined aluminum shoe – several said it is too soft and prone to marring/scratching after continued use, while others complain it's prone to misalignment
No bevel adjustment
Heavier than the Makita
What is a Jointer vs. Planer
Like we were talking about earlier, wood planers are most often used in conjunction with a jointer to get a perfectly square, flat, and parallel board from a raw, unmilled piece of lumber.
However, you can certainly get by with using just the planer. That is, if you only buy one tool or the other, a planer can accomplish a heck of a lot more by itself than a jointer can.
What is a Jointer
A jointer is used to give an unmilled board one perfectly flat face and one perfectly square edge. When both machines are available, the jointer is used first to flatten one side, and then the planer is used to make the other side perfectly flat, square, and parallel to the first.
You can use a jointer to flatten both sides of the board, but there's no guarantee the two sides will be parallel to each other – the jointer will be cause you to end up with a board that's thicker at one end than it is at the other (a wedge).
What is a Wood Planer​
Planers are also great for woodworkers because they allow you to thickness a board down to the exact size you need it. For instance, you could take an entirely rough, unmilled piece of stock lumber that's about 6" thick, and plane it down into a perfectly square 3" board.
Final Considerations on the Best Woodworking Planer
What kind of space do you have available for a woodworking planer?
While bench woodworking planers aren't massive tools like a drill press or full size bandsaw, a 12" or 13" one will take up some decent space in your garage or workshop, and they can be cumbersome to move around. If space is an issue, go with the 3 ¼" portable planer instead.
What are you going to be using your planer for?
This might seem like an overly obvious statement but really think about your needs and what you'll be doing with the tool before investing your hard-earned money.
Bear in mind that portable hand planers are a lot less precise than bench planers, and they have a tendency to gouge material — they're known for being finicky and not producing perfect results. If you plan on making fine furniture or cabinetry, you really will need to invest in a bench planer.
On the other hand if pinpoint accuracy isn't really an issue, and you need to just rip off a lot of material at a time (for instance if you're framing for a deck), then a portable hand plane should be sufficient.
Also, keep in mind that a portable planer will only work on stock 3 ¼" wide, while a bench planer accepts much wider boards (12", 12.5" or 13", depending on the particular planer).
Wood Planers are only needed for rough, unmilled lumber
One final thing to remember is that planers are woodworkers tools – they're really only needed for unmilled boards. (i.e. if you're going to be buying pre-milled 2×4's at Home Depot for a decking project, a planer would be unnecessary).
The Best Woodworking Planer for the Money Goes To…
As you might've guessed, the DeWalt DW734 gets our pick for the best woodworking planer for the money.
Buy the Best Woodworking Planer
While it's not cheap by any means, it's really not a bad value for such a quality tool, and you can be sure that you'll be pleased with it's performance, ease of use, and durability over the long term.
The bottom line is, if you're even halfway serious about your woodworking, a bench planer really is an amazing power tool that once you buy a woodworking machine, you'll wonder how you ever lived without.
If you enjoyed this article, check out some of the other articles I have written: