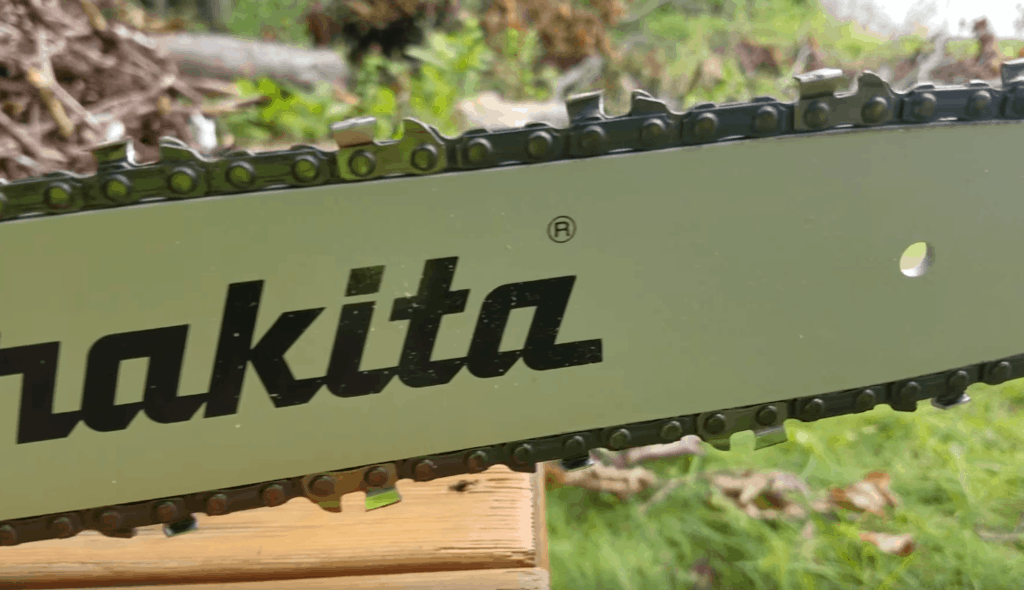 Whether you are in the market for a chainsaw for yard work at home, or for professional cutting and trimming, Makita chainsaws, gas or electric, will fit the bill. Makita's quality and reliability are hard to beat. With Makita's acquisition of Dolmar (a leader in gas-powered chainsaws) in 1991, Makita solidified its reputation as a trusted chainsaw brand that consistently rates high in buying guides and online reviews. If you're looking for one, keep reading this Makita Chainsaw Review & Buying Guide to help make your search a little easier.
Are you trying to find some general information on chainsaws or other tools? Check out our complete resource guides on Miter Saws, Table Saws, Chainsaws, Band Saws and Circular Saws. These guides have all the information you need. You will be able to find history, the different types of the tool, top brand sold, and more!
At A Glance:
Makita Electric Chainsaws
Electric chainsaws have come a long way in terms of power and reliability, and Makita makes a wide range of cordless and corded electric options.
Pros and Cons of Makita Electric Chainsaws
| | |
| --- | --- |
| Pros | Cons |
| Electric chainsaws are lighter, easier to hold and start with the touch of a button | These chainsaws come in smaller sizes and may lack the power to cut down larger trees |
| Zero emissions. Electric chainsaws are quieter than the gas-powered chainsaw, and you do not have to worry about running out of gas | Corded chainsaws are less mobile since they are tied to a power source |
| On average, electric chainsaws are cheaper than gas-powered chainsaws | While battery-powered chainsaws have improved, you are limited to the battery life |
| Makita cordless chainsaws use Lithium-Ion batteries that have the fastest charging time in their category | |
| Electric chainsaws have fewer parts for easier maintenance | |
| Makita electric chainsaws come with helpful features such as auto-oiler, self-sharpening chain, and current limiter | |
Makita Gas-Powered Chainsaws
Makita makes a wide range of gas-powered chainsaws. A gas-powered chainsaw is a good fit for larger projects or if you are covering a wider area, such as a farm or commercial property.
Pros and Cons of Makita Gas Chainsaw
| | |
| --- | --- |
| Pros | Cons |
| Gas-powered chainsaws come in larger sizes than the electric models, for bigger jobs | These chainsaw types are more expensive than electric chainsaws |
| Gas-powered chainsaws have a long runtime. You do not have to worry about running out of cord length or battery power | Gas-powered chainsaws are heavier and louder than electric chainsaws |
| Makita gas-powered chainsaws have a mechanism for an easier start than gas-powered chainsaws of the past | These chainsaws are not zero emissions and give off gas fumes |
| | Because they have an engine, gas-powered chainsaws require more maintenance |
Top Rated Makita Chainsaws:
Cordless
UC4051A
Corded
16" Bar Length
XCU02Z
Cordless
16" Bar Length
XCU04Z
Cordless
16" Bar Length
DCS6421RFG
Gas
20" Bar Length

Makita Chainsaw Parts
Once you have selected the right Makita chainsaw for your needs, you may have to replace lost or broken parts. There are many replacement parts to choose from, and you can easily find parts online or instore from Makita distributors.
Every Makita tool is thoroughly inspected and tested before leaving the factory. New Makita chainsaws come with a 30-day money-back or replacement guarantee. Makita Chainsaws are also warranted to be defect-free for one year from the date of original purchase.
Here are some common parts you may need for your Makita chainsaw:
Chain

The chainsaw chain may break or dull over time.
When this occurs, the chain will need to be replaced.

Spark Plug

Spark plugs may be defective or may need to be replaced every few years.
You must remove the spark plug in order to inspect it.

Carburetor

The carburetor might be clogged due to fuel being left in the chainsaw for an extended period.
A clogged carburetor may be fixed by cleaning it with carburetor cleaner.
If cleaning the carburetor does not work, you will have to rebuild or replace the entire carburetor.

Ignition Coil

A defective ignition coil means the engine may not start.
Be sure to check the spark plugs before you replace the ignition coil, in case the spark plug is causing the problem.
You can test the ignition coil using an ignition coil tester.

Rewind Spring

The rewind spring recoils the starter rope after it is pulled and released.
A broken rewind spring means the rope will not recoil onto the chainsaw pulley.
You can replace each rewind spring individually, but it may be easier to replace the whole recoil starter assembly.
Makita Chainsaw Dealers
Makita manufactures over 20 chainsaw models and sells them worldwide. You can find Makita chainsaws instore or online at big-box retailers like Home Depot and Ace Hardware, but also at several other distributors, including Amazon.
With thousands of distributors all over the world, you can be confident that you can find the product you are looking for and get the support you need for operating and maintaining your Makita chainsaw.
How to Start a Makita Chainsaw
Starting a Gas-powered Makita Chainsaw
Gas-powered chainsaws must be started properly to ensure safety and to keep the chainsaw in good working order.
1: Make sure the correct amount of gas and oil is placed in the chainsaw and move away from where the chainsaw was filled with fuel.
2: Place the chainsaw on the ground making sure the guide bar and chain are not blocked by anything, and the chain brake is locked.
3: Hold the handle firmly with one hand and use your foot to hold down the rear handguard.
4: Move the combination switch up to the choke position and then pull the starter cable out slowly.
5: Once you feel resistance in the starter cable, pull it quickly until you hear the ignition.
6: move the combination switch to the central "ON" position.
7: Pull the starter cable again quickly.
8: With engine running, put your hand on the rear handle and press the throttle trigger.
9: disengage the chain brake and start cutting.
Starting an Electric Makita Chainsaw
Electric chainsaws are easier to start than gas-powered chainsaws.
1: Make sure the guide bar and chain are not blocked by anything.
2: Turn off the lock-off button and pull the switch trigger.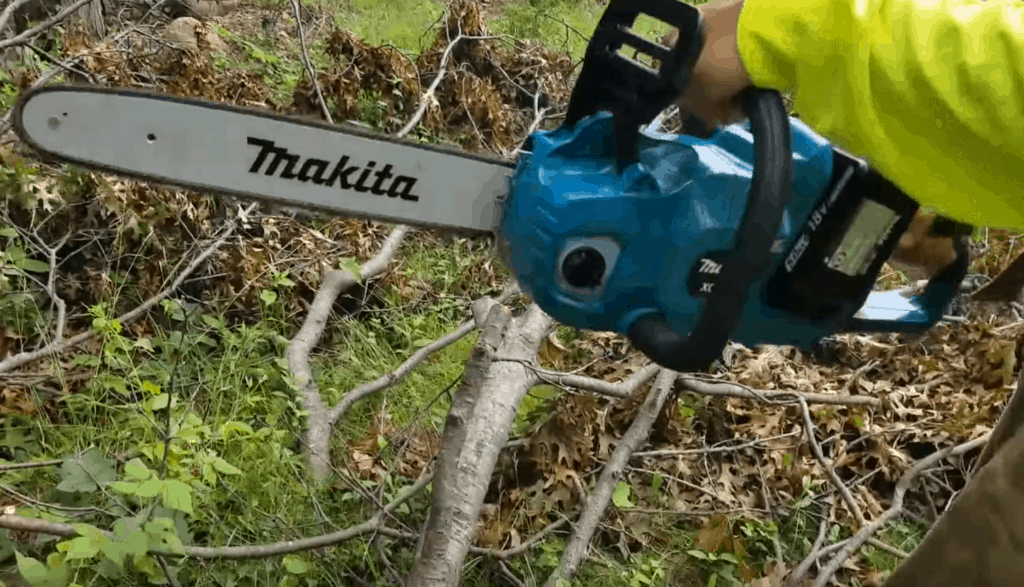 Conclusion
Makita gas-powered chainsaws are best for larger projects and commercial use. They are more complex to use and maintain, so having some experience with power tools will be helpful if you decide to get a gas-powered Makita chainsaw.
Makita corded electric chainsaws are best for homeowners who only use the chainsaw occasionally for small tasks like trimming and cutting tree limbs. Small yards are best for corded electric chainsaws because you will be limited by the length of the cord and the need for a power source.
Makita cordless electric chainsaws are best if you need to move around a large yard, but only need to complete small tasks like trimming and cutting tree branches.
Once you pick up the right Makita chainsaw, you will be ready to tackle your project, big or small.
Are you looking for more guides on chainsaws? Check out some of our most popular guides, Best Chainsaw Chaps 2019 – Reviews and Buyer's Guide, Review: Black + Decker LCS1240 12" Lithium Ion Chainsaw, Lowes Chainsaws | Browse Gas, Cordless & Electric, and Stihl Chainsaw Prices: Tips and Reviews.