If you are starting your shop, or are considering a stronger table saw, then a Hybrid Table Saw may have crossed your mind. They are a mix between the more expensive cabinet table saw, and the contractor table saw.
You might have some general questions about the best hybrid table saw for your shop. We covered table saws below, this will help you find the best hybrid table saw in 2020, as well as what to look for when purchasing a hybrid table saw.
Are you looking for some general information on table saws or other tools? Check out our complete resource guides on Miter Saws, Table Saws, Chainsaws, Band Saws and Circular Saws. These guides have all the information you need. You will be able to find history, the differnt types of the tool, top brand sold, and more!
Hybrid Table Saw Reviews
The Grizzley G0771Z Table Saw is by far the best one available on the market today. It has a solid set up and weighs less than 300lbs. Even with 2 hp, it cut hardwood easily.
Things We Liked
Almost perfectly accurate and parallel to the miter slots!
Great saw for the money, it is clearly calibrated and easy to set up.
Pre-wired for 120 V, no need to rewire anything.
Cast iron wings that allow you to attach other table wings, like a router table.
Things We Didn't Like
The screws on the motor casing are not Philips's, even though the manufacturer claimed they were. This may seem minorm but I had to waste time trying to figure out where the casing screws were.
It doesn't fit well on a mobile base. Although it is not really made for it, it would be nice.
Best for
The home woodworker who likes to do woodworking projects at home, perfect for a small garage, and around the house projects. Its rip capacity is great for any home projects or backyard furniture making.
Best Hybrid Table Saws Under $1,000
The Fox Open table Hybrid Table saw is the best one under $1000. This 120/240 V motor can run on a standard 120 v electric plug that is found in most households. The extension table gives you a 30" right, rip capacity, which is hard to beat.
Things We Liked
It is lightweight compared to other hybrid table saws. This one only weighs about 250lbs.
The fine cuts are really fine, I have used this one for hardwood floors, and It does an amazing job.
The fence is pretty solid. It doesn't feel cheaply made and locks tightly in place.
Things We Didn't Like
It takes way to long to assemble–over two hours some people report
It really takes a fine hand to adjust the table correctly, and the tabletop looks off.
Best For
This saw is best for a first-time buyer who doesn't want to invest a whole bunch of money into a hybrid table saw. It is perfect for around the house, and you could even use the Fox open table on most heavy-duty remodeling projects.
Delta Hybrid Table Saw
The Delta UniSaw model is a well-built Machine. With a 52 in fence capacity, it makes ripping boards extremely easy. There is a 5hp version available if you need that much horsepower for your cuts.
Things We Liked
The cutting accuracy is superior to most hybrid table saws out of the box.
Doesn't bog down with hardwoods, like maple and oak.
The riving knife is one of the best I have seen on the market.
Things We Didn't Like
Requires a 240 outlet, and a 30amp fuse, which, if you don't have one already installed in your shop, is an extra cost.
The entire saw weighs about 600 lbs and is not really easy to move at all. This has to be stationary.
Best For
Small cabinet makers, or as the last hybrid table saw you intend to buy. You have to add wiring and a breaker if you don't have a 240 v 30 amp socket in your garage already. This is the perfect saw for a home cabinet maker or someone who constantly does woodworking projects with large pieces of wood.
What exactly is a Hybrid Saw?
In simple terms, the hybrid saw is a mix between the more expensive cabinet saw, and the less expensive contractor saw. A contractor saw is a stationary smaller table saw, or sometimes even what is known as a Job site Table saw.
Most hybrid saws will need to be placed on a cabinet in order to work and will be stationary inside your workshop. They are used for moderate cutting, if you are a hobbyist cabinet maker, then this type of saw would be perfect.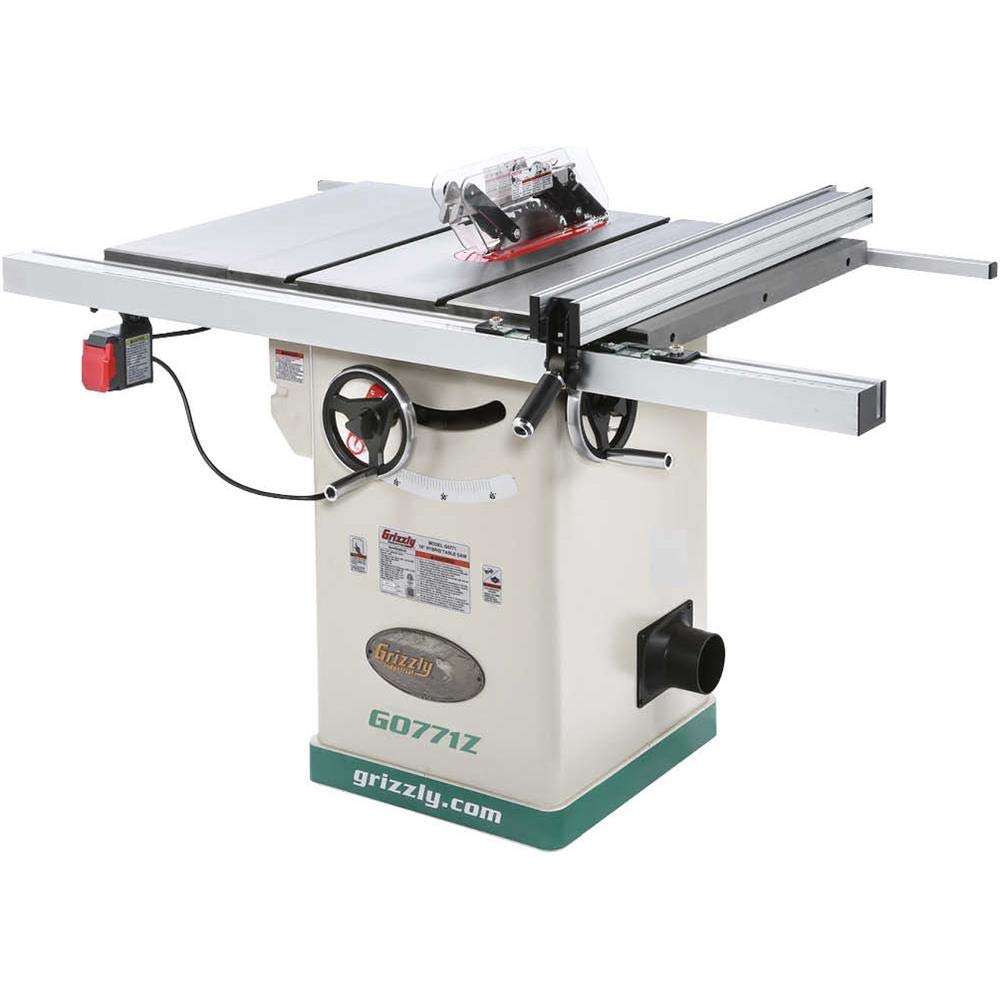 Things to Consider Before Purchasing a Hybrid Saw
There are a number of different factors that go into deciding what saw to purchase. Below we cover some of the things you must know before buying.
Table Space
The tablespace that you are going to need or that you have available in your shop. The amount of space you need to safely cut a piece of wood is going to determine the size of the hybrid saw you need. For most small areas, a 20 x 22-inch tablespace is a good fit. And you can always add an extension to keep the wood level while you cut it.
Rip Capacity
The highest rip capacity is on the right side of the blade, and depending on what type of wood you are cutting, you will need a higher rip capacity. If you add a stable extension to the table and increase the tablespace, you increase the rip capacity by default.
Cut Depth
You want to consider how deep the saw blade can cut, most Hybrid Table saws with a 12-inch blade can cut through 4 inches of wood. If it has a 10-inch blade, it goes down to about 3 inches.
Company Information
Delta
Delta is well known for its innovation, high quality, and long-lasting power machines. They're a smaller company that chooses to dedicate its resources to giving you that personalized customer service. Delta is famous for its scroll, saws, drills, and other tabletop machines that are found in almost every woodworking shop around the globe. Delta generally has a 5-year warranty on all new products and provides a technical support line for troubleshooting any issues that you may have.
Grizzley
Grizzley Industrial has made some great strides since founded in 1983. They're found in most machine shops and makes high-quality machines. They only have two showrooms in the country, one on the west coast, and one in the mid-south. If you do need to contact Grizzley, you will be speaking to a U.S. Based person to help you, and they have a good F.A.Q section on their website.
Best Hybrid Table Saw: Our Take
The Grizzly Industrial G0771Z is our number one pick, the low cost and high value make this saw tower over competitor saws. There are better saws out there, however for home use, the Grizzly is by far the best value for your money.
If the Grizzly is a little out of the Price range, then the Fox Open table is perfect. It usually runs under $1000 and is also perfect for home use, if you don't mind The cheaper tabletop and aluminum fence.
Are you looking for more guides on table saws? Check out some of our most popular guides, Dewalt vs. Delta Table Saw Edition, Ryobi Table Saws – 10in Portable Saws and Parts, DEWALT Table Saws – 10″ Saws, Parts and Accessories, and The Best Portable Table Saws.
| | | | | |
| --- | --- | --- | --- | --- |
| Hybrid Table Saw | Electric set up | Blade Size | Weight | Horse Power |
| Grizzley G0771Z | 120/240 | 10 Inch | Less than 300lbs | 2 Hp |
| Delta | 240 V | 10 inch | 650 lbs | 3 Hp |
| Fox Open Table | 120/240V | 10 inch | 250 lbs | 2 hp |