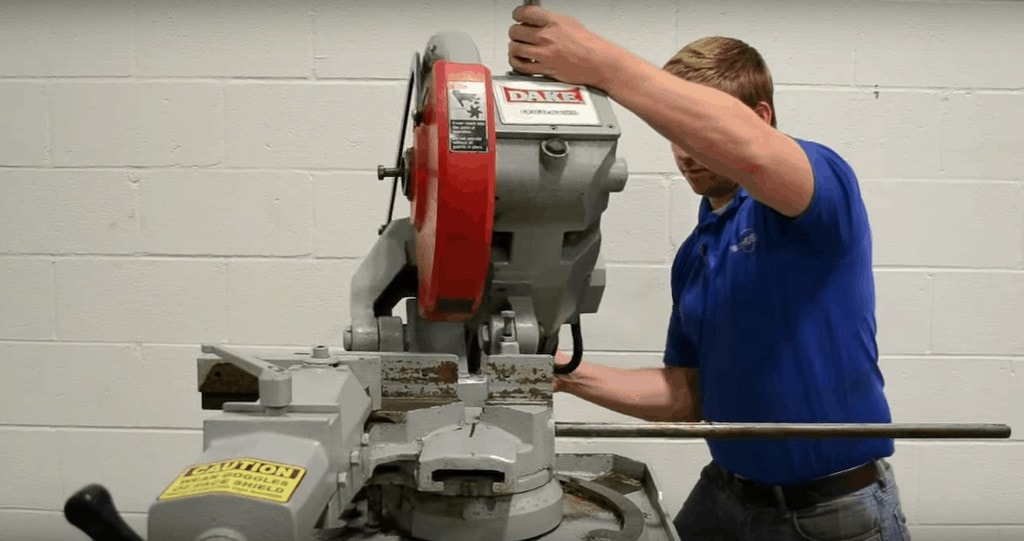 If you're someone who cuts metal frequently, it may be time for you to switch from an abrasive saw. Abrasive saws not only create a lot of sparks, but they tend to produce a rough cut that requires smoothing after the fact. Fortunately, cold saws help mitigate this problem.
However, when browsing online or through the aisles of your local hardware store, you'll likely discover that there are dozens of cold saws available for purchase. Which one is best? Fortunately, we're here to provide you with a breakdown of the best cold saws available today and the criteria that you should consider when making your purchase.
2019's Best Cold Saws
We've spent the past couple of months testing cold saws and scouring through online reviews, allowing us to come up with a list of the four best cold saws available on the market today, which you'll see below. We believe that you'll be satisfied choosing any one of these models.
DEWALT DW872 14-Inch Multi-Cutter Saw
The Multi-Cutter Saw from DEWALT is an excellent option for anyone searching for their first cold saw. The product is incredibly versatile, allowing users to cut an array of materials. Customers will find that they can cut both ferrous and non-ferrous metals when using this product.
You can cut through many metals thanks to the 14-inch, 70-tooth carbide-tipped blade. This blade is incredibly durable, far outlasting standard abrasive blades. Furthermore, the durable blade allows the depth of cut to remain constant throughout the entire life of the blade. You shouldn't need to replace this blade that often.
The Multi-Cutter Saw also stood out because it cuts up to four times faster than chop saws. It also cuts up to eight times faster than portable band saws. This saw measures 24" x 15.25" x 18.5" and weighs roughly 55 pounds. Customers can purchase the saw for less than $450. DEWALT offers a full one-year warranty on this product.
What We Like
Durable carbide-tipped blade
Smooth finish, even when cutting multiple metals
Cuts quickly and efficiently
What Could be Better
Customers indicated they had trouble using the attached blade guard
Some said that the angular tabs on the saw are not reliable
Evolution Power Tools EVOSAW380 15" Steel Cutting Chop Saw
Another cold saw well worth your consideration is the EVOSAW380 from Evolution Power Tools. Customers can purchase this product with blade sizes of 7.25", 9", and 15". This cold saw does not require coolant, but still manages to cut metal with minimal sparks.
If you are someone who cuts metal frequently or cuts large pieces of metal, this cold saw could be ideal for you thanks to its heavy-duty cast aluminum base. The company designed this based explicitly for industrial metal cutting. It is durable to support even the heaviest of materials.
The blade on this saw is also incredibly durable. Testing showed that you could make up to 1,000 cuts with the blade when working through 2" x 2" mild steel. The product also comes with a collection tray, allowing you to dispose of metal chips easily.
The EVOSAW380 measures 21" x 13.5" x 26" and weighs around 55 pounds. Interested customers could purchase this saw for less than $400. If they wish to buy a saw with a smaller blade, the price drops considerably. Evolution also includes a three-year warranty with this product.
What We Like
Heavy-duty cast aluminum base supports all materials
Collection tray helps to keep your shop tidy while reducing airborne irritants
Three-year warranty
What Could be Better
Cuts were sometimes inconsistent
Customers complained about subpar customer service from Evolution
Makita LC1230 12" Metal Cutting Saw
The Makita 12" Metal Cutting Saw is another excellent choice for those in search of a cold saw. Customers can adjust the angle of the blade so that they can achieve anywhere from zero to 45 degrees of miter cutting.
This tool also comes with a carbide-tipped blade. The blade has a depth of 4.5". We found that when testing this product, the resulting cuts were virtually free of burrs. Makita says that this product cuts four times faster than traditional abrasive saws.
Two other features that stood out with this saw were the D-shaped handle and the lock-off button. The D-shaped handle was quite comfortable, proving to be an excellent option for anyone who plans to use the saw for an extended period. The lock-off button was a useful safety feature that prevents you from accidentally starting the machine.
This saw measures 14.57" x 22.83" x 17.52" and weighs a bit more than 42 pounds. Customers can purchase the saw for less than $440. Makita provides a one-year manufacturers warranty with this product.
What We Like
Comfortable design
Astounding 1,650 watts
Lock-off button keeps you safe
What Could be Better
Some customers said this was not an excellent choice for stainless steel
Smaller blade than other options on our list
Evolution Power Tools RAGE2 Multi-Purpose Cutting Chop Saw
Another quality cold saw option from Evolution Power Tools is the RAGE2. This saw comes with multipurpose cutting technology, enabling you to cut aluminum, steel, and wood with embedded nails. The saw can cut through 6mm steel with no burrs or sparks, leaving you with a workable finish that you won't need to correct after the fact.
This product also stands out because of how durable the blade is. One blade on the RAGE2 can outlast 20 abrasive discs. The blade is tungsten carbide-tipped and has 36 teeth. You can adjust the fast-action swivel clamping mechanism quickly, allowing you to make cuts between zero and 45 degrees.
One of the other things that stands out about this product is the fact that it comes with a hi-torque motor gearbox. Evolution says that this gearbox reduces motor stresses, thereby improving the durability and performance of the saw.
This cold saw measures 23" x 12" x 24" and weighs roughly 46 pounds. Customers can purchase this product for around $220. The product comes complete with Evolution's three-year warranty.
What We Like
Can cut through an array of materials easily
The fact-action swivel clamping mechanism
Three-year warranty
What Could be Better
Changing the miter angle could take ten to 15 minutes
The base is stamped steel instead of cast steel
[youtube https://www.youtube.com/watch?v=Y9oTzK1E0c8&w=560&h=315]
Cold Saws Buyers Guide
Cold saws are circular chop saws designed explicitly for cutting metal. The saws work at low temperatures, which reduces sparks and burrs. You'll likely find that cold saws are easy to use. If you're someone who cuts metal frequently, a cold saw purchase could be well worth the investment, as it will likely cut down on how much smoothing you'll need to do after the fact.
However, if you've never purchased a cold saw before, you may find it overwhelming trying to determine which criteria are essential. Below, we've provided a breakdown of the most critical elements to consider when purchasing a cold saw.
Blade
One of the first things you'll want to consider is the design of the blade. The best cold saws feature durable blades that can outlast chop saws. You'll want to ensure that the blades can cut through any material necessary. We recommend keeping an eye out for carbide-tipped blades, which tend to be the most durable.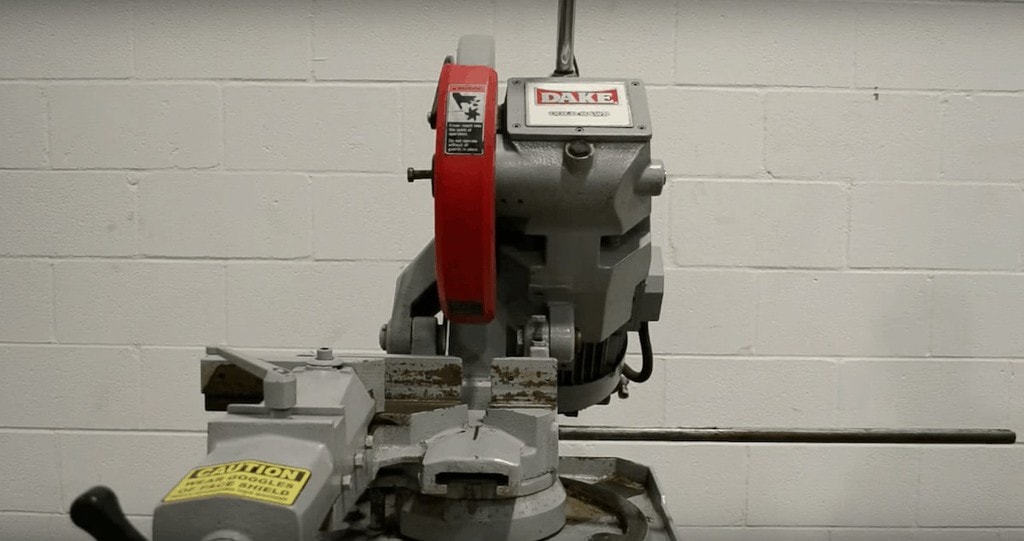 Motor
You'll also want to make sure that the engine on your cold saw is strong enough to handle your cut. If the motor is not powerful enough, you'll end up "bouncing" the blade off the metal, or getting the blade stuck. Both could ruin your cut. We recommend looking for cold saws with a motor of at least 15 amps and four horsepower.
Angles
Another thing you'll want to consider is whether you can change the angle on the cold saw. The best cold saws allow you to make cuts with angles ranging from zero to 45 degrees. You'll want to look for a saw that not only allows you to make these changes, but also allows you to do so quickly and efficiently.
Safety Features
As with any power tool, safety features are essential. You'll want to make sure that your cold saw comes with safety features, such as blade guards and spark deflectors.
No matter if you're purchasing your first cold saw or you have years of experience using the machinery, safety features are not something that you should overlook.
Chip Collection
When cutting metal, loose chips and particles could not only pose an airborne hazard, but they could also wear your blade down more quickly. The best cold saws come with chip collection trays, which allow loose chips and particles to gather so that you can throw them away when you complete your cut.
It may seem like a small feature, but it can go a long way.
Warranty
The last thing you'll want to look into is the warranty on your product, especially if you plan to use it frequently. The best cold saws offer warranties of at least one year, if not more. You'll likely want to steer clear of cold saw manufacturers who provide guarantees for six months or less.
Frequently Asked Questions
If you're not familiar with a cold saw, you may find yourself asking numerous questions. Fortunately, we've taken the time to answer some of the questions most commonly asked when using a cold saw.
How often will I need to replace the blade?
There is no black-and-white answer as to when you'll need to replace the blade. Numerous factors, including how often you use the blade and which type of materials you use, could go a long way toward determining how long your blade will last.
However, you'll likely find that your cold saw blade lasts considerably longer than a traditional abrasive blade.
The most critical thing is that you replace the blade as soon as it begins to become dull. As the blade dulls, you won't get nearly as much depth at capacity during your cuts. Perhaps more important is the fact that a flat blade can pose a safety hazard.
Will I need to lubricate my machine?
Yes. Like any other saw, you're going to need to oil or grease lubrication points frequently. You may also need to change the gear oil box every so often. Doing so can help preserve the longevity of your saw and will help improve the efficiency of your cuts.
How much does blade speed matter?
Many people are under the impression that when cutting thick metals, they need a high blade speed. However, the more important thing to consider is the motor power. If you have a blade with too high of a spin rate, the blade will get too hot, thus defeating the purpose of using a cold saw. When it comes to cold saws, power is more critical than speed.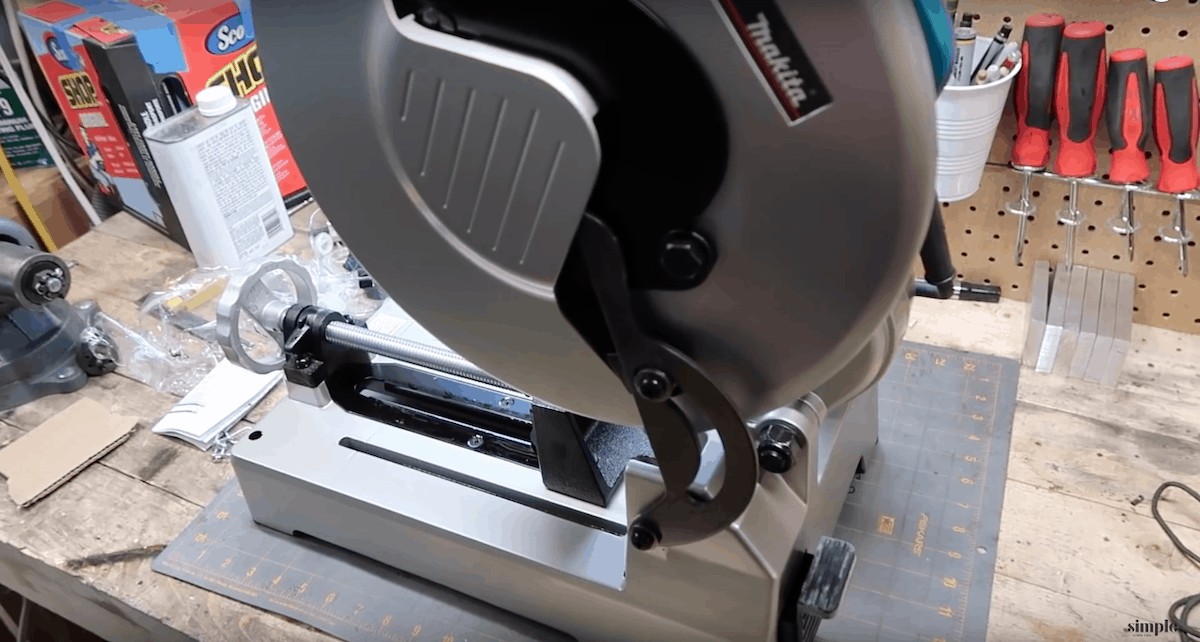 Conclusion
If you're someone who cuts metal frequently, it could be in your best interest to purchase a cold saw. Investing in one of the best cold saws could save you time and money. You won't have to replace abrasive blades nearly as often.
You also won't have to spend time trying to fix jagged cuts. Cold saws could streamline your metal cutting process significantly.
We feel as though you can't go wrong with any of the four best cold saw options that we provided. Each one features an incredibly durable blade. You should find that the blades are sharp enough to cut through both ferrous and non-ferrous metals.
However, if we had to choose just one of the saws above, we'd go with the RAGE2 from Evolution Power Tools. One of the first things that stands out about this saw is the fact that you can cut through numerous materials, including wood with embedded nails. The carbide-tipped blade is powerful, providing a worthwhile option for all of your cold-cutting needs.
We also found that the fast-action swivel clamp allows you to change materials quickly, no matter what you're cutting. The vice on this saw is very secure, keeping your materials stationary throughout the cutting process.
The last reason why we were most impressed with the RAGE2 was because of its warranty. Whereas other manufacturers on our list offered a one-year warranty with their products, Evolution Power Tools offered a three-year manufacturer's warranty. This extended warranty can give customers peace of mind knowing that their product is going to last.
Are you looking for other guides on circular saws, band saws, table saws, etc? Check out our other guides, The Best Delta Band Saw: Buying Guide, The Best Ridgid Table Saws – Which One Should You Buy?, The Best Grizzly Table Saw, The Best Ryobi Band Saw 2019: Which One Should You Purchase?, Ridgid Band Saw Review: What to Know Before You Buy, and How to Use a Circular Saw.