Are you looking for a decent cabinet saw? If so, this grizzly table saw is for you! There are a few things you need to consider before buying a certain model. It's best to cover all of your bases because table saws aren't cheap. It can also be overwhelming to research different cabinet saws because there are so many out there. Many times people have run into the issue of their recently purchased cabinet saw not being what they need.
We are here to help with this issue. This is a great place to start if you don't know where to. We are going to review a very common cabinet saw to help you establish if this is the right saw for you. This review will be able to tell you if this saw is perfect for you or if you need to move on and find something else.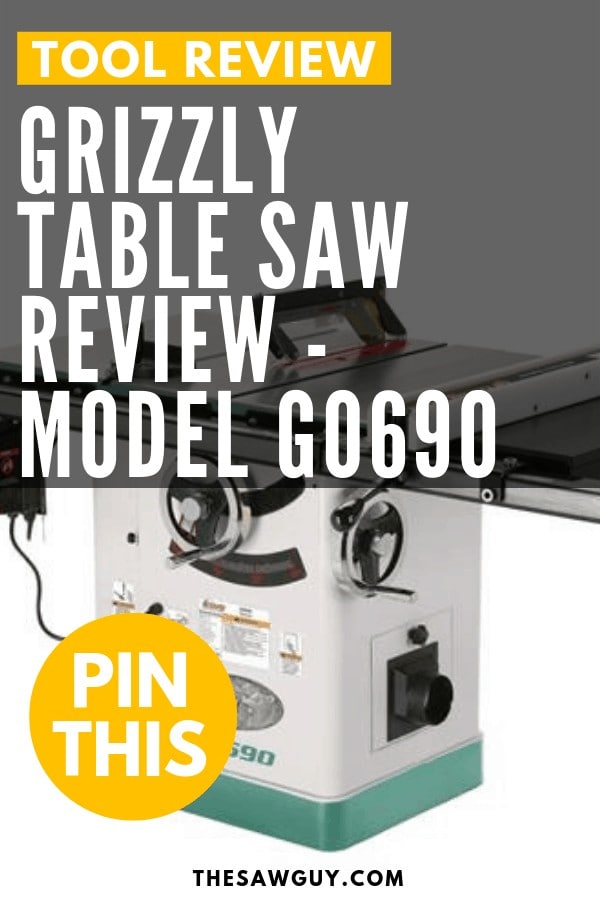 Grizzly Industrial, Inc. sells tools for cutting wood and metalworking. The Company sells power tools like metal and wood bandsaws, drill presses, dust collectors, mortising machines, planers, welding, power feeders, sanders, shapers, wood lathes, and of course table saws. Grizzly Industrial sells its products worldwide.
Grizzly Table Saw G0690 – What You Need to Know
This Grizzly table saw is one of the best simply because of how it performs and operates. This table saw has a lot of useful features. It also has a 3HP motor that allows it to tackle any project without too much hassle. The saw is very stable that is one of the saw's strongest points. It contains cast iron which is an extremely durable material, this adds to the stability of the saw. It is also very accurate. However, there are other models out there that offer some better accuracy. It is not a detrimental thing but it's good to keep that in mind. Safety is also another thing that this grizzly table saw is good at. However, there are definitely saws out there with better safety precautions.
The Features
Design:
The design of this grizzly table saw is loved by many people. That is because the design is simple yet effective. The base of the saw is made with cast iron. Like we said previously, because of this the saw is very durable. You don't have to worry, the saw will last for quite some time as long as it is taken care of and used properly. Keeping your saw maintained is super important. Especially when it comes to heavy-duty tools like table saws.

Another design feature that stands out on this grizzly table saw is the gliding fence. The gliding fence is very well-made. A lot of different models from different companies struggle when it comes to the gliding fence. This is because a lot of manufacturers don't pay much attention to those types of design elements. This Grizzly table saw is an exception. It has really well-made measuring elements which means you the user will tackle projects with great accuracy and precision.
Safety:
This grizzly table saw is fairly safe but the safety definitely could have been improved. Keep in mind that this doesn't mean the unit is unsafe, but there are definitely safer options out there. It is quite safe for beginners, professionals, DIYers, etc. When it comes to any table saw make sure you completely read the manual. There are some saws out there, including this one, when you buy it you will need to assemble it. If you don't have much with assembling a table saw it is recommended you hire someone to do it for you, or get a friend or family member with experience to help.
Price:
This table saw is definitely more on the expensive side. So if you have a budget this may not be the table saw for you. While this table saw is expensive it's feature and durability really make it worth it.
Pros & Cons
Things we like:
It is a great, high-performance saw
The saw comes with riving knife
It feels high-quality and sturdy
When operating the saw has almost no vibration and it's quiet
Once you set it up it requires almost no adjusting
Things we don't like:
It requires time to set up and configure, which may be challenging for beginners.
The power cord is only 6 feet long, which is considerably short for something like this.
The blade it comes with isn't the best, you'll want a better blade than the one it comes with
What Do People Think of It? 
Based on the reviews left on this project professionals and hobbyists love the way this Grizzly table saw operates. Other than the assembly process, they say it's easy to use and very effective when it comes to all types of projects. However, if you're a DIYer you may want to look for another type of table saw. This saw is not cheap or portable. If you're a DIYer you will most likely benefit from something more compact, portable, and budget-friendly. This would definitely be a very big investment, however, if you're someone who needs a table saw for daily use this is for sure the way to go. If you're looking for guides on other brand-specific table saws check out, DEWALT Table Saws – 10″ Saws, Parts and Accessories, Hercules Harbor Freight Table Saw VS DeWalt, and Bosch vs Dewalt Table Saw: What's the Tool for You?
Conclusion
If you're looking for a decent cabinet table saw, this is for sure the way to go. This model is packed with everything you'll need from a table saw. You can tackle tough jobs with it no problem! The price is a little steep, but if you're a professional this is a must-have! Unfortunately, if you're on a tight budget, it's probably best to look at other options. This model is very high-quality. You don't have to worry about anything happening to this table saw for a while. The weight of this table saw is great, because it is so heavy it is resistant to any sudden movements or jolts. The motor is very powerful, so you will be able to zip through almost all of your jobs. If you have any questions please feel free to leave a comment, we would love to hear from you!
Are you looking for a more portable table saw? If so, check out The Best Portable Table Saws – Which One Should You Buy?