​Like brushing teeth or showering, mowing the lawn is a necessary evil we'd sooner avoid even though we know we'll be better off for it, nobody else is going to do it for us, and we'll pay for it later if we skip it.
Mowing means you have to go outside where the mosquitoes and gnats will harass you, where it's probably hot and humid, and spend a decent amount of time pacing back and forth. By the time you're finished, you'll be sweaty and itchy with grass clippings sticking to you.
Nobody can take all the uncomfortable elements out but with the right lawn mower you might find yourself looking forward to mowing instead of dreading it.
Quick Picks – Top Gas-Powered Push Lawn Mowers
Why choose to push when you could have self-propelled?
The main difference between a self-propelled lawn mower and a push lawn mower is pretty straightforward, a self-propelled lawn mower moves itself forward by turning either the front or back wheels when you squeeze a lever of some kind as you walk behind it. A push lawn mower means you push it to move it forward. No push, no go.
But why would you choose a push lawn mower and do all that extra work when the mower could do it for you? There are a few reasons. For one, a push lawn mower is going to be significantly cheaper to purchase right from the get-go. All that extra convenience can add up to a lot of extra cost.
A push lawn mower is going to be lighter than a self-propelled equivalent because of the additional hardware required to propel the lawn mower. This makes a push lawn mower easier for you to, well, push and makes it easier to maneuver around turns and obstacles.
Finally, a push lawn mower has fewer components that could possibly break down or which require regular maintenance, such as a belt or transmission on a self-propelled mower.
A push lawn mower is best suited to a lot that is mostly flat and a half acre at the most. That doesn't mean it can't handle a larger lawn with a load of hills, you'll just burn that many extra calories using it.
Mulching vs. Bagging vs. Side Discharge
Grass clippings are an inevitable side-effect of mowing your lawn and one you have to find some way or another to deal with. There are three ways to manage your clippings: you can mulch them, you can bag them, or you can discharge them.
Mulching is where your lawn mower sucks up the clippings after cutting them off a shoot of grass and continuously tosses them under the deck. As the clippings are tossed, the mower blade chops them into finer bits and eventually scatters them across the lawn where they will break down into a natural fertilizer.
Sounds perfect, right? Mulching is great if you are sure to mow frequently and stick to the 1/3rd rule (never cut off more than 1/3rd the length of your grass). Because the mower has this extra work to do, the clippings need to be smaller to begin with or you'll just start dropping large clumps of grass that need to be raked when the mower can't handle the workkload.
Also, if you have a lot of weeds your mower will struggle to break up the sturdier material and you may end up spreading the weeds around your lawn in the process.
Bagging is very clean as the mower not only cuts the grass but also acts as a vacuum sucking up the clippings and anything else laying around your lawn. This is a great way to prevent spreading weeds or diseases throughout your lawn.
The downside of bagging is you won't get the fertilization boost from your clippings and you still have to find somewhere to dump all the clippings you bag. If you need a special yard waste container, that's an extra cost to consider.
Side discharge or rear discharge is similar to mulching in that the clippings are scattered over your yard after being cut and so carries some of the same drawbacks. However, instead of being repeatedly chopped into smaller pieces the clippings are shot out at the size they are cut.
This means if the clippings aren't coming out quite small enough, you'll probably end up needing to rake them up to prevent them from laying on top of your grass and damaging it.
Discharging clippings allows your lawn mower to handle taller grass without bogging down than mulching can but if you've let the lawn grow for too long bagging is probably the best choice. If you are meticulous about mowing every few days then any method will work well.
The Top Four Gas Powered Mowers
Honda HRR216PKA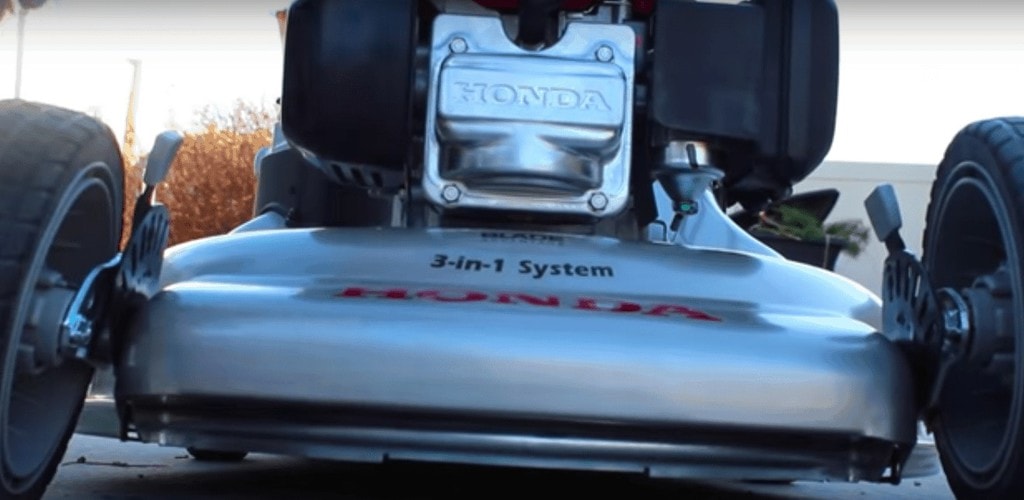 This Honda lawn mower offers exceptional power and versatility. At its heart is the tough and reliable 160cc Honda GCV160 engine which fires up with a single pull and runs quieter than you might expect.
The engine is responsible for spinning the only twin blade setup on our list. Not to be outshined by the power plant, the MicroCut system trims beautifully and pulverizes clippings. The HRR speaks softly and carries a big stick.
The HRR216PKA is a 3-in-1 system with an ample 1.9-bushel bag stretched even further with how well the HRR breaks down clippings. With the bag attached you can easily switch from bagging to mulching using the Clip Director, then just remove the bag for rear discharging. The downside with rear discharge is you are likely to find your shoes and shins caked in plant matter.
Mowing height can be set to one of six positions ranging from 1 1/8" to 4" via a separate adjustment on each of the four wheels. While this is adequate, it feels cumbersome and seems unpolished when compared to the other smart designs on the HRR.
Aside from the clippings on your shoes and the clunky height adjustments, the only real complaints on the HRR216PKA were that it occasionally left an uncut strip when mowing through thick grass.
The Honda is somewhat pricey as push lawn mowers go but the Honda brand is well known for excellence and durability making the HRR216PKA a worthy investment.
Cub Cadet SC100
The Cub Cadet SC100 is hard not to fall in love with because it packs serious punch but won't K.O. your budget.
For starters, the SC100 runs the dependable Cub Cadet 159cc OHV engine which is a dream to start and more than powerful enough to handle any reasonable (or unreasonable) job placed before it. A single blade engages the CycloCut system to provide consistent, professional quality cuts.
The SC100 is another 3-in-1 system with a 1.9-bushel bag but requires the attachment of a chute to perform side discharge duty. This particular lawn mower is known as an excellent mulcher but has had some minor complaints about clogging or struggling to suck up damp clippings when bagging. But that is the extent of any gripes.
One of the main highpoints of the Cub Cadet is the single-point, height adjustment lever which makes changing your cut height a walk in the park. The range on the SC100 is from 1 1/4" to 3 3/4" over six settings.
At 63lbs, it is one of the lightest gas-powered push lawn mowers on this list, which makes it nimble and easy to push. The SC100 was also the only mower on this list which included a washout port on the deck to make routine deck cleaning less of a hassle.
Ariens Razor 911173
This mower definitely boasts the fiercest name and with good reason.
A single blade whips on the shank of an Ariens 159cc OHV engine at a grass-decimating blade-tip speed of 17,000 feet per minute. This creates a massive vacuum which inhales clippings into the 2.0-bushel bag.
The Razor is renowned for its superior bagging ability but it's also a capable mulcher and side discharger when the chute is attached.
Like the Cub Cadet, the height is adjusted through an easy to use single-point lever made even easier with a spring assist and by having each increment clearly marked. The Razor also has the broadest range of height options with seven of them from 1" to 4".
Constructed of almost entirely metal materials, the Razor is built like a tank. You could push it tumbling into a ravine and probably still get it to fire up and cut.
Its exceptional durability is to blame for the Razor's main source of complaints, it's heavy. This is likely why many have stated the Razor seems to resist being pushed. Being built like a tank comes with a hefty toll and at 94lbs the Razor is a full 26lbs heavier than the next heaviest in this group, the Honda.
When we're discussing specifically push lawn mowers that amount of mass must be taken heavily into consideration.
All that rugged power comes at a steep price as the Razor was the most expensive push lawn mower of the four.
Poulan Pro PR550N21R3
The Poulan Pro PR550N21R3 is the most affordable gas-powered push lawn mower in the group and doesn't offer much in the way of bells and whistles. It's a purpose driven model focused on remaining inexpensive, while still providing a great cut for your lawn.
The PR550N21R3 comes equipped with a 140cc Briggs and Stratton 550E engine running a single blade. Briggs and Stratton carries a reputation for producing stout engines that hold up well over time.
Leaving bells and whistles out of the design means this mower is by far the lightest at 50lbs making it much less demanding to maneuver around obstacles or up a hill.
This model does have the smallest bag at 1.6 bushels but it is still capable of performing mulching, bagging, and side discharge tasks with exceptional results. The deck height is adjusted on each wheel separately with five positions ranging from 1 1/4" to 3 1/2″.
Some have complained the 140cc engine can feel underpowered at times or that it creates a weak vacuum for bagging. Others have questioned the build quality of such a light lawn mower. Still, it remains at the top of the list for performance in its price range while offering plenty of mowing choices and the capability to fulfill them.
Final Thoughts
If you've got a small to medium sized lot that's relatively flat there's no reason a gas-powered push lawn mower can't handle that sort of job. Sure, you'll want to be realistic about your wants, needs, and budget but this is not a purchase most people will make often so make sure you're getting a lawn mower that will match your mowing habits and is one you enjoy using.
All the bells and whistles are meaningless if you won't or don't use them, especially if you break the budget to get them. Conversely, you'll never be happy with a lawn mower that fails to meet your expectations and becomes a chore to use within a chore.