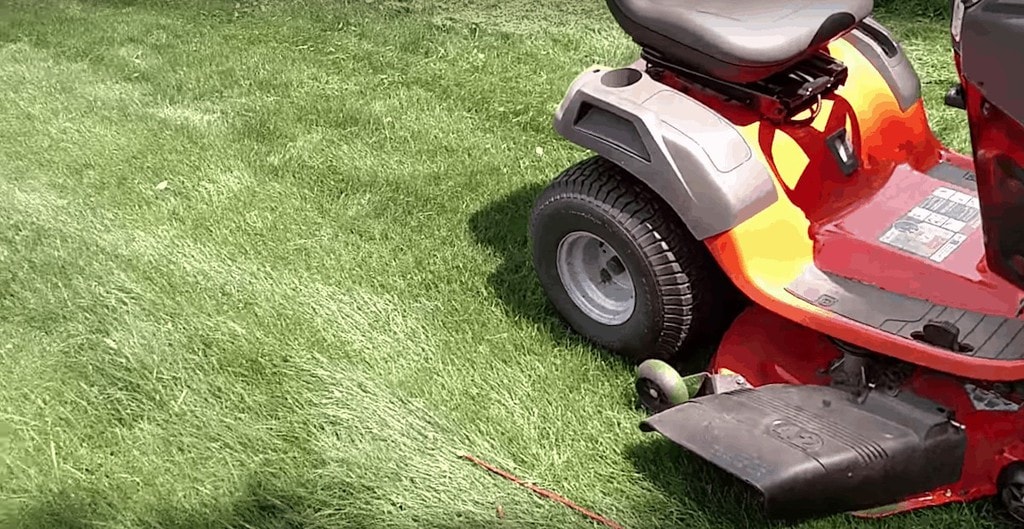 If you've got a large lawn, chances are you don't want to be pushing a mower across it. At a certain point, the land gets too large to be able to mow comfortably without a riding mower. That's where our Husqvarna vs John Deere zero turn mower article comes in. Does Husqvarna really stand a chance?
These cool lawn tractor machines, also known as zero-turn riding mowers, which can make a full 180-degree turn without missing any grass and are suitable for many different types of terrain and they make mowing faster, easier, and more efficient.
» COMPARE: Full Review of the Top 5 Zero Turn Mowers
There are many companies​ that build zero-turn mowers. Two of the more well-known, however, are Husqvarna​ and John Deere. In this article, we'll take a look at what these two companies offer and how they stack up against each other.
Brief Company Histories:
Husqvarna and John Deere are two of the more "iconic" power tool companies out there. And they both have pretty interesting histories.
Husqvarna Company History
​Husqvarna is the world's largest producer of outdoor power products. Its product line is extremely diverse and includes everything from chainsaws to robotic lawn mowers. This Swedish company was founded in 1689 as a military weapons factory and, over the years, it has changed its product offering several times.
Husqvarna has been focused on outdoor power tools since the early 1900s, beginning with chainsaws and ultimately moving through riding mowers and other tools. The company has grown through acquisition, and today they own several other brands including Poulan Pro.
John Deere Company History
If you aren't familiar with Husqvarna, then you're almost certain to know a little bit about John Deere. This company was founded in 1837 in Grand Detour, Illinois by John Deere as a solution to the demands of prairie life. Deere and his neighbors found that the farm machinery that had come from the east coast wasn't suitable for the harder ground of Illinois, so he began innovating and created the company we all know and love today.
Both Husqvarna and John Deere are well-known for making products that are durable and which perform well. You'll find many people are so loyal to one brand they wouldn't consider anything else!
The zero-turn mowers produced by each company are a fantastic option for anyone who has a yard size of about ½ acre or more. They both have lap bars that make them easy to maneuver, and their long decks mean that they can cover a lot of ground in a short period of time.
Ultimately both of these tractors will perform similarly, but if you're trying to decide between these two companies there are a few key things to consider.
Husqvarna & John Deere Parent Companies
Husqvarna Group
This is the parent company of Husqvarna. They own a wide variety of brands:
Husqvarna
Gardena
McCulloch
PoulanPro
Weed Eater
Flymo
Jonsered
Klippo
Diamant Boart
RedMax
HTC
Blastrac
John Deere
John Deere is its own company. They own a wide variety of brands:
Wirtgen
Hagie
PLA
Mazzotti
Monosem
A&I Products
Blue River Technology
Harvest Profit
Bear Flag Robotics
Kreisel Electric
Husqvarna vs. John Deere Product Lines
Both Husqvarna and John Deere sell a wide variety of products. Below, you'll find what each brand's product line consists of.
Husqvarna Product Lines
Husqvarna also sells outdoor power equipment, but they have a wider variety of products available.
Here are some of the specific types of products you can purchase from Husqvarna:
Robotic Lawn Mowers
Zero-Turn Lawn Mowers
Riding Lawn Mowers
Walk-Behind Lawn Mowers
Push Lawn Mowers
Stand-On Lawn Mowers
Chainsaws
Pole Saws
Forestry Clearing Saws
Axes
Personal Protective Equipment
String Trimmers
Leaf Blowers
Combi Trimmers
Hedge Trimmers
Lawn Edgers
Snowblowers
& More
John DeereProduct Lines
Stihl sells a variety of outdoor power equipment.
Here are some of the specific types of products you can purchase from John Deere:
Cutters
Shredders
Harvesting Equipment
Planting Equipment
Seeding Equipment
Tractors
Mowers
Utility Vehicles
Dump Trucks
Backhoes
Dozers
Excavators
Swing Machines
Skidders
& More
Husqvarna vs. John Deere Brand Reputation & Cost of Tools
Here we'll go over the reputations and cost of the tools of each brand.
Husqvarna Reputation and Tool Affordability
Husqvarna is one of the most reliable and durable outdoor power equipment brands on the market. Not only that, but their lawnmowers also come with plenty of sought-after features. Some of those features include pedal-operated speed, ergonomic seating, and direction control.
Most recently, Consumer Reports recognized Husqvarna as one of the most reliable lawn mower brands on the market. Consumer Reports recommends multiple Husqvarna lawn mowers also. Perhaps the only downside to this lawn mower brand is that its products typically come with a premium price tag.
John Deere Reputation and Tool Affordability
John Deere is known for its robust construction, high-quality production, and low failure rate. Their products are both powerful and efficient. In fact, in 2020, Deere was recognized as one of the World's Most Ethical Companies.
John Deere is a privately owned company, and that allows them to control their prices without much influence from outside sources. Because of this, John Deere products tend to be more expensive than Husqvarna products.
​John Deere Z345M Zero-Turn Riding Mower
The John Deere mower comes in the iconic green and yellow. It's a great tractor that is designed with speed and performance in mind. The 42-inch deck is wide enough to cover large swaths of grass without sacrificing maneuverability. This John Deere lawn tractor makes taking care of your large yard a breeze.
​Husqvarna Z246 Zero Turn Lawn Mower
The Husqvarna lawn mowers come from one of the most trusted power tool brands in the world. It's 46-inch deck makes it a slightly bigger machine, so it might be a better option for you if you have a larger yard. It is backed by Husqvarna's 5-year warranty that is well-known within the industry for its service and care.
Head to Head
We've looked at a few key buying points​ that anyone should consider before investing in a zero-turn riding lawn mower.
Engine, Drive, and Power
A zero-turn riding mower is a big investment so you want something that you know is going to perform well.
Both the Husqvarna and the John Deere perform similarly in terms of engine, drive, and power, though it's worth noting that the John Deere does perform a little bit better.
The John Deere comes with a 42-inch cutting deck that's powered by a 22 horsepower V-Twin engine.
This means that it tops out at a high 7 miles per hour speed so you can fly through your yard and get the job done quickly and efficiently.
In comparison, the Husqvarna has a longer (and as a result slightly heavier) 46-inch cutting deck that's only powered by a 20 horsepower Briggs & Stratton Endurance Series V-Twin engine.
This means that it can only go 6.5 miles per hour, though you do get two extra cutting inches which does speed up the process.
Even though the John Deere might move a little faster, one annoying thing is that it does have a significantly smaller fuel tank.
At 2.1 gallons vs. 3.5 in the Husqvarna, you're going to need to stop way more often to refill.
Safety
Safety is obviously very important when operating any piece of heavy machinery and with zero-turn mowers, you need to be extra careful.
Because these mowers use lap bars instead of traditional steering wheels, there is a learning curve for using it.
The Husqvarna and the John Deere mowers take safety seriously.
Both of these lawn tractors have parking brakes that must be engaged to start the system and they also come equipped with low fuel warning lights, speed controls, and easy-to-use ignition switches.
However, in this category, the Husqvarna takes home the trophy because of its ingenious parking brake system.
Instead of having the parking brake installed as a separate piece, Husqvarna has integrated it into the control levers.
When the levers are swung out, the brake is automatically engaged so the machine stays stable.
When they're turned in, the brake is disengaged, making the machine easy to start.
This makes getting in and out of the machine significantly safer. This is because there is no way to accidentally disengage the parking brake and have the machine drift.
Comfort and Ease of Use
Finally, if you have a large yard and are going to be spending a long time mowing it, you want to make sure the experience is comfortable.
Both of these riding lawnmowers have easy-to-use control panels. They're button operated and quick to find, so you won't be stuck trying to find the control.
They also have adjustable lap bar systems which allow you to create the most comfortable experience possible for yourself.
Which Brand Offers Better Reliability?
By the time your tractor is 4 years old, around 22% of John Deere lawn tractors will break down and need servicing. In comparison, more than 30% of Husqvarna lawn tractors will need repair.
For zero turn mowers, John Deere wins. John Deere zero turn mowers come in at a 30% chance of needing repairs in 4 years. Husqvarna proved the least reliable zero turn mowers on the list, with 55% of their mowers needing repair by the fourth year.
What Consumers Complained About:
Husqvarna had a number of complaints that all came back to one thing, the cost of transmission repairs needed early in ownership. It's expensive. A lot of people mentioned that the warranty information is misleading as well. the warranty only covers engine and transmission for 1 year, leaving owners to have to cover the cost of the repairs.
John Deere had a few fairly minor complaints, but they weren't consistent complaints.
Husqvarna vs. John Deere Warranty Comparisons
Husqvarna Warranty
The standard Husqvarna warranty lasts one year and covers any defects in workmanship or materials when the machines experience normal use. Basically, if the machine, motor, trigger system, or engine breaks, it will most likely be covered.
John Deere Warranty
John Deere products include warranties anywhere from 2 to 4 years. It all depends on the product. For tractors, it varies on the model. Any failure due to defects in materials or workmanship occurring during the applicable warranty period is covered. However, this is subject to exclusions.
Final Thoughts
No matter which one you choose, Husqvarna vs John Deere zero-turn riding mower will make you happy.
Each has its pros and cons. However, overall, they're some of the best options out on the market right now. To see more about our top rankings for zero-turn mowers, check out our 2019 buying guide
Husqvarna vs. John Deere Frequently Asked Questions
Is Husqvarna a good brand?
Yes, Husqvarna is a good brand. Lots of homeowners like them because high-quality products are available at reasonable prices.
How long do Husqvarna products last?
Tools need regular maintenance. Assuming you take good care of your tool, your Husqvarna products can last up to ten years.
How long do John Deere products last?
John Deere products generally last longer than Husqvarna products. They tend to last 8 – 10 years, with repairs in between, of course. However, yours could last longer as we don't know all the information since this comes from reviewers.
Who makes Husqvarna?
Husqvarna Group is the parent company and manufacturer of Husqvarna products.
Does Husqvarna own John Deere?
No, Husqvarna does not own John Deere.
​