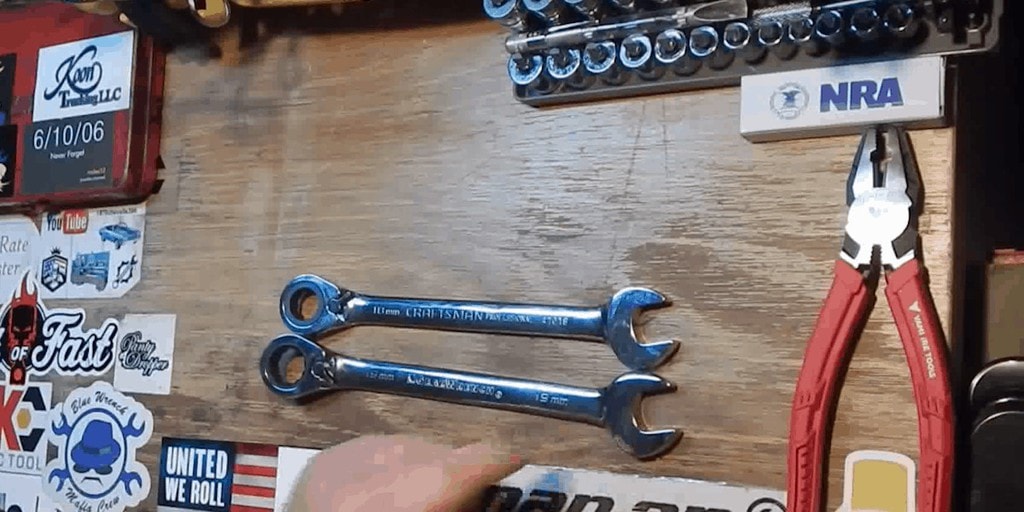 In the market for a new set of ratchets and can't decide which brand to buy? You've come to the right place. We can't guarantee to make your mind up for you, but we'll certainly do our best to give you our personal opinions and experience with the two brands Gearwrench vs. Craftsman, in hopes that your buying dilemma might be mollified just a tad.
Brief histories
The Craftsman name is of course a timeless American classic. The company started out in the early 20's as the house hand tool brand of Sears Department Stores, and maintains that status to this day.
Craftsman Company History
Manufacturing-wise, Craftsman tool products are built and assembled in dozens of different facilities across the globe, depending on what the product is (Craftsman manufactures everything from hand and power tools to garage door openers and full-size tool chests). Currently, Craftsman hand tools (wrenches, ratchets, sockets, etc) are manufactured in Apex Tool Group's factories in Taiwan and China.
Gearwrench Company History
Ironically, a lot of Gearwrench products come from the same Apex factory as Craftsman. Gearwrench is actually an Apex-owned company, while Craftsman is a Sears Holdings company (Sears just contracts Apex to manufacture the tools, then Craftsman stamps their logo on them).
That being said, Gearwrench and Craftsman tools are quality tools but they are not the same products, even though a lot of them come from the same factory. They each have their own separate design teams, and you'll see here in a second a few pretty significant differences between the two companies.
Gearwrench vs. Craftsman: Parent Companies
Apex Tool Group
Apex Tool Group is the parent company of Gearwrench. They own a few different brands:
Allen
Armstrong Tools
Atkins
Belzer
Campbell
Caulkmaster
Collins
Crescent
Delta
Erem
GearWrench
H.K. Porter
Iseli
Jacob's Chuck
JOBOX
K-D Tools
K&F
Kahnetics
Lufkin
Mayle
Nicholson
Plumb
SATA
Spline Gauges
Weller
Wire-wrap
Wiss
Xcelite
Stanley Black & Decker (SBD)
Stanley Black & Decker, also known as SBD, is the parent company of Craftsman. They own a wide variety of brands:
DeWalt
Black + Decker
Craftsman
Stanley
Lenox
Irwin
Gearwrench vs. Craftsman: Product Line Depths
Both Gearwrench and Craftsman sell a wide variety of products. Below, you'll find what each brand's product line consists of.
Gearwrench Product Line
Gearwrench sells a wide variety of hand tools.
Here are some of the specific types of products you can purchase from Gearwrench:
Hex Keys
Pliers
Lighting
Impact Products
Screwdrivers
Nutdrivers
Pry Bars
Shop Equipment
Ratchets
Drive Tools
Sockets
Wrenches
Torque Products
Tool Storage
& More
Craftsman Product Lines
Craftsman sells power tools, outdoor power equipment, lighting, generators, storage, hand tools, batteries, and accessories.
Here are some of the specific types of products you can purchase from Craftsman:
Air Compressors
Compressor Combo Kits
Air Hammers
Air Ratchets
Batteries
Chargers
Power Tool Combo Kits
Drill Drivers
Hammer Drills
Vacuums
Dust Extractors
Angle Grinders
Polishers
Impact Drivers
Impact Wrenches
Belt Sanders
Orbital Sanders
Circular Saws
Miter Saws
Jigsaws
Chop Saws
Table Saws
& More
Stanley vs. Craftsman: Brand Reputation and Cost of Tools
Here we'll go over the reputations and cost of the tools of each brand.
Gearwrench Reputation and Tool Affordability
Gearwrench products are notably better in terms of quality. This includes both durability and finish. These tools will be better from a design perspective and serve you well. Additionally , they will last longer. GearWrench's tools are a little better than Craftsman tools according to most users.
Gearwrench is the more expensive option of the two. While they do have a range of prices, one of the main things that makes them so appealing is that you're always getting a high-quality product.
Craftsman Reputation and Tool Affordability
When it comes to Craftman's reputation, the company is often regarded as one of the highest-quality power tool brands. In 2011, Craftsman received the highest score possible from the Harris Interactive Poll for both Trust and Brand Expectations.
Additionally, not long after, the readers of Popular Mechanics voted Craftsman to be the best brand for hand tools. For those who may or may not know, Craftsman is the official tool brand of both the DIY Network and NASCAR. Regardless of where tools are created, Craftsman's reputation is that it's a high-quality tool brand.
The cost of Craftsman tools is very similar to the cost of Kobalt. However, I do feel that even though the cost is the same Craftsman tools are the better value because of the wider range of tools that you are able to choose from.
Gearwrench vs. Craftsman: Warranty Comparisons
Gearwrench Warranty
Gearwrench offers both limited and lifetime warranties for its hand tools.
Hand tools (excluding product categories listed below) – For the lifetime of the original consumer who purchased ("Lifetime Warranty")
Accessory bits, bit holders, bit sockets and extensions, taps & dies, files, and cutting tools – 30 days from purchase date
Torque products – One-year limited warranty from purchase date – For more details, please click "TORQUE PRODUCTS" below.
Accessories, carrying cases or pouches, and consumable products – 1 year from purchase date ("1 Year Warranty")
Tool Boxes: 83240, 83241, 83242, 83243, 83244, 83245, 83246 – 3 Years Limited Warranty
Tool Boxes: 83167, 83168, 83169 – 5 Years Limited Warranty
Tool Boxes: 83148, 83130, 83151 – 1 Year Limited Warranty
Craftsman Warranty
Overall, Craftsman does have good warranties. Especially since some of the products come with warranties that are several years in length. However, it is important to note that Craftsman doesn't have as many lifetime warranties as Kobalt does. Additionally, some warranties from Craftsman hand over the responsibility to Sears, which no longer owns the company. This can be problematic.
Tools: Is Gearwrench better than Craftsman?
A relatively common perception among DIY'ers everywhere is that – generally speaking – Gearwrench products tend to be a bit better quality tools than Craftsman. This includes product function/performance/durability, as well as looks/finish.
Now, before we get too nit-picky about individual tools, let's set one thing clear: we're talking about ratchets and wrenches here.
Apart from maybe screwdrivers and hammers, these are about as simple as tools get, and we wouldn't recommend giving yourself too much of a headache trying to decide between two brands.
In our opinion, if you're looking to get yourself your first set of ratchets and sockets, in all honestly we recommend simply getting the most inexpensive ones you can find. Now, if you're looking to upgrade your current ratchet set and are looking for something a little better quality than you currently have, that's a different story.
In our experience, Gearwrench ratcheting wrenches are better than Craftsman.
In fact, I think I may have one ⅜" Craftsman ratchet wrench set, but my go-to ratchet set is the Gearwrench 120XP. I've got the full set in ¼", ⅜", and ½", and have used them exclusively for years with excellent results. In fact, I recently just picked up a new set of the flex-head 120XP's (same thing as the original but with the flex head) and couldn't be happier.
What sets the 120XP ratcheting wrench set apart from the competition is their dual, stacked pawls – they've got 2 different offset pawls that engage the 60-tooth driver gear alternately – this allows for the absolute minimum amount of swing arc possible.
In layman's terms, it allows you to loosen or tighten nuts in the tiniest of increments (only a 3-degree swing).
This can actually prove to be quite significant when you're working in tight spaces – we've all been there before when we go to loosen a nut in a tight spot, but there's not enough room to click the gear. Combined with the flex-head, we can't imagine too many places that these new Gearwrench 120XP ratchets can't function, and we highly recommend them.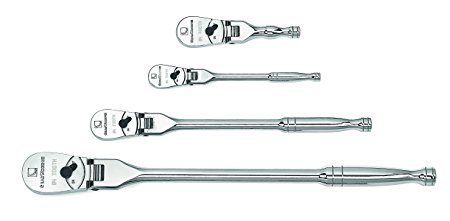 Now, we'll admit to be kind of splitting hairs here. Like we said earlier, we're talking about ratchets – both Gearwrench and Craftsman offer an unlimited lifetime warranty on all their ratchets/wrenches/sockets, so they're both the same in that regard.
Craftsman's go-to ratchets, the 75-tooth full polish 3-piece set, are perfectly fine tools, and less than half the price of the Gear wrench set.
Like we said, personally we own and love the 120XP's, but we don't foresee any reason whatsoever why this standard Craftsman set wouldn't serve you just fine. The single pawl, 75-tooth driver gear allows for a 5-degree swing – almost double that of the Gearwrench.
It's very likely of course that you'll be fine with a 5-degree ratchet, but if/when you're in that spot where you can't turn the gear, boy you'd be wishing you had the 120XP.
Our recommendation: Gearwrench vs. Craftsman
So, what's our overall opinion – Craftsman vs. Gearwrench? Like we said a few times, we prefer Gearwrench.
However, if you're looking for your first driver tool set, by all means save some money and go with the Craftsman – it'll surely serve you just fine. Use the extra money to get yourself a nice socket wrench set.
On the other hand, if you're looking to upgrade your current set of ratchets, we highly recommend taking the step up to the Gearwrench 120XP. If you haven't tried them already, you'll love them. (Now, let's pump the brakes here and drop a little disclaimer – we're not claiming these things to be the best ratchets in the industry. If you're looking to get yourself the absolute best, and happen to have a money tree out in your backyard, go with some Gedore's or something).
Socket sets
Alright, if you're getting yourself a ratchet set, unless you just plan on looking at them, you'll need some sockets to go with it. Some people are particular about their sockets – we're not. Again, we have no qualms about giving the advice to get yourself the cheapest set you can find.
It's common knowledge that Craftsman sockets, don't have as quality a finish as Gearwrench – the chrome plating can tend to be a little shabby, and is prone to flaking. How much of a concern this is is up to you. Just keep this in mind – at the end of the day, a flaked socket isn't going to perform any less than a nice pretty shiny one. If you're leaving your sockets out in the rain for days at a time or something, though, that's a different story. Rust buildup is definitely bad. There's an easy way around this, though: take care of your tools and don't let them get rusty it's best to put them in some sort of tool storage like a tool box, tool kit, or tool chest that will protect them.
Socket sets and combination wrench sets are all about what you want. Ready to spend a couple hundred bucks and get yourself a massive, all-inclusive set? Go right ahead. Only want a small, standard/metric set with the most common sizes? An easy grab for less than about 40 bucks. These sets are nice because they often come with a way to store the tools, whether its a simple organizer with a lock or a more durable storage box.
Gearwrench vs. Craftsman
To keep a certain degree of aesthetics in the garage, (or maybe we're just a little OCD?), we personally like to compliment our Gearwrench ratchets with Gearwrench sockets. They have some really nice value sets that come with the 120XP driver, for pretty reasonable prices. Definitely a recommended buy.
Again, however, if you're looking to get yourself a decent socket/ratchet set without spending too much money, something like the 108-piece Craftsman will get you in the game and serve you just fine for a fastener at a more than reasonable price.
There is Gearwrench vs. Craftsman, like we said – you'll get slightly better sockets with a better quality finish/plating if you decide to go Gearwrench, but you'll spend a bit more than if you were to choose Craftsman. It's all up to you – the ball's in your hand.
Are you looking for more? Check out some other articles I have written:
Gearwrench vs. Craftsman: Frequently Asked Questions
Are Gearwrench and Craftsman the same company?
No, Gearwrench and Craftsman are not the same company. They are owned by two different parent companies.
Is Craftsman good quality?
Craftsman is often seen as one of the best tool brands that you can purchase today. They offer both brushless and brushed options, and the quality is great for DIYers and home use.
Are Gearwrench tools worth buying?
Some Craftsman tool tests have found that their tools underperform when compared to Gearwrench. Gearwrench offers incredible value for its tools.
Are Craftsman tools as good as Gearwrench tools?
For the most part, Craftsman has several tools that are right on par with Gearwrench tools, but Craftsman does offer a wider variety of products when compared to the Gearwrench product line.
Is Gearwrench better than Craftsman for hand tools?
Gearwrench tools are good quality and perform well. Craftsman tools perform a little less. The answer to this question is going to depend on your needs. Craftsman offers a wider variety of tools compared to Gearwrench.