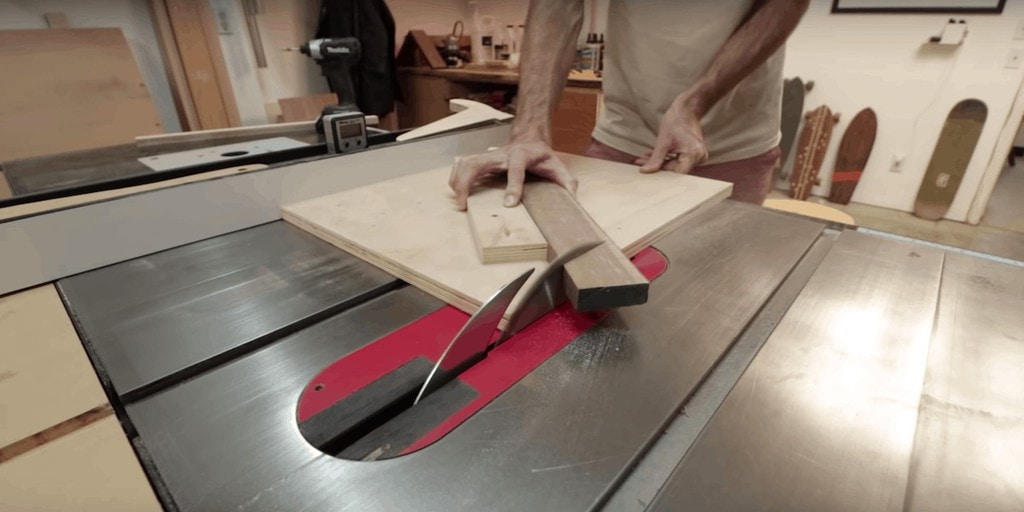 Along with the circular saw and cordless drill, miter saws and table saws are two of the most common power tools out there; walk into any halfway serious DIY'ers garage or workshop, and you're liable to find both.
But what's the difference between a miter saw and a table saw? Obviously, if a lot of people buy both, they must do different things – right? Which one is better? Which one should you get?
If you're in the market for one or the other (or both), and you've been asking yourself these questions, you've come to the right place. In this article, we'll talk about the main differences between miter saws and table saws – what sorts of specific jobs each one is appropriate for, and whether or not you need both in your garage.
Quick overview: Miter saw vs. Table saw
If you're in the market for your first power saw and have been wondering whether to get a miter or a table, get the table saw, hands down; it's far and away the more versatile of the two, and there's nothing that a miter saw can do that a table saw cannot do.
The main purpose of miter saws is to cut miter (gasp!).
More often than not – especially in a typical homeowner/DIY'ers garage – these will be simple 45-degree angles (for molding, picture frames, etc).
Table saws can be used to make an angled cut, for example, 45-degree angles. However, the miter gauges that come with most table saws tend to be pretty inaccurate and untrustworthy. However, if you make a proper miter sled/jig like this one, your table saw can cut 45-degree angles just as accurately and easily as any miter saw out there.
Now, it is faster to simply adjust the angle of the saw blade on the miter saw than it is to build a sled for your table saw, but if you plan on doing a ton of framing work on your home, it'd be wise and well worth it to invest in a miter saw. If you're like most average folks, though, you'll be fine getting by with just a table saw for virtually all of your around-the-house jobs.
Another super important difference to point out between miter saws and table saws is the size of material that each one can cut.
Miter saws can only make cross cuts (across the width of the board) – they can't make rips (lengthwise cuts). With a non-sliding miter saw, you're looking at only about a 6-inch max cut width; with a sliding miter saw, this max range jumps to about 10 or 12-inches. So forget about using a miter saw to cut plywood sheets down to size.
Table saws, on the other hand, can make both rips and cross cuts easily.
Think of it this way: with a miter saw the saw blade moves and the material is stationary; with a table saw, the saw blade is stationary and the material moves.
Thus, you could theoretically cut any size wood with a table saw, as long as you had enough room and enough people to help push the piece across the blade.
Top Miter Saws and Table Saws
As with anything, value is the #1 thing to look for if you're in the market for a table or miter saw; that is to say, the best overall combination of price, performance, and reliability. To help you out, here's a short list of a few of our favorite miter saws and table saws out there.
(For a complete, in-depth look at each of the saws mentioned below, check out our articles on the best miter saw for the money here, and the best table saw for the money here).
Table Saws
DeWalt 7491RS 10"
This is one of the most popular, best-selling table saws ever made, and is our personal top pick. If you were setting out to get your very first table saw, the DeWalt 7491RS would be our recommendation.
As with any quality table saw you get it's a hefty investment, but it'll be well worth it. Often times what beginners want the most is a user-friendly tool that's easy to figure out and not too overwhelming.
The fence system on this saw is rock solid and super easy to use, and the 15-amp motor – combined with the 10" blade – makes for a great compromise between power and precision. Also, the heavy-duty integrated wheels make transport/portability a breeze. An excellent user-friendly saw that's a great value for the price, and will hold up to the demands of any professional.
Makita 2705X1 10"
Another absolutely fantastic saw – definitely cannot go wrong with the Makita 2705X1. What makes it second-choice to the DeWalt?
Hmm, now that we think of it, we're not quite sure.
We've had the 10" DeWalt saw for years and years so we've probably just grown a little biased out of familiarity, but we will say that we've used this Makita saw plenty and goes tit for tat performance wise. The only knock is that it's substantially more expensive than the 7491RS, so that'd be the only real reason to recommend the DeWalt over this one. Great wheelset like the DeWalt makes for easy portability/transport.
SKIL 3410-02 10" Table Saw
The value buy of the bunch – if you can't afford the DeWalt or the Makita, this is without a doubt our recommendation for the 'best cheap table saw' out there. With near similar performance and a price tag nearly half that of the DeWalt, it's a super smart buy. The biggest difference is probably that the DeWalt will last much longer, and will be more reliable if you plan on getting a ton of use out of it.
However, if you're just trying to get a table saw for the garage and don't want to make a big investment on a tool you don't foresee using a whole lot, this is definitely a great option.
Miter Saws
DeWalt DWS780 12" Double Bevel Compound Sliding Miter Saw
Miter saws exist to make accurate, precision cuts simple and easy for even the most average of the Average Joe's out there, and this one is the best of the lot in our minds.
It's got all the bells and whistles a miter saw can have – the big 12" blade and the sliding capability makes for the widest cut range of any miter saw out there, and the double bevel system and XPS laser alignment system makes for fool-proof precision. In our minds, the best in-class compound miter saw out there, hands down.
Makita LS1016L 10" Dual Bevel Sliding Miter Saw
A brilliant gem of a saw. Quite a bit more expensive than the 10" DeWalt, which is probably the only thing that's keeping it from being our #1 recommendation.
Performance-wise, truth be told it's probably superior to the DeWalt – better engineering, more streamlined design, and feels more rigid and reliable (also looks damn good too). However, like we said that price tag is the only thing whatsoever that's a bit iffy.
If you're willing to spend a little more, don't hesitate to go for it. (And here's the 12" version which isn't that much expensive than the 10").
Bosch CM10 and CM12
Another fantastic saw that's worthy of our mention (both the 10 and 12"). The Bosch's are priced similarly to the Makita lineup though, and for the money we'd go with the Makita any day. A better performer than the DeWalt DWS780, but not enough to warrant the price tag, in our mind.
Ryobi 10" Compound Miter Saw w/ Laser Line
Far and away our #1 pick for budget options – if you're wanting to add a miter saw to your tool arsenal but can't spend much, this is your guy right here. Not quite the power and dependability in precision as the other saws, but what's to expect for less than 50% of the price. A great entry-level saw that'll get you in the game and, more than likely, exceed your expectations and earn your praise.
Bottom Line
To summarize, if you can only get one saw – either the table or the miter – go with the table saw; far more versatile and you'll get way more use out of it. No shop, garage, or general workspace on earth should be without a decent table saw.
However, if you've got the space and the funds, and are planning on doing a lot of framework and/or precise cross cutting of relatively small material, a miter saw is an excellent addition, and will make your life a lot easier. Keep in mind though that both of these tools – if you get a quality one – will be a decent investment.