Choosing your tools properly is the key to getting any kind of job done. With the best brad nailer, you'll be able to get started with minor construction projects, furniture repairs and a number of really great DIY projects.
But of course, you'll need to make sure you have the right nailer. With so many different options it can be hard to look at that giant list and choose just one that's going to work out the best for you.
Not Sure Which Nailer You Need?
The first step of course is to make sure you're buying the right kind of nailer. Here are a few articles we've written to help you decide:
Clipped Head vs. Round Head Nailers
Here's a great video to learn about the different gauges of nailers to know what might be best for your situation:
Whether you have a large budget or a small one, are looking for a powerful tool or a moderate one or anything else, you're definitely going to have no problem once you take a look at this list. We've actually created a list that can help you narrow down your search to only 6 of our top picks. That way, you'll be able to spend less time sorting through all of your options and wading through the multitudes and more time getting to that first project you've been planning for so long.
We've found a number of prices, a number of styles and a number of capabilities for each of these nailers, so you can make sure that really works for you. What's going to be most important is which one of these nailers you think is the best for your needs and budget.
Rest assured we've done everything we can to make sure that the nailers in this list are top of the line, which means you really can't go wrong with one of these options. 
Makita AF505N
First up we have a great option from Makita. This brad nailer is moderately priced, which means that it's great for most users. It also has a narrow nose design and can be opened to clear jams without needing any tools. Even better, you won't need a tool when it comes to adjusting the depth dial either. The rubber nose and the bumper mean that it won't scratch anything you're working on either.
You can adjust the hook up to 180 degrees to keep it right where you need it for the next nail and you can use up to 18 gauge nails with the system as well. The multi-directional exhaust port can rotate all the way around as well. Great for trim work and flooring it also has an indicator window that lets you know when it's time to add more nails.
Facts and Figures
180-degree hook adjustment
360-degree exhaust port adjustment
Uses 18 gauge nails
Drives 5/8″ to 2″ into the wood
Holds 100 nails at one time
Tool-less jam clearing
Valu-Air SF5040
Next up is a value option, but that doesn't mean that it's something you should discount. That's because this 2-in-1 system includes a nailer and a stapler, designed to get the job done quick and easy. It can use 18 gauge nails and drives them easily for general work including cabinets, staircases and other crafts.
When it comes to the other applications this nailer can even drive staples with no problem. The nails drive in between 5/8″ and 2″ and the staples can be driven 5/8″ to 1 5/8″. No matter what you're using it for you'll get a good job and you'll have easy depth adjustment with no tools needed. There's also a non-marring tip to make things easier for your use.
Facts and Features
Tool-free depth adjustment
Includes case to carry everything you need
Uses 18 gauge nails or staples
Drives nails 5/8″ to 2″ inches deep
Drives staples 5/8" to 1 5/8" deep
Includes stapler and nailer in one
Wen 61720
Another inexpensive option is the Wen nailer. This is another 2-in-1 that will give you a brad nailer and a stapler at the same time. It's able to fire brads in between 5/8″ and 2″ deep into the wood and it's a super lightweight tool, which makes it easy for you to carry around with you. The handle is coated with rubber to keep it comfortable but the aluminum body definitely helps.
Able to hold up to 100 brads at a time, it's easy to clear jams and even comes with all the tools you need to get started with it, including wrenches, oil and a carrying case. It uses 18 gauge brads and ¼" crown staples and has a simple to use depth adjustment wheel and nail gauge, plus the exhaust port can rotate to keep debris away from you.
Facts and Features
Uses 18 gauge nails
Drives nails 5/8" to 2" deep
Uses ¼" crown staples
Drives staples 5/8" to 1 5/8" deep
Rotating exhaust port
Holds up to 100 nails at a time
Lightweight
2-year warranty
Dewalt DWFP12231
This tool is back in the moderate price range and provides you with tool-free adjustments for depth as well as detents that make setting the nail heads easier. There's a tool-free system to release jams and the rear exhaust means that you don't have to worry about debris in your face. It can drive 18 gauge nails anywhere from 5/8″ to 2″ into your material.
This unit is a little heavier than some of the others (though not much) and still provides you with plenty of the same features. It has a non-marring nose tip that keeps it from scratching anything you're working on and also has a belt hook that lets you keep it right where you need it at all times. You'll even get plenty of nails and a carrying case along with it.
Facts and Features
Drives 18 gauge nails
Drives nails 5/8" to 2" deep
4.8 lbs. total weight
Moderate pricing
Detents for setting nail heads
Belt hook
Hitachi NT50AE2
With this brad nailer, you can get more features than the others we've talked about so far. This one lets you choose between a bump fire option or contact fire, with an easy switch to choose. It's super lightweight at less than 3 pounds and it has the balance that you need in order to use it for extended periods. The grip even makes this easier and more comfortable.
If nails get stuck or jammed you can clear them out without any tools and you can adjust the depth of your drive quickly and easily with the dial. You can use brad nails between 5/8" and 2" and you'll have everything you need right in the box because it even comes with a case, glasses and the non-marring nose cap to keep your projects looking great.
Facts and Features
Drives 18 gauge nails
Works between 5/8" and 2"
Includes everything you will need
Dual firing options
High capacity magazine
5 year limited warranty
Ultra-lightweight system
Stanley TRE550Z
Another 2-in-1 option this nailer has some high-level power and actually gives you 2 different power levels so you can choose what works based on the type of material you're nailing into. It has an 8-foot power cord and uses heavy-duty staples as well as ½", 9/16″ or 5/8″ brads. The jam clearing system is simple and easy, so you'll be back to work in no time at all.
The comfortable grip and limited lifetime warranty definitely make for a great tool for anyone's collection and the fact that it has a low-brad indicator window make it easy to know when you need to load up again. The flush design of the nose makes it easy to get in tight with your project and the light weight means that it's going to be easy to carry for an extended period of time.
Facts and Features
2 power levels
Limited lifetime warranty
Low-brad indicator window
Less than 3 pounds total weight
2-in-1 option with a stapler
8-foot power cord
Up to 5/8" brads
Features That Matter
Power Source
There are 3 different power sources available when it comes to a brad nailer. You can get a pneumatic system (one of the most common) which uses an air compressor, an electronic one (which is possibly the second most common) or a gas powered nail gun. It's going to be up to you for the most part which type of system you like most but keep in mind that gas or electronic nail guns are generally more expensive than the air compressor version, but they'll be more portable.
Your Next Project
Take a look at what the nailer you're looking at is actually designed for.
They tend to be made for specific types of projects and you want something that will work for you. Of course, if you're going to be doing a range of different projects you'll want to consider a more all-around friendly nailer, but if you can't find something that seems to fit the bill go with something that works for the most common projects you'll be working on. That's going to save you time and money in the long run.
Most Helpful Features
Okay, so there's not a whole lot to choosing a brad nailer in general, but you're going to want to look at some of the great features that go along with one.
You may want your nailer to be basic and have none of the extras, or maybe you want something that can give you additional capabilities. It's going to be up to you, but let's take a little closer look at what some of those capabilities actually are. They could make your next project more fun or a little easier.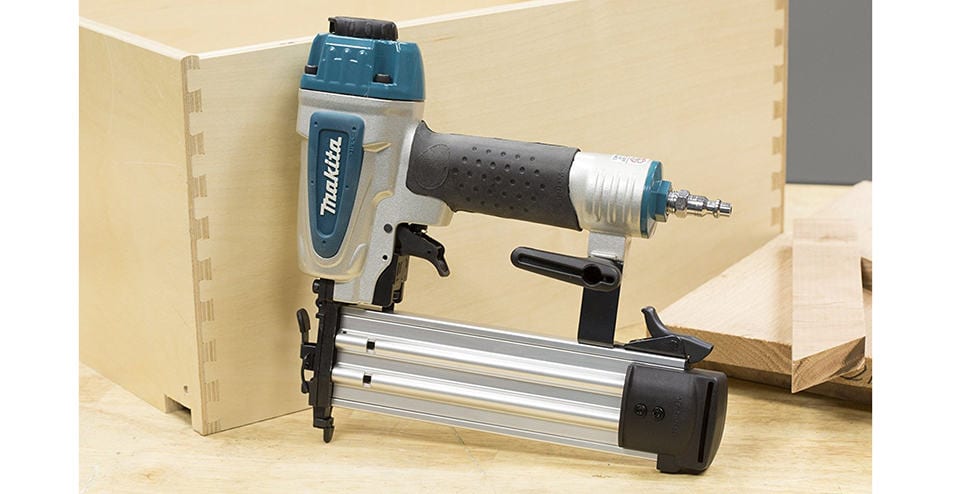 Aiming systems and laser levels help you to make sure you always know where that next nail is going to go and just how in line they're all going to be.
You'll be able to keep all of your nails in line because you can aim right where it's going to fire, but you're also going to have no problem getting an idea of where everything goes because you have a laser level in order to create that line. You won't have to 'eyeball it' like you may have been doing up until this point. Your accuracy definitely will improve.
Nail tracking capabilities are another big one because you'll be able to see right when you're going to run out of nails and when you need to reload. No one likes to be working along and then suddenly realize that they ran out of nails back 10 spots ago. It definitely slows you down and it can be irritating too. If you can see how many nails are left in the nailer each time you put one in you're definitely going to feel a whole lot better about it and you'll be able to plan for when to refill it without having to miss any first.
Final Thoughts
There are plenty of different nailers out there and choosing the right one for your needs is actually going to be less about finding something with high-quality features and more about finding something that feels comfortable and useful for you. Because there aren't a whole lot of differences to the different nailers available (most use the same type of nails and drive them the same way) you'll have to find other features to help you differentiate.
One of the best things that you can do is see what has a good handle and what feels lightweight enough you'll want to use it frequently. With each of these nailers you're definitely going to have something you can count on and before you know it you're going to be working on some great projects.
Whether you just want to have a little bit of fun for yourself or you're looking for something that will help you break into more construction work (the smaller kind) you'll be able to do it with the right tools and the right brad nailer. Just make sure you know which one you like the best and go from there. These top 6 choices should definitely help you along the way.