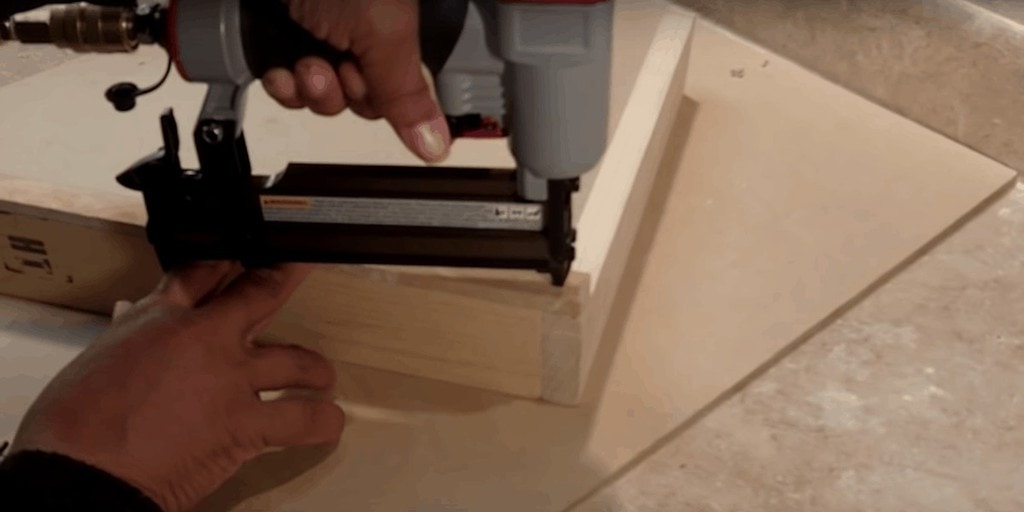 Finish carpentry is a major part of most any home renovation project, and all of the jobs that go along with it (trim, baseboards, crown molding, wainscoting, door/window casing, etc), are made much easier with some sort of pneumatic finish nailer.
There are essentially four different types of guns in the 'finish nailer family': 15 and 16-gauge finish nailers, 18-gauge brad nailers, and 23-gauge pin nailers. Naturally, it can be a bit confusing trying to figure out which gun to use for each particular finish/trim application.
In this article, we'll discuss the main differences between brad nailers and delicate pin nailers – what type of work each one is most appropriate for, and whether or not you need both for your DIY home improvement project. Click here to see our post on brad nailers vs. finish nailers
​Here's an excellent, short video on all the different kinds of finish nail guns, and when to use each one.
General Overview: Brad Nailers vs. Pin Nailers
Pin nailers are the smallest and most delicate of the finish nail gun family; they shoot tiny little 23-gauge headless nails that look an awful lot like — wait for it — pins!
Brad nailers shoot slightly larger 18-gauge nails, most of which have a distinguished head on them. These nails are still (relatively speaking) pretty small and delicate, but they offer a lot more holding power than the frail little 23-gauge nails.
Both brad and pin nails come in a variety of lengths, anywhere from ⅜" up to 2", with all the standard sizes in between. (Most pin nailers will only take up to 1" nails, but there are a few high-end models out there that can shoot 2").
Applications: When to use a brad nailer or a pin nailer?
Ok, so down to the meat and bone of the topic: how do you know when to use a brad nailer over a pin nailer, or vice-versa?
A good thing to keep in mind is that pin nails offer almost zero holding power – more often than not they need to be used simultaneously with some sort of wood glue or other adhesive (and a lot of times they're used just to hold a piece in place while the glue dries).

An 18-gauge brad nail on the other hand can be trusted with a fair bit of holding power. For example, a 16-gauge finish nailer with 2 or 2 ½" nails is the standard gun for nailing up baseboard, but an 18-gauge brad nailer with 2" nails could be used as well. A pin nailer would be way out of its league for base-boarding.
A brad nailer is actually a very versatile gun for finish carpentry – it can be used for most any application, even if a 15 or 16-gauge gun would be preferable.
If you're only getting one gun, and have been trying to decide between a brad nailer and pin nailer, 100% go with the brad nailer – you'll find that 'pinners' are actually not used all that much in the grand scheme of things.
One major advantage of pin nailers, though, is that they're so tiny they typically don't require the holes to be filled – especially if paint or stain will be going over the finished product. Brad nailers and anything larger, on the other hand, will generally require holes to be filled in (depending on how pretty you want your job to look).
Truth be told, you'll find that professional finish/trim carpenters are kind of split as to their opinion pin nailers – some will say they absolutely love them, and have no qualms whatsoever about using them for crown molding, and others will say that they're way too light gauge for any kind of practical application.
We don't do a ton of finish carpentry truth be told, but have worked with several people who say they use pinners every day for finish/trim work, and absolutely love that they don't have to go back and fill in holes over the nail head.
Overall, pin nailers are best suited for the most delicate of trim pieces, tiny furniture trim, and super thin veneers where other larger-gauge guns might split the wood. Brad nailers are much more versatile guns, and can be used for most any kind of trim work, including door/window casings and wainscoting.
Top Picks: The Best Brad Nailers & Pin Nailers.
Here's a short list of several of the better brad and pin nailers out there. Like always, we prioritize overall value, and understand that most folks can't afford to go out and spend a lot of money on, for example, a Grex pin nailer.
​Pin Nailers (23-gauge)
NuMax SP123 23 Gauge 1-Inch Pinner
It's probably the cheapest option you'll find out there for a pin nailer. If you're wanting to add one to your collection of nailers but don't see the need to spend a lot of money on something you'll hardly use, this gun would be a great option. Shoots up to 1" 23-gauge nails.
PORTER-CABLE PIN100 1/2-Inch to 1-Inch 23-Gauge Pin Nailer
A much higher quality gun than the NuMax. If you plan on doing a lot of delicate trim work and see yourself getting a decent amount of use out of your pinner, this is the one. Shoots between ½" and 1" nails, and is a good value..
Grex P650L 23-Gauge 2-Inch Headless Pinner with Lock-Out
This is the absolute top-of-the-line gun as far as pinners go, and one of the few that will shoot up to a 2" nail. If you're actually wanting to use a pin nailer for any kind of molding work, this is really one of your only options, as anything under 2" will be far too short.
Cadex CPB23.50 2″ 23 Gauge Headless Pin & Brad Nailer with 6000 Pc Fastener Assortment
Very similar to the Grex P650, albeit marginally less expensive. This is another top-notch, professional quality pin nailer that will shoot up to 2" nails.
​
Brad nailers (18-gauge)
Dewalt DWFP12233R Precision Point 18-Gauge 2-1/8 in. Brad Nailer
A really top-quality 18-gauge gun that shoots 2 ⅛" nails for that extra bit of holding power if you plan on using it for baseboarding, door/window casing, or wainscoting. The main link above is for factory-reconditioned guns, and is an incredible deal. Here's a link to the 'normal-priced' DeWalt brad nailer, and here's a link to the more expensive 18V cordless gun.
WEN 61720 3/4-Inch to 2-Inch 18-Gauge Brad Nailer
An insanely cheap option for those one a tight budget. Not the best tool on earth (imagine that), so expect some jamming and general frustrations. However, an incredible value if you're looking to get a general-purpose finish nailer but don't plan on using it a ton. Shoots anything between ¾" and 2" nails.
Hitachi NT50AE2 18-Gauge 5/8-Inch to 2-Inch Brad Nailer
Another incredible price on a great quality 18-gauge brad nailer. Very comparable to the DeWalt – you can expect this gun to function flawlessly even with day-to-day use on professional job sites.
Brad/Pin Nailer Combos
If you know you're going to be doing a lot of finish carpentry in the near future, and really want both a brad and pin nailer on hand, consider this inexpensive combo option from Freeman that includes both guns.
Freeman PPPBRCK 2-Piece Brad/Pinner Kit with Nails and Canvas Storage Bag
NiMH batteries are known for their ability to power devices for a longer period of time compared to most other batteries. Their voltage power also does not falter like most rechargeable batteries and stays at a constant voltage regardless of the remaining charge level.
Bottom Line
To summarize, 18-gauge brad nailers are a much more versatile option than 23-gauge pin nailers. If you're looking to get one finish gun for your home project, definitely go with the brad nailer – you'll be able to use it and it alone for nearly all of your trim/finish jobs.
The pin nailer is great for those rare circumstances where you actually need it, but is incapable of doing the more 'heavy-duty' finish jobs like door casings and baseboards.