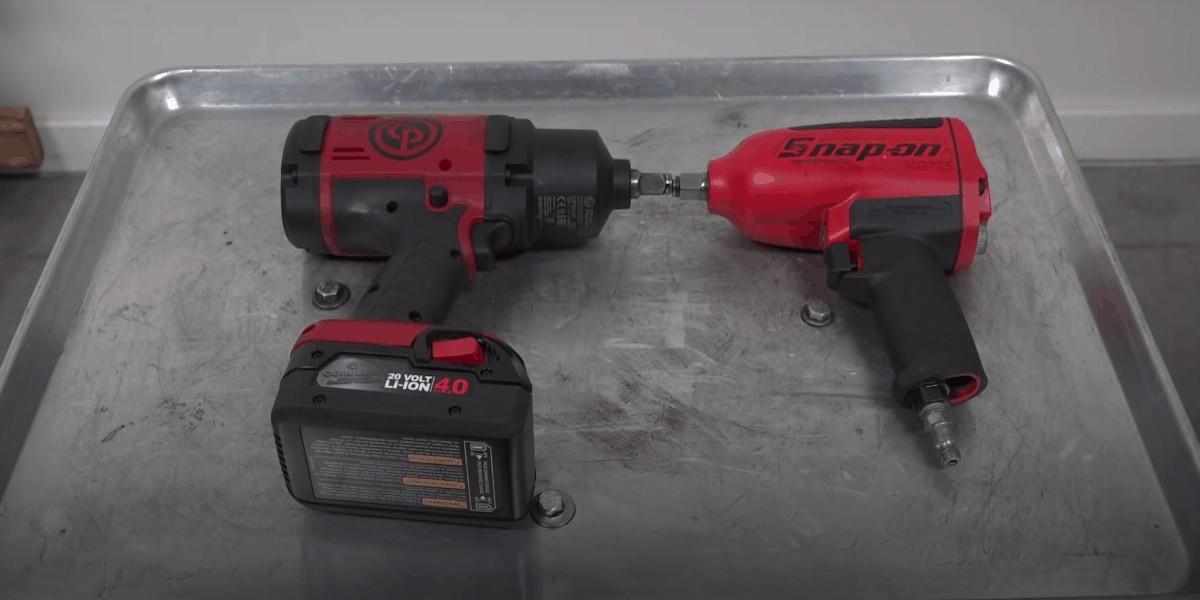 If you've recently been bitten by the power tool bug and find yourself doing a lot of online shopping and general perusing, you've no doubt noticed that air powered (pneumatic) tools are substantially less expensive than their cordless electric counterparts. Why is this?
Are electric tools really that much better?
Are pneumatic tools any good at all?
In this article, we'll focus specifically on the impact wrench, and discuss what the major differences are between electric and air-powered options. (If you're wondering what exactly an impact wrench is, here's a thorough video on its different uses, and how it differs from an impact driver).
General overview: Electric vs. pneumatic impact wrenches
Pneumatic impact wrenches are mostly used in professional auto repair shops – they're not too useful for general around-the-house type stuff. You know that high-pitched vrip-vrip-vrip sound when you go to the mechanic? Those are high-powered air wrenches making short work of lugnuts. For woodworking and other standard DIY stuff, though, they're just too high-powered and too overkill to serve any real purpose.
However, pneumatic tools definitely have their rightful place in the world, and they do have a few distinct advantages over electric. For one, they're cheaper. Like we said in the intro, you've probably noticed this by now if you've spent any amount of time at all shopping for tools online and comparing prices. However, the drawback of course is that they don't function without a big air compressor, which are pretty expensive themselves.
Another advantage of pneumatic tools over electric is weight; air impact wrenches are substantially lighter and less cumbersome than cordless wrenches. This may seem like a minor consideration to amateurs, but for professionals who use them hours and hours a day, it's a pretty major difference.
Spend eight hours zipping lugnuts with a 4.0-amp cordless impact wrench, and let us know how your arm feels afterwards.
Also, durability is a big factor. While the batteries in today's top quality electric tools will last several years, pneumatic tools will last decades if taken care of and treated properly.
In fact, they're virtually impossible to burn out – compressed air is cold; the more a pneumatic tool is used, the more it cools down. (This is the opposite of electric tools, which are prone to being damaged from overheating).
Additionally, pneumatic wrenches are much simpler engineering-wise, they can stand a lot more use and abuse, and they're much easier to repair or replace parts on if something breaks or gets worn out (unlike electric tools which are pretty much disposable once something goes bad on them).
Of course, the major drawback to pneumatic tools is that you're tethered to a big, heavy air compressor. In professional shops with 20-foot long hoses and 6ft tall compressors, this isn't much of a problem.
However, if you're planning on using that small 20-gallon compressor out in your garage to power a heavy-duty air impact, forget about it – you'll be waiting every two minutes for the compressor to re-pressurize.
If the ultimate disadvantage of pneumatic tools is being tied to an air compressor, then the ultimate advantage of electric tools is portability and the freedom to roam – they're much more convenient in that regard.
Also, another big plus is that most cordless impact wrenches have variable speeds and adjustable settings – you can manipulate them according to the work you're doing. With high-powered pneumatic guns, it's pretty much all or nothing – dead stop or full-throttle.
The major disadvantages of electric tools is that they're costly, they're less durable than pneumatic, and they're heavy. Even still, 95% of DIY'ers will be much better off and better suited with a good cordless wrench than a pneumatic.
Top Picks: Best pneumatic and electric impact wrenches
It's pretty unreal some of the specs that these high-quality cordless tools are putting out nowadays. 1,200 ft. lbs. of torque for an 18V impact wrench? Are you kidding? Of course, the good cordless stuff will set you back a pretty penny. Pneumatic tools on the other hand seem to be getting cheaper and cheaper with the increasing popularity of cordless.
Best pneumatic impact wrenches
*Keep in mind, these suckers are heavy-duty – unless you plan on rebuilding a car in your garage or driveway, the majority of DIY homeowners will not really have much use for a pneumatic impact wrench.
Ingersoll-Rand 231C ½" Impact Wrench
A shop classic and an absolute workhorse for a bargain of a price. This thing will last forever (that's a generality – not a guarantee), and is one of the most trusted, common, and user-friendly air impacts out there. However, with 'only' 425 ft lbs of torque, a lot of the higher quality cordless wrenches have already left this one in the dust, power-wise.
Craftsman ½" Pneumatic Impact Wrench
Dirt cheap, and the best value buy we've found anywhere. If you're wanting to add a ½" impact wrench to your arsenal, and are willing to sacrifice a bit of quality to save some dinero, we highly recommend the 9-16882 from Craftsman.
DeWalt DWMT70773L ½" Pneumatic Impact Wrench
The standard from DeWalt – and absolute brute that delivers nearly 800 ft lbs of torque. If we were getting together some tools for a new auto shop or home garage, this would probably be one of the first things to go in the shopping basket.
Electric impact wrenches
DeWalt DCF899B ½" Cordless Air Impact
Another stud from DeWalt. This thing delivers an insane 700 ft lbs of sustained max torque, and 1,200 ft lbs of breakaway torque – truly unheard of numbers for a cordless tool even several years ago. This wrench is really not a bad price considering what some of the other top name cordless tools are going for.
Milwaukee 2763-22 M18 Fuel ½" Cordless Impact
The envy of every automotive DIY'er and professional alike – if you've got this tool, you love it, and if you don't have it, you want it. It's a hefty investment, for sure, but if you're serious about your tools and know that you'll get a lot of use out of it and you have a need for the best of the best, don't hesitate to go for it – this is hands down, unquestionably the best ½" cordless impact wrench ever made.
Craftsman C3 19.2V Cordless ½" Impact Wrench
A great value buy. If you do a lot of work on cars at home, or you like to frequent the local junkyard and want a decent cordless impact to bring along with you, definitely give this one a shot. It'll serve you just fine for periodic use, it's powerful enough with 200 ft lbs of torque, and it certainly won't break your bank.
The Bottom Line
To be fair, impact wrenches (pneumatic or electric) aren't necessarily tools that get a ton of around-the-house use. For general purpose drilling, driving, and fastening, 99% of people will get by with a standard drill or, at the most, an impact driver. If you're an auto nut though (no pun intended) and are keen on adding an impact wrench to your arsenal, keep in mind the pros and cons of electric (expensive, heavy, super convenient, user-friendly) vs pneumatic (inexpensive, ultra powerful, durable/long-lasting, inconvenient without a good air compressor).