A cabinet table saw is no small tool.
It's also no small investment – so you want to make sure to buy the best.
In our buying guide, we talk about a few of the top cabinet table saws available in addition for general rules and recommendations on what you should be looking for when making a purchase.
What To Consider When Buying A Cabinet Table Saw
Accuracy
Cabinet table saws are used for two main things. The first is to increase cutting speed and the second thing is to increase cut accuracy. These table saws are designed to be incredibly accurate. Their solid rip fence, wide base, and large table area only add to their ability to be extremely accurate. A well-built cabinet table saw will not have much vibration and will be well balanced.
Power
Depending on the material you'll be cutting or the types of cuts you will be making will require either more or less power. Cabinet table saws are powered by electric motors, when making the decision to purchase a cabinet table saw make sure to compare the motor power between devices and their electric input needs.
Safety Features
Table saws are one of the main power tools to cause injuries, meaning safety is very important and should be a huge priority. Things like blade covers, emergency stop buttons, riving blades, and conductive braking systems are now relatively common features in table saws. Be sure to take a look at the safety features that the table saw you're interested in has.
Table Size
When using a cabinet table saw you need to make sure it can fully support your material. This can be achieved by placing the material on the tabletop and using either the miter or rip fence to guide the material.
3 Best Cabinet Table Saws – Reviews 2019:
1. SawStop PCS31230-TGP236 3-HP Cabinet Table Saw – Best Overall
This Saw Stop will hurt the wallet a bit, but if table saw safety is your number one concern, this is one of the best cabinet table saws on the market. There is no other like it out there. It's not only the best cabinet table saw for safety, it's in the running for the best cabinet table saw overall. It is serious business.
Product Details
69 1/8″ w, 33″ d, 34″ h
Unmatched fit and finish with a keen attention to detail
SawStop safety system
36″ Professional T-Glide rip Fence System provides smooth operation, precision measurement and sure lockdown without deflection
Looking for more on Table Saws?
Best Table Saw Best budget picks for woodworking.
Best Sliding Table Saw The newest sliding models reviewed
Bosch vs. Ridgid Table Saw – Who comes out on top?
From the official product description:
"Ideal for both craftsmen and hobbyists, the SawStop 3.0 horsepower Professional Cabinet Saw (model PCS31230-TGP236) delivers the performance you need with the peace of mind only SawStop's patented safety system can provide. The safety system detects when someone accidentally contacts the spinning saw blade, and then stops the blade in milliseconds — resulting in just a nick on a SawStop saw instead of the devastating injury. Built to satisfy the toughest expert users, the Professional Cabinet Saw features superior dust collection and an exacting fit and finish. This model comes with a 36-inch T-Glide rip fence system for added strength and increased precision as well as rails and extension table." – Official Product Description
How Does Saw Stop Table Saw Work?
#1 — Detect
The blade carries a small electrical signal.
When skin contacts the blade, the signal changes because the human body is conductive.
The change to the signal activates the safety system.
#2 — Activate
An aluminum brake springs into the spinning blade, stopping it.
The blade's angular momentum drives it beneath the table, removing the risk of subsequent contact.
Power to the motor is shut off.
All this happens in less than 5 milliseconds!
#3 — Reset
Resetting the saw yourself is easy. Simply replace the blade and affordable brake cartridge and your saw is operational.
The entire reset process takes less than five minutes.
"Other safety features include a main power switch with lockout key to prevent unauthorized users from turning on the saw and a large start/stop paddle with hands-free shutoff that can be stopped with your knee, allowing you to safely stop the blade even when both hands are busy." – Product Description
If you'd like to see a really thorough, in depth video review of the Saw Stop then grab some popcorn and watch this: ​
What's In the Box?
3.0 horsepower saw with fully enclosed base, 36-inch professional T-Glide rip fence system, table extension, two adjustable legs, 10-inch 40-tooth combination blade, dust collection blade guard, miter gauge, riving knife, blade wrenches, and owners manual
"This is the best table saw I've ever laid my hands on (no really it is). Coming from a Craftsman jobsite table saw, there's really no comparison between the two so it wouldn't even be fair to try. As a hobbyist, this saw is a little bit of overkill for what I do but having the peace of mind knowing my fingers will have a fighting chance in the event of a blade contact, It's well worth the money. Safety feature aside, it's still an amazing saw." – Hoang – Rockler.com Customer Review
2. Powermatic PM1000 1791000K Cabinet Table Saw – Honorable Mention
This cabinet saw is stylish, and according to the Wood Whisperer, is the best one out there for the price. Not only does it look nice, it's the first cabinet saw to run on 110V, which means your house will be able to handle this kind of power saw on a regular outlet in your garage or work space.​
This is probably the best cabinet table saw for you if you want to purchase everything you need to really start woodworking. If you go for a more expensive table saw, you may not be able to afford all of the tools "just to get you started."
Once you purchase all the tools you need to just get started, you'll find that you can always sell your less expensive "starter" tools and upgrade as you feel you have improved and need more top-of-the-line tools that will stand the test of time.
In the meantime, this cabinet table saw will suffice and honestly does a fine job for those who are just starting out with woodworking.​
"Minor throat place adjustment and it was ready to go. Very quiet compared to my old Delta. Rip, crosscuts and small piece miter cuts were all done perfectly and cuts that would have bogged down my old saw were made without a whimper." – Rockler.com Customer Review
Why We Like It
It only requires 115V power -the first of its kind
A saw blade surround and collection hose provide an unobstructed path, maximizing dust collection
Conveniently located hands free power switch
Tool-less guard assembly with independent side leaves is easy to use, maximizing safety
The sturdy miter gauge pivots 60 degrees to either side, allowing easy adjustment for a full range of cuts
3. Jet 708493K JPS-10TS, 10-inch – Best Budget Pick
Jet is a brand that you shouldn't sleep on.
If you aren't going to pony up for a Saw Stop, then I'd suggest taking a hard look at the Jet cabinet table saw. What they claim about getting features you'd expect in a high-end cabinet saw from a contractor table saw are pretty true overall.
The saw blade change process is super quick and simple, and the table leaves little doubt in the quality with its cast iron construction. Besides that, Jet offers a 5 year warranty on the product to make sure that it lives up to the hype. ​
Features
Riving knife maintains close saw blade proximity to reduce chance of kickback
Integrated arbor lock is accessed from table top for rapid saw blade change
The saw blade guard and riving knife have quick release for tool-less mounting and removal
Enclosed cabinet with exclusive leg stand design for easy assembly
Heavy duty cast iron table with T-style miter gauge slot
"This saw is an extremely well built machine. It is cutting through mahogany like butter and runs very smooth. I can tell they put some time into the design. I recommend this saw." – Randy (HomeDepot.com Review)
Buyer Guide – What You Need To Know
Is a cabinet table saw what you really need?
By now you have seen the sizes, costs and requirements of a cabinet table saw and may be asking yourself if that is too big, too expensive etc. If you feel you may need a more portable table saw check out our full review of the top portable table saws including the Dewalt cordless table saw, the Ryobi 10 inch portable saws and the Craftsman 10 inch table saw.
The Table Better Be Flat
You need to make sure that the table is basically flat, but pay particular attention to the area closest to the blades. This is the most important part that must be flat. It's nothing to stress out about, but if the table on the saw you're looking at isn't flat, you may want to consider skipping that saw.​
Zero-Clearance Inserts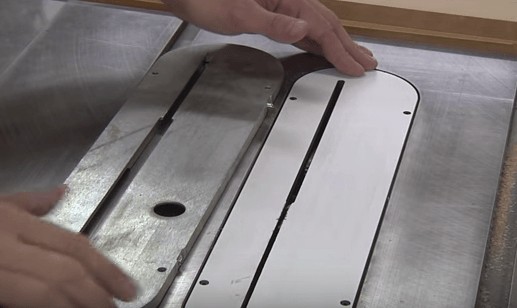 You want to be sure the saw you buy has zero-clearance inserts. It's common for the inserts that come with the saw to have too wide of a gap. You can make your own or purchase ones that are more closed-gapped. ​ These are a must!
Splitter in Place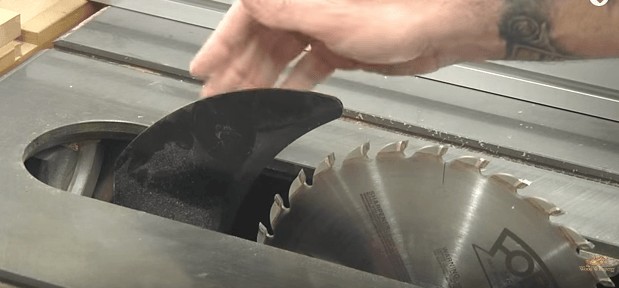 A splitter is good, but a riving knife is better because it goes up and down with the blade, you can use it several situations, and you don't have to have a big ol' clunky guard in the way. The riving knife is easy to remove and only requires a simple overhead guard. It's easy to put back in place, and allows for the safest cuts possible.
Reliable Fence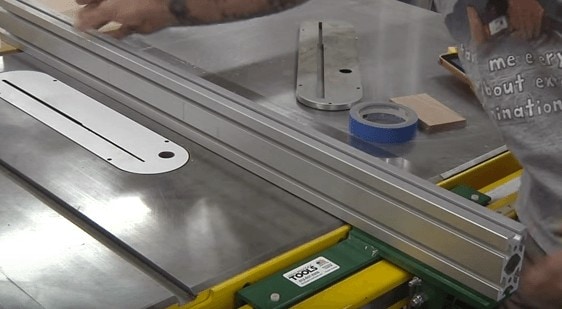 Another thing you need to look for is a reliable, solid rip fence. One that, when you lock it down, it isn't going anywhere. There should be no flex (movement) and the fence itself should be nice and straight.
Miter Slot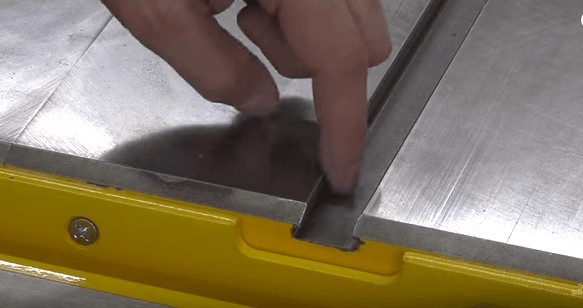 ​You want to be sure that your miter saw slot isn't an odd-ball size. If you purchase anything after-market, you won't have trouble finding accessories that fit this slot (shown in picture above). You want to be sure that accessories that you purchase will work with the miter slot that your cabinet table saw comes with.
The Arbor Shaft Size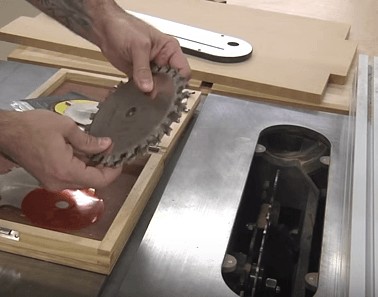 You want to be sure that the arbor– the shaft that holds the blade of your saw, is long enough to take a nice dado stack​ of blades. If you want to get the most out of every blade use our ultimate guide to buying the best table saw blades.
What You Can Usually Ignore
​Blade Guard – most of the time, the blade guard that comes with the saw you're going to purchase isn't great. Never fear! There are so many great ones out there that you can purchase after-market. This should not be something that sells you on which one is the best cabinet table saw.
Table leaves- it doesn't really matter if the leaves (surrounding the cutting area) are made of metal, just so that they are good support for the table top.
The Blade- most stock blades are kind of crappy. This is not something to be concerned with at all when considering which is the best cabinet table saw on the market. You'll be upgrading that anyway.
Wrap Up
A cabinet saw is one of those things that you aren't going to upgrade on often, so if you are buying your first one or maybe replacing an outdated one, then we recommend doing everything you can to buy the best you can afford. Make sure to consider how much HP you really need, check out our guide that breaks down table saw horsepower.
The old adage of "if you buy on price, you buy twice" is especially painful as the dollar figure goes up.
We feel really good about all 3 we discussed, but if you can swing it – go for The Saw Stop.
I know none of us think we'll ever chop off a finger, but let's face it – table saws are legit and can be very dangerous. To me, the unmatched and unique safety feature in the Saw Stop is a game changer. ​