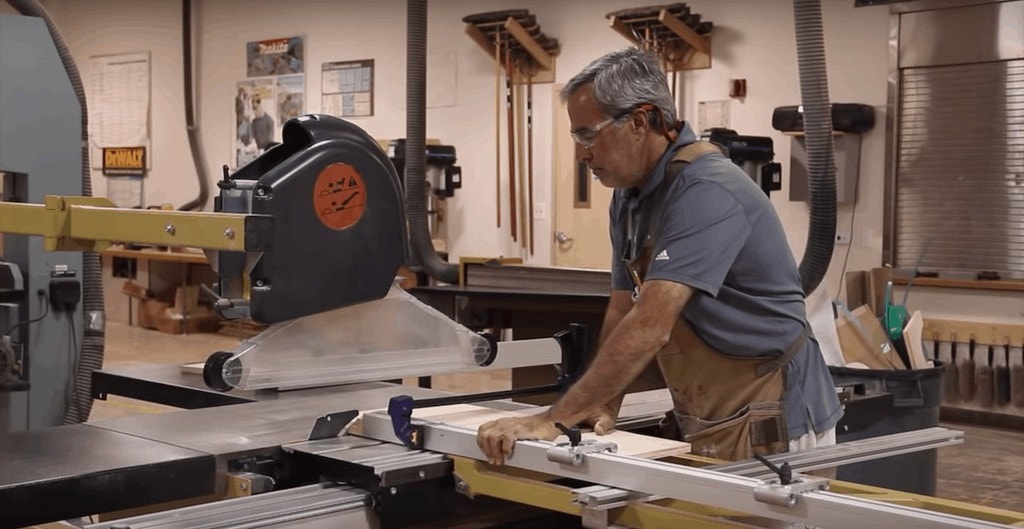 For cabinetmakers and other fine craftsmen, a sliding table saw can be one of the most important investments their shop can make. Today, we're going to take a closer look at five of the best options on the market, and provide you with the additional info you need to select the best saw for your needs.
Top 5 Sliding Table Saws 2020 – Reviewed
Let's jump right into our roundup of the five best sliding table saws available today. These saws represent the cutting edge in performance and safety, and any one of them would be a solid addition to your workshop.
1. SawStop PCS175-TGP236 Cabinet Table Saw
SawStop has quickly built a reputation as a manufacturer of some of the safest, highest quality saws on the market, and their PCS175-TGP236 cabinet saw is no exception.
This saw was developed with the avid home craftsman in mind, so it has a shop-friendly footprint and many high-end features that you're sure to appreciate. One of the most notable of which is that this saw includes SawStop's famous safety system, which stops and instantly retracts the blade the second it makes contact with skin.
This saw features a 36" T-Glide fence system, which provides smooth operation and firm lockdown. Practically any adjustments you need to make to the saw, saw cavity, or blade, can be done without the use of additional tools, which is a handy feature for anyone who regularly changes blades or needs to make adjustments to their saw.
A 1.75 horsepower motor makes quick work of almost any task, and this saw features a maximum cutting depth of 3 ⅛". The PCS175-TGP236 also features SawStop's award-winning dust collection system which features an advanced airflow design which captures sawdust at the point of cutting and directs it away from the saw through the wide 4" dust port.
SawStop warrants this saw for a period of two years, so you'll be covered should anything go wrong during that time.
What We Like
SawStop safety system
Smooth and accurate fence design
Industry-leading dust collection
Tool-free adjustments
What Could Be Better
Engine is too small for heavy-duty shop work
2. JET 708675PK XACTASAW Sliding Table Saw
For the serious craftsman that's looking to step up to a more robust and full-featured saw, the JET XACTASAW may be a fine choice for you.
One of the first things you notice about this saw is its impressive build quality. It features a cast iron table and trunnion and cast iron hand wheels with steel locking pins. The XACTASAW seems like it could survive a nuclear war.
This saw features a powerful three horsepower motor with an upgraded Poly-V belt system which provides smooth operation and superior power transfer. The large cabinet features a sealed drawer for storing any needed accessories.
Also featured are a left-tilting blade which tilts away from the fence, providing safer and burn-free miter cuts at any angle. The XACTASAW also has a full complement of additional safety features, including a quick release riving knife, independent leaf safety blade guard, and an anti-kickback pawl.
The saw excels at dust collection, thanks to its integrated collection system with wide 4" port. A push-button arbor lock makes blade changes a breeze – all you'll need is an offset wrench to complete the job.
This saw is a behemoth, weighing in at just north of 500 pounds. But it's size and weight is mainly a testament to its build quality, as this is one of the most impressive saws on the market when it comes to workmanship. JET backs this saw with a comprehensive five-year warranty.
What We Like
Unparalleled build quality
Five-year warranty
Commercial sized fence
Strong safety features
What Could Be Better
Engine could use more torque
3. Baileigh TS-1248P-52 Sliding Table Saw
This monstrous sliding table saw from Baileigh is a proven performer with an industrial capacity that makes it a welcomed addition to any busy shop.
This saw features an impressive five horsepower 3,600RPM motor that can make quick work out of virtually any material. Build wise; this saw can stand up to anything. The base is solid steel, as are the handwheels and small components, while a perfectly square cast iron table supports your materials.
The cast iron table is also effectively warp-proof, as the webbed design perfectly meshes with the solid steel base so that it won't warp in the face of extreme heat or moisture. The rip fence features a digital readout for rip capacity. Simply zero out the screen at the blade for a perfect, repeatable length with every cut you make.
An easy to use miter gauge is integrated into the tabletop, and there's a digital readout for the bevel angle that's located on the base of the machine, so you'll be able to clearly and precisely make any cut you'll need to.
The TS-1248P-52 also has several handy safety features, including a four-piece safety blade guard with anti-kickback reverse teeth, quick release riving knife and splitter to further safeguard against kickback, and an advanced dust collection system with 4" port.
Baileigh only provides a one-year warranty on parts for this saw, which is much shorter than most of the competition. However, they do offer lifetime phone support with their team of reps, all of whom have experience working directly with Baileigh table saws.
What We Like
Powerful motor
Large capacity
Digital readout for bevel angle and rip capacity
Beautifully made
What Could Be Better
Mediocre warranty
Requires a 220V outlet
Might be too large for small shops
4. Shop Fox W1811 Sliding Table Saw
Another compelling option for a sliding table saw is the Shop Fox W1811. This saw provides some cutting-edge features while maintaining a footprint that's small enough for even tiny shops to accommodate.
The five-horsepower single-phase motor reaches speeds of 3,450 RPM, and it can make quick work of plywood and other material stock. The saw features a fully adjustable miter fence with swing stops and an extruded fence that's also fully adjustable.
An adjustable riving knife prevents kickback, while the large blade guard helps prevent accidents, and also features an integrated 2 ½" dust port for efficient sawdust removal. There's also a 4" main dust port located below the cabinet as well.
An interesting feature of the W1811 is its scoring blade which helps to eliminate cross grain tearout so you can produce more precise and professional cuts. Shop Fox backs this saw with a 2-year warranty.
What We Like
Powerful motor
Efficient dust collection
Smooth table operation
What Could Be Better
5. Grizzly G1023RL Sliding Table Saw
When it comes to sliding table saws, price and size are the two major deterrents that keep shoppers from purchasing one. Thankfully, both those concerns are put to bed with the G1023RL from Grizzly Industrial.
This saw is one of the most affordable sliding table saws on the market, and it also has the smallest footprint, making it ideal for tiny shops that can't fit a larger table saw.
This saw features a one-piece steel base, a cast iron table, and cast iron handwheels. The table is heat treated to prevent warping, then milled flat and polished to a mirror shine.
A 3HP 240V motor powers the saw, and at 3,450 RPM, it cuts through plywood and other stock with ease. However, with a max cutting depth of 3", there may be some stock that's too thick for cutting in one pass.
Safety features such as an integrated splitter, riving knife, and quick release blade guard keeps the user safe while operating the machine. A 4" dust port efficiently steers sawdust away from the blade where it can easily be suctioned off with the dust collection system of your choice.
What We Like
Affordable
Small footprint
Built to last
What Could Be Better
Requires 240V outlet
Max. cutting depth is only 3"
Sliding Table Saw Buying Guide
You'd do well with any of the five sliding table saws we've covered above. But, that doesn't mean you should just blindly make a major purchase without knowing the ins and outs of what you're looking at. For that reason, we've put together a detailed sliding table saw buying guide for you.
What Separates a Sliding Table Saw from Other Table Saws?
A sliding table saw, which is also basically the same as a cabinet saw, has two notable differences when compared to other table saws.
The first is the table itself. With a traditional table saw, the table to the left of the blade is stationary. When it's time to cut, you move your material through the saw, and the table supports the material as it moves.
With a sliding table saw, this table is no longer stationary. Instead, the table moves with the material as you cut. So, instead of pushing the piece of material into the saw blade, you slide the entire table to the blade.
This will help you make more precise cuts, especially if you're dealing with large pieces of material.
With a traditional table saw, the user stands behind the material and feeds it into the saw. This can create some safety issues, especially if the material kicks back as it's cutting. With a sliding table saw, the user is positioned off to the side, which keeps them out of harm's way as they make their cuts.
Table Saw Components
Table saws have several essential parts and components you should be familiar with as you narrow the field to find the best sliding table saw for your shop.
Miter Gauge
A miter gauge is an adjustable guide that allows you to make cuts on an angle. The miter gauge is usually adjustable from 0-45 degrees (or more) for making angled cuts in your material. The gauge is usually controlled with a wheel, and once you've set the gauge to your desired angle, you can place the material against the miter gauge and make your cut.
Rip Fence
A rip fence is a bar attached to the table that acts as a guide as you feed your material through the saw. On a sliding table saw, the material just needs to be placed against the rip fence, and then the entire table moves through the blade to complete the cut.
Bevel System
Similar to a miter gauge, a bevel system also allows you to make angled cuts. However, instead of angling your material to cut, the blade angles to cut, while the material is fed straight through the machine. For cabinetmakers and other professional woodworkers, these types of cuts are important.
Riving Knife
A riving knife is an important safety feature that helps prevent your material from kicking back as you feed the material through the saw. The riving knife places a wedge in between the material as it's being cut, which widens the channel that the blade travels through. This helps to keep the blade from binding in the material, which causes the material to kick back dangerously.
Blade Guard
The blade guard is usually made from plastic, but other materials can be used. This is an important safety feature that protects the user from kickback and accidental contact with the blade while also protecting against dust and debris.
Table Saw Motors
There are two types of motors that are common with table saws: belt drive and direct drive motors.
Belt Driven
Belt drive motors are usually induction motors which connect to the saw's blade with a belt. These motors are most often seen on the cabinet and sliding table saws. They operate very quietly compared to direct drive motors, and they can be positioned away from the saw's blade, which makes them less vulnerable to damage caused by sawdust or debris.
Belt drive motors do require regular maintenance to keep them working in top shape. However, the maintenance is easy, and the most involved thing you'll ever need to do is change a worn belt.
Direct Driven
Direct drive motors connect directly to the blade of the saw, transferring all their power. These motors can deliver lots of power while maintaining a small footprint. Direct drive motors are most popular on job site or portable table saws.
The drawbacks of direct drive motors are that they're extremely loud, and they must be mounted near the blade itself, which leaves them vulnerable to sawdust and debris.
Features to Look For
Now that we've covered the essential components of a sliding table saw let's cover some handy features you'll want to look for when evaluating different table saws.
Arbor or Shaft Locks
This is a small but immensely helpful feature to have. A locking arbor or shaft allows you to quickly lock the blade in place so that it's easy to remove and replace when it's time to change blades.
This feature is especially important if you often find yourself switching blades to cut different materials since it makes the process much faster.
Dust Collection
Table saws create a metric ton of dust and debris, so a dust collection system that works it's butt off is a crucial feature to consider when shopping for a sliding table saw. Look for a saw that has a dust collection port that's compatible with your current shop vac or dust collection system.
Micro-adjustment Fence
The ability to make minute adjustments may be important to you, especially if you're a professional craftsman or cabinetmaker. A micro-adjustment fence will allow you to precisely make tiny adjustments to the fence to produce the exact cut that you need.
Frequently Asked Questions
Q: What separates a sliding table saw from a regular one?
A: The main difference between a sliding table saw and other table saws is the table itself. With a sliding table saw, the entire table slides forward to feed the material into the blade. With other table saws, the table stays stationary while you feed the material.
While they're still a precision piece of equipment, a regular table saw can't compete with the exacting precision of a sliding table saw.
Q: Do I need a sliding table saw?
A: In most cases, the answer is no. While sliding table saws are incredibly useful for fine craftsmen and cabinet makers, most people will find that they are overkill, and a regular table saw offers more than enough functionality to fit their needs.
Sliding table saws are also prohibitively expensive for most people, as even a budget model will run around $2,000 or more. Then, there's the issue of size. Sliding table saws are massive, stationary pieces of equipment, and you'll need to be able to dedicate a large portion of the floor space in your shop to own one.
That said, there's no beating the precision or ease of use of a sliding table saw. For cabinetmakers and fine carpenters, a sliding table saw is an indispensable piece of equipment.
Q: Are sliding table saws safer than regular table saws?
A: Table saws are relatively safe pieces of equipment, especially today as manufacturers seem to roll out new safety features with each new saw they produce. But, sliding table saws are inherently safer, as the operator can stand to the side far away from the blade as it cuts.
Final Verdict
While each of the five sliding table saws we've covered above would make an excellent choice for your shop, we believe that one saw stands above, earning the title of the best sliding table saw. Our favorite saw is the JET XACTASAW. The XACTASAW offers premium features at a price point that should be affordable for most shops.
If the XACTASAW isn't quite what you're looking for because it's too large or too expensive, the Grizzly G1023RL may be the perfect saw for you.