Milwaukee circular saws are for people who say, "my last saw couldn't ____________." If you are looking at a Milwaukee circular saw, chances are you already have a saw that wore out, bogged down, weighed you down, or just couldn't handle what you need. These are high-quality, heavy-duty saws built to take on tough cutting jobs day after day.
If you know your way around a circular saw already, but want to step up in power, portability, or durability, read on.
---
At a Glance Our Top Picks for Milwaukee Circular Saw:
Milwaukee Circular Saw Tilt Lock 7 ¼ Inch 
The 7 ¼ inch tilt lock circular saw is Milwaukee's most basic model. It uses a 7 ¼ inch blade and a standard power cord. This saw will perform all the tasks you can ask of a circular saw.
Things we like:
Tilt-lock feature allows users to adjust handle position to get the most convenient cutting position
15 amp motor and 7 ¼ inch blades handle most cutting tasks with ease
Cuts lumber up to 2 ½ inches thick in one pass
Steel gears in the drivetrain for durability
If you don't already have Milwaukee battery packs, this is the most affordable option
Things we don't like:
Anything this saw can do, another model can do better
Milwaukee Circular Saw M12 Fuel 5 3/8 Inch 
Milwaukee's cordless 5 3/8 inch circular saw is made to move. At 5.35 pounds, this little powerhouse is the lightest circular saw makes.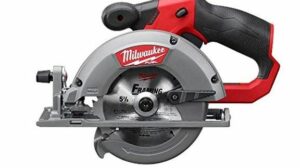 Things we like:
Did we mention it's lightweight? This saw is an excellent choice for jobs that require users to move around a lot.
5 3/8 inch blade can cut lumber up to 1 5/8 inch thick. This includes 2x dimensional lumber (which serious woodworkers know is actually 1 ½ inches thick).
Good battery life.
Brushless motor for longer tool life.
Things we don't like:
Lacks the size and power for the biggest cutting jobs.
If you have to buy battery packs and chargers, this saw becomes an expensive proposition.
Milwaukee Circular Saw 6 ½ Inch M18 Brushless 
The Milwaukee 6 ½ inch 18 volt circular saw is a step up in weight and power from the 5 3/8 inch model. This is an all-around saw designed to compete with the standard 7 ¼ inch saws.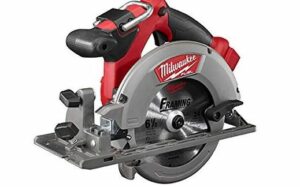 Things we like:
5000 RPM motor has enough power to cut 2x lumber without bogging down
Much lighter than the standard 7 ¼ inch saw
Users report good battery life
Things we don't like:
Many users report that the allen key used to change blades doesn't stay in the housing.
As with other cordless tools, buying the full range of accessories is expensive.
Milwaukee Circular Saw 7 ¼ Inch Worm Drive 
When a standard sidewinder saw just won't cut it, contractors step up to a worm drive saw. These saws use a gear arrangement called a worm gear that transmits more torque to the blade.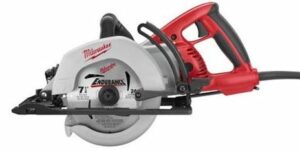 Things we like:
Worm drive and a plug mean this saw has cutting power to spare.
Excellent choice for cutting hardwoods or ripping 2x material.
Heavy duty composite shoe for durability.
Things we don't like:
At over 15 pounds, much heavier than other 7 ¼ inch saws.
Costs nearly twice as much as the standard 7 ¼ inch Milwaukee circular saw.
Milwaukee Circular Saw 10 ¼ Inch 
The 10 ¼ inch circular is the biggest and most powerful circular saw from Milwaukee. It is also the most expensive.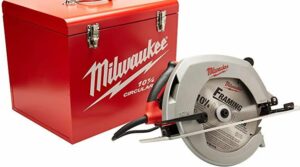 Things we like:
10 ¼ inch blade can cut 4x material in one pass.
15 amp, 5200 RPM motor provides enough cutting power to keep the big blade spinning.
A great choice if you are cutting timbers on a regular basis.
Electric brake stops the blade quickly to cut down on waiting between cuts.
Things we don't like:
Milwaukee's heaviest saw, it tips the scales at 17.8 pounds.
A lot more saw than most users really need.
Tricks and Tips for Using a Circular Saw
To get the most out of your circular saw, there are some important tricks to know.
Our Choice
Milwaukee circular saws are available for a wide range of uses, and they make saws that are fantastic for special uses. If you just need a basic circular saw, the best choice is the least expensive. The Milwaukee 7 ¼ inch tilt lock saw is an all-around great choice. It is powerful and big enough to cut almost everything. If you only have one circular saw, this is the one to have.
If you need a portable saw that can go anywhere, look at the Milwaukee M18 6 ½ inch circular saw. It cordless and lightweight, but cuts 2x lumber with ease.
If you need to cut lots of 4x timbers, check out the Milwaukee 10 ¼ inch circular saw. This saw will cut timbers in a single pass with no need to cut and flip and cut again. This saw isn't right for everyone, but it excels at cutting the big stuff. Do you need a compact circular saw? If so, check out Best Compact Circular Saw 2019.