Are you discovering your "Do-It-Yourself" alter-ego, and at the same time, realizing they have tools designed to do exactly what you need? And now you're thinking about buying the best table saw for the money? Are you getting into woodworking and growing tired of trying to make all of those cuts painstakingly with a circular saw?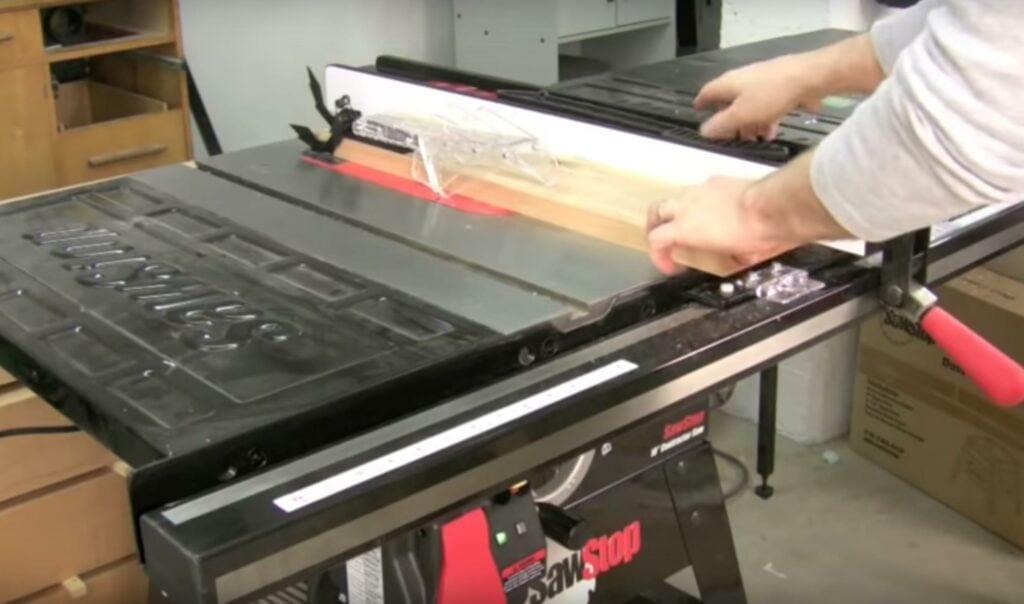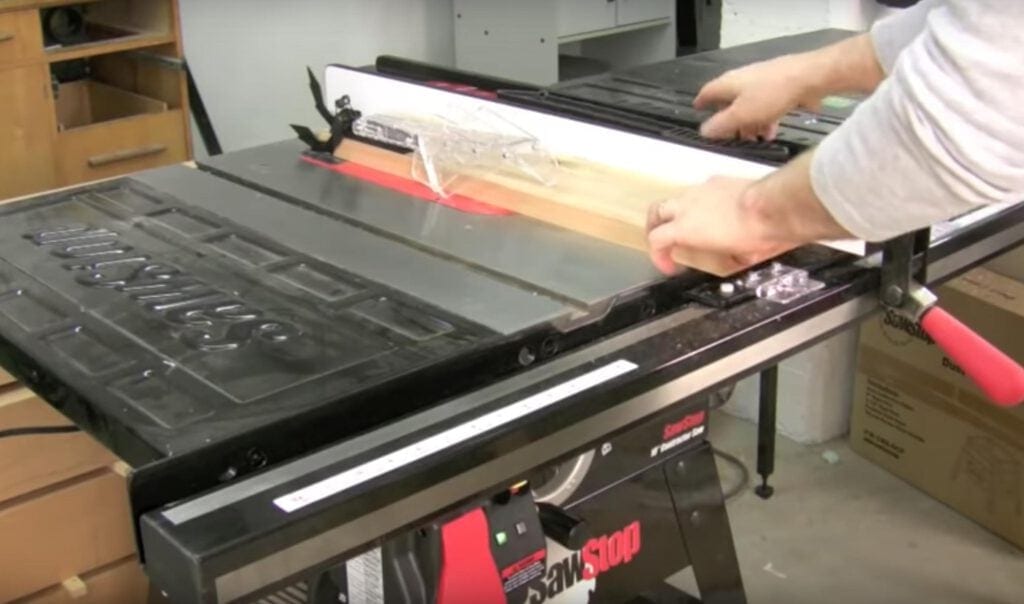 You may want to consider the ease and accuracy of a portable table saw. Our how to buy the best table saw buying guide will show you some of the top models you can buy as well as things to consider. Like my dad always says "work smarter, not harder".
Looking for more on Table Saws?
Best Cabinet Table Saw Best budget picks for woodworking.
Best Sliding Table Saw The newest sliding models reviewed
Bosch vs. Ridgid Table Saw – Who comes out on top?
Table Saws Are Convenient
Table saws are extremely convenient when you have a project that requires both quantity and quality. These little machines can miter, rip, crosscut, and bevel. Forget about the frustration of not being able to see what you're cutting. With a table saw everything will be right in front of your eyes.
Now, let's assume if you're in the market for a table saw you've at least swung a hammer. I know what you're thinking "what does a hammer have to do with a table saw?" If you're thinking of buying a table saw, you probably have a good idea of what it takes to complete a DIY project.
Table saws aren't necessarily for someone who just needs to cut a piece of wood. The best table saw function is to make a large job (cutting a lot of wood) easier. For smaller jobs, a circular saw may do just fine…
I know from personal experience while on a job-site that when all I have is a circular saw and I have to make a lot of cuts… I'm praying to the saw gods to drop a table saw from the clouds (or deliver by drone these days) so I can get home to my family.
As with anything, it's easy to get overwhelmed with the variety of types, sizes, features, colors, weights, what, when, why, where, who…(let me catch my breath). For now, let's focus on what's right for you with our How to Buy the Best Table Saw Guide. We'll start by identifying quality brands that align with your needs. Besides, who wants to buy something that won't work?
Well, that's why The Saw Guy is here.
DeWALT 7491RS 10-inch Jobsite Table Saw with Rolling Stand
DeWALT is a historically reliable brand and this table saw does not break that pattern. I have little doubt you will be satisfied with the DeWALT 7491RS. In fact, I believe "satisfied" may be underselling it significantly. Only one way to find out.
Esthetics and Durability of the DeWALT 7491RS Table Saw
Let's face it, DeWALT is one of the most popular brands of power tools in the world. And, if you own a number of DeWALT hand tools, you're pretty likely to purchase the same brand when deciding what tools you need for the bigger projects.
That plan doesn't always work but with the DeWALT 7491RS table saw it does. So, you're not only buying a table saw that matches the rest of your tools, you're buying a table saw that will do the job right.
Now, let's talk about what this table saw is made of…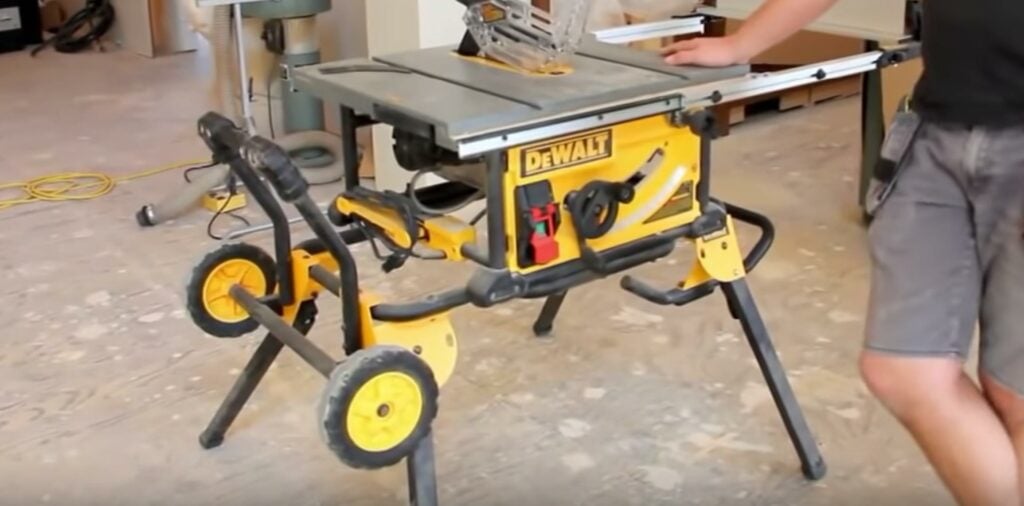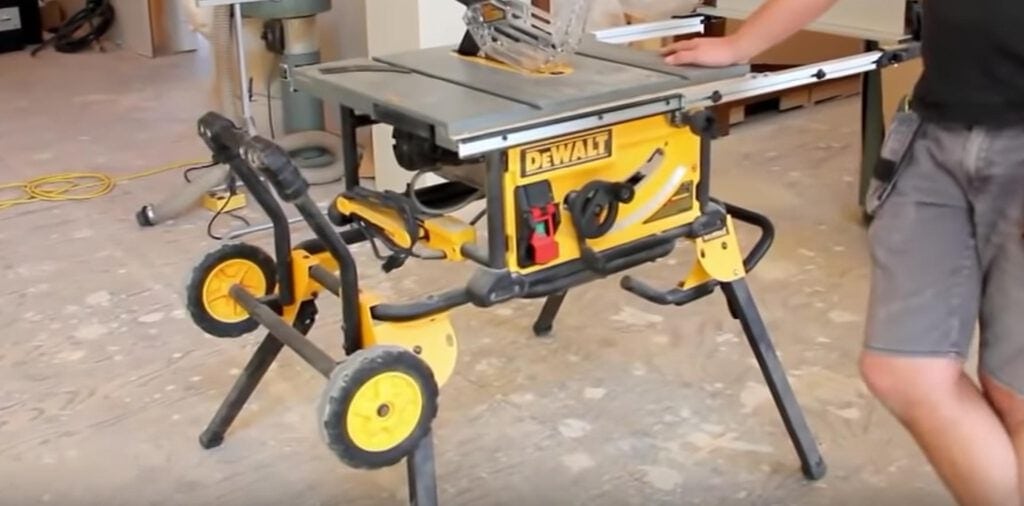 At first glance the deck of this saw appears to be made of plastic, and if there is anything I know it's plastic parts on power tools is never a good sign. However, the deck is actually a sort of aluminum composite and is very durable.
There are some small parts made of plastic, but over the last few years the durability of plastic has increased exponentially. One of the larger plastic components is the miter gauge. The plastic gauge is pretty small and can have issues with accuracy.
​If you are one to use the miter gauge very often you may want to consider purchasing an OEM gauge separate if you can find one that is compatible. However, if you're just using the saw for DIY projects and not craftsman quality custom woodwork, you should be just fine.
The rolling table saw stand is built for portability and easy storage. Yet, it is made out of aluminum which makes it both lightweight and strong. The stand itself only weighs 33 lbs but it holds up to 200 lbs. Just, please don't try standing on the DeWALT Table Saw.
The table saw stand is so easy to work with because of the design. For instance, it has quick-release levers that allow it to fold up when you're done, big wheels that allow you to roll over whatever may be in the way, and even kickstands for better stability.
It's the little things like the rubber feet to keep it from sliding, the comfortable handle for transporting, and even the height of the table that make this table saw a winner.
Any table saw is useless without a good blade. The DeWALT 7491RS comes with a 24-tooth blade that works fine for most rough applications. However, it is always important to find the right saw blade to match the style and power of each saw you use. I find a 50-tooth carbide blade works perfectly with the DeWALT 7491RS.
The 50-tooth carbide blade is great for almost everything from wood flooring to cabinets. In comparison to the 40-tooth it cuts much smoother and still gets through framing lumber fast enough.
Of course, an 80-tooth blade will leave a much smoother finish but it will take a significantly longer time to finish your cuts. Not to mention the wear constantly using a fine-toothed blade will put on the motor of your saw over time.
Functionality of the DeWALT 7491RS Table Saw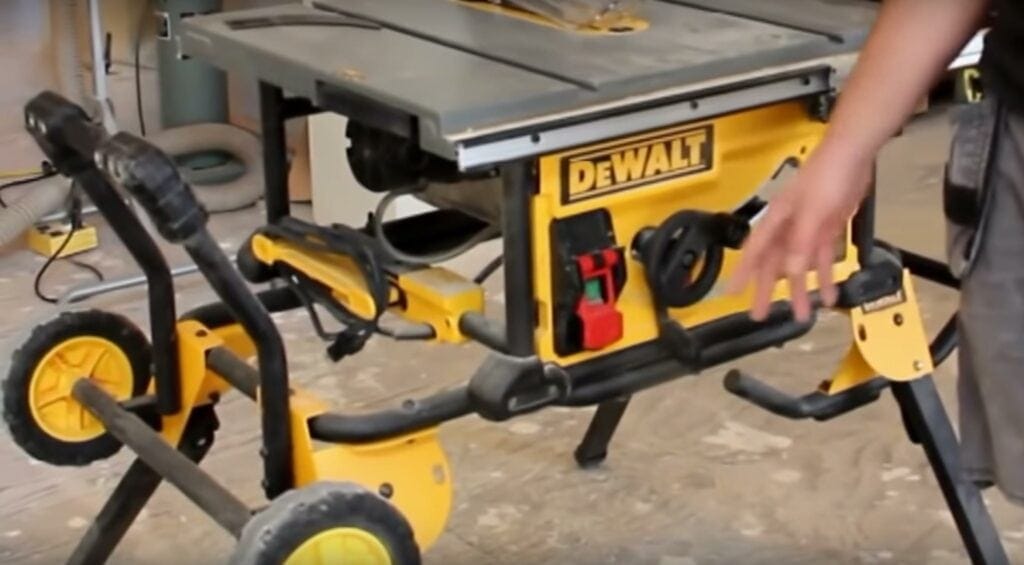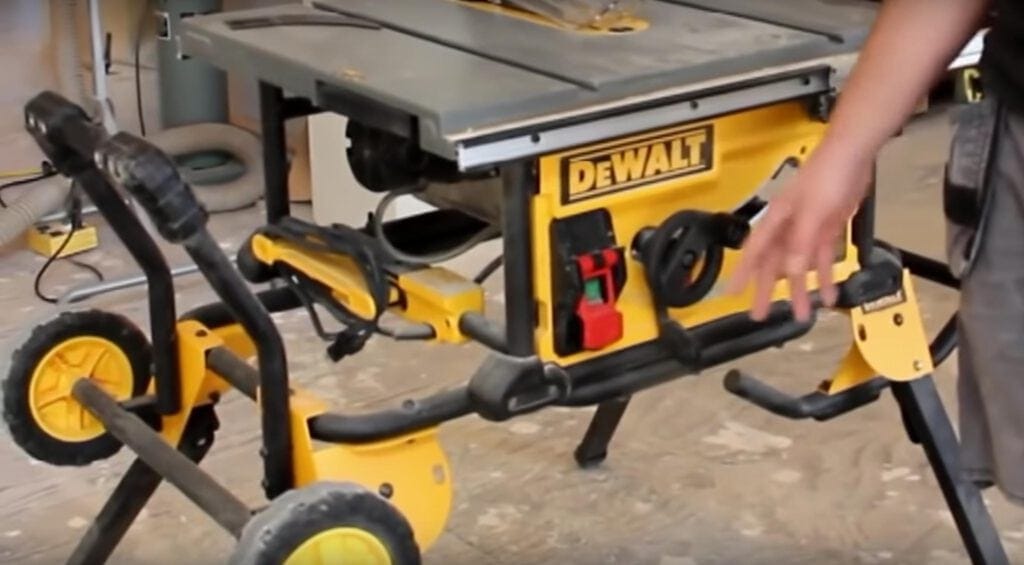 A circular saw is great for initial cuts of plywood sheets or single cuts. The miter saw is what you would use to make precise angled crosscuts. A jigsaw is good for curving cuts or anything intricate. The table saw is a must when you have a significant amount of ripping and lumber style crosscuts.
The great thing about the DeWALT 7491RS is that it folds up small enough to store and not be in the way. It also has a number of add-ons like the table top slide out extensions (side and back) which work very well.
Generally, portable table saws do not have a broad enough surface to cut full sheets of plywood. A full sheet would have to be cut into a partial sheet to use on a portable table saw safely.
What truly sets the DeWALT 7491RS apart from any other in its class is the rack and pinion system. No other portable table saw has this feature.
The rack and pinion fence is very precise and consistent. It can easily rip dead on within 1/16 of an inch or less. Not to mention this saw has the largest rip capacity out of any like it at 32 ½ inches.
The DeWALT 7491RS is a 15-amp saw and should be operated on a 20-amp circuit. It can be operated on 15 amps but it could trip the breaker on harder material or if any other source is drawing amps.
15-amp saws are great for their portability but will not withstand the specifications and quantity like a $2,000-$10,000 cabinet saw will.
Be sure to refer to the manual to make all the adjustments and measurements for vertical, zero-miter, parallel to fence, rip scale, etc. It takes approximately 30 minutes and will result in much higher accuracy. This just saves you time and frustration in the long run.
Safety Features of the DeWALT 7491RS Table Saw
The DeWALT 7491RS has a number of safety features one can expect in a table saw. The two safety features I'd like to point out are the on/off switch and the blade-guard/riving knife setup.
On/Off Switch of the DeWALT 7491RS Table Saw
The on/off switch has a lockout feature. Basically, if you didn't want the button to be pushed accidentally you can engage the lockout feature.
​The on/off switch also has a large lever added to make it easier to turn off in case of an emergency. Imagine, ripping a piece of plywood, while your hands are full, and something happens but you can't let go of the plywood. You can actually raise your knee and hit the switch because of the over-sized lever of the DeWALT Table Saw.
Blade Guard
Secondly, the blade guard and riving knife set up is very easy to install. The reason this is such a big deal is that the main reason most people don't use blade guards is because they are such a pain to work with. Not the case on this machine.
Please remember though, safety features should never be a substitute for good ole fashion paying attention.
Nit Picking
Although the DeWALT 7491RS does have the capability to use a dado blade, it does not come with a dado plate. So, if you know how to dado, you have to purchase a dado plate for this saw separately.
​The saw does not easily detach from the stand. Sometimes it's beneficial to set the saw up as a bench-top saw, but the DeWALT 7491RS doesn't come with quick release levers to accomplish this easily. In this case, you would have to use a drill to remove four screws to detach it from the stand. I wouldn't recommend doing this unless you have to because over time the screw holes will strip.
SKILSAW SPT70WT-01 10″ Portable Worm Drive Table Saw with 25″ Rip Capacity
Introducing the world first Worm Drive table saw! Yes, it's true. Yes, it's an absolute beast. The Skillsaw SPT70WT Worm Drive Table Saw is designed for tearing through those hard cuts like butter. In essence, it doesn't get stuck and it doesn't quit. The Skillsaw SPT70WT Worm Drive Table Saw is relatively affordable, but this thing does not skimp on quality and is made for the demands of the job. With an all-steel roll cage, a die cast aluminum top, and mechanisms made from metal, this table saw is certainly rugged. With a 25 in rip capacity this machine can handle full sheets of plywood and, due to its 3-1/2 in depth of cut, 4x material is a breeze. The rip-fence is self-aligning and a cinch to adjust. The bevel goes from -1 degree to 46 degrees respectively. Skillsaw is making waves with their new Wrom Drive circular saws. It only makes sense to transfer the same torque producing technology into one of the most used power tools in the workshop.
Facts and Features of the Skillsaw SPT70WT Worm Drive Table Saw
Only 49lbs46 degree bevel capacity15 amp dual field motorBrass-geared Worm Drive for exceptional torque5 horsepower motor25 in rip capacity and 3-1/2 in depth of cut.
Makita 2705X1 10-inch Contractor Table Saw with Stand
The Makita 2705X1 is the most expensive option for the table saws that I have reviewed. In fact, it is a little more expensive than the DeWALT. I will admit that is a bit more than I'd personally be willing to spend.
Yet, if I was going to be using my table saw every day I would put some serious thought into the Makita. It is so much more powerful and has proven to be the most durable portable table saw on the market.
Can I say it is the best table saw?
No, but it really all depends on what you're looking for. Each saw has their flaws and each their advantages. Hopefully, if you read my reviews you come away with a better educated choice.
Esthetics and Durability of the Makita 2705X1 Table Saw
Makita is a Japanese owned company that operates factories all over the world. However, one thing to note is that this particular table saw contains parts from Australia and is assembled in the United States.
The stand, however, is made in China and some people have a (perhaps justifiably) negative opinion of products that come from China. Due to low oversight, some products can be of lower quality and that is a deal breaker for some. But Makita is known for their quality and the stand is really quite nice.
The portability of the Makita 2705X1 comes into question for a few reasons.
For one, the stand's wheels aren't quite as big as they should be to clear job-site debris. And two, this saw is heavy! At 194 lbs the Makita 2705X1 is about 84 lbs heavier than the DeWALT. That is a big difference.
Although the stand on the Makita 2705X1 is nice, they could have used bigger wheels (like DeWALT) to make it easier to traverse steps and maneuver around obstacles. But what you don't get with many other stands is the adjustable height.
The stand for the Makita 2705X1 has 4 different heights it can be adjusted to, and that could definitely come in handy.
How's This for Convenient?
If you have a mid-sized truck you can just roll the Makita 2705X1 right up to the tailgate and push the edge of the stand, lift at the same time, and slide the saw right in. That's a pretty nice feature when you have a table saw that weighs 194 lbs.
Why Buying a Heavy Table Saw Can Be a Good Idea
The heftiness of the Makita is also one of the best features. A lot of contractors that use table saws every day will buy the Makita because it will hold up to a beating due to its extremely solid construction.
At the same time, if you won't be using it every day, or if you have back problems, or you're just not that strong, the Makita 2705X1 might be a little too much to handle.
The table on the Makita 2705X1 is pretty nice and extends very smoothly when needed to cut wide material. The rip fence is just okay and certainly isn't the best table-saw fence ever made.
If you are only cutting 2x4x8's it works just fine. However, when you get into cutting sheets, plywood, or anything beyond 8ft it has a tendency to get bumped out of alignment which is a big problem.
So, if you're not careful you could ruin your material. Especially, if you are looking for precise cuts. There is, however, a fairly inexpensive solution to this issue. Purchase a set of decent clamps that stay with the saw and any time you are cutting large material you can utilize them.
It seems like a big hassle but in the end, it really isn't.
Functionality of the Makita 2705X1 Table Saw
Makita brand power tools are known for their power. The Makita 2705X1 is certainly no exception. It is easily one of the most powerful portable table saws I have ever used. Seriously, this saw will rip a 4×4 in one pass.
That is pretty incredible.
The reason this saw can generate more power that DeWALT and SKIL is because it runs at approximately 1,000 higher RPM's. So, if you're looking for the most powerful portable table saw on the market, the Makita is the best table saw for you.
Like most (if not all) of the best table saws, almost everything besides the lateral blade is adjustable on the Makita 2705X1. But, one of the nicest improvements on the Makita 2705X1 table saw is the adjustable riving knife.
It even has a quick release which all of the best table saws are incorporating these days. The blade guard has anti-kickback paws and along with the riving knife allows for a pinching and binding free project.
Another great safety feature is the electric brake. Think about how important that can be if a piece of wood gets away from you or a million other circumstances. Instead of taking what feels like minutes to shut down, the blade will stop within seconds.
The switch is also big enough so you can use your knee to shut it off as well (if your hands are full). Let's face it, we sometimes appear to have an uncanny ability to do something stupid to hurt ourselves. We should never pass up an opportunity to reduce that likelihood. I like when a company thinks about safety.
Nit Picking
The throat plate can be a little annoying to work with. It requires a #1 Phillips-head screwdriver to remove and the gap between the blade and the work-piece is rather large. I know some people have made their own but that's additional work that isn't really necessary.
This sucker is heavy and I am not a body builder. Yet, heavy in this case, means really good quality. With the throat plate is a hassle and the Makita 2705X1 is pretty expensive. You really need to justify the extra dough you will have to shell out on this powerful machine.
Makita has been a favorite among contractors for years. After reviewing the Makita table saw, I have no doubt the trend will continue.
SawStop JSS-MCA Jobsite Table Saw with Mobile Cart
Have you heard of the SawStop brand? If not, this is by far the safest power tool brand to ever exist. Did you know there are 10 amputations per day in the US alone due to table saw accidents? That's a crazy statistic and proof enough that you seriously need to consider the SawStop JSS-MCA Jobsite Table Saw for your next purchase. How does SawStop work? The blade carries an electrical signal that is activated as soon as the skin makes contact. Within 5 milliseconds, an aluminum brake engages, stopping the saw driving the blade into the table. This can literally be the difference between having 4 fingers and keeping all 5. We all know, know matter how experienced we are. No matter how careful we are. Accidents happen. The SawStop JSS-MCA Jobsite Table Saw is the only saw in the world that has the ability to mitigate the impact those accidents have. Aside from the unrivaled safety features, this table saw has all the high level specifications you would expect from a table saw in this price range. Such as, 25-1/2 in rip capacity, 15 amp motor, intuitive adjustments. The only flaw might be the occasional false detection by the safety system. This will usually only happen if the lumber is wet or it is used primarily in the outdoors. You have to weigh the safety features against the type of work you do. If you are constantly working in wet or damp environments, it might not be worth the headache. If not, it's 100% worth the benefits!
Facts and Features of the SawStop JSS-MCA Jobsite Table Saw
The signature Sawstop system Solid T-Style Fence with ErgoLockEasy Mobility 25-1/2 in rip capacityOne turn blade adjustments
SKIL 3410-02 120-Volt 10-inch Table Saw with Folding Stand
This particular SKIL Table Saw is really worth the label of the best table saw for a tight budget.
That is a VERY affordable table saw for the weekend warrior…​
The difference between the SKIL table saw and its higher priced competitors can be significant. I can think of a lot of things to do with that extra money. So, as long as you know you aren't getting the same quality and durability as a DeWALT or Makita, you should find plenty of satisfaction in the SKIL 3410-02 table saw.
Esthetics & Durability of the SKIL 3410-02
Let's be honest here, not all tool brands are created equal. Each brand has a specific target market and let's face it, SKIL is not in the same weight class as DeWALT and Makita.
But, their price point reflects that. If you want the absolute best table saw money can buy then you can go pay $10,000 and it's yours. We always accept a certain number of tradeoffs depending on what our budget allows So, if I am only doing a few DIY projects a year, I am not a carpenter by trade, and my budget is limited, the SKIL table saw may be right up my alley.
The fence and deck on the SKIL table saw are well made. All of the measurements are clearly marked and make for precise cutting, even for beginners. The materials used to build this machine don't match up with the best table saw's out there, but it will hold up great for small DIY projects.
The fact is you're going to find a few things here and there that make it difficult to work with. For instance, the handle that locks the rip fence has a curvature that protrudes beyond the fence itself and therefore can get in the way when making larger cuts. Essentially, it can add approximately ¼-inch to whatever it is your cutting.
For rough cuts it won't matter, but if you needed precise cuts it would have to be taken into consideration. The blade guard is a little cumbersome but it is a safety feature after all.
The stand isn't designed to be the best table saw stand ever made. However, the stand is sturdy and perfectly capable for the SKIL table saw.
The motor of this saw appears to be of high quality. I know it's getting quite repetitive, but for the money, this motor can handle almost anything you put in front of it. Now, when I say that, I am referring to DIY projects and not using this saw on a job site for building houses of course.
However, I am so impressed with the motor I believe that, even on a job site, the rest of the saw would break down before the motor ever would.
Budget Table Saw Buying Tips
One thing I recommend is going over the entire saw and tightening up screws and other hardware when possible. Use grease and oil where necessary. Doing little things like this can go a long way toward eliminating future issues, extending the life of your saw, and marginally increasing performance.
Function
The assembly of this saw is relatively easy. If the reason you don't shop at IKEA is because the furniture is so hard to assemble, you won't have to worry about that same experience with the SKIL 3410-02. In fact, it's a reasonable assumption you would only have to set aside about 30 minutes to get the SKIL table saw together.
One major issue many people have with the SKIL table saw is its inability to accept modifications or after-market parts. Let's say you wanted to build a cross-cut sled for your saw…
With most of the best table saws the grooves on the face of the saw are 3/8 of an inch. With the SKIL table saw, however, this is not the case. For some reason, SKIL decided to build their saw with two teeth on each end of the grooves on the face of the saw, thus making it impossible to use a cross-cut sled. Here is my opinion though…
If you are doing the type of woodwork that requires after-market products and cross-cut sleds you are probably not even considering buying a SKIL table saw in the first place.
The SKIL table saw has the riving knife safety feature that helps prevent kick back. I also really like the fact that the blade guard has a quick disconnect because it helps promote safety by making it easy to remove and install. And, if you do remove any of the accessories, there is a place to store everything right on the saw.
Earlier I mentioned how if you are purchasing a SKIL table saw you probably aren't doing any fancy woodwork. However, one thing that impressed me about this saw is its ability to do DADO cuts.
Because the mechanism that raises and lowers the blade is a rail system and not a single pivot point, it provides greater strength and stability when making DADO cuts. Pretty cool feature for an affordable saw.
What is a DADO cut?
A dado is a slot or trench cut into the surface of a piece of machinable material, usually wood. When viewed in cross-section, a dado has three sides. A dado is cut across, or perpendicular to, the grain and is thus differentiated from a groove which is cut with, or parallel to, the grain.
Nit Picking
The irregularly sized miter gauge slots make it impede the use of jigs, sleds, or better quality miter gauges. On most saws there is a port that allows for sawdust collection. The SKIL table saw lacks in the dust collection department.
The greatest feature of the SKIL table saw is the price. Although you are sacrificing some features, it is a good saw, and best of all, affordable. With some care and good sense, you can make this saw last for years. I think it's worth a shot.
Craftsman Evolv 15 Amp 10 In. Table Saw 28461
The Craftsman brand has been making serious effort toward making strides into the power tool market. Are they on the level of DeWalt, Bosch, Makita, or any other big names? No, but they are a budget power tool brand at the moment and can certainly hold their own in that regard. The Craftsman Table Saw Line comes with solid 15 amp motors which are plenty strong enough to power through any cut. The work surface is roomy at a robust 25in x 17in which will handle even larger projects. The ease-of-use is a plus on the Craftsman Evolv 28461 Table Saw with an advanced guarding system, an intuitive spreader, and push-button assembly for the anti-kickback pawl. Rack & Pinion blade height control also make adjustments a breeze. This is a wonderful, durable, and attractive option for the amateur woodworker looking to step up their game with some larger tools. Or, even the occasional weekend DIY'er who is tired of making long linear rips with a circular saw. The Crafstman Evolv Table Saw includes: 24T carbide tipped blade, stand, wrenches, hex keys, anti-kickback pawls, blade guard assembly, push stick, miter gauge, rip fence, and operator's manual.
Facts and Features of the Craftsman Evolv 15 Amp Table Saw
15 amp motorEasy to useGreat price pointRobust surface area
Rockwell RK7241S Table Saw with Laser
The Rockwell RK7241S Table Saw with Laser is a very solid table saw with many of the benefits of more expensive saws without the price tag. I've tested this saw extensively as it is one that I personally own. It's rugged and I've never come across a job that it can't handle. At 3-9/16 inches this table saw has the deepest depth of cut of any saw in its class. I've ripped many types of lumber, to include 4 x 4's and have never come across a piece i've not been able to cut. One of my favorite features is the folding fence which essentially increases the surface area of the table to be able to handle larger projects. For instance, I ripped full size 4ft x 8ft sheets of plywood for a home remodel project and the Rockwell Table Saw performed flawlessly. I couldn't have completed that particular project without the foldable fence extensions. Yes, there are nicer table saws. But, for the price, you will not get any better quality and function than the Rockwell RK7241S Table Saw with Laser. Rockwell is a very solid power tool brand and this amazing table saw is no exception.
Facts and Features
Portable Trolley Stand comes fully assembledBlade Laser indicator for blade tiltFence folds for extra wide cutsLargest cutting depth of any saw in its classLightweight and Heavy Duty
WEN 3720 15A Jobsite Table Saw with Rolling Stand, 10"
Unless you've been in the market for power tools recently, you may have never heard of the WEN brand. WEN doesn't have the big brand recognition, but they have actually been around since 1951 and they are headquartered in Illinois. They've been doing this for a long while. It's time to get acquainted. The WEN 3720 10" 15A Jobsite Table Saw with Rolling Stand is a fairly new product for WEN, but don't let that scare you. This saw has been put through the paces and is performing at comparable levels to saws at more than double its price. The WEN 3720 15A Jobsite Table Saw boasts a massive 3-9/16 in depth of cut that allows you to rip 4×4's! The motor is 15 amps providing 4,400 RPM making hard jobs a little easier. Let's not forget about its 26 in ripping capacity and 0 to 45 degree bevel.One of the best features of the WEN 3720 15A Jobsite Table Saw with Rolling Stand are the table extensions producing a surface area of up to 40 x 35-7/8 inches when fully extended. That's a lot of room to work and trust me, you will need it at one time or another. Is the WEN one of the better mid-range table saws you can get? It just might be.
Facts and Features
Two Year Warranty Onboard storage 2-1/2 in dust portable extensions to 45 degree bevel 3-9/16 in depth of cut 26 in ripping capacity
Most Important Table Saw Features
With any purchase there are going to be a number of different features you'll need to take into consideration as a buyer. And, as usual, some features are just more important or have a bigger impact on your personal overall satisfaction with your purchase. Meanwhile, others may be less important but nice to have.
Table Saw Fence
The fence on a table saw is one of its defining features and allows for precise, square, and repeatable cuts. Not all fences are equal though and a poorly built fence is a deal-breaker, in my opinion. Not only will a poorly built and implemented fence affect the quality of your cuts, but a fence that moves or is not square to the blade can cause your material to bind and kickback.
A good fence should sit square and lock firmly into place, but it's always a good practice to double check by measuring to the front and back of the saw blade. At least, until you know your tool. A good fence should also be easy to adjust and move smoothly so you can get it in exactly the position you want it.
Switch
The switch isn't typically something you'd consider a feature and for the most part you're right. Switches do the same basic thing, they turn the saw on and then they turn it back off. It's the implementation of the switch that's a feature and there are a couple things to consider.
The first is how easy the switch is to operate. Oftentimes, you will approach your table saw with your hands full especially when we are talking about sheet goods. And sometimes you'll be making cuts that require both hands to be occupied. Now if something goes wrong or you need to turn the saw off for any reason, you need to be able to do so and the quicker the better.
For these reasons, the switch needs to be in an easily accessible area, needs to be large, and needs to be easy to operate. You may even want it to be easy enough to operate with a knee or your hip so you don't have to take your attention away from the blade.
A magnetic switch is also good from a safety standpoint but may not be necessary on these smaller versions. A magnetic switch prevents the saw from starting back up if it loses power during a power outage. Basically, the power outage will turn off the saw. This is good because if for some reason the power were to come back on when you were not near the machine, the material could be shot out of it or damage the saw.
Table saws are powerful and if you have kids or will be around kids (or even some adults) there are saw switches that may have an option to add a padlock to them to prevent little hands from turning on the saw. Like the magnetic switch, this probably isn't a make or break kind of feature, but it's nice to have options.
Extensions
These are pretty straightforward but will make your life so much easier when you need them. Extensions make the table portion of the table saw larger and provide better support when cutting large materials.
These extensions can be either folded away or can be telescoping. On other models they may be a separate item altogether and require fastening before use.
Flesh Detection
This is a sort of new thing and there are only a few saws that include this feature but it really is an amazing one. Flesh detection is a system put in place that will stop the saw blade nearly instantly the moment it comes into contact with a good conductor. Wood is a poor conductor, skin is a good conductor. See where this is going?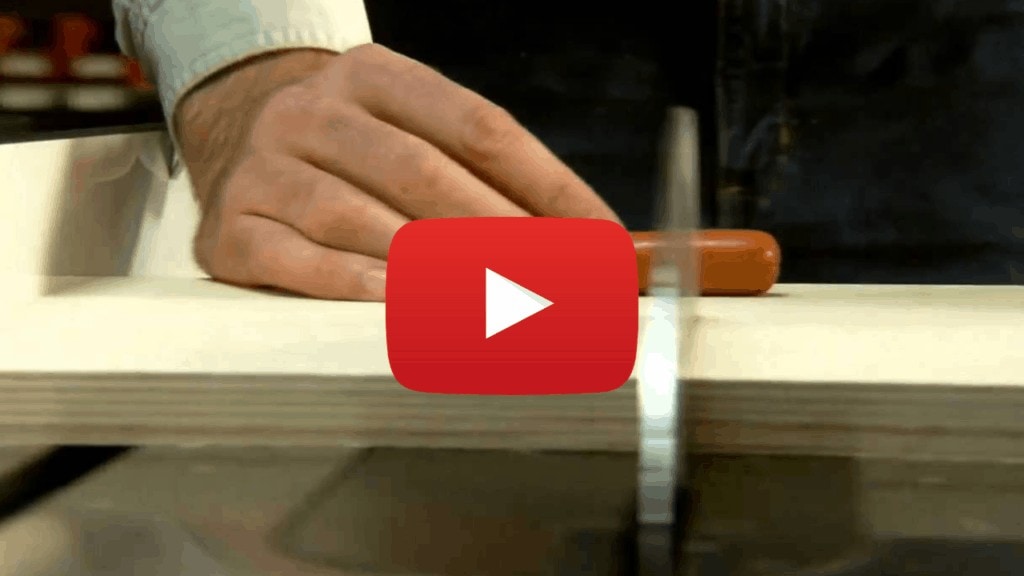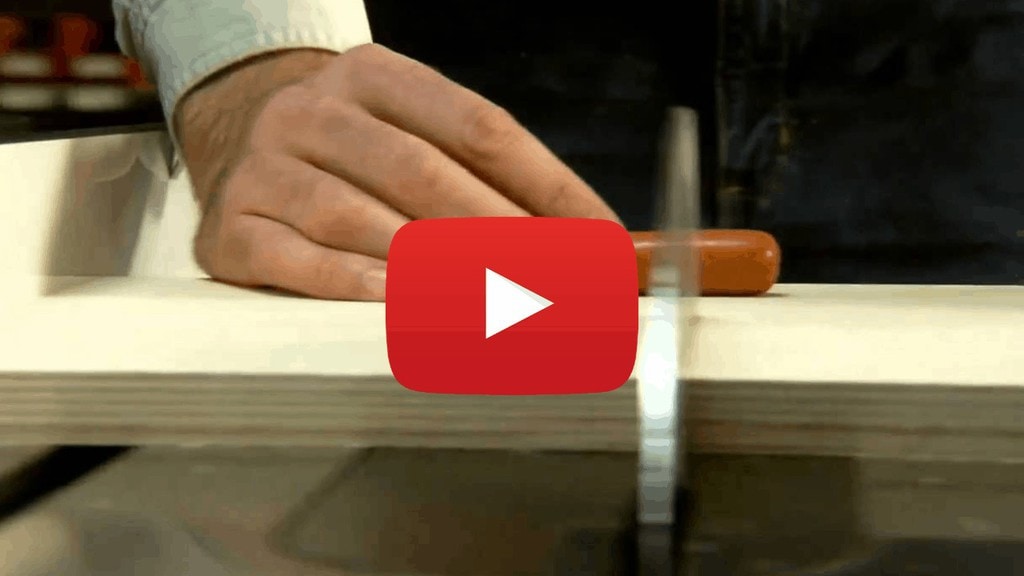 When the blade touches flesh, a brake will stop the blade and the blade drops down below the surface of the table. The operator will presumably leave with only a small nick or no injury at all. These systems definitely bump up the price of the saw, but it's a major safety feature and just might be able to save you some very expensive medical bills, along with your fingers.
One drawback is because of the way the blade is stopped, you will want to have an extra blade brake on hand because once it's used, it cannot be reused. So, if you don't have another handy, you will have some downtime. Also, the stopping of a blade moving at thousands of RPM can understandably be very hard on the blade itself. Often, the blade may need to be replaced after it has been stopped in this way. Still better than losing a thumb.
Safety
Table saws can be one of the more dangerous tools included in a shop. They are powerful and operate a large blade spinning at high speed. Fortunately, there are a number of safety features on every table saw to help prevent accidents from happening.
A table saw has two main ways it can seriously hurt you. One is obvious and that is having any part of your body come into contact with the blade. Any table saw you are seriously considering should have a blade guard installed. The clearer the better. And make sure you leave it on. The blade guard can't do its intended job from a workbench or shelf.
If you are making a cut that will require your hands to get close to the blade, (within 6 inches) use a push stick or two to eliminate the chances of your hand touching the blade. If this is a big concern for you, maybe consider a saw that uses flesh detection to stop the blade. The additional cost of the saw will be instantly appreciated the first time you need it.
The other way a table saw can hurt you is with kickback. Kickback is when the material is thrown back at the operator and can occur a number of different ways. Take a look at this video on table saw kickback: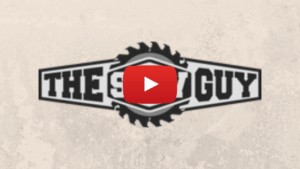 So your best bet is to minimize your chances of this happening. Make sure your fence is square on rips and I would also make sure you are using either a splitter or a riving knife.
The most important safety feature in the shop is you though. So, make sure you understand how to safely operate your table saw, how to use its safety features, and be mindful when using any tools.
Buy the Best Table Saw Brands
DeWALT
DeWALT was founded in 1924 with the creation of a universal woodworking machine. Since then, DeWALT has become a household name known for professional grade and durable products. And their product line is vast, ranging from radios and work lights to the best chainsaw and nail sets.
Makita
Makita got its start more than 100 years ago in 1915 as an electric motor sales and repair business. In that time, Makita has grown into a well-known global giant in power tools. Whether it runs on gas, electricity, or battery, there isn't much Makita doesn't make of professional quality.
SKIL
SKIL made its name with their Model E, the first handheld, portable circular saw, and has been renown for innovation since. There product line has expanded to an array of power tools including table saws, drills, routers, and many others, in addition to accessories for these tools.
Another up and coming brand to look at is the Ryobi table saw line of products. They are built for economy but deliver the main features and add-ons that contractors and small woodworkers need.
Frequently Asked Questions
Q: Can I use my table saw to cut metal, stone, or laminate?
A: You wouldn't want to use a table saw intended for wood to cut metal or stone. This is very hard on the saw. You could cut laminate with a table saw using a blade with 100 or more teeth.
Q: Will I need a specific saw blade for certain cuts?
A: Yes and no. It's a matter of could versus should. You could use a crosscut blade for ripping but you probably shouldn't and vice versa. It also depends on the finish you want. A general-purpose blade will do a decent job across a wide range but if you want a smooth and professional finish you'll want to consider a specialty blade.
Q: Can I sharpen my table saw blade?
A: If it's steel you can probably sharpen it yourself using a file or a sharpening tool. If the blade is carbide, then you'll most likely want to find a professional to sharpen it for you as carbide requires special equipment to sharpen.
Q: What size extension cord should I use?
A: Not all extension cords are equal, they vary significantly on the amperage they are rated for. So, you'll need to ensure you also have an extension cord that can meet the power needs of your saw
Failing to get enough power to the saw not only prevents the saw from performing at its maximum, but will also shorten the life of your saw. However, you can go bigger on the extension cord as the saw will only draw the maximum amps its built for. You just don't want the saw power starved.
Recommended Reads:
Final Thoughts on Buying the Best Table Saw
The purchase of a table saw is no doubt a big investment. But there is a lot of flexibility in this class of tools to find one that fits in with your budget and your wants. Make sure to take into account how you will need to use the tool and where you will need to use it. Heavier models will be sturdier but they will also require more effort to load up when you need to.
Overall, you'll want to find a saw that matches your needs but doesn't break your budget wide open. However, since this is not a purchase you will likely make often, be sure that you are satisfied with the saw you decide to go with.
Did you enjoy this article? Check out some other topics I have written about: