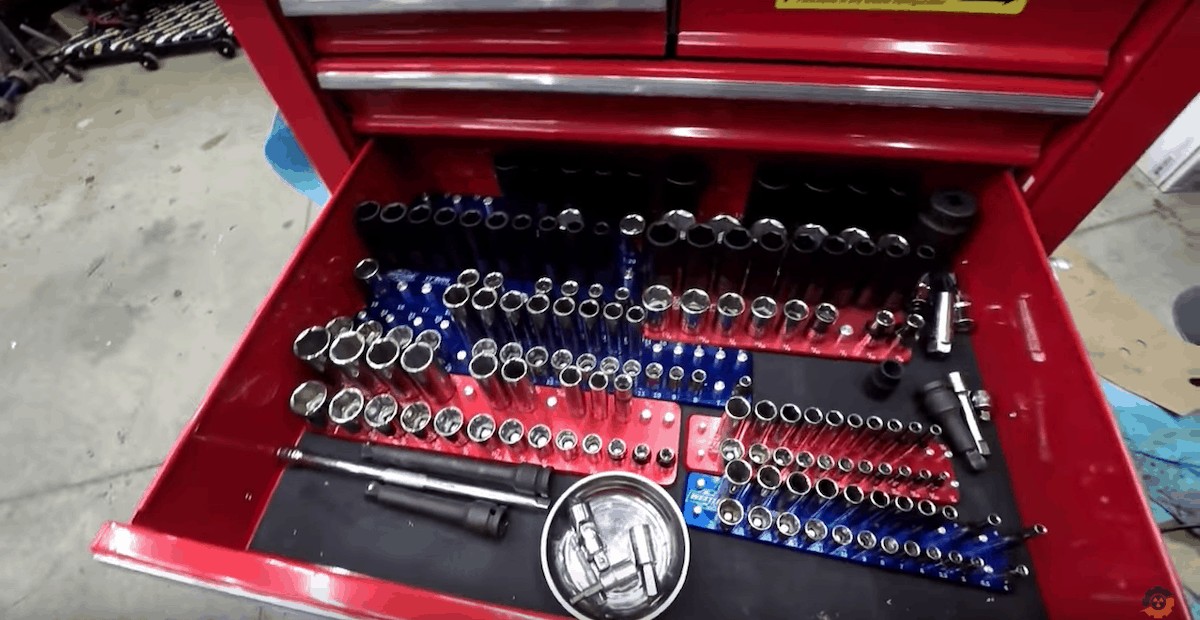 ​Why do I need a socket organizer?
If you do any type of home or auto repair or construction, you will likely need a socket holder. Although you may have been able to scrape by storing your sockets in a toolbox organizer, drawer, or on the workbench, this is not a good idea.
Not having a clear organizational plan for your sockets means you are much more likely to lose them. WIth a socket organizer, you will know exactly where to find each individual socket and socket wrench, and you can keep track of all of your tools.
However, it can be tough to choose the best socket organizer. THey are made by a wide variety of manufacturers and come in myriad styles. Consider your individual needs and personality before investing in your first socket organizer.
Quick Look – Top Socket Organizers
What is the best socket organizer for me?
Socket organizers come in a variety of sizes and styles and with a wide array of features. They are customizable based on your work goals and how you plan to use the sockets. They also come in a range of colors, tray sizes, and options to alter their features as needed. Some key features to consider when making your decision include:
Socket Storage Capacity
Consider carefully how many sockets you will need (or currently own). Some socket organizers can only hold a limited amount of sockets. If you have a small collection, this may not be a concern. However, if you own fifty or more sockets, this is definitely something to consider, as you will need to buy a socket tray organizer with multiple trays. Ideally, you should buy the largest socket organizer that is feasible for your budget and space–you never know when you'll begin to accrue more sockets.
Mounting Ability
Most organizers can be mounted either on a wall or workbench. However, not all are equipped to be hung vertically. If you plan to hang your socket organizer on the wal, research this aspect carefully You don't want to invest in a high-quality socket organizer and carefully arrange all of your sockets on it, just to have them fall off as soon as you hang the organizer on the wall.
Portability and Flexibility
Make sure you purchase a socket organizer that meets your individual storage needs. The last thing you need is to purchase a socket organizer that you can't move or take with you. Some are even an magnetic socket organizer or magnetic organizer that come equipped with magnetic strips to make it easier to hang or affix the organizer in your vehicle. These strips also allow you to attach items to the organizer itself, so you can be sure you don't lose track of them in transit.
Other Features
Some socket features come with additional features. For example, you might find that your large sockets need larger portable organizers with individual slots. Other organizers come with a tray with multiple slot options. You can also often add magnetic socket holder or metal socket clips.
Top 5 Reviewed Socket Organizer
1. Grip 6 pc Socket Organizer Tray Set
The Grip Socket Set Organizer is one of the best organizers for your money. It doesn't have a lot of bells and whistles, but it gets the job done for minimal expense.
It consists of a heavy duty, solidly molded plastic tray. It includes spaces for both shallow and deep sockets, and allows for ¼", ⅜", ½ " for MM and SAE. It takes up little space in your work area. According to customer reviews, it adds very little additional height to the sockets, and will fit within a three-inch deep socket drawer. This makes it the optimal organizer for workers with little free space (which is most of us!).
In addition, the organizer stores sockets hex-up, which makes it easier to select sockets in a pinch. There are white letters on the spine to separate standard and deep socket, and each tray is color coded. The size and color of the trays makes it easy to determine whether they are ¼, ⅜, or ½ inch drive.
The only con of this socket organizer is that it doesn't work well for the worker looking to hang sockets vertically on the wall. It is definitely designed more for horizontal use, as sockets tend to hang loosely and will fall if hung on the wall. However, if this isn't a feature you are looking for, this is the best pick for a quality, low-cost socket organizer.
2. TEKTON 3/8-Inch Drive Socket Holder and Organizer with 14 Clips | 1882
The TEKTON is another affordable socket organizer, with a variety of purchasing options. These are sturdy, nickel-plated socket holders. Each can individually hold up to sixteen sockets. They are equipped with a twist-to-lock design that make storing simple and secure (even when storing vertically). However, they are easy to snap off when needed, with minimal twisting, yanking, and pulling. They also are equipped with keyhole slot mounts to allow you to affix them to a wall or workbench.
As a result, this is one of the most versatile socket organizers. It is ideal for a crowded workspace, or for storing in a tool chest / tool organizer or truck tool storage. Because the organizer is built with spring loaded clips and nickel-plated steel, it will last much longer than comparable organizers. It's easy to add or remove sockets and they won't slide off until you're ready to use them. In addition, the unit is equipped with a side mount ratchet and extension bar that can snap on to both sides of the organizer rail. This will help you optimize what little space you have.
The major complaint of this organizer is that the sockets don't stay flat all the time, and they add a bit more additional height to an already tall socket. If you're looking for a wall organizer, this one is optimal; however, if drawer storage is more your style, just make sure you have plenty of added space.
3. Hansen Global 92000 SAE & Metric Socket Storage Trays – 6 Piece Set
The Hansen Global 92000 Socket Set is a great tool for keeping equipment organized and eliminating unnecessary clutter. It has several unique, handy features that will help you stay tidy and on-task. It is a bit pricier than other rated socket organizers, but it has added versatility and organization options that make it a good bet for your money.
Each post on this socket organizer is marked for a specific socket size. The posts are reinforced with thick plastic to hold sockets in place even if dropped or knocked askew. The trays are made of ABS plastic, which is resistant to gas and oils. This will help prevent chemicals from eating away at the trays, which will increase the longevity of the trays themselves, in addition to your valuable sockets.
Each socket tray six pack holds one each of six different socket trays per box. The assortment includes 1/4″ Metric, 1/4″ Fractional, 3/8″ Metric, 3/8″ Fractional, 1/2″ Metric and 1/2″ Fractional. The organizers are heavy-duty and provide for quick and easy access. The sole complaint regarding this socket organizer is that it doesn't always fit various brands of sockets. However, it is possible to sand down pegs if needed to store individual sockets, making this a minor concern.
4. MLTOOLS Twist Lock Socket Rail with Tray (Holds 90 Sockets) – Multi-Drive Universal Socket Boss Rail Set – Socket organizer Set – Made in USA T8252 (Blue & Red)
Another pick is the MLTools TWist Lock Socket Rail with Trays Socket Boss Set. This unit holds approximately ninety sockets, and is unique in that it comes in a variety of colors and styles. Available as a red or blue product, this socket organizer is perfect for storage in a drawer, on a bench, or on the go. While it's not optimal for vertical wall storage, it is a great option for most workers.
The organizer is equipped with universal twist-lock clips that help keep sockets secured when you're on the go. Each tray is organized with three socket rails and includes fifteen clips each for 1/4-inch, 3/8-inch and 1/2-inch drive sockets.
Better yet, this socket tray organizer is protected by a Made in USA LIfetime GUarantee. This means that the company will quickly remedy (through refund or replacement) any customer dissatisfaction. Likely, however, you won't need it–this organizer is highly versatile and durable. It allows you to customize by remove or switching individual rails, and to swap out drive sizes, add ratchet and extension holders, or trade colors for multiple organization options. It even includes identification stickers to allow you to label individual socket sizes.
5. Olsa Tools 3-Piece Aluminum Socket Organizer | Olsa Tools |1/4-Inch, 3/8-Inch, 1/2-Inch Drive Socket Rails Hold 48 Sockets | Premium Quality Socket Holders (BLACK)
This socket organizer is a multi-drive organizer for ½, ⅜ inch, and ¼ inch drive sockets. This unit holds up to forty-eight sockets and saves space while optimizing organization. It is available in various sizes and styles, making it easy to customize to your socket storage needs. The unit is available with ½, ⅜, and ¼ inch drive.
Each clip securely holds sockets in place with spring-loaded ball bearings. THese add to the security and firmness of the sockets, meaning they won't wobble or move from side to side in transport or storage. It can be used with shallow or deep sockets and, because it is made out of aluminum, resists damage and deterioration much better than a plastic socket organizer.
You can buy additional clips. However, the biggest complaint about this product is that customers cannot buy ⅜ inch clips separately. Although the unit is available in a variety of styles, it is only available in one color, which is not advantageous for workers looking to color-code their tools. Nevertheless, the posts on this socket organizer are sturdy without being overly stiff, making this organizer a good bargain for workers looking for quick, reliable access to their tools.
How to Make a Socket Organizer Out of Wood
This socket organizer is made of wood and can easily be made with beginner woodworking skills. You also need various sizes of hole saws to make the job easier and quicker. If you don't have it, you can improvise. Watch Brandon's video to know how you can make one for yourself.
Why is a good socket organizer important?
By purchasing a socket organizer, you will be able to store multiple types of sockets, including spark plug sockets, walled socket's impact socket, etc. Why wait until your garage is a mess to begin research a socket organizer?
The socket organizers we reviewed, though of all different types and varieties, are guaranteed to get any job done. Rest easy in the fact that these socket organizers will store your sockets well and are built of the highest-quality materials.
For more information or to purchase your first socket organizer, check out any online or mass retailer, such as Lowe's, Amazon, or the Home Depot. All offer these affordable socket organizers, many with free or reduced shipping.
Whatever you do, don't wait until your garage or workbench is a cluttered, distracting mess to purchase your new socket organizer.
If you own a car, house, or just like to putter around the house, you need sockets. Sockets are easily misplaced, take my word for it! Which becomes a nuisance when you're in the middle of a project.
Are you looking for more? Check out some of the other articles I have written: