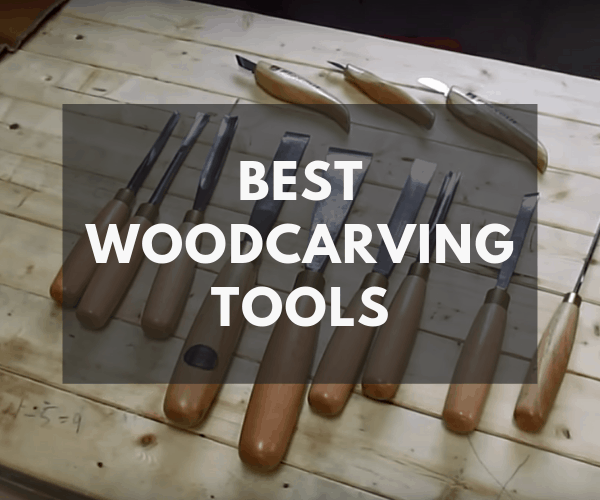 You spend all day in your garage, cutting wood down by hand with nothing more than a blade and some eyeballing. You try to be as precise as you can, but sometimes you're not always thrilled with the results. You want to try wood carving tools, but which ones are the best wood carving tools? Here are the products we recommend.
The Best Wood Carving Tools
BeaverCraft Whittle Wood Carving Kit
Sometimes you only realize you need a certain tool when you don't actually have it. That won't ever happen with the Whittle Wood Carving Kit from BeaverCraft. This highly-rated pick is an Amazon's Choice product.
You get everything you need out of the box, including a tools roll, a roughing knife, a cutting knife, and a detail knife. BeaverCraft also includes a tool pouch and a leather strop for sharpening with your purchase.
Things we like:
This kit is designed exclusively for beginners. If you've always wanted to try your hand—literally—at wood carving, this kit has all the tools and gear required.
Each tool has ergonomic wooden handles that won't leave your hands feeling rough and sore after a few hours of use
Things we don't like:
The knives don't always come stropped according to the reviewers. You may have to do that yourself.
While still under $50, this BeaverCraft kit might be a little too pricy for a beginner not sure if wood carving is for them.
Flexcut Carving Tools Micro Palm Carving Set
With four carvers in the set, the micro palm carving set from Flexcut promises a "razor-sharp" blade. The set arrives in a toolbox made of wood that has small divots for each tool. You can thus nestle the tools in the box when not in use and they shouldn't move around, even if you jostle them in your garage.
The blades of each of the wood carvers from Flexcut are made of high carbon steel that should hold up. With ash hardwood handles, you can use each carver in the palm of your hand without difficulty, as advertised. Whether you want to add fine details or other tiny features to your wood carvings, reach for these blades.
Things we like:
There's no need to prep the blades before cutting. They're sharpened and ready as soon as you open the wooden toolbox. You can get started without waiting.
The ash hardwood handles are designed for comfort and hours of use, something you'll come to appreciate if you carve wood often.
Things we don't like:
Depending on your hand size, you might find Flexcut's carving tools don't really fit your palm as well as anticipated. For instance, they may be too small if you have bigger hands.
Again, these aren't the cheapest set of carving tools. Unless you have some dedication towards this hobby, you might scoff at the price.
BeaverCraft Chip Carving Knife
Here's another pick from BeaverCraft. This time, it's their chip carving knife. This single knife is an Amazon's Choice product and has many a happy review to accompany it. As a blade intended for detailing, it has a pointed high carbon steel blade. It comes sharpened and hardened for you to get right to your woodworking.
With the shape of the blade, you'll reach for this chip carving knife when you are adding tiny details, creating a sculpture, or cutting geometric shapes into the wood. In fact, BeaverCraft says this knife is especially adept at creating caricature faces, letters, lines of different shapes and thicknesses, squares, triangles, and other shapes.
Things we like:
This knife is very inexpensive, so you're not losing a lot of money by trying it.
The handle of this chip carving knife is designed in such a way that it won't cause hand fatigue. That's even if you use it for hours.
Things we don't like:
BeaverCraft itself says you can't rely on their chip carving knife for every wood type. You'd have to find out through trial and error which ones work and which don't.
Some Amazon users wish for a lengthier handle.
BeaverCraft Wood-Carving Gouge and Chisel Tool
Our last pick from BeaverCraft, their wood-carving gouge and chisel tool is another good one to have in your arsenal. The bent gouge will aide you as you carve bowls and spoons. It also has a chisel side for making round items like radials and even holiday ornaments.
Like most of the BeaverCraft products we've covered, this gouge and chisel tool has a high carbon steel blade and a wooden handle that promises better ergonomic support.
Things we like:
In a family of blades and wood-carving tools from BeaverCraft, this one is inexpensive as well. That means beginners might feel more inclined to try it.
The blade is sharp and ready for you to use right away, another BeaverCraft standard.
Things we don't like:
If you're not wearing gloves that can resist cuts, you could end up severely hurting yourself with a blade like this. That goes double for those inexperienced in wood carving.
Gimars 12-Set Carbon Steel Wax and Wood-Carving Kit
As a top seller on Amazon, another wood-carving kit worth paying attention to is this one from Gimars. You get a very generous 12 pieces with your purchase. These include a pinpoint tool, a parting tool, angled chisels and knives (four), a rounded chisel, a straight, wide chisel, a straight, narrow chisel, a shallow gouge, a medium gouge, and a deep gouge.
Beginner-friendly as well, Gimars promises fewer snapped blades because of how they designed each knife. The blade gets wound deep into the wooden handle to keep it intact, even if you do some vigorous carving. You might use this set to make wooden animals, utensils, miniatures, or even work on old furniture.
Things we like:
The long wooden handle has a designed comfort grip intended to lessen blisters and other hand discomfort.
You could even use these tools for carving wax, soapstone, or clay.
Things we don't like:
The blades are only SK5 steel, so they're not quite up to the standards of the other picks on this list.
Some Amazon users have reported the blades popping out even though Gimars tries to prevent that with their design.
Wood Carving Tools 101
If the above wood carving tool picks have piqued your interest, we recommend you keep reading. In this section, we'll tell you everything you need to know about making the most of the new tools you just ordered.
What Are the Types of Wood Carving Tools?
The following is an overview of the types of wood carving tools you might get your hands on as you undertake this fun hobby:
Palm gouges: A palm gouge, as the name tells you, fits in the palm of your hand. If you're using a softer wood such as basswood for your project, then a palm gouge works exceptionally well. You can't carve large details with one of these gouges, but rather, smaller ones.
Chip carving knife: A classic tool that's a must in any wood carver's collection, chip carving knives have a simplistic design. They work best when doing chip carving (hence their name) as well as whittling work. With a longer, often wooden handle and a high carbon steel blade that's over an inch long, this knife is great for beginners.
Skewed chisel: The angled edge of the skewed chisel allows it to make cuts at a precise angle of 45 degrees.
Back-bent gouge: This type of spoon gouge has a type of reverse curve. This gives the back-bent gouge a convex edge for certain cutting jobs.
Spoon gouge: With slight curvature towards the shaft, the spoon gouge resembles a spoon in shape.
Bent gouge: Unlike a spoon gouge, which has only a slight curve (like a spoon), the bent gouge has a shaft that's entirely curved.
V-gouge: A V-gouge can be a small tool with an average width of two millimeters to a bigger one with a width of 30 millimeters. You can also get them at certain angles, such as 60 or 90 degrees.
U-gouge: Next, there's U-gouges. These have a variety of shaft shapes, including back-bent, spoon, back, and straight. The curve may be further pronounced depending on if you get an #11 with an obvious curve or a #2, which is much less rounded. The max width on this tool is up to 60 millimeters.
Carpenter's chisel: There are no curves here. The flat angle of a carpenter's chisel can reach deep into wood. This comes in handy for some jobs, but not sculpting, at least not often.
Things to Look for When Buying Wood Carving Tools
Now that you know the types of wood carving tools you might work with, how can you ensure you get the highest quality tools that will last?
Well, for one, we recommend shopping any of the wood carving tools we linked you to earlier in this article. You should also consider the following:
Price: As we've mentioned in this guide, if you're only thinking of picking up wood carving as a hobby but you're on the fence, then you don't want to spend a ton of money on tools. That said, cheaper tools have a higher likelihood of breaking when you need them most.
The length of the handle: Wanting a longer handle on a tool that's too short can make your carving work tough. The same is true if the handle is by chance too long and gets in the way.
The material of the handle: You can really get into a woodworking project once you start, spending hours whittling and chopping. Can your tools accommodate you or will you end up with a hand cramp? Wooden handles are common and made with ergonomics in mind.
The material of the blade: If you want the blade of your wood carving tool to last, then double-check that yours is made from high carbon steel. Accept nothing less or else you risk your wood carving tool snapping on you. This could lead to injury or, at the very least, ruin your project.
The angle of the blade: Depending on the angle of your wood carving blade, you can cut in different ways. Not all blades will slice through wood the same. Review the prior section to see which tools you need for carving details versus other features.
The type of tool: Speaking of the last section, we introduced a handful of different wood carving tools. While you don't have to become a master overnight, you'd hate to end up with a carpenter's chisel when you really wanted a chip carving knife. Your project won't turn out the way you envisioned at all. Also, certain types of tools are better at carving harder woods and others softer woods.
Tips for Using Your Wood Carving Tools
While it'll likely take you several projects to get the hang of things, these tips for wood carving courtesy of Fox Chapel Building can accelerate your success:
Know how to hold your wood carving tool. This may sound like a common-sense tip, but hand positioning is incredibly important. Use your wood carving tool like you would a pencil with the wood in your other hand. If you ever delve into power wood carving tools, the hand positioning doesn't change all that much.
Start with your bigger cuts, then work your way to the smaller ones.
When carving faces, begin with the left eye if you're a leftie and the right eye if you're a rightie. This lets you line up the eyes better than carving with your opposite hand.
Speaking of eyes, carve the eye's inside corner and work your way out. You should do this because the inside corner has the most depth.
If you don't mind playing with power tools someday, a wood-burning tool mimics the texture of fur especially well. Otherwise, you can always carve it by hand, but expect this job to take a while.
Toothpicks can help you achieve rounding on eyes, noses, and clothing features. Alternately, you can use a stylus for this job.
Always sharpen your wood carving tool before you start working unless it comes pre-sharpened.
The Best Wood Carving Tool Brands
Per our reviews section earlier in this guide, here are two brands you might choose to focus on in your search for an ideal wood carving tool.
BeaverCraft
One brand that came up again and again in our product reviews is BeaverCraft. This company produces blades, chisels, toolsets, spoon carving knives, wood carving knives, and accessories for woodworking. They've only been around since 2014, but they've already made a significant splash in the world of wood carving.
Flexcut
Flexcut has a much more pronounced pedigree. They excel in wood carving tools, including power tools, interchangeable tools, mallets, and micro and palm tools. They also have several series of wood carving knives, among them the Sloyd Collection, Scorps, and the Carvin' Jack Collection.
Frequently Asked Questions
What is the difference between hard and soft wood?

Throughout this guide, we've insisted on using some wood carving tools for soft wood and others for hard wood. How do you know which is which? Can you eyeball it?

Most deciduous trees are considered hardwoods. These include poplar, aspen, butternut, and elm. Coniferous trees like redwoods, cypress, cedar, spruce, and pine often have softer properties.

To cut through hardwood, you need a wood carving tool with a bevel, preferably a steeper one. The same tools wouldn't apply for cutting softwoods, as we've covered.
How do you know your wood carving tool blade is sharp enough?

Do you think your wood carving tool has a blade ready to carve?. Grab a piece of wood and trace along its grains with your blade. Do you feel the blade getting stuck or does it cut like butter? If it's the former, your blade needs re-sharpening.

You could also practice on Styrofoam. Cups work best because you can carve them like you do wood. The Styrofoam should not get caught against the blade, nor should it rip. If it does either, you again need to sharpen your blade.

You can also inspect the knife. Get your brightest light out and put the knife beneath it. Position the blade so it points upwards and vertical. Does the light bounce off the blade's edge? That's a sign of dullness.
Where should you keep your wood carving tools when not in use?

Caring for your wood carving tools extends to when you don't use them as well. Whether you choose to roll them up or make them a box, you have plenty of storage options. Some wood carving tools, like those from Flexcut that we talked about earlier in this guide, include their own toolbox.

Whatever option is most convenient for you while retaining the condition of the tools will work best.
Final Thoughts
While there are many wood carving tools out there at various price points, they're not all created equally. You want to ensure yours has a high carbon steel blade that's less likely to snap. A long, wooden ergonomic handle will also allow you the freedom of hours of carving fun without hand cramps or pain.
If you're just beginning to explore the exciting, fulfilling world of wood carving, you can get a carving tool inexpensively. The sets of multi tools cost more, but those suit you better if you've made a commitment to your craft.
For more information and pointers on woodworking, check out our section of the blog here!