Back in the day, there was absolutely no way to use an impact wrench if you didn't have an air compressor to use with it. Now, there are a plethora of manufacturers selling corded electric impact wrenches that offer the same functionality and precision as their predecessor.
We put together the following review and buying guide to the top 5 best corded impact wrenches on the market today.
The Top 5 Best Corded Impact Wrench Products
Check out our review of the top 5 best corded impact wrench products you'll want to consider for your tool arsenal, then keep reading to the end to discover our number one pick from the group.
Porter-Cable PCE211 7.5 Amp ½" Impact Wrench
Our first pick for the best corded impact wrench is the Porter-Cable PCE211 model that packs a powerful punch at a very affordable price. We were pleased with the 7.5-amp motor that produces up to 450 foot-pounds of energy.
Regarding speed, the wrench rates at 2,200 RPMs and 2,700 BPMs, with a rocker that you can adjust to forward or reverse direction with the flick of a switch.
You can also make socket calibrations with relative ease, as this best corded impact wrench features a helpful hog ring anvil. The Porter-Cable PCE211 weighs in at a moderate 7.8 pounds. The torque output of this impact wrench is probably not enough to see you through daily work out in the field, but it's a quality pick for homeowners or anyone that needs the tool to complete projects now and then.
What We Liked
Affordable
450 foot-pounds of torque
The manufacturer offers a three-year warranty
Easy to switch to forward or reverse direction as needed
What We Didn't Like
The wrench is not as lightweight as some so could be hard on the hand with prolonged use
Not enough power for field use
---
Milwaukee 9070-20 ½" Impact Wrench with Rocker Switch and Detent Pin Socket Retention
The Milwaukee 9070-20 ½" made it to our reviews of the best corded impact wrenches for its serious performance that makes it an optimal choice for both home projects and field use. If you take care of it properly, this corded impact wrench will last you for many years to come.
The handle features ergonomic elements to protect your wrist and hand from soreness with prolonged use, plus it features a user-friendly forward and reverse direction switch to adjust between each with ease.
We also like how lightweight this best corded impact wrench is at 7.4 pounds, which is just light enough if you'll be running it for more extended periods.
The wrench can adjust from 1,000 to 2,600 BPM and 600 to 1,800 RPM as you require. Whether you are new to using impact wrenches or are looking to replace your old one, the Milwaukee 9070-20 ½" performance and precision leaves the competition in the dust.
The only real downside we would note is the price, which is a bit higher than some of the other options on our list.
What We Liked
Very light so it won't cause excess arm or wrist fatigue
Cushioned handle for easy gripping
Forward/reverse switch to make smooth transitions between directions
Sturdy enough for a wide range of light and intensive projects
What We Didn't Like
On the pricier end
It does not include a mechanism to adjust the speed
---
Hitachi WR16SE Brushless Motor Corded Impact Wrench ½
The Hitachi WR16SE is one of the best corded impact wrenches on the market for its no-load speed that produces as many as 1,600 revolutions in just one minute. You'll also enjoy four difference impact ranges that you can select based on the type of project you're working on.
The forward/reverse switch settings are dependable and user-friendly, plus you can adjust them with one hand if you need to. One feature that stood out to us was this wrench's handy rubber bumper that offers additional protection without compromising the tool's functionality.
Whether you are on the hunt for the best corded impact wrench for professional use or home projects, this tool can meet your needs on both accounts.
What We Liked
Produces exceptional power with up to 1,600 revolutions per minute
Quality pick for both professional and home use
Well balanced ergonomically speaking
Trusty forward/reverse setting switch that you can adjust with one hand if need be
What We Didn't Like
Very heavy so it could cause strain to your hand or wrist with extended use
Pretty bulky so it will take up a lot of space to store and transport
---
Aircat 1150 Killer Torque ½" Impact Wrench
Our next pick for the best corded impact wrench is product by Aircat, featuring 900 foot-pounds of standard torque and an impressive 1,295 foot-pounds of loosening torque. We noticed the substantial 1,400 BPMs right off the bat and were happy to see that the wrench features ergonomic elements to reduce hand and wrist strain.
Despite the jolt of power the Aircat 1150 Killer Torque provides, it only weighs 4.5 pounds, which means that you can use it all day if you need to. The impact wrench also sports proprietary sound muffling technology, at a moderate 86 decibels.
The rotor on this impact wrench is enormous, offering 15 percent more power than standard models do.
Things We Liked
Ergonomically configured handle to reduce stress on the hands, wrists, and arms
15 percent more power than regular models
1,400 Blows Per Minute
Quiet 86-decibel sound rating
Things We Didn't Like
You shouldn't use with a quick connect
The trigger can remain depressed with extended use
---
VonHaus 8.5 Amp ½" Impact Wrench Set with Hog Ring Anvil and Carry Case
Our final pick for the best corded impact wrench is the VonHaus 8.5 Amp ½" Set, featuring all the bells and whistles you'll want for a variety of home projects. If you need to adjust some nuts and bolts on occasion, this impact wrench could be a strong contender on your shortlist.
It features four, single socket sizes so you can pick the one you need for the task at hand. The wrench is also powerful enough that you can use it for functions like vehicle upkeep or changing a tire. We liked that this best corded impact wrench actually comes with a carrying case, which makes it much easier to move from place to place if you require.
The VonHaus 8.5 amp features 260 foot-pounds of torque, which is definitely on the lower end of the spectrum but will suffice for all your essential household tasks. The handle has a comfortable grip as well, so you won't need to worry about hand and wrist fatigue right out of the gate.
What We Liked
Four different socket configurations for versatile use
A much more compact size than some models
Great for home improvements and basic tasks
What We Didn't Like
The wrench is surprisingly heavy considering its size
The foot-pounds of torque ratio are on the lower end
---
Buyer's Guide to Selecting the Best Corded Impact Wrench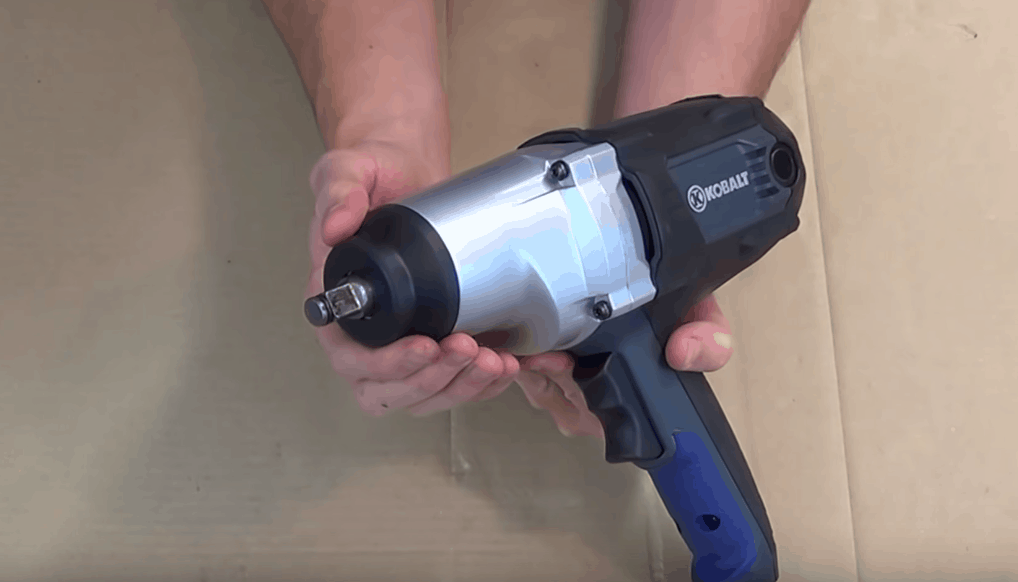 Not sure what to look for when hunting for the best corded impact wrench? Well, you've come to the right place.
Torque Level
The first element you need to consider when looking for the best corded impact wrench is the level of torque that the product offers. The higher the torque in the impact wrench, the more power you will have to work with.
For example, if you are searching for the best corded impact wrench for professional use and projects, you'll want a much higher level of torque capacity than you would if you want an impact wrench for home improvement tasks. If you decide that a higher torque level suits your needs best, an air powered wrench could be the ideal choice.
On the other hand, if you don't intend to perform very high-intensity tasks with your corded impact wrench, both electric and battery wrenches are quality options.
Usage Needs
The next thing you need to consider if you are in the market for the best corded impact wrench is your usage needs. Following up on the point above, you can use an impact wrench for a wide range of purposes, from professional, high-level tasks in the field to necessary items at home like tightening a bolt.
However, you need to understand that you can tighten a nut or bolt too far with an impact wrench in some cases, which could not only cause damage but potentially remove threads. If you're working with a nut or bolt requiring a particular level of torque, you might need to pick up a standard torque wrench for such a task.
Otherwise, from loosening a nut or bolt in your home to adjusting a lug nut in your vehicle to more high-intensity tasks that require massive torque, an impact wrench could be your new best friend.
Weight Considerations
The weight of the best corded impact wrench is another critical component to factor into your decision-making process. Some impact wrenches are incredibly light, while others are much bulkier and difficult to wield, particularly if you don't have any prior experience using these types of tools.
If you're planning on using one of the best corded impact wrenches for household tasks, a lighter model is hands down going to be your best bet — no need to cause undue strain or wrist fatigue there.
If you need a more substantial model that has more of the bells and whistles for high-intensity tasks, you should still select one that hits at a moderate rate, so your wrists and hands don't start throbbing after an hour. Features like an ergonomic design and handle grip are essential here, and will not only provide more excellent balance and precision while you work but increase your comfort level as well.
Consider Your Available Power Sources
Consider what power sources you'll have available when deciding which of the best corded impact wrench models is right for you. You can purchase impact wrenches in both air and electric versions. All the selections on our list are corded, but some impact wrenches run on batteries instead.
The reason we recommend corded impact wrenches is because they are highly portable to transport from place to place and are the best option for basic tasks. Consider how often you'll need to use your corded impact wrench in the absence of a power source.
If you need the best corded impact wrench for field use and will be away from a power source much of the time, factor in the additional weight bringing a generator will add to the mix.
Forward and Reverse Switch Settings
Finally, you need to consider how easy it is to switch between forward and reverse directions when choosing the best corded impact wrench for your needs. Quite a few projects you'll likely be working on will require to do switch back and forth to ensure you've tightened things sufficiently, so user-friendly forward/reverse settings are a must.
FAQ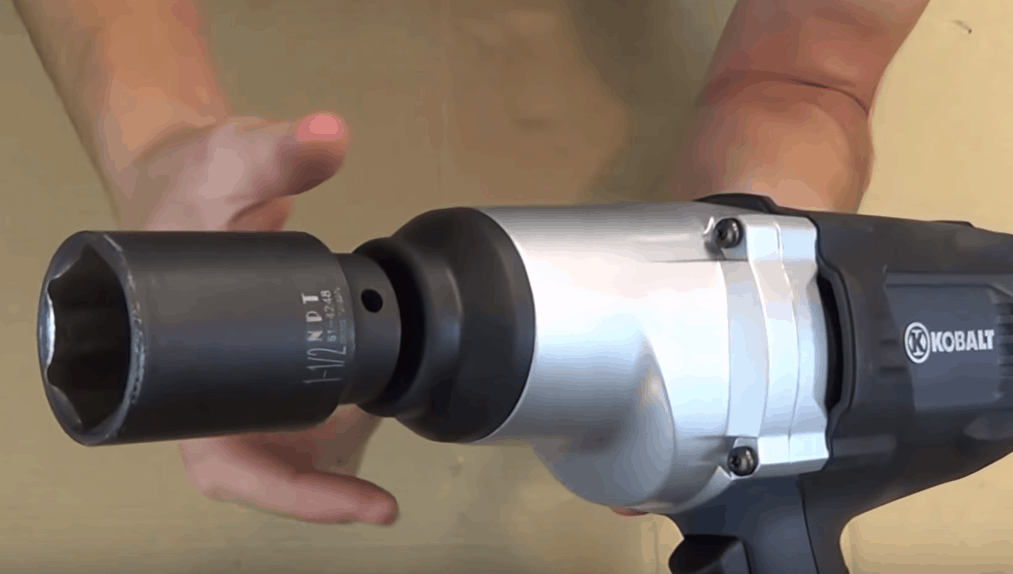 Check out our answer guide to all your top corded impact wrench questions.
What is a corded impact wrench?
As its name suggests, a corded impact wrench is an electric-powered tool that you can use for both high-intensity and simple tasks. The advantage with a corded impact wrench over the cordless variety is that you'll have a much higher torque capacity and the models are often lighter due to the lack of a battery.
How does a corded impact wrench work?
With a corded impact wrench, an electric motor creates twisting movements that activate the lug nut in bursts of power.
How do you use a corded impact wrench?
To use a corded impact wrench, you must first ensure that you have the correct socket size based on the fasteners you will use. If you have the wrench already plugged into the socket, be sure to disconnect it before you switch sockets.
To loosen nuts, hold the wrench firmly in place, pull the switch, and situate the socket above the fastener. The torque should rise as the wrench remains in place above the nut, which will eventually loosen.
To disengage the nut, you must switch to reverse, pulling the trigger as far as you can with the socket installed firmly on the head of the nut. The torque power will slowly dislodge the nut. Let go of the trigger as soon as the nut dislodges.
To tighten a nut, use your hands to insert the nut in your desired location and ensure it is cross threaded. Choose the appropriate socket and switch to the forward direction. Hold the wrench securely and lightly pull the trigger, installing the socket above the head of the nut.
Moderate your speed until the nut catches, but don't tighten it. To tighten, you will need to pull the trigger completely and train the socket on the head. Three full impacts are usually enough to tighten the nut.
Wrapping it All Up
Which best corded impact wrench made it to first place? Without a doubt, the Aircat 1150 Killer Torque. The propriety sound muffling components bring noise levels to a mere 86 decibels while the rotor provides 15 percent more power than your average model.
With 900 foot-pounds of standard torque, 1,295 foot-pounds of loosening torque, and 1,400 BPMs right off the bat, this 4.5-pound corded impact wrench stands in a class of its own.
Do you want more guide on impact wrenches? Check out, The Best Impact Wrench for the Money and Impact Drivers vs. Impact Wrenches – Get The Right Tool For Your Job.