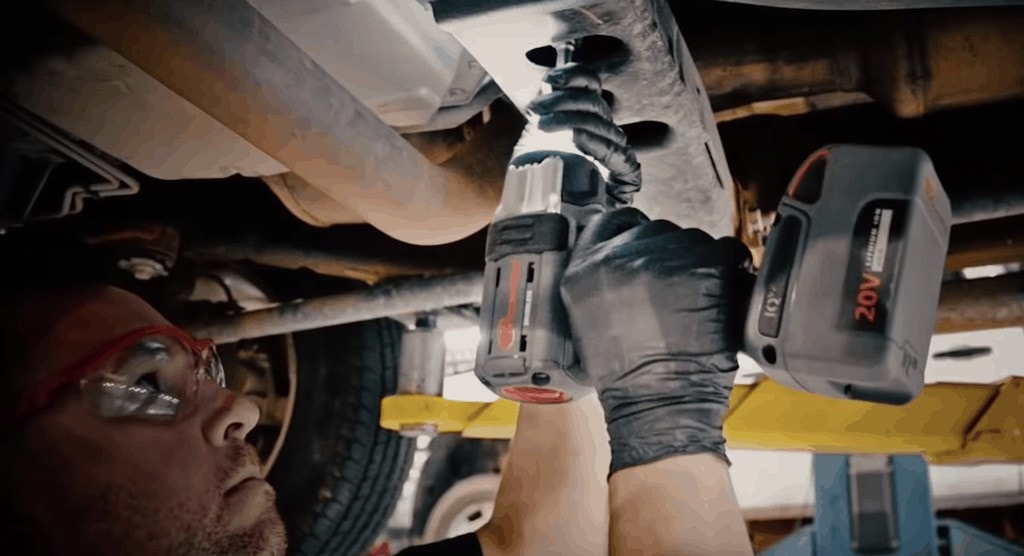 When you need torque as powerful as Thor's hammer, an impact wrench is your best friend. Their insane levels of power can tackle the toughest jobs, while their ability to reel back their might makes smaller projects a breeze. How can you find the best impact wrench on the market, though?
The answer, like most, isn't as simple as most people think. How you use the tool, what you use it on, and what features you need all come into play. We've rounded up the best impact wrenches on the market and included a handy buyer's guide to help you make the best decision.
Top 5 Impact Wrenches for 2019
Last update on 2021-04-13 / Affiliate links / Images from Amazon Product Advertising API
Last update on 2021-03-20 / Affiliate links / Images from Amazon Product Advertising API
Weighing in at just 6.8 pounds, the W7150-K2 clocks in at an impressive 1,100 ft-lb of torque. Considered best in its class for power to weight ratio, this is easily a top pick. A high-efficiency rare Earth magnet motor creates the raw power behind this wrench.
All of that power is kept in check by an all-metal drive train and metal-reinforced housing, providing superior stability and longevity. With a high-capacity variable speed trigger, you can apply just the right amount of force for each task.
Balanced weight and a soft-touch grip alleviate stress from your arm and wrist during use. This is a cordless model powered by a 20V lithium-ion battery. Topping things off is an intelligent battery management system, which provides current control to optimize the battery's efficiency.
Pros:
The best weight to power ratio in its class
Comfortable to use
Long battery life and exceptional battery efficiency
Cordless for portability
Cons:
Despite metal construction, the build quality is low
Although balanced, the metal makes this unit top heavy
Torque can be excessive for smaller jobs
Last update on 2021-03-20 / Affiliate links / Images from Amazon Product Advertising API
DEWALT's DCF899P1 features a brushless motor, adding to the longevity of the power tool while boosting performance. Max torque clocks in 700 ft-lb, with a breakaway of 1,200 ft-lb. There are three-speed selections to choose from, allowing you to adjust the power from 400 to 1,900 RPM for different tasks.
Like most modern power tools, the design of this torque wrench is comfortable and ergonomic. A battery fuel gauge keeps you informed while working, and an LED light helps you see in the dark.
This 7.2-pound tool is compact, making it an excellent choice for tight spaces, and features a 1/2-inch anvil with a detent pin. You can also choose from a hog ring. With a 5.0 Ah battery and multi-voltage charger, you never have to stop working for too long.
Pros:
LED light for working in the dark
Lightweight at 7.2-pounds
Brushless motor means next to no maintenance
A quality build means a long lifespan
Excellent torque levels
Cons:
RPMs on fixed settings
5.0 Ah battery isn't anything special
The battery gauge isn't the most accurate
Last update on 2021-03-20 / Affiliate links / Images from Amazon Product Advertising API
The 2763-22 M18 by Milwaukee offers 700 ft-lb of fastening torque and 1,100 ft-lb of nut-busting torque through a brushless motor. The design of the motor keeps the wrench running cool even at maximum power, and all brushless motors eliminate wear and tear.
The "Drive Control" feature is what allows you to switch between power settings. It's a simple button that certainly comes in handy. This model features an M18 RedLithium XC 4.0 battery pack, which means it takes a while to run out of juice. Like most models, you get two batteries with your purchase.
Finally, the ½-inch anvil features a friction ring for quick socket changes. Unlike the DEWALT and Ingersoll, this Milwaukee is enormous. So, don't expect to take it into tight spaces.
Pros:
Exceptional battery life
Two powerful settings to choose from
Quality brushless motor
Cons:
This wrench is huge and heavy
Milwaukee had an issue with defective 2763-22 models. You might have to replace it out of the box, which the company does cover
Last update on 2021-03-20 / Affiliate links / Images from Amazon Product Advertising API
With a variable speed trigger, you can ramp this wrench up from one to 3,000 RPM instantaneously. While that's impressive, the max torque on this model clocks in at a low 300 ft-lb. That's low, but it might suit your needs better if raw power isn't what you're looking for.
This wrench is powered by a 4Ah XC lithium-ion battery, delivering a medium-level lifespan every charge. Given all of these lower to mid-level stats, you might have already figured out that this is Craftsman impact wrench is for home use.
Adding to the home-based intention of the wrench are three LED lights, which means working on your car in a dimly lit garage just became a breeze. Sure, the C3 isn't as powerful as other models, but it provides just the right amount of torque for home projects.
Pros:
Three LED lights make working in the dark simple
Full control over RPMs with a variable speed trigger
Lightweight and compact, except the enormous battery pack
Works with all 19.2V Craftsman batteries
Cons:
Low torque compared to most models
The battery life isn't that long
LED lights are the first part to wear out
Last update on 2021-03-12 / Affiliate links / Images from Amazon Product Advertising API
The Ryobi P1833 is an exciting model with some unique features. Like a Craftsman, you can use the 18V One+ battery with any Ryobi power tool. Like the DEWALT, you can select from three speeds to steadily increase RPMs. Like the Ingersoll, the steel and plastic construction works together to increase the unit's standard durability.
If you're stuck on a decision between all four models above, the Ryobi takes some of the best features from each and wraps them into one impact wrench. It even retains the 300 ft-lb torque from the Craftsman.
We like this model for the sole fact that it feels like a hybrid of other top brands in the industry. It makes an excellent tool to use around the house or in the garage, and we consider an ultimate Father's Day gift.
Pros:
Interchangeable battery packs
Better steel components than the Ingersoll
Ample torque for most home projects
Unique features from other top brands
Cons:
Only three RPM settings
Torque is too low for heavy-duty/commercial jobs
Battery life is mediocre at best
Know Before You Buy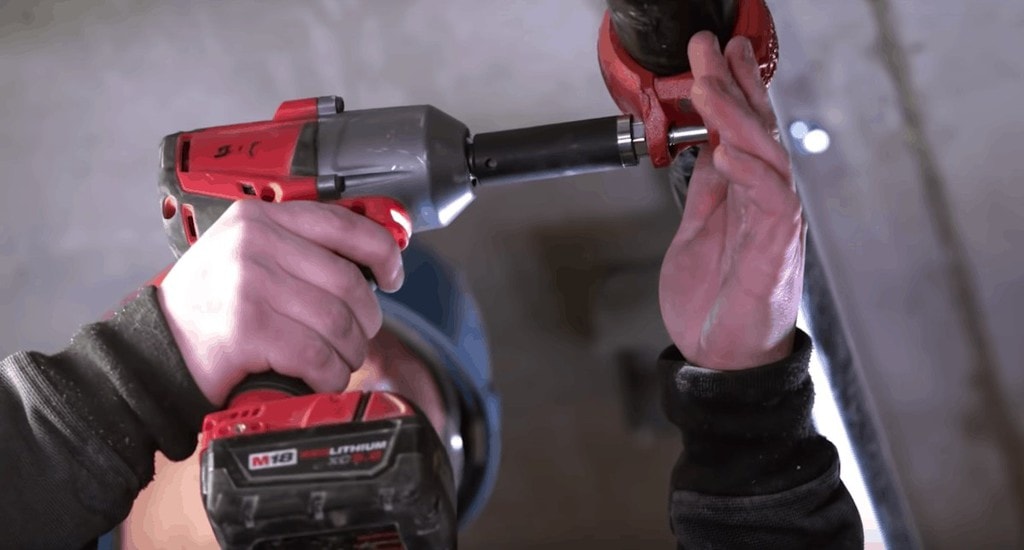 An impact wrench deviates from drills in drivers in its ability to work with hex heads. From bolts to nuts and lag screws, this tool is vital to any worker's projects. Impact wrenches combine torque through rotational force and impact through short-burst concussive blows to achieve a level of power drills only dream about.
While the average drill pumps out an impressive 500 to 600 pounds of torque per inch, an impact wrench creates an astounding 3,000. That's double the force of an impact driver, which clocks in at roughly 1,500.
Even with all that power, these wrenches are easy to control thanks to the smooth employment of concussive blows. By transferring the torque directly to the fastener, your hand and wrist are kept safe. You know that twisting feeling you experience when using a drill? There's no such thing with an impact wrench.
So, the tool is an essential one for various tasks, but how can you find the best impact wrench? Before you buy into any company's sales pitch, take the following into consideration.
Know Your Use – Torque
Finding the best impact wrench is a matter of how you use it. We're talking about refined power in the form of torque, and these power tools are beasts. Do you need the most powerful torque on the market for your projects, though?
Some of the models in our list top out at 300 ft-lb, which is more than enough for fixing bolts on a washer and most cars. If you own a truck, however, 700 ft-lb is a necessity. Similarly, the suspension on your vehicle requires a certain level of torque based on the type you have and the vehicle it is attached to.
Think about why you need an impact wrench before buying one, then decide how much power you need based on the tasks at hand. It might seem like a safe bet to shoot high, but overtightening is the most common issue with impact wrenches.
If you overtighten a bolt, you risk stripping the threads and weakening the joint. Any handyman will tell you that both situations are a disaster. You want something powerful enough to spare your knuckles, but you don't want to overdo it either.
Compact vs. Full Size
The type of work you do defines this challenge, as well. More often than not, a compact model allows you to loosen and tighten bolts when you can't find the leverage with a manual wrench. So, we recommend finding a model with a small to medium size that doesn't sacrifice the torque you need.
Corded vs. Cordless
If you enjoy corded power tools, then this is an easy decision. Most people, us included, prefer the mobility of a cordless model. Sure, you have to deal with charging battery packs and the tool dying on you from time to time. The alternative, though, is a limitation most projects don't accommodate for.
Combined with a more compact size, cordless models help you reach into those tight spaces and get the job done. A lot of people pick one of these tools up to work on their car. So, imagine how limited your reach is with a corded model. Now, imagine how free you are with a cordless one.
Brush vs. Brushless Motor
Everyone has their preference but knowing the difference helps. Brushless motors, quite simply, operate without the brushes needed by others. This means virtually no wear and tear on the motor, which means replacements are rarely necessary. We prefer brushless, but it isn't a vital component to your power tool's functionality.
Weight
This isn't an aspect most buyers consider, but it's vital to your projects. When you're working with multiple bolts and fasteners, the weight of your impact wrench either makes the job easier or harder. No one wants to hold a 20-pound power tool for hours on end.
Pick something with a lighter weight that you won't mind holding in an awkward position for long periods. Thanks to modern technology, a model with less weight doesn't have to sacrifice power.
Impacts Per Minute
The impacts per minute are the measure of how many times the hammer strikes the anvil in 60 seconds. A Higher rate means faster tightening and loosening, making the job easier. It also gives you added power to unscrew those stubborn bolts.
The No Load Speed
No load speed refers to how fast the wrench turns without a load. Higher speeds fasten screws at a quicker rate but typically sacrifice torque. Lower speeds do the exact opposite. Remember that this is for screws, not bolts or nuts. When in doubt, stick with higher torque.
Drive Size
While 1/2-inch is the most common drive size, there are other applications for different projects. The other common size is 3/8-inch, which sacrifices torque for a smaller size. Power levels aside, the vast majority of projects require a 1/2-inch drive size.
Adjustments
Some models on our list have three settings; others control RPMs through the trigger. The choice is a matter of personal preference. Either way, the ability to adjust your wrench's speed is a must. Some of us at The Saw Guy love variable triggers, others prefer simply setting the speed and forgetting it. There is no correct answer here.
Balance, Design, and Ergonomics
When selecting the best impact wrench for you, test out how the model feels in your hand whenever possible. Some are uncomfortable, unbalanced, and feature design elements that make them awkward to use. Like any tool, find something easy on your hand that you like the feel of before buying anything.
Warranty
Last, but not least, every power tool should come with a warranty. Most are one to two years but always check for those lifetime warranties. When something goes wrong, which it will, you want your tool covered.
FAQ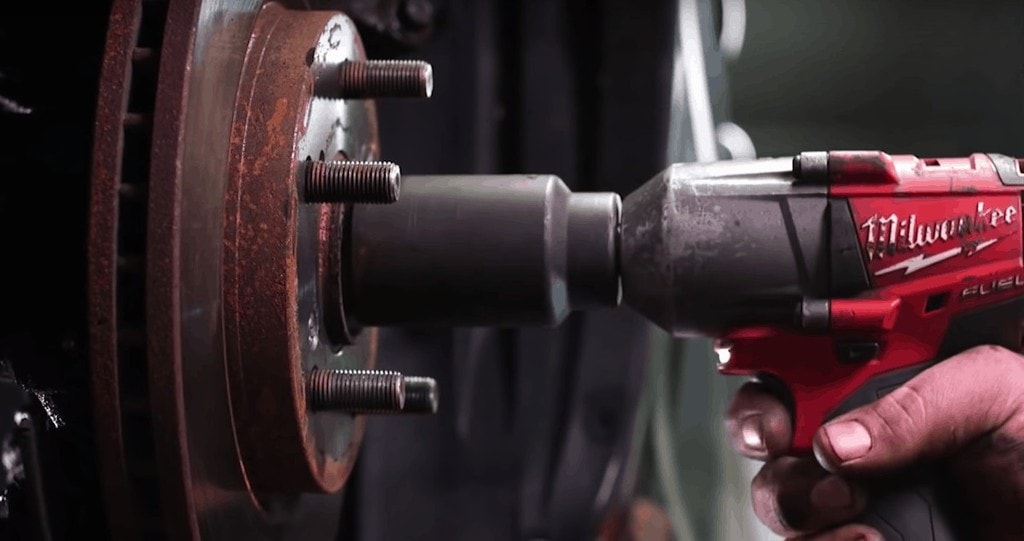 Q: How do I know how much torque I need?
A: The easiest way to tell is by looking at the bolt size. A smaller bolt means less force is required. Some of the smallest may only need roughly 80 ft-lb. Any more and you risk breaking the bolt in half. We recommend a 300 ft-lb max torque for smaller projects, allowing you to adjust as needed. For larger tasks, amp it up to 700-plus.
Q: Do I need a brushless motor?
A: No, absolutely not. However, brushless motors tend to have a longer lifespan and save their owners precious time maintaining the power tool. Brush models are less efficient, and altogether noisier. The only disadvantage to the brushless motor, however, is a higher cost. That's a small price to pay for never having to replace brushes in our opinion.
Q: What about pneumatic, electric, and hydraulic models?
A: Pneumatics run on compressed air instead of electricity. They tend to be smaller, too, which makes them excellent impact wrenches. However, adjusting the power is impossible. This leaves you with way more torque than you need in most cases.
Hydraulic variants are rare, namely because the torque they provide is insane. If pneumatic models break bolts, hydraulic versions obliterate them. They're also massive in size, making them a nuisance to carry from job to job.
Electric models, like the ones featured in this list, allow you to use one wrench for multiple jobs by adjusting the power level. They are as portable as pneumatics, come in wallet-friendly price ranges, and often incorporate useful features like LED lights. While you might have to deal with battery packs, electric is the way to go.
Wrap Up
Our top pick this time around is the DEWALT DCF899P1 20V MAX XR. Aside from the ergonomic design, the features of this power tool make it stand out amongst the competition.
First, the lightweight 7.2-pound build is ideal for day-long projects. Throw in the LED light, and working into the night or in a dimly lit garage is made easy. DEWALT's build quality is also superior in the industry.
While the RPM adjustments are on a fixed setting, there are those of us here who prefer that. With 700 ft-lb of torque, you can tackle everyone's car in the neighborhood. Plus, 1,200 ft-lb on the breakaway allows you to power through even tougher tasks. Combined with up to 1,900 RPM, it's a lot of power in a lightweight design.
Last update on 2021-03-20 / Affiliate links / Images from Amazon Product Advertising API
Our second choice is the Milwaukee 2763-22 M18 for its brushless motor, excellent battery life, and 700-1,100 ft-lb of torque. It isn't as compact, at all, but we love the power behind this impact wrench. While there are issues with the model, Milwaukee's warranty has you covered.
Now that you know exactly what to look for in an impact wrench, what will you choose? Maximum torque or controlled power? Compact efficiency or massive powerhouse? Whatever you decide, we know you're making the right choice.