Are you in the market for the bolt cutters, but aren't sure where to start or how to find the right pair to meet your needs? Keep reading for our thorough review of the top 5 best bolt cutters, plus our detailed guide to selecting the right product for your needs.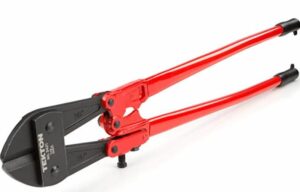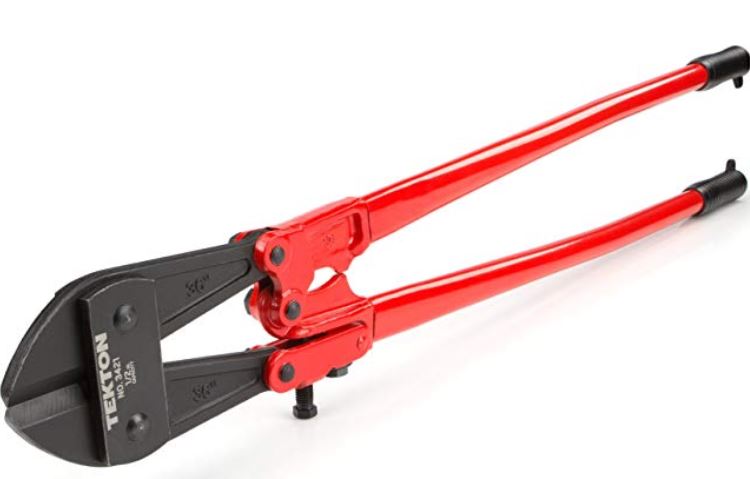 The Top 5 Best Bolt Cutters
Last update on 2021-09-28 / Affiliate links / Images from Amazon Product Advertising API
Here are the top 5 best bolt cutters you'll want to take a second look at, whether this is your first purchase or you're interested in replacing your worn out pair.
Tekton 3421 36-Inch Bolt Cutter
Last update on 2021-08-04 / Affiliate links / Images from Amazon Product Advertising API
Our first choice for the best bolt cutters is Tektons 3421 36-inch model, featuring high-quality jaws of hardened alloy steel. The tool is a very versatile pick that you can use for a wide range of tasks, with fantastic performance even for large compound cutting tasks.
The handles feature tubular steel for long-lasting use, with cushioned handles sporting rubber grips to give you excellent traction and prevent wrist fatigue. These bolt cutters feature a jaw capacity of a ½ inch, making them an ideal choice for cutting everything from chain links to a thin wire. The pair weighs in at 10.5 pounds, which is on the heavier side, but worth it for the enhanced performance.
Pros
Tough jaw performance
Slices through thick materials with ease
Comfortable to hold due to rubber grips
You can select from various size options
Cons
The paint tends to chip with prolonged use
The handles can be a little slippery
---
KNIPEX 71 12 200 Comfort Grip High Leverage Cobolt Cutters with Spring
Last update on 2021-08-04 / Affiliate links / Images from Amazon Product Advertising API
Our next choice for the best bolt cutters is the Knipex 71 12 200, with a highly cushioned handle to prevent slipping and increase user comfort. If you are brand new to using bolt cutters, you might favor this pair, as they not only offer an impressive performance but are easy to master and wield.
The handles feature an integrated spring lock, while the blades are sharp enough to cut through nails, nuts, bolts, rivets, and more.
You can easily cut through materials up to a diameter of 5.2mm without issues the blades sport roughly a 64 HRC cutting strength. The bolt cutters measure 8 inches in length and weigh in at a negligible 13.2 ounces.
Pros
Easy to use
Comfortable to hold and operate
Cuts a range of material types
Integrated spring lock
Super lightweight
Cons
The cutters aren't sharp enough to slice through more than a smaller padlock
Lock mechanism might take some getting used to
---
Neiko 00563A 36-Inch Heavy Duty Bolt Cutter
Last update on 2021-08-04 / Affiliate links / Images from Amazon Product Advertising API
The Neiko 00536A made it to our list of the best bolt cutters for its superior precision and performance. We liked the premium-grade Cr-Mo steel jaw materials that are sturdy enough to cut everything from blots to locks to thick chains.
The blades are also very dependable and don't crack or slide when you use them on more robust materials.
If you are looking for a quality pair of bolt cutters for high-intensity use, these could be the choice for you. They are so durable that you can even use them to cut padlocks and threaded rods just as well as if you were using a more substantial power tool.
With a design featuring steel alloy chrome molybdenum and a cushioned handle for ease of use, you'll enjoy excellent accuracy and control with these bolt cutters.
Pros
Sturdy enough to slice through thick metals like padlocks
Perfect for high-intensity tasks
Good handle grips
Steel alloy chrome design
Cons
Very heavy on the hands and wrists
Might not be strong enough to cut through something like rebar
---
Capri Tools 40209 Klinge Mini Bolt Cutter, 8″, Blue/Black
Last update on 2021-08-04 / Affiliate links / Images from Amazon Product Advertising API
The Capri Tools 40209 stands in a class of its own among the best bolt cutters for its precision and cutting power. You can use this tool to slice through wires and blots as well as thread rods and chains with total ease. We were pleased to see the quality trip these cutters offer, promoting optimal grip and balance during operation.
Capri offers a 10-year warranty on its products, which speak for itself as to the quality of these bolt cutters. If you need a reliable pair of bolt cutters to use on the go, these could be for you. The blades are double heat treated and offer significant leverage, so you enjoy more cutting power while expending less energy.
Pros
Smooth and efficient cutting
Double heat treated blades for durability and impressive leverage
Flexible usage options
Ergonomic design
Cons
Not ideal for very thick materials like padlocks
Wears out faster than some
---
Knipex 7101200 8-Inch Lever Action Mini-Bolt Cutter
Last update on 2021-08-04 / Affiliate links / Images from Amazon Product Advertising API
Another quality product by Knipex, our next choice for the best bolt cutters features a high-grade body with plastic coated handles that make for easy cutting. We like these bolt cutters for a range of cutting purposes, from razor wires to barbed wires.
The bolt cutters are ideal for slicing through thinner wires, but might not be strong enough for very thick materials.
The body of this product is bulkier and more substantial than some of the other options on our list, but part of that is because the cutters sport chrome vanadium electric steel for extended durability. The cutters measure 8 inches long with blades featuring 64 HRC cutting hardness. We also like that the tempered edges and oil hardened blades for smooth operation.
Pros
Comfortable to operate
Balances well
Extremely durable chrome vanadium steel design
Cons
Rusts faster than some with frequent usage
Not designed for high-intensity cutting tasks
---
How to Select the Best Bolt Cutters for Your Needs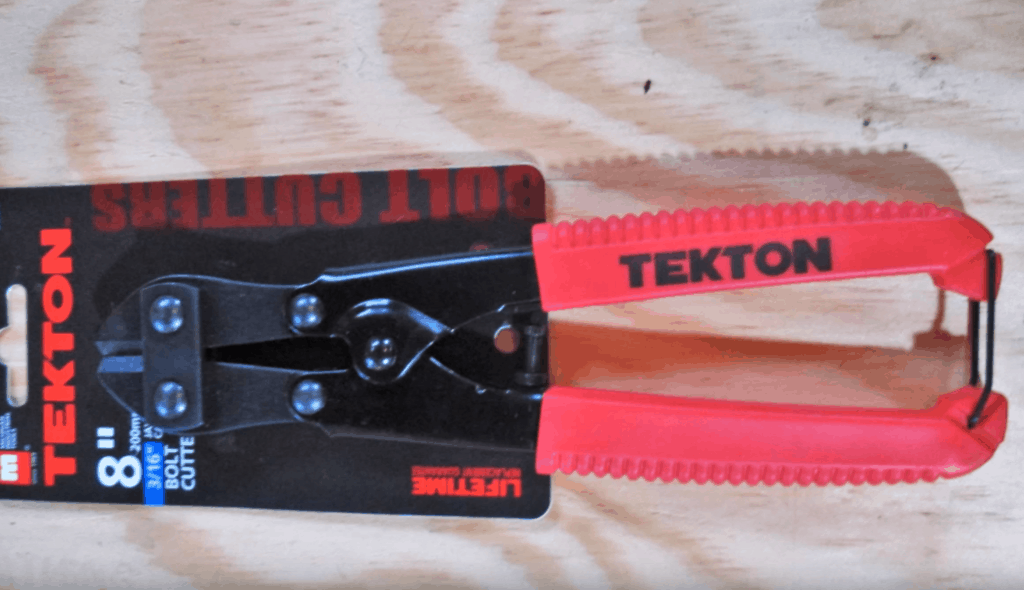 Here's what you need to consider before purchasing the best bolt cutters for your needs.
Why You Need a Pair
Bolt cutters are unique in the sense that they offer you distinct usage options that other tools don't. For one, they are very sturdy and can cut through an array of materials, thick and thin. Blades are frequently treated with heat so they can handle high-intensity tasks.
The best bolt cutters offer impressive performance, but they also do the work for you, so your hands don't bear the brunt of operation. Best of all, bolt cutters are highly portable, so you can take them on the go to fulfill any number of cutting tasks.
Different Kinds of Bolt Cutters
There are three primary kinds of bolt cutters you can pick from—compact, medium-sized, and large. The small variety is to slice materials with soft and moderate hardness like threaded rod and wire. If you purchase a pair with robust jaws, you can also use them to slice through tougher things like bolts and chains.
The medium sized models cut through the same types of materials, but feature long arms so you can slice through things with more extensive diameters. The large bolt cutters have long hands, and you can use these to cut through anything from copper cables to padlocks to steel chains.
Besides these primary three, there are other varieties like center bolt cutters and end cutters. Center bolt cutters are precisely what their name indicates—bolt cutters with blades in the center. You can use them to slice through a range of materials, like locks, because the edges slant for enhanced balance.
End cutters have flat blades and are suitable for clipping or grabbing objects.
Consider the Quality
A key element to pay attention to when hunting for the best bolt cutters is the quality of the product. Steel blades are among the best options, with hardened forge steel high on the Brinell and Rockwell scale as the premium material of choice.
The best bolt cutters should also feature blades that will stand the test of time and don't require extensive upkeep. Your cutters should also be easy to keep clean.
Consider the Weight
The weight of the product is another critical component to take into account when choosing between the best bolt cutters. The best cutters out there should be highly portable and easy to take with you from place to place—even more so if you need to use them daily as part of your profession.
The handle is one component that affects the weight, but you should look at the entire tool as a whole as well. Bolt cutters with shorter handles will have more substantial specifications, while ones with longer handles are often lighter.
FAQ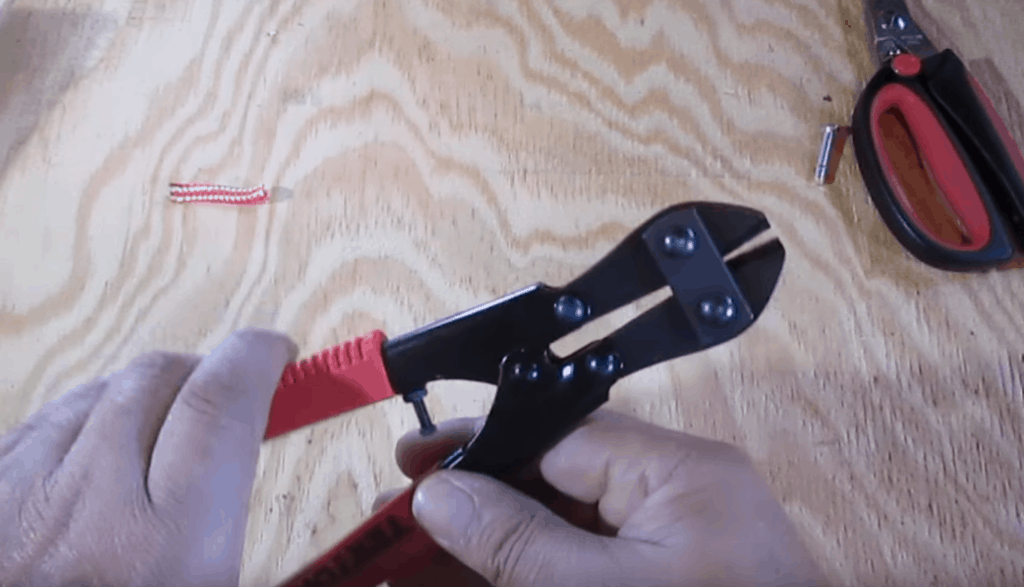 Check out our quick Q&A below, then keep scrolling to discover our top pick for the best bolt cutters.
How do you use bolt cutters?
Start by calibrating the bolt on the cutters' head, so you have the right amount of tension. Decide what item you need to cut and mark that area, so you know where to aim for.
Open the blades apart from one another and extend them as far as you can. The target should be in between the two edges. Put the blades around the mark are you need to cut, then close them tightly.
Compress the handles and repeat until you cut the object.
How do bolt cutters work?
Bolt cutters actually crush the object you're trying to cut, leveraging tremendous force on smaller target areas and slicing your chosen item.
How do you clean bolt cutters?
Use a bristle brush and water-based lubricant to clean the bolt cutters regularly, especially if they have frequent exposure to oil and grime.
The Verdict
While each of the best bolt cutters on our list is exceptional, our top pick was undoubtedly the
Tekton 3421 36-inch model. With hardened alloy steel jaws and tubular steel handles, you can use these cutters for any number of tasks, including high-intensity compound cutting.
We liked the fact that these best bolt cutters have rubber grips to reduce wrist fatigue and increase balance during operation, while the blades have a ½ inch jaw capacity to cut both thick chain links and thin wire with ease. While these bolt cutters are bulkier than some of our other selections, their durability and versatility are unmatched.
Ready to take the plunge? Click here to purchase the Tekton 341 36-inch model for your tool collection! Check out our other guide on the best oscilating tool here.