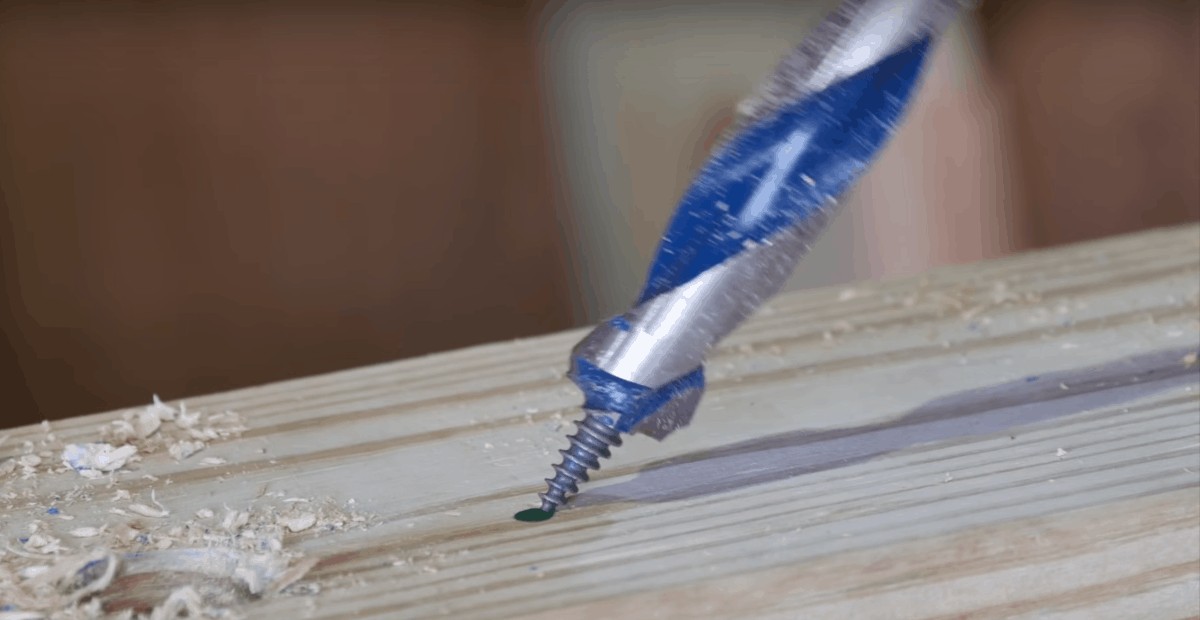 ​If you've never had the pleasure of doing so, drilling through steel can be an absolutely nightmarish chore – even with the best drill and best steel drill bits in the world.
And if you don't have the right bits? You can absolutely forget about it.
Just this past week I went to install a new trailer wiring harness on my truck, but had forgotten that I'd left all my steel drill bits up at my brother's place. Too lazy to head over to the hardware store and pick some up, I foolishly tried to drill into the frame of my truck for the ground wire bolt with a hardwood bit, and I lasted about 12 seconds before it broke off.
Needless to say, I cursed in frustration and cut my project short to head inside and find solace in an ice cold Bud Light.
The fact of the matter is, if you're going to be drilling into steel, there's no getting around the fact that you're going to have to invest in a few good bits. In this article, we'll dish out our takes on the absolute best steel drill bits we've yet to come across. Drilling steel is a dirty, nasty job, and we don't recommend you even think about trying it unless you're set up with the proper gear.
Quick Picks – Top Drill Bits for Steel
Product Summaries: Our TOP Picks for the Best Drill Bits for Steel
Drill America's 29-piece Steel Jobber set gets our #1 pick for the all-around best steel drill bit set. While not the most expensive ones on the market, these bits represent the best value we've come across in literally decades of DIY steel drilling; they're reliable, easy to sharpen, and most importantly, tough as nails.
Also, the 29-piece set includes more than enough range in size to cover virtually any drilling situation you might ever find yourself in – an important thing to consider before you set off on your project and realize that you're missing that all-important 17/64" size.
If you're more of a "big brand name" type of guy or gal, on the other hand, DeWalt's DWA1240 14-piece Pilot Point Cobalt set is another good pick. While significantly cheaper than the Drill America set, these are solid bits that we have plenty of experience with, and can certainly vouch for in terms of their ability to blast through hardened steel.
The only downside is that they contain far fewer sizes than the Drill America's, and more than a handful of folks have mentioned that they aren't exactly medal-worthy in terms of durability and longevity.
Also, the IRWIN 29-piece Cobalt M-35 Metal Index set is another fantastic option that directly compares to the Drill America bits in terms of both price and performance.
We haven't used these ones as much as we've used others, but we will say that from what we've seen and heard they perform just as well and last just as long as the Drill America's. The only thing that's kept them from getting our #1 pick is the fact that they're a tad bit more expensive.
And lastly, if you're looking for the absolute finest option in terms of overall quality, you've got no other choice in our mind than to go with Drillcraft's 29-piece M-42 Cobalt set. These things are truly top-class, come with a lifetime warranty, and are 100% made in the USA.
The only bad thing, as you might've guessed, is that they're not cheap – they're nearly double the price of the Drill America's, in fact. If you don't mind splashing the extra cash, though, they really are the finest steel drill bits that you'll ever come across in terms of performance.
Reviews of the Best Drill Bits for Steel
​Drill America Black/Gold Oxide 29-piece Steel Jobber set
Like we mentioned in the intro, these are the best all-around steel drill bits that we've come across in years and years of "bit infatuation" – they're not overly expensive, they don't break or dull out after a handful of uses, and they certainly don't underperform, even on stubborn-ass material like ½" hardened steel.
Also, one of our favorite features is that they come in 1/64" increments and range in size from 1/16" to ½"; virtually guaranteed to include every size you might need, no matter the DIY project you throw at them.
If you're looking to make a quality long-term investment in your tool arsenal, yet maintain a manageable level of value at the same, these are far and away the best option.
Things we liked:
Best overall value that you'll find in terms of price and performance
1/16" size increments will cover all your bases
Impressive durability and longevity in between sharpens
Gold oxide finish is pretty snazzy, if we're being honest
Carrying tube doubles as a clip that can hang on your belt while working
Universal fit for standard cordless and corded drills
Things we didn't like:
They're not a big household name like DeWalt or Irwin, so they might not have the same kind of ultra-convenient warranty/customer service in the event of a warranty issue
We won't go so far as to call these ones the "El Cheapos", but they're certainly the best overall 'value' pick on our list for all the penny-pinchers out there.
Realistically, though, these bits will serve you just fine if you're simply looking for a small set to get you through a single project, or maybe even a single job. Got a piece of ⅛" angle iron that you need to pop a few flathead screws into? These'll do the job no problem – just don't expect them to do it 100x over.
And also, we actually really do like the Pilot Point feature – drifting can be one of the most frustrating things to overcome when trying to start a bit into heavy duty material like steel, and this slick little feature really does help.
Things we liked:
The price, naturally!
The Pilot Point is actually a nice feature as it allows the bit to engage the material as soon as you put force into it
Satisfactory quality for a handful of heavy-duty jobs
14 different sizes should be plenty to take care of simple DIY tasks (you're not starting a fabrication shop, are you?)
Coming from DeWalt, you can expect the warranty/customer service to be top notch
Things we didn't like:
Don't respond well to sharpening (once they dull out, they dull out)
Longevity/durability leave a lot to be desired
Some folks just find comfort in big, recognizable, household names, and we can't necessarily say that we blame them – if you're spending your hard-earned money on something, you want to make sure it's going into a reputable product.
Basically, these bits are a direct rival to our #1 top pick Drill America set, and they're pretty much equal in every sense: the set contains all the same sizes and size increments, they're made of the same material, and they perform damn-near the exact same. Any superiorities they may have are going to be negligible.
The only reason the Drill America set gets our top pick over these ones from Irwin is because of price – we don't really see any reason from a quality or performance standpoint for them to be 25% more expensive. But hey, like we said, if you're into the household names, by all means these bits will serve you very well. (Also, we know it shouldn't count for much, but we really like the black oxide look of the Drill America's better than these ones).
Oh and one final thing, the really nice thing about these Irwin M-35 Metal Index bits is that they come in a cheaper 15-piece set as well, if you're not wanting to drop the money on the full 29-piece kit.
Things we liked:
Come in multiple "kit sizes": 15, 21, and 29-piece sets
Lifetime warranty and simple customer service in the event of a "breakdown"
Things we didn't like:
Not as pretty as the black oxide Drill America's (hey, we're garage fashionistas, what can we say)
More expensive for not much more (if any more) performance
Like 99.9% of other people, we really wish that money was no object. If it wasn't, we'd probably spend our days lounging around the French Riviera, indulging in $900 bottles of Chateau Lafite, and shopping for pretty things like cashmere sweaters and Drillcraft bit sets.
In all seriousness though, we must say that these bits have earned their brow-raising price tag; as well as our go-to Drill America bits perform, these ones are noticeably a step above. Even on the most ridiculously stubborn of materials like hardened and stainless steel, they blast through it like a straw through the lid of a soft drink.
And also, just like the Drill America's, they come in a 29-piece set in 1/64" increments from 1/16" to ½" – every range of size you'll likely ever have a need for.
And realistically, they're not that much more expensive than the Drill America's, in the grand scheme of things. If you're in the market for literally a life-long bit sit that you can pass on to your grandchildren, an extra few bucks shouldn't be a deal breaker.
Things we liked:
The finest in quality, plain and simple
100% USA made
Lifetime warranty
No sizes skipped (1/64" increments from 1/16" to ½")
Things we didn't like:
The price (duh)
That's about it
Things to Consider When Shopping for the Best Drill Bits for Steel
So, we know there's always going to be the crowd of people out there that have to ask why.
Why can't I use my wood bits to drill through steel? Why can't I use titanium-dipped bits for hard metals? (Is titanium stronger than steel, anyway?) And why do drill bits for steel have to be so damn expensive?
Ultimately, the quality of construction and materials is the main thing that separates a wood drill bit from a steel (or other ferrous metal) bit. The vast majority of metal drill bits you'll find will be constructed of cobalt – in fact, every one of them that we can think of is constructed of cobalt.
Wood bits, on the other hand, are typically made from a high-speed steel (HSS) material – basically the same kind of material that you might find on a cheap, production-quality pocket knife. While a sturdy enough material, HSS just doesn't really cut it (no pun intended) when it comes to being able to blast through hard stuff – it just kind of spins around sadly on top of the material without biting into it. Cobalt is a much tougher material and is able to bite into the heavy ferrous materials like hardened and stainless steel.
Now, you will find that a lot of drill bit sets are marketed as being titanium – be careful with this stuff, as it usually just implies a standard HSS bit with a thin titanium 'coating' on it, which is about as durable as the thin candy coating you find on M&M's. All the titanium really does is provide a bit more durability and longevity over long-term use – it has no factor when it comes to being able to bite into steel, as it's not the core material of the drill bit.
(And yes, for those of you that actually were wondering, titanium definitely is stronger than steel. If you ever come across drill bits that are made of 100% titanium, by all means buy them. Just don't tell us how much they cost).
In short, cobalt drill bits are really the only ones that are acceptable for use on steel and other hard metals – if you don't have a set of them to work with, don't even bother trying to make a dent in your material (we're on fire with the puns, huh?).
Top Pick for the Best Drill Bits for Steel
Nothing's changed here – the Drill America 29-piece Steel Jobber set still easily takes the cake for the best drill bits for steel, in our minds.
In terms of the best all-around combination of performance, durability, price, and overall value, nothing that we've used over the years has really compared to these. They offer a beautifully crisp, savage bit into even the hardest metals, and will stand up to loads and loads of abuse before needing to be re-sharpened.
All things considered, an excellent investment to add to your tool collection, and an absolute must if planning on doing any kind of steel or hard metal drilling.