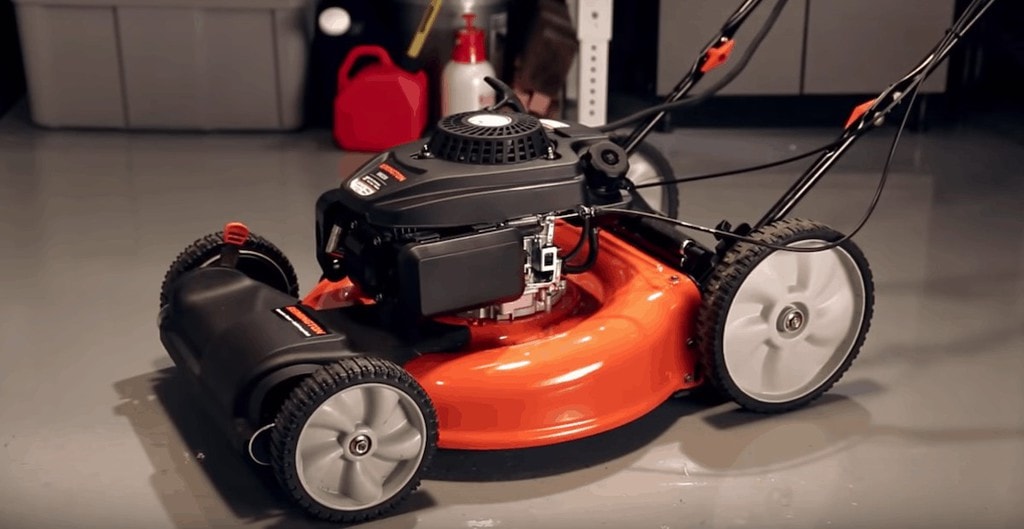 Some of the most vivid memories I have of my childhood chores include sore arms and dirty, grass covered clothing. Often times, the results of the dreaded biweekly slog with my family's old push lawn mower. Cutting the grass certainly isn't the most celebrated of the lawn care chores, but it is one of the most important. For that reason, picking the best self propelled lawn mower should be high on your list of priorities.
Fortunately for kids (and adults) everywhere, self propelled lawn mowers have become the norm. These fantastic machines will last for years, and if you follow this guide, you can get one that won't break the bank.
We've compiled this list of the best self-propelled lawn mowers that won't kill your wallet.
Features: The Things That Matter
The Best Self Propelled Lawn Mower
Many people might be tempted to purchase tractor riding lawn mowers. After all, being able to sit while cutting the grass seems like it's a lot better than having to walk, right? Unfortunately, when cutting your lawn with a riding mower like that, you lose a lot of the fine control that a walking lawn mower provides.
For example, a riding lawn mower is far inferior to a self propelled walking lawn mower when it comes to intricate lawn features, trees, gardens, and flower beds. The bulky tractor of a riding mower simply can't maneuver around those small obstacles. And you can forget about cutting in the corners of fences or patios with a riding mower.
It can also be downright unsafe to use a riding mower in some yards. Yards with steep drops can prove dangerous when using a riding mower, where a simple user error can lead to a dramatic accident.
Different Options For Drive Control
An important feature of the best self propelled lawn mowers is what type of drive control system it utilizes. The drive control system affects maneuverability, and different yards are better suited for different types.
Some mowers use "bails," or metal rods, that you press into the handle to engage. These systems are better for yards that have relatively more wide open areas that require continuous engagement of the drive.
Other mowers use lever operated drive control. These systems work by engaging a lever that you push with your thumb into the handle. These systems are better for yards that have a lot of features, turns, or fences that will require a lot of stopping, starting, and back and forth movement.
Drive control is an important feature to consider when selecting a self propelled mower. Take a look at your yard, and determine whether you'll be engaging in more sustained mowing or more stopping and starting.
Wash-out mower deck allows you to connect a water hose to clean out your mower
Engine Size
A 125 cc engine can power a mower, you may or may not know but that's pretty small. Most mower engines fall somewhere in the 140 cc to 190 cc range. The larger the engine the easier it will be to power through tall grass and other extreme conditions. The extra torque that larger engines offer also improves bagging, for example, tall, leaf-covered grass that you can experience in the fall. If you don't let your lawn get out of control then an engine in the 140-160 cc range is more than enough to get the job done.
Rear-wheel Diameter
A mower can have all four wheels be the same diameter or it may have rear wheels that range are larger than the front wheels. They can range from 9.5 inches to 12 inches in diameter. Larger rear wheels will help the mower roll easily over uneven ground.
Electric Start
This is pretty self-explanatory. Lawnmowers that are on the more fancy side start the engine with the press of a button to twist of a key. An electric mower is a very nice option but it's a luxury. Whether you have an electric lawnmower or a standard lawnmower, be sure to keep the engine tuned and keep fresh gas. Doing so will mean you'll never have trouble starting it!
Bag quality
The more expensive mower you have the more durable the bag will be that comes with it. Higher-quality bags have better dust-blocking capabilities. If you bag a lot, especially things like leaves or other lawn debris, then you will need a mower with a higher-quality dust-blocking bag. With that being said, if you rarely bag, the one that comes that with a lower-end lawn mower is sufficient enough.
Troy-Bilt TB270ES
The first mower on our list is the Troy-Bilt TB270ES, a gas powered self propelled mower with a 159cc engine and a 21 inch deck. This capable mower can handle some pretty tough lawns, and for the average yard it will certainly do the job.
One of the most interesting features is its electric starting feature, which removes the need to pull the starting cord and makes starting the mower a breeze.
What We Like
Electric start push-button
21 inch deck adjustable to six different heights from 1.25 to 3.75 inches
Adjustable loop handle makes for easy maneuvering
Front wheel drive with 8", durable front and back wheels
The Troy-Bilt mower makes use of a single-lever drive control system and can handle grass clippings in all three ways. Perhaps the best part of this product is that you get all of this for a very affordable price.
The benefits of the Troy-Bilt are a powerful mower, fantastic maneuverability, and some user-friendly features without paying a whole lot. As an added bonus, you'll get the proven quality and customer service of a Troy-Bilt product, something that can't be understated.
Husqvarna HU550FH
The Husqvarna mower features a 140cc Briggs and Stratton engine that is particularly quiet while running. Although the engine is on the small side, this mower is extremely adept at maneuvering around obstacles, making the HU550FH perfect for a typical smaller residential lawn.
It's good at this because of it's front wheel drive, large rear wheels that are perfect for pivoting, and It's 22 inch mowing deck contains a washout port, making it very easy to keep your mower clean.
What We Like
Mower deck washout port
Huge back wheels, increasing maneuverability
Can handle grass clippings in all three ways
Height-adjustable handle.
This mower is a great entry level self propelled lawn mower for any homeowner. While the engine is on the small side and will likely get bogged down in some of the thicker stuff, you get the added benefit of quiet operation, less fuel consumption, and a cheaper machine.
Our only qualm is that it lacks a blade brake clutch, which would make it's maneuverability factor shoot off the charts. At such a low price point, though, it's hard to pass up this Husqvarna product.
Yard Machines Self-Propelled Mower
The Yard Machines mower is the one of the most affordable on our list, but it also has one of the biggest engines. Its 159cc engine, combined with its 21 inch steel deck, can tackle some pretty big jobs, especially relative to other mowers with a similar price.
However, it does lack some features of other mowers on our list. For example, it has only one speed, only two different height settings, and it only is capable of mulching or discharging your grass clippings.
What We Like
Powerful motor that will handle weeds, tall grass, and tough terrain
Durable wheels with great maneuverability
Priced at a great value
2-year warranty included with purchase
There's no doubt about it, this mower isn't quite as durable as the others, nor does it have the array of features. However, if you have a small or medium sized yard with some rough terrain or obstacles, and are on a pretty tight budget, we can't recommend this mower enough.
The engine is where this Yard Machines mower really shines, it will rarely break a sweat for most common residential jobs. And more importantly, you'll definitely benefit from a more powerful machine if your yard is full of weeds and rough patches.
Poulan Pro PR675AWD
Poulan offers a wide variety of self propelled lawn mowers, but we think that this is the best one of the bunch. The Poulan Pro AWD has a sturdy, steel 22 inch mowing deck with a deck washout port, up to 9 different height settings, and a Kohler 675 149cc Autochoke engine.
It also has sturdy 8 inch rear and front wheels and is equipped with four wheel drive, boosting maneuverability. It sports a 3-in-1 grass clipping feature, with bagging, mulching, and side discharge capabilities.
What We Like
A ton of height adjustments for the mowing deck
Deck washout port
Sturdier than similarly priced mowers
User friendly lever drive system
All in all, it's hard to beat the Poulan Pro as a residential self propelled lawn mower. It's customizable to any type of lawn, as sturdy as a much more heavy duty product, and has an engine big enough to tackle any residential lawn.
With such a reasonable price, you may be shocked at just how much Poulan managed to add to this mower.  Certainly, the Poulan Pro AWD is near the top of the list of the best self propelled lawn mowers.  
AAVIX AGT1321
The final item in our guide comes from more of an unconventional company "AAVIX". But what it lacks in name recognition, the AGT1321 makes up for with a plethora of well-executed features that will have you double taking at the price tag (in a good way).
At a budget-friendly price, the AGT1321 features a 159cc EPA3 rated engine that is among the most powerful you'll find in a mower in this class.
It's sturdy, 22 inch mowing deck doesn't have a washout port unfortunately, but it does have a single-lever adjustment with nine different height settings ranging from 1.25 to 3.75 inches.
What We Like
Included nylon grass catcher
Customizable grass discharge locations–side or back
Powerful engine
Lightweight deck
The front wheel drive system is operated with a "bail" lever, and the 10" back wheels are smooth to pivot on. It features a 3-in-1 grass clipping system, complete with discharge locations in the side and in the back.
This mower is great for small to large residential sized yards, and can be used in both tight corners and wide open spaces with efficiency.
While perhaps not as durable as some of the other mowers in this guide, you'd be hard pressed to find another option with an engine as big as the AGT1321's and all of the included features. For that reason alone, this product is definitely worth a look.
Conclusion
Maybe they aren't as glamorous as riding tractor or zero turn lawn mowers, but self propelled lawn mowers are the best machines to cut tricky residential yards. A yard only looks as good as its grass does, so any homeowner that overlooks the single most important part of lawncare is definitely going to regret it.
In this guide, we looked at five fantastic options for anyone in search of a self propelled lawn mower. Not every yard is the same and customers should always make purchases with their own unique circumstances in mind.
For the extremely budget conscious user, nothing can beat the Yard Machines Self-Propelled Mower which manages to pack a huge engine and several helpful features into a very low priced product.
For those looking for more sturdy, long-lasting mowers for their lawns, we think the Poulan Pro AWD can't be beat. It's the sturdiest and heaviest of the mowers on this list, and definitely deserves a look.