A lawn mower is something that basically every homeowner will need. The big thing to understand about lawn mowers is that there are tons of them out there. If you just head to the store and start looking you'll find a range of different options from riding lawnmowers to push lawnmowers to gas, electric, battery and a whole lot more. Take a look at the best lawn mower options that we've found and see just what is going to work for you.
Best Riding Lawn Mowers
Troy-Bilt 382CC Riding Lawn Mower
If you're looking for a riding mower that's got a lot of capabilities then this is what you want. It's a 30" mower deck that offers a 382cc auto choke OHV engine that has a top speed of 4.25 MPH heading forward. It also has a 6 speed transmission so you'll be able to get all the power that you need without having to worry about overloading the unit while you're at it.
On top of that there are 5 different adjustable settings to the cutting deck and it has an 18" turning radius. The front wheels are slightly smaller than the back wheels to help with getting through rough terrain and the manual power take-off means that it's quick and easily engages the blade in whatever you need.
This type of mower is great for those who have more even terrain as well as those who have a medium sized yard rather than something too big. It has a simple wheel for easy maneuverability and a comfortable seat that makes it great to ride for an extended period. Not to mention you get a 2 year limited warranty.
Facts and Features
30" mower deck with 18" turning radius
4.25 MPH top speed in forward
2 year limited warranty
13" soft grip wheel
1.3 gallon fuel tank capacity
382cc auto choke OHV engine
Husqvarna LTH1738 Riding Lawn Mower
This is definitely a large mower but it's capable of quite a bit on its own. It has a reinforced cutting deck that's durable and strong enough to withstand just about anything. It also has a pedal operated hydrostatic transmission that improves the overall control and performance of the system.
The ergonomic steering wheel is comfortable for you to hold while you're riding and the controls are simple to operate no matter what you're doing. Even better, it has a comfortable seat for you to sit for extended periods of time. The compact size of this unit is great for most areas and allows it to be used in smaller to larger yards.
Not to mention you'll be able to easily store it away when you're done using it and get back to other things in your garage or yard. Because it's made by Husqvarna it also has a range of additional tools and accessories that you can add on to it in order to get it to accomplish even more feats. You'll be able to accomplish just about any yard maintenance tasks with the right accessories.
Facts and Features
38" cutting mower deck
Air induction motor
Deck wash port
Reverse operating system
Manual blade engagement
Cup holders
Compatible accessories
Poulan Pro Briggs V-Twin Riding Mower
This mower definitely looks big and bad, which makes it a great choice for those who have larger yards and areas. It is somewhat expensive but has a lot to offer at the same time. The stamped and reinforced deck is 46" and provides plenty of space to cut through large swaths of grass at a time.
On top of that it has a 10 year warranty so you know it's going to be durable and long lasting. The electric clutch makes it easy to get started and keep running and the hydro gear transmission is simple even for beginners to operate.
The unit has a 3.5 gallon fuel tank so you don't have to worry about running out of gas and it's a zero turn mower, which means you have two handles to control it and can easily turn around in a complete circle to head back the way you came without missing anything in the middle. The seat is comfortable and everything you need to control the unit is right there at your side. This mower has 6 different height positions for cutting your grass and an extra high back seat to increase your comfort level.
Facts and Features
46" cutting deck with zero turn
10 year mower deck warranty
3.5 gallon fuel tank
22 HP engine
3 year homeowner warranty
6 height options for cutting
Yard Machines 420cc Riding Lawn Mower
Finally, we have this option, which is a little bit smaller than the last but larger than our other options. It uses a 420cc engine that has a shift on the go drive system and 7 speed gear shift so you can accomplish anything. It has a 42" mower deck to cut large sections of your yard at the same time and can be used on small, medium or even larger areas of lawn.
It's great even for hilly areas or areas that have longer or heavier grass so you don't have to worry about what you're going to be cutting with this one. There's a two year limited warranty on the unit and the whole thing is designed to be simple and easy to use.
The seat is comfortable and the wheel is made ergonomic so it's easy enough to steer. The seat fits right to the middle of your back to keep you just right while the wheels are designed to make it easy to maneuver no matter how long you're out there or what you happen to be moving through.
Facts and Features
420cc engine
42" mower cutting deck
7 speed gear shift
2 year limited warranty
Shift on the go drive system
Best Push Lawn Mowers
Greenworks Corded Lawn Mower
This mower runs on a 12 amp motor and offers a 20 inch steel mower deck, which means that it's durable and able to withstand a bit of force. The mower itself it bright in color, which can be a whole lot of fun and it has a bag that collects all of the grass clippings, keeping your yard looking a whole lot better when you're all done.
It offers 3-in-1 options, however, so you can opt for side discharge or mulching instead of the bag if you prefer. There's a 7 position height adjustment that moves the wheels with just one pull of a single lever, so you're ready to go just the way you want and the handle can be folded down to make it more compact for storing and travel.
Not to mention there's a push button start and drive system that makes it a whole lot easier to get up and running. The rear wheels are slightly larger than the back wheels to help push the mower forward and the handle itself has a grip clutch that makes sure the blade is only going when you want it to be.
Facts and Features
12 amp motor
20" steel mower deck
3-in-1 discharge options
7 position height adjustment
Push button start
4 year warranty
Snapper XD SXD19PWM82K 82V Cordless
You might not think about getting your lawn mower from a company that's known as 'Snow Joe' but they definitely know what they're doing. This electric lawn mower runs at 12 amps and provides a 14 inch mower deck. It can be attached to an extension cord of up to 100 feet and runs for as long as your power does (what could be easier than that?).
This mower comes in four different colors so you can show off your style and has a hard top container built right in that catches all of the grass clippings so you can get rid of them easily. It has a maximum speed of 3500 RPM and uses a simple push button start so you'll be ready to go just like that.
It's great for yards that are ¼ of an acre or less and has three different positions available that you can adjust the height. That way you get your yard cut just the way you want it. The lever ensures that you don't have to worry about the blade spinning unless you want it to and the wheels are all the same size, keeping it maneuvering a whole lot easier.
Facts and Features
12 amp motor
14" mower deck
3500 RPM maximum
Great for ¼ acre or less
3 position height adjustment
Push button start
2 year warranty
Yard Machines 140cc 21-Inch Push Mower
This mower is definitely unique because it's inexpensive but it's also a trimmer, an edger and a mower. It offers a 12" mower deck and connects to an extension cord so you can keep it going as long as you need. It has an automatic feed system and a gear drive transmission that makes sure it doesn't slow down.
Not to mention it has a 6.5 amp motor that gives you higher performance, though not quite as much as some that we've mentioned above. This mower has an easy conversion wheeled edging feature and has a unique style handle that makes it even more convenient to use as an edger or trimmer.
You can disengage the base easily to switch it from one function to the other and before you know it your entire yard is going to look absolutely amazing. There's no reason to settle for just one thing when you can get everything in one, right?
Facts and Features
12" mower deck
Trimmer, edger and lawn mower in one
6.5 amp motor
Corded system for continuous power
Made by a company known in the industry
Husqvarna 7021P Lawn Mower
This company is well known and well admired in the realm of lawn mowers, though most people think of them as making high quality riding mowers rather than push mowers. Still, this 160cc Honda GCV engine can really move and it makes sure to get your yard in great shape.
It has three different options for mulching, collecting or side discharging any grass clippings that it collects. Not only that but it has a 21 inch steel mower deck, which gets a larger area of the grass all at once. The larger back wheels and smaller front help with maneuverability and the soft grip handle makes it easy to hold onto when you're going for a long while.
It also has a safety handle that makes sure the blades are only going when you need them to rather than all the time. This compact mower has 4 point cutting with 9 different positions available and can really get into tighter spaces, which makes it great for small yards. This mower has a pull choke to start it up.
Facts and Features
160cc Honda GCV engine
21" steel mower deck
9 different height positions
Fuel shutoff valve
4 point cutting
Troy Bilt TB220 Lawn Mower
With this mower you're actually getting a self-propelled unit that's able to work in small and medium sized yards. The mower itself uses a 159cc front wheel drive OHV engine and is super lightweight compared to similar options. It offers a 21 inch steel mower deck that gets you plenty of cutting space all at once and has larger wheels in the back with smaller in the front to help it move around even better.
It uses a safety latch in the back to make sure the blades only engage when you want them to and gives you more control as you go. It's a 3-in-1 system that can mulch, bag or side discharge the grass as it goes.
There's a two year warranty that says it's going to last and you even get three different height adjustments to make sure the grass in your lawn is cut just the way that you want it to be. Not to mention it works on any kind of terrain and uses a pull start for the gas mower.
Facts and Features
Gas pull start
21" steel mower deck
159cc front wheel drive OHV engine
Small to medium sized yards
Bag included for grass collection
Best Robotic Mower
Worx WG794 Robotic Lawn Mower
If you're looking for something really unique that's going to get the job done for you then this is the way to go. It's a little more expensive than the push mower options but less expensive than most of our riding lawn mower options.
This unit is fully programmed right out of the box so you can set it up and go and it can get through narrow passages as well as making very intricate cuts. It's able to mow evenly, even on an incline or decline of up to 20 degrees.
There's a shock sensor system that keeps it from running into or over any kind of obstacles and it will return to the base on its own if there's rain or if it needs to be recharged. It's able to adjust cutting height between 1.6" and 4" and has 5 different cutting positions. It also has a cutting surface of up to ¼ of an acre.
Facts and Features
¼ acre total distance
Rain sensor
Shock sensor for obstacles
Mows inclines and declines
5 cutting positions
Features to Consider
When it comes to choosing the best lawn mower for your yard you want to make sure you look at all of the features. It's not just about the lawn mower itself, but also about the yard too.
Before you even start looking at lawn mowers you'll be able to start narrowing things down based on your personal preferences, the size of your yard and a whole lot more. So take a look at these features and how they're going to work for your needs.
Yard Size
The first thing to consider is the actual size of your yard. If you have a small yard you likely want a smaller unit because it's going to take up less space to store and you don't spend a lot of time on your yard anyway. If you're looking for something to work in a larger yard you may want to look at something a little bit bigger or even look at a riding lawn mower instead of a push mower.
In general, however, it's going to be entirely up to you which type of mower you really want to use or have a preference for. A tiny yard doesn't mean you can't have a riding mower and a huge yard doesn't mean you can't have a push mower.
Electric vs. Gas vs. Battery vs. Reel
There are four main styles of mowers that you can choose from when it comes to what powers them and makes them continue to go. These are electric, gas, battery and reel and each one has its own benefits and drawbacks. When it comes to choosing one or the other you want to look at your personal preference, convenience and of course, general upkeep. You'll need to take care of that lawn mower for a while, after all, and you want something that you can easily manage and maintain.
Electric Mower Benefits and Upkeep
First, let's take a look at why you may want to choose an electric lawn mower. These mowers are a little newer and less common, but they have some great features to them and can be really convenient. Not only that but they are eco-friendly because you're not releasing gas or other types of fuel back into the atmosphere. There's no pollution and there's no smell in the air or on your clothes when you're done.
These types of mowers are pretty good with heavy, thick or long grass, which means you'll still be able to use them even if it's been a while since you mowed your lawn last. Not only that but there are different options for a corded or cordless version. That means even if you have a slightly larger yard you could still use this type of mower without having to worry about the cord being too short.
Of course, with an electric mower you're going to have to charge it in order to use it (at least for a cordless version) or you'll need to keep it plugged in at all times if you have a corded version. This means you need electricity outside your home or you need a cord that can stretch to wherever there is a plug for it to attach. If you need to charge it you'll probably need at least a couple hours to do so and then you'll get a couple hours back out of it.
With an electric mower you're still going to be putting some effort into it because you'll have to push it forward when you want it to cut. The electricity isn't powering the forward motion of the mower, only the blades that are actually doing the cutting. So there is still some effort involved in the process. With these mowers you may or may not have a bag attached that will collect the clippings as the mower cuts through the grass.
When it comes to upkeep you're going to need to charge the batteries frequently so it's always ready to go and to make sure that it doesn't die on you when you need it most. You'll also need to keep a close eye on things like the blades and any vents or the bag (if there is one).
Look for any damage or sharp parts that shouldn't be sharp (or dull parts that shouldn't be like the blades). Keeping everything in proper working condition means it lasts a whole lot longer. If you have a small yard and you're looking for a mower that's quieter to run, eco-friendly and simple to use then this could be just what you're looking for.
Pros:
No oil or fuel filters
Low maintenance costs
Eco-friendly
Quieter than other versions
Inexpensive initial cost
Maneuvers easily
Cons:
Requires constant power or charging
Not as much power as similar gas versions
Provides only limited amount of time
Must be kept away from water and moisture
Gas Mower Benefits and Upkeep
A gas lawn mower is one of the most common versions and it can be quite simple to use. They require some type of fuel which may be straight gasoline, straight diesel fuel or some mix of one or the other. It's important to consult the manual to find out more about how to fuel them up and get them ready to go and to make sure you use the right mix so the mower continues to work.
These mowers are generally good through any type of grass from heavy grass to long grass to short grass and anything in between. They're pretty good even on terrains that are less than ideal, such as those with slopes or hills. Not only that but they have more power to get through even rougher grass or rougher terrain without any problems.
Now, with this type of mower you're going to need extra fuel available at all times. Unlike with an electric mower where you always have a source of power available (unless there's a power outage) with this type of mower you'll need to go stock up on fuel. If you run out in your mower you either need to have some extra lying around or you need to head to the nearest gas station to pick some up. It could take a little time but likely less than the couple hours an electric one needs in order to charge.
You will need to put some effort into this type of mower the same way you do with an electric because the motor, which is powered by the gasoline, still doesn't have any effect on the forward motion of the unit. That's all going to be on you. You need to push the mower and if the terrain is worse or the grass is thicker you're going to have to push even harder and with a little more power behind it.
The gasoline is only going to make the blades of the mower keep going around. These types of mowers can have more to the upkeep portion because they have oil, oil filters, gasoline and a whole lot more. There can easily be oil or gas getting into any of the parts (whether they're supposed to or not) and that can require additional cleaning to keep the unit from rusting.
You'll still need to look it over frequently for any kind of wear, sharp (or dull) pieces and rust for sure. Overall, this is the type of mower you want if you're looking for something like what you've had before (most likely), something that will work in any type of grass or terrain and something that's going to be inexpensive. Of course, you should also not be afraid of the maintenance.
Pros:
Works well on rough terrain
Provides more power than electric
Bags can be used to pick up debris or not
Simple to maneuver
Wide range of options to choose from
Lower cost compared to electric
Cons:
Often heavier than other versions
Requires extensive maintenance
Can be quite loud
Releases pollution into environment
Battery Mower Upkeep
A battery powered mower could be a push mower or a riding mower. They're going to have some of the features of each version, however. With this one, however, it's actually going to be similar to a vehicle in many respects. That's because, as long as you run the mower every so often you won't need to worry about charging the battery, it will take care of charging itself. If you don't run it for too long however you may need to jump start it to get it going again.
This also means that you're going to have fewer requirements when you're actually mowing. As long as you keep it going the battery should continue to charge itself and should be able to keep the mower running indefinitely. This can be a great benefit and it's something that really makes your yard much easier to keep mowing. Of course, you could also consider a mower battery powered if it is a cordless electric version. These mowers also require a battery to be charged and then store the energy for use later.
Either way, you're getting a mower that has a decent amount of power, but is generally not as powerful as fuel operated versions. These mowers do get through just about anything however. The power is generally not going to be variable and the battery will give you what power it has and that's it, except in the case of riding lawn mowers that are able to vary the power available and provide you with different options and a whole lot of speed and power.
With these you need to have jumper cables and a jump box or an electrical cord available at all times (depending on the specific type of battery operated unit) so you can get it going again if it dies while you're working. That means you'll be able to get back to whatever you're doing and you won't need to worry about stopping in the middle of the yard work.
This makes things a whole lot more convenient for you and even if you need to take the mower somewhere else. The upkeep on these is similar to that with an electric mower. You need to keep an eye on all of the different pieces of the unit and then you need to make sure that you keep them in tip-top shape.
You want a mower that has sharp blades but not sharp anything else. With some of these types of mowers there may also be more moving parts and the unit may need oil changes or filter changes during its normal lifespan. If you have a larger yard that isn't as easy to reach with a corded unit but you're still looking to help the environment this could be the right option for you.
Pros:
Eco-friendly system
Good amount of power
Recycles its own power
Variety of different versions available
Can be attached to a bag
Easy to start up
Cons:
Must be charged to operate
Batteries can be expensive if needed
Best for moderate size yards
Many moving pieces to maintain
Reel Mower Benefits and Upkeep
These mowers used to be the only thing out there, but lately they've become a bit of an archaic item. Most people don't use them at all because they are going to require the most hard work and effort. While the other options we've looked at require you to push them they do have some of their own power to them because they turn the blades using electricity, battery power or gasoline. With these types of mowers, however, you don't get any of that.
The reel mower looks pretty simplistic because it is. They have a bar at the bottom that spins and has blades around it and sit on two to four wheels. Then there's just a simple handlebar that you use to push it. There's no electronics, no gears or gadgets. All you do is set it on the ground and then you push it across the lawn and let it cut through. It does this because as you push the wheels the blades in the center are pushed as well and spin, cutting through grass.
These are generally better for grass that is shorter or thinner because you're not pushing as hard through thick grass. If you can push it you may be able to cut through something bigger or heavier, but it's going to take a whole lot more effort for you to accomplish that fact. Of course, you're also going to have a harder time when it comes to things like twigs or rocks in your way, so it's good for areas where there aren't any of those things.
You're definitely going to get a good workout with this type of lawn mower because it's entirely powered by you. It's extremely inexpensive, which is why most people who still use one are doing so. At the same time, you have to be willing to put in your own time and effort, which not everyone is willing to do.
For someone who has never used one it may look like it's never going to work, but they actually can hold their own in smaller yards. When it comes to keeping them going you actually have a super simple process. You just need to keep it clean and keep any eye on the blades themselves to make sure they're prepared to cut through anything.
Once you may sure of each of those features you're done. Your lawn mower requires very little actual maintenance and will actually continue to work for an extended period of time without anything from you. These are generally best in smaller yards and areas where there is little debris or for those who are looking to save some money.
Pros:
Inexpensive to purchase
Inexpensive to maintain
Work well on thin and short grass
Help you get a workout
Few moving parts
Simple process
Cons:
Require a lot of effort to use
Can't be used on heavier or longer grass
Can't work with sticks or other debris
Need traction to run
Riding Mower vs. Push Mower vs. Robotic Mower
Of course, once we look at how the mower is powered we then need to take a look at what exactly you're going to do with it. An electric, battery or gasoline powered mower could actually be either a riding mower or a push mower, which is something you'll want to take a closer look at. Electric and battery operated mowers could also be robotic, so take a look at each of these different types and see which one (or ones) you want to start narrowing your plans down to.
Riding Mower
When we talk about a riding mower we mean something that has a seat that you can sit on and use handles or pedals to move it forward. These types of mowers are great for larger yards (especially those ¾ of an acre or larger) and they tend to be good for those people who have difficult moving around on their feet a lot.
This type of mower takes care of most of the work for you because all you need to do is push the pedal (or handle) that's going to help you move forward, the machine does the rest. With these mowers you're going to have a faster time of getting the job done than with other types of mowers and you might even find that you have a bit more fun with it.
This mower is simple enough to get used to and learn to use, though it's going to take a little bit of figuring out if you've always used a push mower and now you're trying to switch over to a riding mower instead. These are generally going to be battery powered or gasoline powered but you may find some that are powered by electricity.
Take a look at the size of your yard and then look at the type of terrain as well. These riding mowers are generally not good on sloped terrain (at least not with too much of a slope) but they do just fine on hilly areas or rough patches. They usually also have the option to raise and lower the blades to different levels and tend to have a good amount of power to get through heavier grass. Unfortunately, they can be quite expensive.
Push Mower
This type of mower means something that sits on the ground on four wheels that you need to stand behind and push along the grass. They are the most common type you'll find in the city (at least cities that have lawns) and they're the ones that most people know how to use already. They require a little bit of a learning curve but overall they can provide a good amount of power for a little amount of training.
With these you'll have to actually push the mower (at least somewhat) and walk behind it rather than sitting on it. Some of these are self-propelled but the more common versions are going to be propelled by you (which is another type of self-propelled). You'll have to put some effort into the process of pushing it across the grass and just how hard that's going to be will depend on different features, like what exactly is powering the mower.
A battery or electric powered unit is going to be a little less powerful than a gasoline powered version but it's going to have less upkeep and maintenance than that gasoline version. You'll have to take a look at different push mowers to see which one or ones you really think is the best fit for your needs. A self-propelled vs. you-propelled mower could be another important feature that you want to at least take a look at.
Robotic Mower
The final version, and the newest version, is called a robotic mower. These mowers are actually really interesting and they actually do all of the work for you. They work in any size yard, though it's going to depend on the type of power that they have whether you'll need to charge or power them up partway through the project. These mowers are very similar to the robotic vacuum cleaners you've probably seen in the store lately and actually do a similar job.
With these mowers you just set them up to mow the lawn whenever you want and then you let it go. The mower knows how to charge itself and will return to its own base when the power gets low, it can avoid different types of obstacles that might get in the way while it's trying to mow and it's capable of remembering a schedule (unlike that teenager who always seems to forget when it's time to mow the lawn again). This mower just releases from the base and starts mowing again.
The average mower is generally able to mow at least a couple hours at a time before it needs to be charged again and since it charges itself you don't need to worry because if the job isn't done it comes back, charges and gets back out there. These are eco-friendly and they can get the job done quickly and easily, mulching your yard waste into small pieces that are actually good for the yard. They're also really quiet and you can set up the height you want. Plus they work just fine on uneven terrain.
Uniform Wheel Size
Different size wheels are a factor to look at on any mower that has them (everything but the robotic version). You'll find that most mowers have larger wheels in the back and then smaller wheels in the front.
While this might seem convenient it can actually make the job of pushing and maneuvering a whole lot more complicated. It's going to be a whole lot easier to move around a lawn mower that has wheels that are all the same size, including rolling them over hills or making a U-turn as needed.
Wash Out Ports
You'll need the ability to get grass clippings and debris out of the lawn mower because even the most efficient mower is at some points going to get some of that junk sucked up inside.
Wash out ports are actually a super easy way for you to spray out the inside of the mower, but they're not included in every type of lawn mower. They're something you'll want to look for and consider, but if you have a different way of cleaning out your mower you may not actually need them.
Variable Speed
If you walk slowly you want your mower to be able to slow down with you but if you walk quickly you want something that can move as fast as you do. The same is true with a riding lawn mower where you want it to move more quickly rather than moving too slow. This could also vary based on the height and thickness of the grass that you're cutting through. Just take a look at the different speeds that are available on any mower and you'll know if it can accommodate your needs.
Electric Start
An electric start is much easier to operate than a non-electric start. With electric start you can simple flip a switch or push a button and the mower is ready to go. A non-electric start is the one with the cord, where you have to pull it quickly and hope that the motor catches.
If it doesn't, you have to release it and pull again. It can be a big hassle and it's definitely not something that you are going to want to do frequently. But for some people it's not as big of a deal as for others so consider whether you're content with a non-electric start or whether electric is an important factor for you.
Height Adjustment
You may not always want your lawn cut down to the exact same height or you may need to cut it down a little before you can cut it down to where you want if you've neglected it a bit. Having the ability to adjust all the wheels on your mower at one time or all the blades at one time is going to make it a whole lot easier for you to get the job done.
No one wants to spend all that time and effort trying to adjust each wheel on the system individually so they can get an even cut or line. By just pushing one button or lever you can make things easier on yourself.
Brake System
Some push mowers are run a little bit different from others, but you definitely want to look for a system that keeps you and those around you as safe as possible. Some brake systems do this by giving you a single clutch on the handle that you need to hold closed in order to operate the blades.
When you pull or push the start for the motor it start to run, but the blades don't actually churn until you pull in that handle. That means if you release the handle the blades stop and you're safe to pick up debris or to react to small children or pets getting too close.
Basic Lawn Mower Maintenance
When it comes to keeping your lawn mower operating for a long time you want to take very good care of it. That requires you to put at least a little bit of time and effort into the mower each time that you use it and sporadically throughout the year as well. That way you can recognize any problems that it might be having before they turn into anything major and you'll be able to take care of the routine maintenance and fixes that should be done with regularity.
First, you should make sure that you're checking over the entire mower every time that you use it. Look for broken pieces, sharp edges, dull blades, debris inside and more each time that you go to start it up and when you're done take a look at all of those things again. If you know that something is wrong when you put the mower away you'll be able to get it taken care of before you go to use it again and wind up frustrated that you can't.
You'll be able to put it away and know that something needs to be done, which gives you a bit more flexibility on just when you're going to get started on it. Wiping down the mower at least a little bit each time you use it is another good idea. It helps you to keep the unit from rusting, especially when it comes to grass clippings or any kind of moisture.
Also, take a look at the oil levels and any oil that's getting into the unit itself. Some areas require the oil in order to operate, but keeping an eye on it is another way to keep that oil from causing rust throughout the unit. Three extremely important areas that you need to check for routine maintenance are the oil, the spark plugs and the air filter. These three things are present in any gasoline powered system and they require routine maintenance.
With the exception of oil you'll need these in other systems as well, so make sure you're paying attention and looking at what they look like when they're good and when they're not so good. Changing the oil and oil filter as well as the air filter are things you should do regularly, even if it doesn't appear that the mower needs it.
You don't want to run oil through for too long or leave either of the filters in too long because it could actually damage the system overall and may mean you need a new lawn mower much faster than you thought you would. By taking care of these things regularly (consult the manual with your mower to find out exactly when) you'll be able to keep it going. Just make sure you mark when you did each of these things so you know when to do them next.
Basic Lawn Mower Safety
Another important area to consider is the overall safety features of using your lawn mower. These apply no matter what type of mower you're using, whether it's powered by battery, electricity or fuel and whether it's a self-propelled, riding mower, push mower or robotic mower. You want to make sure that you look at each of these features and then make sure that your mower complies with all of them.
Make sure you look at the manual that comes with your mower as well to make sure that you're following all of the specific safety features as well. Always check your yard before you begin mowing to make sure that there is nothing the mower is going to run over. A lawn mower will attempt to go through anything if it's right there and that means toys, rocks and sticks should all be moved out of the way.
On top of that, keep in mind that anything that mower hits could become a projectile. If the mower blade catches a rock, for example, that rock could be throw across the yard, which could be extremely dangerous. Always clear the yard of children and pets before you start mowing as well. No one should be in the area around you because you never know what could happen.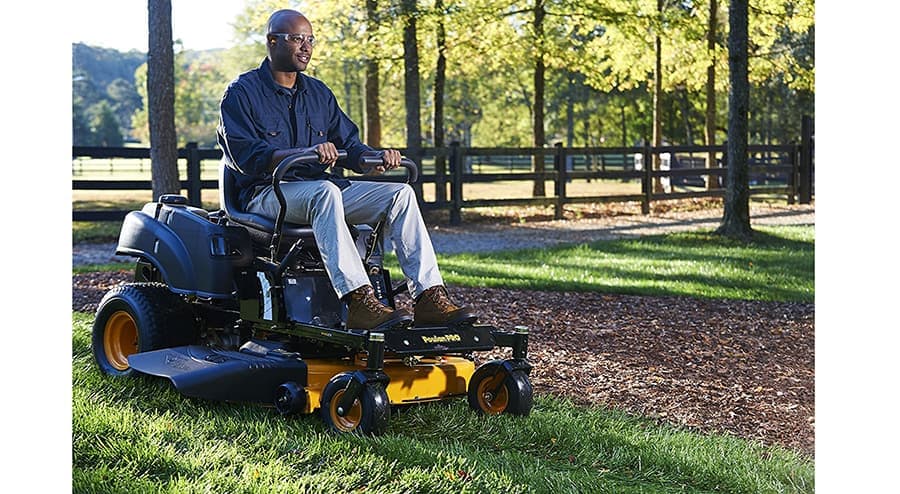 Even children that seem to be quite a distance away or across the yard could be injured by flying debris or could run toward you when you're not paying attention. It's extremely important to keep everyone and everything away from the mower so that your entire household is going to be safer. On top of this, you want to keep objects away because they could be dangerous to the mower.
Even if no one else is injured by something being caught in the mower blades it could severely damage the mower itself. You could end up with broken or dented blades that you will then need to replace or repair before you can use the mower again. That can definitely cost you a lot of money and it might cost you a decent amount of time and inability to continue mowing your lawn.
If your mower is hot you should always allow it to cool down before you do anything. Don't open the gas cap to add more gas or plug it in to an outlet for power or open any of the components and don't even touch the outside housing over the motor until it has had a chance to cool down. Different components can get very hot and if you touch them it could cause serious injury.
It's important also to keep small children and pets away from the mower when it is still hot or even partially warm as you never know what could happen. There are plenty of things that you can do to keep yourself and your household safe but the most important thing is to keep everyone away from the mower. After that, make sure you store it in a safe place and teach your children that the blades are extremely sharp and they should always stay away from them.
Best Lawn Mower Brands
In general there are a number of different types of lawn mower brands out there and we could never go through every one of them. What we are going to do is give you a little bit of a hits list when it comes to the top brands that are best known for what they can do. We'll go over why each one is a great pick and what you may be able to get.
Honda – Around the late 1970's Honda started really producing lawn mowers worldwide, but it took them a bit to become a household name in the field. Not a lot of people really knew them for smaller equipment, after all, even though they had been producing cars for nearly 30 years. Today, they're one of the best known companies when it comes to producing lawn mowers.
Craftsman – Known for their tools, Craftsman came about way back in 1927, but they didn't start selling lawn mowers until later than that. It was actually 1934 that the company produced its first lawn mower, a manual reel mower. Today, they're considered one of the top brands in lawn mowers and they haven't sold a reel mower in decades. They specialize in riding and push mowers and have quite a wide variety available.
Husqvarna – First known as a rifle factory, Husqvarna has come a long way since they were created by the Swedish monarchy way back in 1620. Almost 200 years later they acquired another company and started expanding from hunting weapons, wood and gas stoves, sewing machines, mincing machines, motorcycles, typewriters and bicycles. That was when they started creating engines of their own, including manual lawn mowers and boilers. Today they make riding lawn mowers of high quality.
Toro – Founded back in 1914, Toro Motor Company created engines right from the start, powering tractors for farmer's fields and Bull Tractor Company. It started creating lawn mowers around 1919 and has continued to create a range of different mower parts and lawn or landscaping pieces ever since. It's definitely something to take a closer look at for yourself as well. Check out what we think of Toro vs. Husqvarna right here.
Frequentl
​

​

y Asked Questions
Should I get a Push or Riding Lawn Mower?
This is going to depend on a number of features. First, it depends on the size of your yard. With a smaller yard you're going to have a better argument for a push mower because you won't have a lot of space to get the riding one actually up and moving. If you have a large yard you may want to consider a riding mower so you don't have to spend as much time on it. Alongside this you should be taking a look at cost, a push mower is going to be less expensive and your own personal preference. If you prefer one or the other then go for it.
What are Self-propelled vs. You-propelled Mowers?
Okay, so first of all, 'you-propelled' isn't really a thing, it's just how we differentiate between a mower that's considered 'self-propelled' meaning it propels itself, and one that doesn't. Second, a self-propelled mower is going to actually move on its own. You need to hold onto it and direct it where you want it to go, but you don't need to put as much effort into actually pushing it along. On the other hand, a 'you-propelled' mower requires you to put all of the effort into pushing it forward.
What do I do if I can't get it Started?
You should first check the user manual that came with your mower. Does it tell you something special that you need to do in order to get it started? Some mowers have special steps besides just plugging it in or adding oil and gasoline. If you've followed all of the directions in the manual and it still doesn't start make sure you contact the manufacturer to find out more.
What do I do in the Off Season?
You should also clean your mower completely, emptying out gasoline and oil to make sure that the unit doesn't freeze or rust. You also want to store it somewhere clean and dry so that moisture won't get into the pieces. Before you're going to pack it away you want to go through everything and make sure there are no broken pieces or damage either.
Wrap Up
Overall there are a number of great lawn mowers out there from a range of different brands. You'll be able to find riding lawn mowers, push lawn mowers and even robotic ones that can get the job done for you quickly and easily. The key is making sure you know what you're looking for and that you make sure you compare each of your options from the start. Narrowing things down before you start looking at the options will help you get the right mower more quickly.
With the help of this article (and maybe some of our similar ones) you should be able to find a lawn mower that's going to work for your yard and your needs. It's all about what you need and what your lawn requires. Before you know it, you'll be mowing your lawn (though that may not be what you'd like to be doing right now). Just scan through the different features we've found and then take a look at the top 10 best mowers that we could find and you'll have one of them in your garage.
Just because the price fits what you want to spend does not mean that you're going to love the mower once you get it home and start using it. Make sure you look at things like yard size and your preference for how much time you really want to spend on your lawn before you decide to jump in with any mower based only on the overall price. You could end up disappointed in the end and then you end up spending more money than you would have just buying the bigger and more expensive option in the first place.