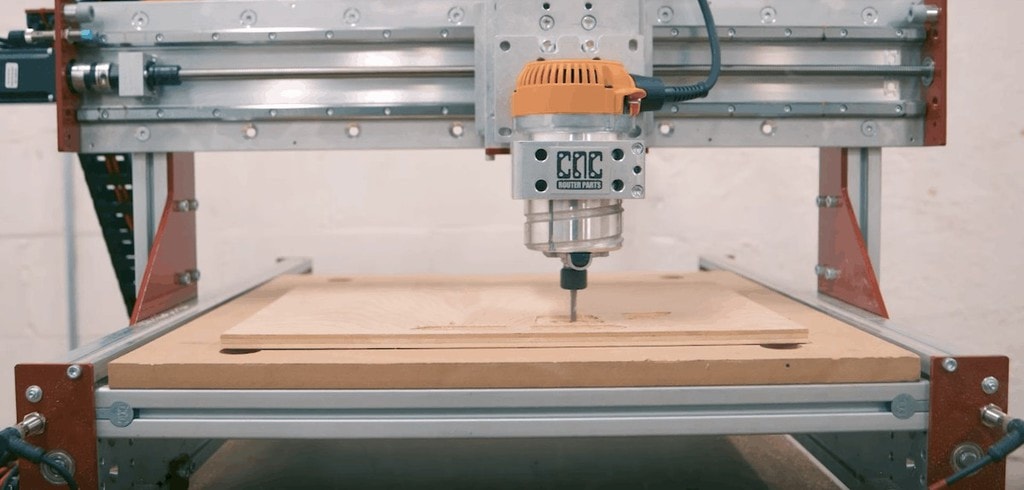 Whether you're dipping your toes into the realm of CNC routers for woodworking or simply need a new machine, choosing the best CNC router on the market is almost impossible. Every machine boasts unique features as they fight for the title of Best CNC Router. So, which one is right for you?
Making the distinction is challenging, which is why we put this list together. Not only do we highlight what we feel are the best models available, but we also include a buyer's guide to help you make the best decision possible. Check it out!
The Best CNC Routers of 2019
1. BobsCNC E3
A home-built kit, BobsCNC E3 provides a generous 17.7 x 15.3 x 3.3-inch cutting space and a DEWALT 660 router. Both the gantry and cutting head utilizes a rail system supported by an SG20U. Combine that with an Arduino microprocessor that runs with various operating systems from Windows to Raspberry Pi, and it's easy to see why this router makes the cut (no pun intended).
Specs aside, the act of putting this machine together is one that helps buyers learn more about the functionality behind CNC routers for woodworking. Wood construction keeps this model as environmentally friendly as possible but does require regular upkeep like tightening the bolts.
With a wood frame, expect an accelerated rate of wear and tear. Wood simply does not hold up as long as metal. On the plus side, the wood body makes modifying this device a simple process.
Pros:
DIY construction is educational and fun
Massive cutting area
Versatile with several operating systems
Router included
Wood body is easily modified
Cons:
Requires more upkeep than other models
Wood construction is more susceptible to wear and tear
Does not include software
2. MySweet DIY CNC Router Kit
Another DIY model, MySweet's router kit includes all the necessary parts to build an excellent machine. This router features three axes, a 6.5 x 7.5 x 2-inch workspace, and runs on either 110 or 240 volts. Its 7,000 RPM spindle runs on three two-phase AmpStepper motors, which is more than enough power for the aluminum design.
Honestly, this is a scaled-down version of an industrial CNC router. Learning how to put it together is half the fun, but it isn't a piece of cake. Supplying the tool path software is slightly challenging for first-timers. An ER 11 power supply and LED readout are missing from the kit as well. Also, the PCB cutting bits are subpar for regular woodwork.
As a hobby machine, we like MySweet's kit. Not only does it get the job done, but it provides a fun DIY project. While its purpose is for small projects, that might be enough for the enthusiast.
Pros:
DIY construction is educational and fun
Works with most operating systems
Works with a variety of materials
Aluminum construction is durable
Cons:
A few key components are plastic
A somewhat intensive DIY project for beginners
No power supply, LED readout, or software
PCB cutting bits
3. Next Wave Automation CNC Piranha XL
The XL in this product's title relates to the broader workplace provided (12 x 24 x 4-inches). Auto-edge and auto-sensing capabilities are easily controlled via a touchscreen controller, while Virtual Zero mapping software is provided through VCarve Desktop V9.0 and Vector Art 3D.
Next Wave's model works with palm routers like Bosch, Dewalt, and Porter Cable. Cutting anything from wood to soft metal is recommended, but all materials are possible with the right router. One incredible benefit here is the USB port, allowing you to upload designs without attaching a computer.
At only 75 pounds, it's vital that you bolt this machine down. That same caveat does make the Piranha XL portable, however. If you want high-end functionality, this CNC router has it all.
Pro:
Touchscreen controller and USB port
Software included
Versatile router options
Enormous workspace
Cons:
Lower weight makes stability an issue/must be bolted down
Not compatible with Mac/iOS
Only works with palm-style routers
4. Next Wave Automation T30502: Shark HD 4.0
The next generation of the popular Shark Pro Plus, the Shark HD 4.0 features several improvements. First, an interlocking aluminum table and reinforced gantry create impeccable stability. Second, a color touchscreen controller pendant with smartphone-style functionality makes this incredibly user-friendly.
There's no need to hook up a computer to this model thanks to the USB port, simply plug in a flash drive and go. The 25 x 25 x 7-inch workspace includes auto-edge and sensing that work with both VCarve Desktop V9.0 and Vector Art 3D. Throw in a Next Wave Automation water-cooled spindle, and you're ready for hours of work on any given day.
Designed for heavy-duty use, the Shark HD 4.0 works with commercial routers like the Bosch 1617 and Porter 890. At 187 pounds, it's insanely stable compared to previous Shark models.
Pros:
Massive workspace
Included software
Water-cooled spindle
Works with commercial routers
USB port eliminated the need for a computer
Cons:
Insanely heavy
Not compatible with Mac/iOS
High-end features mean a high-end price point
5. CNC 3018 Router Kit
Featuring a workspace of 11.8 x 7.1 x 1.8-inches, the 3018 accommodates an ample array of project sizes. Custom software integrated into the mainboard allows seamless communication, all running on Arduino.
Prospective acceleration control, 30kHz pulses, and the ability to work with any type of plastic as well as wood make this model a little powerhouse. The USB interface eliminates the need for a computer, and the body of the machine is easily upgraded for use for carving lasers.
On the downside, most of the body is plastic. That means stability can be an issue during some projects. It also means increased wear and tear on those parts. Outside of that significant downside, this is a decent machine for the DIY craftsman.
Pros:
Versatile use with several materials
USB port
Powerful features
Cons:
Plastic parts wear out fast
Stability is an issue. Clamp this machine down
Has issues cutting aluminum
Buying Guide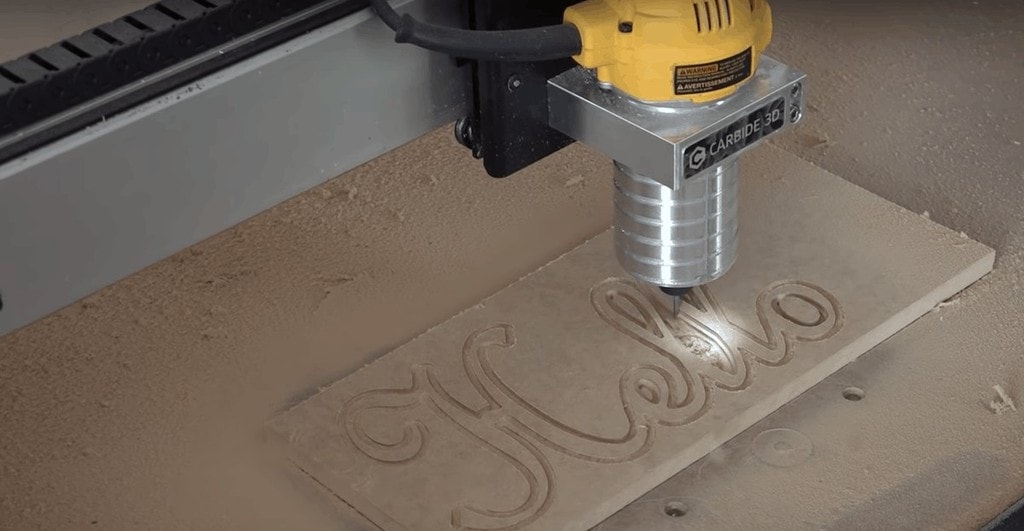 The best CNC router on the market is different for everyone based on their wants and needs. Before making a final decision, there are a few key factors to consider.
Know Your Expectations
The types of projects you work on are the largest determining factor when choosing a model. While there are plenty of CNC routers for woodworking, they are not equal. Some handle enormous projects, while others are designs for the DIY enthusiast.
Knowing exactly what you want to do with the router is vital to choosing the best one. You might need a commercial-level model for larger projects. On the other hand, maybe you design smaller pieces and could save money by choosing a model with a smaller workspace.
The materials you use make an enormous difference, as well. Almost all CNC routers work with various types of wood, but you might want something that can handle other materials too. Think about why you want a router in the first place, then list the expectations you have for a machine.
Know the Software
People adjust to using different software, but can an application handle your projects? Software like Vector Art 3D and VCarve Desktop V9.0 handle just about everything. Unfortunately, not every CNC router utilizes those.
Application possibilities with the right software include:
2D Carving
3D Carving
Aluminum Fabrication
Acrylic Fabrication
Aerospace Designs
Architectural Millwork
Exhibits and Fixtures
Cabinetry
and Sign Making
Understanding what different software does is vital in making a decision. Can the router you're looking at work with the software you need?
Know the Machine's Limits
Now that you have a better idea of the work your router will accomplish, look at the machine's limitations. Can it handle all of your required applications? Does it require additional parts or options? What can you do with it and what can't you do?
Asking these questions cuts down your selection by at least half. You might need a router capable of working with both Windows and Mac. If you don't have the room to connect a computer, then a USB port and LED readout or touchscreen controller is a necessity.
This is the longest part of choosing a new router. To help you save time, ask yourself these vital questions:
Can it work with my chosen materials?

Wood, stone, plastics, acrylic, glass, etc.

Is the workspace large enough for my projects?
Can it handle my weekly workload?
Can I upgrade the machine later on?
What parts are missing from the kit, and can I add them in without too much difficulty?
Does it work with my operating system?
Do I need USB functionality?
What steps are required to increase stability, if any?
Is my computer capable of running the included software?
Know the Costs
Knowing the cost of your new CNC router is another vital component. First, how much router can you afford? Opting for a cheaper model might make sense for the first time DIY enthusiast, but you might want to save up for a higher-end model as well.
Going the cheaper route isn't something to look down on, especially if this is your first router. We recommend selecting a DIY kit to help you understand how each component of these machines works. The more you know, the easier it is to create and finish projects.
If you already know how to operate a CNC router, then we recommend saving up for a higher-end model. Not only do they include useful features, but their durability is always higher. First-timers who adapt quickly to new machines might benefit from saving up as well.
The second cost to consider is spare parts. Eventually, every part on every machine needs replaced. The question is, how much do those parts cost? Can you afford to replace them as needed? Some machines are more expensive than others to maintain.
If you can afford the upkeep on the model you are considering, then half the battle is already won. Ideally, you should create an affordable budget based on your income before purchasing a CNC router. This is an expensive investment. Just like a vehicle or new PC, take your time and ensure this purchase is one you can afford.
Know the Details
Finally, look to the CNC machine's specs. This is a multi-faceted aspect to buying a unit, but it helps identify what parts you need for your intended use.
Motors – Servo motors are vital for high speed, high torque use. Stepper motors, on the other hand, are ideal for low to medium speeds and far more cost effective.
Drive Systems – The drive system determines material size and accuracy. Ball Screws are the best and most expensive, with Lead Screws coming in second. Rack and Pinion drive systems come last but are also more cost effective.
Spindle – This is the motor that makes the cutting tool cut. All you need to know here is the RPM of the motor for material compatibility, load ratings for limitations, and torque to make the right cuts.
Weight – A higher weight almost always means better construction. It also increases stability when cutting. If you need to transport the machine, then finding a sweet spot between weight and performance is vital.
Workspace/Table Size – Simply put, is the workspace large enough to handle your projects? A 25 x 25-inch might be enormous for your needs, while an 11 x 7-inch could be far too small.
Features – The more features a CNC router has, the easier your job becomes. If you can afford it, purchase one as loaded as possible to make your life simpler.
Bits – Higher-quality bits have a longer lifespan. Using a dull bit is dangerous, making proper care and maintenance vital. Thankfully, bits are an easily replaceable part.
Vacuum – Vacuums add pressure to your machine. More pressure equals more strength, allowing you to cut heavier materials.
Dust Collection – This is essential to the dust created by woodwork. Tied into the vacuum, dust collection capabilities keep your workspace clean and operating at top capacity. All CNC routers incorporate this function, but you might need to play around with the positioning to find an ideal spot for the vacuum to do its job.
FAQ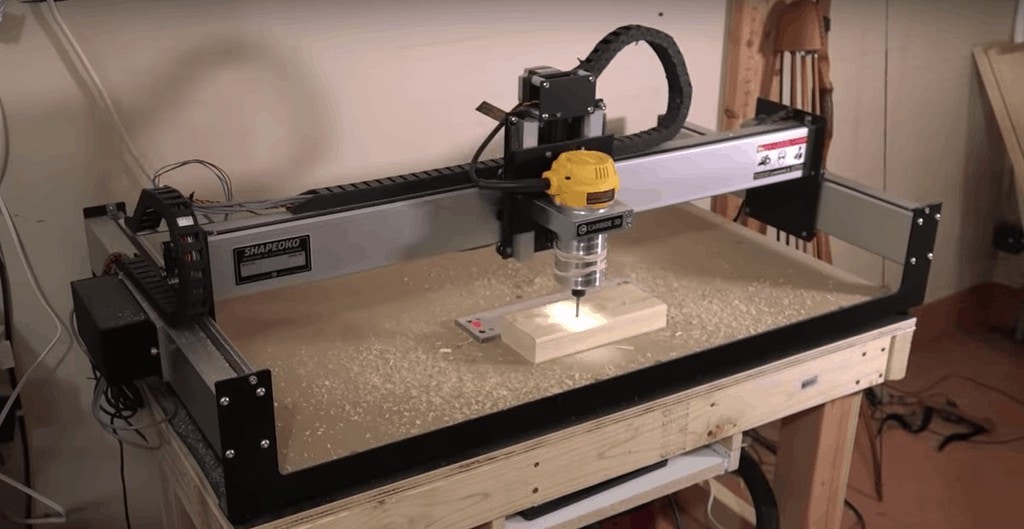 Q: How much does a CNC router cost?
A: Initial costs range from $2,500 to $180,000. Smaller and DIY kit units tend to run between $2,500 and $5,000. Now, some are cheaper. Just keep an eye on quality, usability, and durability in lower price ranges. The best CNC router isn't always a matter of price, either. A 5-axis unit runs up to $180,000, but most people only require a 3-axis model.
Keep in mind that CAD software, an absolute necessity, runs from $2,000 to $15,000. The cost to ship a router also varies by the weight of the unit. Before worrying about the final price, come up with an affordable budget.
Q: How can I tell if the router I like will work for my projects?
A: The best thing to do is find a shop with the router you're looking at and watch it in action. If that isn't possible, check out YouTube videos of the machine in use. Several retailers also offer online demonstrations, allowing you to see the CNC router complete a job from start to finish.
Q: What Type of CNC Router do I need?
A: That depends on the size of your projects. Mini, small, and desktop series are excellent choices for the home DIY worker. Standard series work for that need as well but handle larger projects. ATC series models change themselves, while three to five axis series offer more contours and control. Finally, intelligent series features smart technology.
Which one you need depends entirely on the work you do. 3D sculptors likely need multiple axis series models to create their pieces, while larger operations often require intelligent models or ATC series units. Look at what you want to create and what the machine can do to find the best CNC router for you.
Wrap Up
Our pick for the best CNC router is hands down the Next Wave Automation T30502: Shark HD 4.0. The price is high, but it's well worth the investment. First off, it provides a massive workspace to handle projects both large and small alike.
The inclusion of software is beneficial to any buyer, but the features of the Shark HD 4.0 are what make it stand out amongst the rest. From the water-cooled spindle to USB port and adaptability to commercial routers, this machine is a go-to for any type of woodwork. Plus, you can easily incorporate other materials into your projects.
If that model is out of your price range, then we suggest taking a good look at BobsCNC E3. The DIY nature of the kit is fun, the cutting area is massive, and the end result of your labor is highly versatile as well as modifiable.
Now that you know what to look for, you can purchase a new CNC router with confidence. So, what projects are you ready to tackle?
Are you looking for more guides on routers? Check out our guides, Best Router Bits – Comparisons and Reviews, Best Router Table: Complete Buying Guide & Reviews, The Best Router For Woodworking – Complete Buying Guide, and The Best Plunge Router – Complete Buying Guide & Reviews.