If you've ever used a router before you've probably used a fixed base router, which allows you to set the cutting depth and then holds that depth for everything you do. A plunge router, however, is one that lets you set the base and then lower it down even further while you're using it. This can be more versatile and provides you with a wider range of capabilities when it comes to accomplishing tasks.
One of the big benefits with a plunge router is that, even though you can use it to get deeper routing than you might think you need you can also use it as a fixed router. This means that in many cases you may not even need a fixed router as the plunge router can take care of just about anything for you. Not only that, but you'll still be able to get additional projects done too.
With this type of router, you'll be able to do home improvement projects and edge work. You get the freedom to work on the top of the board rather than working on the edge. Things like fluting, mortices, grooves, rebates, insets, and dados can be done quickly and easily with this type of mechanism, which uses spring-loaded arms to give you the ability to plunge the bit down into the board.
Best Plunge Routers
Makita RP1800
This plunge router has a 15 amp motor that can give you up to 22,000 rotations per minute. With up to 2 ¾" of plunge depth you'll be able to create a range of different projects and take care of plenty of detail work while you're at it. The linear ball bearings make sure that it plunges smoothly and the quick release gives you micro control so you can get the right depth down to the smallest amount.
Even better, there are three different preset depth stops that make it really easy to get in where you need to be. While you're using it you'll also be more comfortable because it has ergonomic handles that are coated with rubber to keep you from feeling the vibrations. The two-finger switch makes it really easy to use and the plunge lock lever is conveniently located to make sure that you can operate it as efficiently as possible.
When you are looking to adjust the guides or the depth you don't need to worry about any kind of tools because it can accomplish the task quickly and easily. It even has a built-in fan with a labyrinth construction to keep dust and debris from getting into the motor. You'll have an easy to read depth scale and a chip deflector to keep anything from hitting you either.
Facts and Features
15 amp motor
22,000 rotations per minute
0" – 2 ¾" plunge depth
3 preset depth stops
Two-finger switch
Ergonomic handles
Shaft lock for changing bits
Bosch Plunge and Fixed Base Router Kit
This electric router provides a 12 amp motor with 2.25 horsepower and plenty of options. That's because you're getting both the plunge router and a fixed router when you opt for this system. It has a soft start process as well as micro adjustments for depth so you can get exactly the job you're looking for.
Made of aluminum, this router is very durable but still simple to use with its soft-grip handle to the plunge base. Simple and easy to use it provides you with constant speed for every cut, giving you a clean result every time. This lightweight router offers up to 25,000 rotations per minute and at least 8,000 rotations per minute, giving you plenty of versatility.
It also comes with its own carrying case and has a sealed power switch that ensures no dust or debris will get inside while you're using it. The quick clamp system for each of the bases means that it's easy to set up and you won't have any problem getting it ready to go when you need it. The dial for speed is also easy to use and it ensures better accuracy no matter what you're working with.
Facts and Features
12 amp motor
25,000 rotations per minute
Includes carrying case
Plunge router and fixed router
Variable speed options
Micro adjustments for depth
Triton TRA001
With this router, you have the option to use it as a fixed or plunge router, which means you have a whole lot of versatility for whatever you need to get done. It has a single button switch that lets you go from one to the other in no time and even provides a rack and pinion mode. The single wrench bit change is simple to accomplish and works through the automatic spindle lock of the system.
There's even a micro winder that lets you make fine depth adjustments when you have the unit in full plunge mode. The soft start and variable speed options mean that there are plenty of things that this router can do, making it great for different bits as well as for several different types of material.
It also has side air vents that help to cut down on the dust that's pulled into the motor, keeping it running for a much longer time. With up to 20,000 rotations per minute and a 15 amp motor this router is lightweight and comes from a company that's well known for a number of different precision tools and especially power tools.
Facts and Features
15 amp motor
20,000 rotations per minute
Variable speed options
Soft start
Micro winder for fine adjustments
3 stage turret
Single button switch
Plunge and fixed router
Hitachi KM12VC
With this router you get not only a fixed router but also a plunge router, so you can get just about any project done quickly and easily. It uses an 11 amp motor and has the ability for more control and precision. This means more quality to everything that you do. The 2 stage motor release clamp means that you can change out the base quickly and you can easily make small depth adjustments.
There's even electronic speed control that helps to maintain a constant level of RPM's every time you use it. The noise is very quiet and provides you with a quiet workshop, so you can work even earlier in the day or later at night without disturbing the rest of your family or your neighbors.
You get up to 24,000 rotations per minute to the variable speed adjustment and there's less vibration, which makes it more comfortable for you to hold on to for an extended period of time. You can enjoy the use and you can hold onto it easier because of the ergonomic style handle. This system comes with everything that you need to make sure you're ready to go.
Facts and Features
5-year warranty
11 amp motor
24,000 rotations per minute
Variable speed adjustment
Fixed and plunge router in one
Dewalt DW618PK
Our final option is a 12 amp plunge and fixed base router in one. It has a variable speed motor that makes sure you're completely in control of everything that you do. It has a ¼" and ½" collet to make sure you have plenty of versatility and it has a depth adjustment ring that makes sure you can get the best possible adjustments.
In fact, it can adjust at 1/64" increments and provides you with vertical adjustments. What's even better is that it can do this without any tools for the motor cam lock. That means you can easily swap out anything you need and get back to work. There's a through-the-column dust collection process that helps you gather up to 95% of the dust that's put out by the system and there's no problem seeing the bit while you work.
Everything locks down firmly so you can get to work and make sure that everything you have is going to work just right. With up to 24,000 rotations per minute, this tool will give you micro-fine depth adjustment. You can be comfortable with using it as well because the handle is very comfortable and easy to hold. You'll even get a 3-year limited warranty that says you can trust that it's going to work for an extended period.
Facts and Features
12 amp motor
¼" and ½" collet
1/64" increment adjustments
24,000 rotations per minute
High-quality dust collection process
Gathers 95% of dust emitted
Features That Matter
Variable Speed
One thing that you definitely want with any kind of router is the ability to change the speeds when you want. Different speeds allow you to have more control and make sure that you have better versatility as well.
You can accomplish just about any project that you could want with the right amount of flexibility and an easy method of changing the speed to your router is definitely going to help you with that. Keep in mind what the highest and lowest settings are for the speed and you'll be able to find a good range that will work for different materials that are harder and softer.
Vacuum Port
Another great benefit that you'll want to at least look for is the vacuum port. You want a router that can connect to your dust collector to make it much cleaner in your workshop. If you have dust and debris spewing everywhere it can be dangerous for you personally (since you're breathing it in) and it can make quite a mess all over your workspace.
Being able to connect directly to a dust port means that you'll be able to keep all of that dust going in one place, out of the way. You want to get out as much dust and debris as possible out of the air right from the router rather than after it leaves.
Soft Start
The last thing you want is to flip your router on and have it blare to full speed just like that. While it may sound like a good idea it's actually going to cause you more trouble than you might think, because it's loud and it can cause injury if you're not careful. Soft start means that when you first power on the router it eases itself up to full power. It won't take too long, so you don't have to worry about sitting around and waiting for it to be ready to use, but it will give you a moment to adjust.
Above the Table Adjustment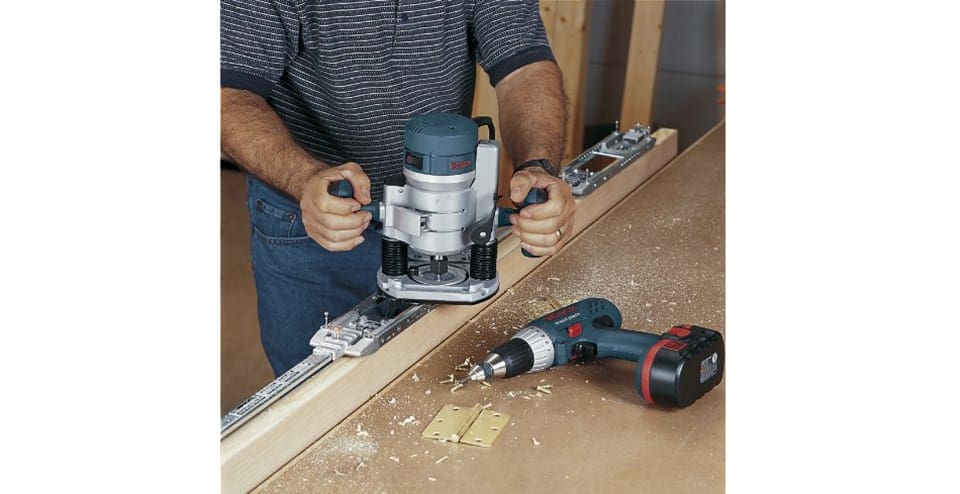 If you're going to put your router into a table (like most people eventually end up doing) you wouldn't want to be stuck under that table all the time trying to make adjustments to the depth and features of your router. If your router can be adjusted above the table, this would save you a whole lot of hassle and definitely a whole lot of headache. You can go from one depth to another much faster and easier.
Final Thoughts
Overall, you're definitely going to find some great features when it comes to your next plunge router but you'll need to do a little bit of looking for yourself. Any of these options are definitely going to make things easier for you, but it's going to be up to you which one is the best option. Think about how you can do the most work for your specific needs and go from there.
We hope we've made things a little bit easier on you by helping you narrow down your search for the best plunge router, but you'll need to do a little bit of searching on your own to figure out just which of these is the one you want. Of course, if you decide you're not so sure about these you'll have no problem finding another option with the tips and features we've given you to look out for. Don't miss out on all the great options available.