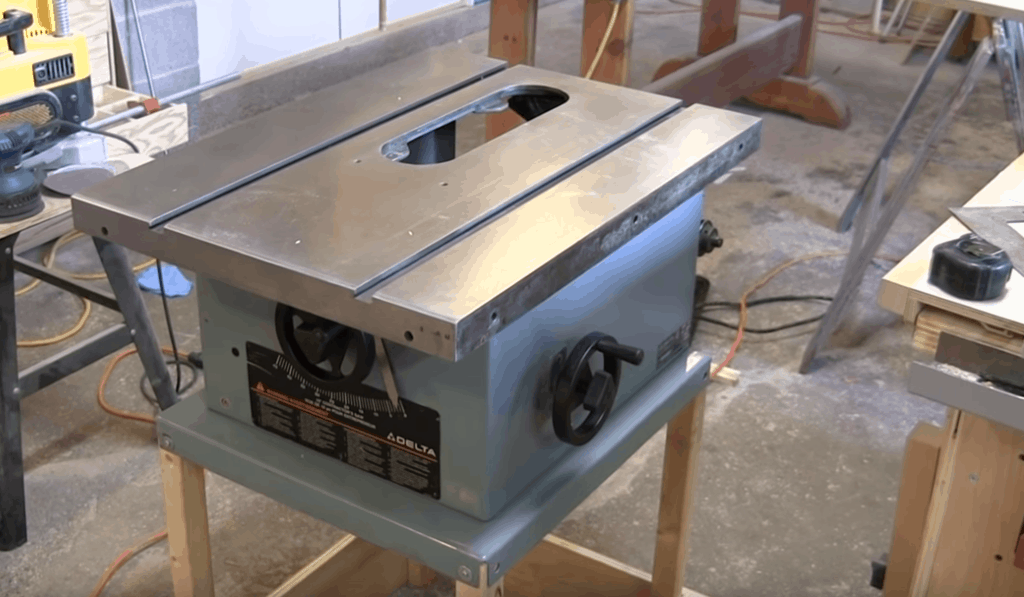 When looking to add a table saw to their workshop, many woodworkers consider buying used over new. After all, these pieces of machinery are typically built to last for several decades if they're well-maintained. Also, new models are not exactly cheap. Keep reading to find the best used table saw!
Are you looking for some general information on table saws or other tools? Check out our complete resource guides on Miter Saws, Table Saws, Chainsaws, Band Saws and Circular Saws. These guides have all the information you need. You will be able to find history, the different types of the tool, top brand sold, and more!
There are several different ways you can get your hands on a good used table saw. However, the condtion it will be in depends on where you live and how much you're willing to spend
Online Vendors
One of the ways you can purchase used table saws is through online vendors. You can buy used table saws at websites such as Amazon or eBay. You can get a variety of options with regards to what kind of saw you purchase and where you purchase it from. 
What We Like
Warranty: Because online vendors have to work with major corporations, they are often bound to warranty their products for repair, return, or explicitly declare otherwise.
Wide selection: Purchasing a used table saw through an online vendor means you get a seriously wide choice of
Shipping ease: Purchasing a used table saw online means you can often have it shipped directly to your house.
What We Don't Like
Non-local returns can be a hassle: In the case that you do have to return a large item such as a table saw, shipping it back to the source of purchase can be a logistics nightmare. You may even end up coughing up the shipping costs yourself.
False advertising: It is easy for vendors to misrepresent themselves or their products, so careful vetting of vendors and product descriptions is key.
Identity theft: While it is relatively rare, using payment information for a credit card or checking account online does leave you at some risk of information theft, even on secured systems.
---
Used Table Saw for Sale
You might pass a sign that says this driving through town one day: "Used Table Saw for Sale" or see an ad for one on a local swap website like Craigslist and want to check it out if you don't have a table saw assembly in your workshop already. Provided the price is right, is it a good idea to purchase a used table saw locally?
What We Like
Economical cost: Especially for a woodworker just starting out. The cost of a brand-new cabinet or table saw can be prohibitive. Buying a used model reduces the barrier to novices getting involved in the hobby.
Local pick-up/no assembly required: Local pick-up means that with a little help, you'll probably be able to load the table saw into the back of a pickup or box truck and transport it to the workshop.
Previous owner's experience: Oftentimes, in the course of showing you the table saw is functional, the person trying to sell it can demonstrate the easiest way to operate it or offer a tip on enhancing performance based on their history with it.
What We Don't Like
As-is condition: In most cases, a used table saw bought locally is sold in "as-is" condition. This means that if it breaks down at any point after the sale, you can't go back to the original owner and demand that they fix it. Better make sure it works before you buy it.
No returns: When you're buying a used table saw out of someone's garage in your hometown, you're probably not going to have the opportunity to give it back for a refund on your money.
No repairs: Unlike a new model, if your table saw breaks down you're going to have to pay a small machine tech to fix it. Typically you won't be able to send it in to a service center under any kind of warranty.
Other Sources of Used Table Saws
There are a few other sources of used table saws to consider when thinking about purchasing a used table saw. Occasionally technical schools will replace their equipment and will auction off machines at a low price.
Estate sales are also a good place to find tools such as table saws. This is because in estate sales the owner of the property is wanting to get rid of all of it in one go, and is often very flexible on what they're willing to take in terms of payment to get rid of larger items.
Used Table Saw Parts
It is possible to buy more than just a used complete table saw assembly. You can also purchase used versions of various expensive upgrades, such as sturdier fences or professional jigs.
Since some of these woodworking upgrades can be quite expensive when bought new, it can be cost-effective to buy used ones.
While craftsmen sometimes sell old equipment that is defective or what they consider shoddy, in many cases, they also off-load old equipment simply as the result of purchasing new, higher quality equipment in its place.
Things to Look for in a Used Table Saw
When purchasing a used table saw, there are certain attributes you'll want to keep an eye out for. Keep the following in mind when deciding which used table saw to buy:
Check outward condition: How clean and well-kept the table saw looks and how well it was mechanically maintained. Rust and patina is easily removeable but may be symptoms of neglect.
Check the condition of pulleys and belts: If these are dry-rotted beyond function or missing, they can be easily replaced. However, that will affect how quickly you get the saw up and running. It will also prevent you from being able to see it run before purchase.
Check for a good fence: A square and precise fence is one of the most important accessories in a table saw assembly. You do not want to purchase a table saw without one.
Used Table Saws: Economical, but Buyer Beware
There are some pitfalls to buying a used table saw that you have to watch out for. Pitfalls can impact your ability to get the saw easily replaced or repaired. However, it can also save you a lot of money in the long run and secure you a durable tool.
If you're willing to do your research and inspect carefully before purchase, a used table saw could be the perfect addition to your workshop.
Are you looking for more guides on table saws? Check out some of our most popular guides, The Best Table Saw Stand in 2020, The Best Small Table Saw, DEWALT Table Saws – 10″ Saws, Parts and Accessories, and The Best Portable Table Saws.