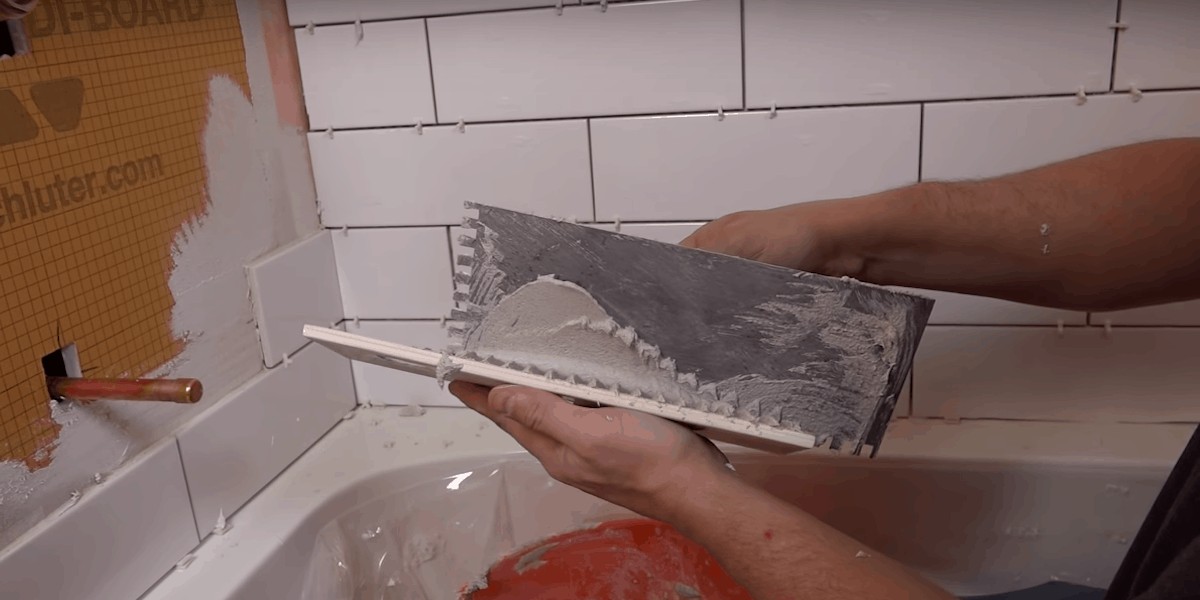 Choosing the best grout for shower tile shouldn't be a headache-inducing process. Aside from distinguishing between a few necessary things like color, sanded grout vs. unsanded grout, and epoxy grout vs. cement grout, don't let the selection procedure be an overly-complicated one.
That being said, if you go online and search for 'best grout for your shower', the array of products that pop up will very likely be overwhelming.
Basically the one thing you need to make sure of is that your shower grout is fully sealed and waterproof. All things considered, you've got three options to go about this:
1) you can use a standard cement-based grout (we'll talk about sanded grout vs. non sanded grout) and add a sealing agent
2) you can use a waterproof epoxy grout (great quality but expensive and a lot of work),
3) you could use a pre-sealed waterproof grout.
Choosing between one of the three will depend on your budget, your skill level/how much work you're willing to put into the project, and what size/style tiles you'll be using.
In this article, we'll go over our top 5 picks for the best grout for shower tiles based on a variety of situations, with the ultimate goal of helping you choose the right product for your DIY project.
Product Summaries: TOP 4 Picks for the Best Shower Grout
1. Elmer's E873 Tile Grout
If you're repairing old grout that's already in your shower, or if you're looking for the most inexpensive, cheapest way possible to set new tiles in your shower, Elmer's E873 Ceramic Tile Grout gets our #1 pick for the best easy-to-use shower grout.
This stuff is super inexpensive, very user-friendly (comes in handy squirt tubes), and is fully water/mildew resistant – manufacturer recommended for showers and bathtubs.
If you're tackling a full-on renovation project and will be installing brand new tiles in your shower on the other hand, we recommend two products (based on budget):
2. Polyblend Cement Grout
For the economical route we recommend going with a Polyblend standard cement grout and adding Aquamix Enrich n' Seal sealant.
This is the standard, old-fashioned way of grouting and involves a very basic prep/cleanup procedure – really hard to screw up and quite a small risk for error.
3. Laticrete's SpectraLOCK Pro Epoxy
If you're looking for the absolute best performing, longest-lasting grout on the other hand and don't mind spending a few extra dollars, Laticrete's SpectraLOCK Pro epoxy is an excellent product that withstands mildew, rot, and stains better than anything else.
However, being epoxy-based, some people don't like the fact that it looks a little 'plastic' once it's cured – it doesn't have that 'normal' sandstone look of traditional cement-based grout. Also, keep in mind that this is a 3-part product with quite a lot of prep work to consider – definitely not the quickest, easiest, or cheapest option.
4. Perma Tile Waterproof Tile Grout
And lastly, if you're looking for the simplest, most convenient way to grout your new shower tile, we recommend going with Perma-Tile Waterproof Glass Tile Shower Grout.
This stuff costs about the same as using a regular grout with waterproofing sealant, but the big advantage is that this grout sealer is pre-sealed and involves a simple, one step application process – minimal prep work and no additional additives to think about.
Reviews of the Best Grout for Shower Tiles
Elmer's E873 Tile Grout
This isn't the best option for remodeling projects where you're installing a brand new shower, but for repairing old shower grout, it's fantastic.
You can buy a 2-pack of 6 oz tubes, which should be more than enough to completely re-grout any normal-sized shower, even in master bathrooms.
The instructions on the tube say to remove about 1/16" from the existing grout so the new grout has something to adhere to, so a lot of people like to use a Dremel tool or other small rotary tool to dig out some of the old grout if you're planning on completely re-grouting.
However, plenty of people say they use a small screwdriver just as effectively, and if you'll just be patching up areas where grout has chipped away or fallen out, you shouldn't need to dig anything out at all – just put the Elmer's grout in the gaps where it's fallen out.
As far as application, most people actually prefer to squirt the grout on their finger and spread it that way, rather than squirting straight from the tube. Then they just go back and use a damp cloth to wipe up any excess.
Once done, it should be fully dried and ready to use the shower within about 12 hours.
Things we liked
Super convenient and easy to use
Inexpensive way to re-grout and spruce up the appearance of your whole shower
Clean, non-sanded finished look
Things we didn't like
The only option is white grout
Doesn't have the appearance of regular cement grout; unless you re-grout the whole shower, the patches/repairs will probably be noticeable
Most Economic Grout for Shower Tile: Polyblend Cement-Based Grout w/ Aquamix Enrich n' Seal Sealant
For remodel projects or new shower installations, your cheapest grouting option will be to simply go with a traditional Portland cement-based grout and add a waterproof grout sealant.
For stone tile gaps of an ⅛" or less (which is pretty much any normal shower), you'll want to use an unsanded grout. Anything over an ⅛" and you'll have to jump up to sanded (sanded grout is thicker so it helps fill in the gaps more).
You can buy a 1 lb tub of Polyblend, but you'll probably need about 7 lbs of it to cover a normal-sized shower (a 10 lb tub is what most people buy, and will be more than enough).
The application itself is super simple, with detailed step-by-step instructions on the back of the tub, and one thing that people really like is you can add water right to the pail that the grout comes in – no measuring necessary.
As far as applying the Enrich n' Seal sealant, it's super easy – simply wipe on 2-3 layers with a wet cloth after the grout has fully dried. (The sealant is also great for sealing raw sand/rock tiles and natural stones as well).
And finally, keep in mind that the Polyblend grout comes in a variety of different colors, so when shopping make sure you read the description and get a grout color that'll be appropriate for your specific tile.
Things we liked
Standard cement-based grout – easy application and cleanup
Available in multiple colors
Lasts up to 15 years with proper sealing
Classy, traditional, finished look
Things we didn't like
The waterproof sealant is much more expensive than the grout itself
Only available in 1 or 10 lb tubs (more options would be nice)
Best Epoxy Grout for Shower: Laticrete SpectraLock Stainproof Pro
All cement-based grouts are porous and moisture-absorbing, whereas epoxy is 100% waterproof and non-porous – not to mention an excellent adhesive. So in that regard, it makes sense to go with a waterproof epoxy grout over a cement-based grout for your shower tile.
(Also, epoxy is far stronger and more durable than cement-based, and will offer far superior long-term resistance to stains and mildew).
However for all of its advantages, epoxy definitely has its downfalls: it's expensive, it involves a lot of prep work, and it doesn't have the appearance of traditional grout that a lot of folks prefer.
SpectraLock Pro is one of the best-quality epoxy grouts out there, and is a top pick for professional bathroom tile contractors. A full A/B tub will be more than enough to grout an entire shower, but the frustrating thing is you have to purchase the 9 lb Part C separately, which is a required additive.
At the end of the day, you're looking at well over 100 bucks to grout your shower with epoxy, which is quite a lot more than what you'd spend on cementitious grout with a sealant.
Things we liked
The full A/B kit (you have to mix parts A and B together) comes with everything you need for the job, including wash/prep and cleanup packages, as well as detailed step-by-step instructions

Lots of different colors available (Part C determines color, so sift through all the different color options)

Far superior to cement-based grout in terms of mildew and stain resistance
Things we didn't like
Once you mix parts A and B together, you only have about 45 minutes to work – if you don't get the job done before it cures, you're screwed

It's expensive

There's a lot of prep/cleaning involved before it's ready to apply
#1 Pick for Best Grout for Shower Tile: Perma-Tile Waterproof Tile Grout
For our personal #1 pick, we recommend using Perma-Tile waterproof grout.
This stuff is just like normal cement-based grout, you can make it any color you want, and the best part is it's one simple step and you're done – no additional measuring, mixing, or adding waterproof sealants.
The 5 lb tub will be enough to grout a relatively small shower, but for anything larger than about 40 sq ft, you'll probably need to get two tubs.
Also, this is an unsanded grout so it's perfect for most standard shower tile joints which will be either ⅛" or 1/16".
And lastly if you need a color other than white (which is what it comes in), you can just simply mix in a grout pigment and get just about any color you could imagine.
Things we liked
Waterproof without buying/adding/mixing extra sealants

Easy one-step application with a grout float (plus cleanup with a damp cloth)

Can mix in pigment to get any color you want
Things we didn't like
More expensive than standard cementitious grout

Only one size available (5 lb tub)
Other Things to Consider When Shopping for the Best Grout for Your Shower
Grout essentially has two main jobs: it adheres and 'locks' your tiles together, and it keeps water and moisture from getting underneath them and doing damage from the inside out.
It provides a clean, finished look to your tile wall or tile floor, but that's more of an aesthetic feature than a functional one.
We already went over the main things you want to consider when buying grout for your shower-specific project, but it certainly doesn't hurt to review:
You need the grout to be waterproof (epoxy), or at the least water/moisture resistant

Consider your project: are you going to be doing repairs or installing new tiles and new grout? (keep in mind if you do repairs, it can be tough to perfectly blend new grout with the old)

What will your tile spacing be? Most standard shower tiling will have either ⅛" or 1/16" gaps. If you're doing something different like a tile mosaic where you may have gaps larger than ⅛", you'll need to use either epoxy or sanded grout
Also, another thing to consider if you end up choosing an epoxy grout is temperature. Like we talked about earlier, once you mix the epoxy resin with the curing agent, you're on the clock. In cooler temps (under about 68-deg) you should have plenty of time, but if you're working in temps above 70-deg, you may very well find yourself rushed.
Another thing to consider is the pressure being produced from your shower head. Is that going to present a problem?
Of course, one way to get around this is to work in small batches at a time – whatever you do, don't mix up the entire tub of grout for your whole job all at once (this goes for both epoxy and cement-based grouts).
A general rule of thumb is to not mix up more than a quart at a time.
Conclusion / Bottom Line
If it were us taking on a project and we were shopping for the best grout for shower tile, we'd go with the Perma-Tile Waterproof.
We like it because it's one simple purchase and there are no fancy additives or sealants. Simply add the right amount of water, spread out with a grout float just like you would 'normal' grout, and you've got a great, traditional-looking, fully waterproof cementitious grout that'll stand up to the rigors of your shower for decades.
Are you looking for more? Check out some other articles I've written: