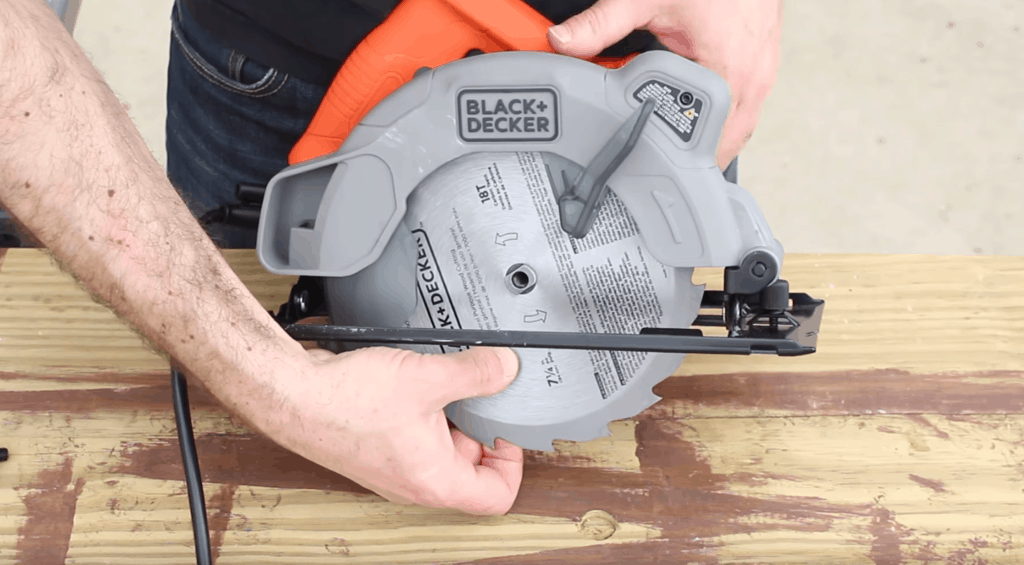 Black and Decker has been a brand that has been almost synonymous with consumer-level power tools for almost a century now. After many years in the marketplace, this company has managed to come out with a wide variety of tools for every home requirement.
One of the tools that Black and Decker is most known for is their circular saws. They have uniformly high ratings across consumer markets and come in both corded and cordless iterations that are convenient for any user.
Read on to find the best Black and Decker circular saw in 2020.
Are you looking for some general information on circular saws or other tools? Check out our complete resource guides on Miter Saws, Table Saws, Chainsaws, Band Saws and Circular Saws. These guides have all the information you need. You will be able to find history, the different types of the tool, top brand sold, and more!
Black and Decker Circular Saw Reviews
Black and Decker has many varieties of circular saw available for purchase. Here are a few of their more popular models with some advantages and disadvantages of each.
Vintage Black and Decker Circular Saw (Black and Decker Circular Saw 7308):
Black and Decker 7308 model circular saws are still in circulation for one major reason: durability. These vintage saws are a perfect choice for any woodworker interested in pursuing quality, time-honored pieces for their shop.
What We Like
Old school style: The retro aesthetic of these vintage saws is a powerful draw. They get points for their nostalgia factor.
Parts are readily available: Even though this is an older model of saw, its popularity means that there are still plenty of replacement parts available. You can get parts from online vendors and other sources to service the saw later down the road.
Durable machine: The reason 7308s are still around is because they are well-made and constructed out of quality materials. They last a long time when well-maintained. This vintage model is a good choice if you want durability in your saw.
What We Don't Like
As is and used: Because the 7308 is a vintage model, you're likely only going to find used models readily available for purchase. These saws won't come with the kinds of guarantees and warranties that new saws will have.
Repair and replacement are a hassle: Unlike new saws, which can often come with a strong warranty to back it up in case of malfunction, vintage saws can be difficult to get repaired if they do break.

BDECS300C 7 1/4th Inch 13-Amp Circular Saw with Laser:
This corded circular saw features a laser guide for added accuracy and the power to complete a large array of different woodworking cuts.
What We Like:
Spindle lock: The spindle lock design on this circular saw makes changing out blades an easy and convenient process.
Good value: This Black and Decker circular saw is economical saw and works well for its price point. It also comes with a solid two-year warranty.
Lightweight design: Its lightweight, ergonomic design makes it easy to hang on to and reduces user fatigue.
What We Don't Like:
Flimsy guard: The blade guard on this circular saw is made from a cheap and flimsy plastic. This leaves some safety concerns when using the saw should the blade guard fail to perform its intended purpose correctly.
Can't see laser outdoors: The laser guide is helpful when doing indoor projects in a workshop or basement. However, in sunny conditions, the laser guide is not visible. This renders it practically useless.
Stock blade is cheap: The blade that comes on this saw is not very good. It pretty much needs an upgrade right off the bad to work properly.
CS1014 12-Amp 7 1/4 Inch Circular Saw:
The CS1014 is a good middle of the road circular saw with a 12-amp motor suited to most cutting operations and easy bevel adjustment for creating smooth, precise angled cuts.
What We Like:
Sturdy design: This saw is durable and feels durable in hand. Some power tools handle like they're cheap, but this saw is not one of those.
Versatility: The power of this saw, combined with its medium-range size, makes it a good choice for a wide variety of different woodworking projects, making it a true workhorse of the shop.
Comes with blade tools: The saw comes with blade wrenches to (theoretically) make blade replacement and adjustment a snap.
What We Don't Like:
Blade replacement is difficult: Even though this saw comes with the necessary blade tools to remove and add saw blades, the entire process with this saw is just a hassle, adding frustration and extra work to the user.
Does not have a laser guide: For those that would prefer a laser guide on their circular saw for added accuracy, this saw doesn't come with that amenity.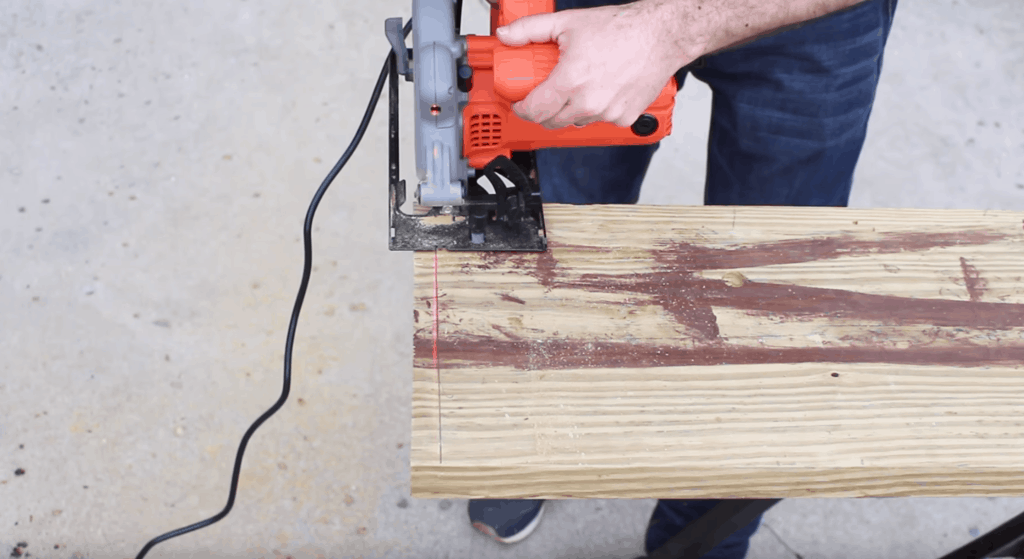 Black and Decker Circular Saw Parts
The major parts of a Black and Decker Circular Saw are as follows:
The saw blade
The blade guard
The handle
The on/off switch
The cord or charging port (model-dependent)
While Black and Decker circular saws vary in aspects like amperage, blade diameter, and whether they have cords or are wireless, Black and Decker circular saws all have the above components in common, and these components are fairly universal among all circular saws.
Black and Decker Circular Saw Blade
Black and Decker makes some decent circular saws, but one of the major complaints seen across user reviews is that the stock blade that the saw comes with doesn't have the level of quality necessary to make good cuts with the saw.
This doesn't reflect on the quality of the saw itself since these saws work quite well once you replace their stock blades with something stronger than the saw it comes with.
Still, it is an important thing to take into consideration, since buying an additional higher quality blade adds to the final price of getting a functional saw and your first cuts with this saw may not be the best until you upgrade, depending on which model you buy. 
Black and Decker Circular Saw Battery
Black and Decker has several cordless varieties of circular saw available, and these saws operate off a rechargeable battery system. As long as this battery is fully charged on the charging system prior to operation, it can offer hours of cordless cutting action.
Cordless circular saws offer users the convenience of being able to cut anywhere, even places that don't have electricity set up (such as construction sites) but the downside is that the saw's use is dependent on battery power.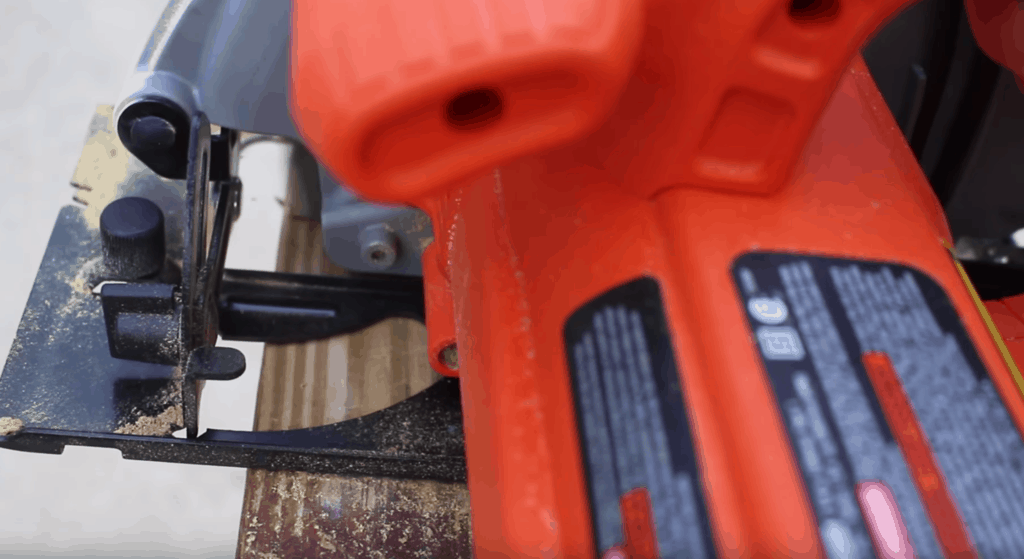 Buying a Black and Decker Circular Saw
Black and Decker saws aren't the best saws on the market by a long shot, and they can find themselves outpaced by more expensive, professional-grade power tools. But for home use on intermittent woodworking projects, Black and Decker circular saws offer a lot of bang for your buck as long as you're willing to upgrade the stock saw blade.
Are you looking for more guides on circular saws? Check out some of our most popular guides, Best Circular Saw Blades – Buyer's Guide, Lowe's Circular Saw Buying Guide, ROTORAZER Compact Circular Saw Review, and Best Cordless Circular Saw: Which Saw Should You Buy?