A quick check of the circular saws available at big box stores like Lowe's reveals a wide range of circular saws. There is a huge array of sizes and colors with prices that vary from not too expensive to "wow, that's a lot for a little saw!" The shelves are full of Lowe's circular saw blades. You can even buy something called a Lowe's circular saw rip fence. Are you looking for general information on circular saws? Check out Circular Saws and The Best Circular Saw Guide Rail System.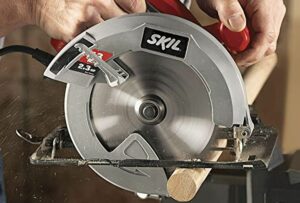 Which saw to choose? Think about how you will use the saw. What kind of projects do you want to build? Will you use the saw in a shop, or will you take it to jobsites? Do you need it every day, or just occasionally? Whatever you need from a circular saw, you can find the right tool for you.
---
Lowe's Circular Saw: Skil 13 Amp, 7 ¼ Inch Circular Saw
The 7 ¼ inch, 13 amp circular from Skil is an entry-level saw. The 7 ¼ inch blades can cut material as thick as 2 7/16 inch straight up and 1 15/16 thick on a 45 degree bevel. It is a corded saw that operates at 5,300 RPM. This saw has plenty of cutting power.
Things we like:
Budget priced saw with full power
At just under seven pounds, it is light for a full-sized saw
Easy to set up and use
Great saw for occasional use
Things we don't like:
The shoe is connected to the body of the saw with plastic that can flex, making it hard to get perfect cuts
Durability isn't great
Not an everyday tool for professionals
---
Lowe's Circular Saw: Kobalt 15 Amp 7 ¼ Inch Circular Saw with Brake
Lowe's house tool brand is called Kobalt. Kobalt tools are designed to provide good quality at a reasonable price, and the 15 amp, 7 ¼ inch Kobalt circular saw lives up to this promise. This corded saw operates at 6,200 RPM. The blade will cut up to 2 3/8 inch material vertically, or 1 13/16 on a 45 degree bevel.
Things we like:
Machined magnesium shoe for precise adjustments
Package includes a rip fence for straight cuts
Cuts as well as more expensive models
Saw brake stops the blade quickly so you don't have to wait between cuts
Five-year warranty
Things we don't like:
At 11.68 pounds, it is heavy for a 7 ¼ inch sidewinder saw
Shoe bevel adjustment can be a little loose, making it hard to cut accurately
---
Lowe's Circular Saw: Kobalt 24 Volt Max 6 ½ Inch Cordless Circular Saw
Circular saws are designed to be portable, and it doesn't get any more portable than a cordless circular saw. The 24 volt, 6 ½ inch Kobalt cordless circular saw is a great choice if you need to work away from your shop or home. It uses a 6 ½ inch blade with a cutting depth of 2.4375 straight or 1.7 inches on a 45 degree bevel. The motor operates at 5,400 RPM, similar to many corded saws.
Things we like:
Corded saw power from a cordless saw
Good battery life
No cords to hassle with
Things we don't like:
Batteries and charger not included, adding to cost
At 6.75 pounds, on the heavy side for a cordless saw
---
Lowe's Circular Saw: DeWalt 7 ¼ Inch Circular Saw with Electric Brake, 15-Amp
If you use a circular saw on a daily basis, the DeWalt 7 ¼ inch corded circular saw might be right up your alley. It will cut up to 2.55 inches straight or 1.875 inches on a 45 degree bevel. The blade spins at 5,200 RPM.
Things we like:
Cuts dense and hard material well
Durability is good
Designed with a shoe adjustment screw to let you get a perfect 90 degree angle
Much lighter than other contractor-grade saws
Things we don't like:
At 8.8 pounds, it's heavier than other saws reviewed here
High priced saw that doesn't come with a rip fence
---
Lowe's Circular Saw: Bosch 7 ¼ Inch Worm Drive Circular Saw
For the toughest cutting jobs, pros turn to worm drive saws. These saws use a different gear arrangement to provide more torque to keep the blade spinning through the hardest of woods. The Bosch 7 ¼ inch worm drive circular saw is a power cutter that won't bog down. The 7 ¼ inch blade will cut up to 2 3/8 deep vertically and 1 15/16 on a 45 degree bevel. The worm drive turns the blade at 5,300 RPM.
Things we like:
Worm drive won't bog down on the toughest cuts
Durability is good
Great saw for ripping hardwoods and thick stock
Things we don't like:
Too expensive for occasional users
At 13.2 pounds, much heavier than other saws reviewed
---
Changing Circular Saw Blades
One of the great things about circular saws is versatility. With the right blade, you can handle just about any kind of cutting job. Of course, you have to change out the blades to get the most from your saw. To change the blade, start by unplugging the saw or removing the battery. Pull the blade guard back and lock the blade in place. Some saws have a blade lock; others will require a pair of pliers or vise-grips to hold the blade still. Remove the blade arbor bolt. Most saws include the correct wrench for this job.
Pull the old blade out and put a new blade in. Lock the new blade in place and replace the arbor bolt. Use a square to check that the new blade is square to the shoe. If it isn't, adjust the shoe according to the manufacturer's directions.
Cutting Extra-Thick Material
There are occasionally times when you need to cut something thicker than the blade of your saw will go. To make these cuts, start by scribing a cut line on all four sides of the piece to be cut. Line up your saw for the first cut and use a speed square as a fence. You will have to make more than one pass to cut all the way through.
Make the first pass at maximum blade depth, then turn the piece 90 degrees. Line the blade up with the existing cut, use the square as a fence again, and make a second pass. Repeat the process for the other sides to finish the cut. If material remains after you have cut all the way around, use a hand saw to finish the job.
Which Saw to Choose?
Our recommendation is the 7 ¼ inch Kobalt corded circular saw. It is an excellent combination of high-end features at a reasonable price. Unless you work in timber framing, this saw will handle everything you ever need from a saw but won't break the bank. Are you questioning if you need a miter saw or circular saw? Check out Miter Saw vs Circular Saw: Do you Really Need Both for more information. 
If you are on a budget, or if you just need a circular saw a couple of times each year, check out the Skil 7 ¼ inch saw. It is a bargain priced saw that has plenty of power.