Shopping for circular saw blades can be an overwhelming experience. With a wide array of sizes and configurations, it's tough to know which circular blade is right for your project. However, if you can answer just a few key questions, blade shopping is much simpler. You can swap out blades on your circular saw to get great results on any project.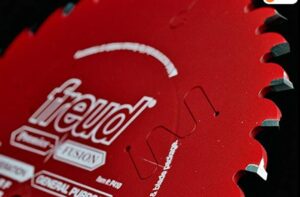 ---
Irwin Tools Classic Series Steel Corded Circular Saw Blade, 7 1/4-inch, 140T
The 140T Classic Series Steel 7 ¼ inch circular saw blade from Irwin is a traditional finish cutting blade. This blade has 140 teeth, which is extremely fine. It makes smooth, clean cuts with minimal splintering and toothmarks. This blade fits 7 ¼ inch saws with 5/8 inch or diamond arbors.
Best for cutting:
Paint-grade plywood
Veneer products
Particleboard
Vinyl and plastic products
Finish work where the surface of the wood will be visible
What we don't like:
Not a fast cutter
Poor choice for rip cuts or extremely thick material
An inexpensive blade that has a short lifespan
Some users report problems with warping when the blade gets hot from heavy use
---
Concord Blades 10 Inch 60 Teeth TCT General Purpose Wood Circular Saw Blade
The 10 inch 60 tooth blade from Concord Blades is a general-purpose wood cutting blade. The 60 tooth blade is intermediate in most respects. It cuts slower but smoother than a 24 tooth. It is faster than a 100 tooth but leaves a rougher surface behind. 60 tooth blades are good for doing a little of everything. This blade fits 10 inch saws with a 5/8 inch arbor.
Best for cutting:
General carpentry
Wood with exposed surfaces that don't need to be furniture-grade
What we don't like:
Slow cutter for big framing jobs
Won't leave surface smooth enough for finish work
Some users report blade life isn't great
---
Freud 10 Inch 40T Next Generation Premier Fusion General Purpose Circular Saw Blade
Another general-purpose cutter is the Freud 10 inch 40T next generation general purpose blade. With 40 teeth, it is still a general purpose blade, but one that is a little more aggressive. It is better suited to construction and framing work than fine carpentry but can be used for both. It is a good choice for rip cuts. This blade fits a 10 inch saw with a 5/8 inch arbor. It has a nonstick coating that helps the blade run cooler and last longer.
Best for cutting:
General carpentry
Long rip cuts that need a smooth face
Small framing jobs
What we don't like:
Expensive blade
Not the smoothest cutter
Not a great choice for big pieces of hardwood like maple or hickory
---
DeWalt 7 ¼ 24T Framing Circular Saw Blade
If you need to get through a lot of wood in a hurry, check out the DeWalt 7 ¼ 24T framing circular saw blade. This is a specialized blade designed to chop through 2x dimensional lumber with ease. With just 24 teeth, it makes short work of any lumber you need to cut. It fits 7 ¼ inch circular saws with 5/8 inch or diamond arbors.
Best for cutting:
2x or thicker lumber
Jobs where the cut surface is hidden
Framing and timber work
What we don't like:
Designed for speed, not looks
Leaves a rough surface
Some users report the life of the blade isn't great
---
Ryobi Circular Saw Blades – D150 x 1.5MM
This is a case where matching the blade brand to the saw brand pays off. Ryobi's 5 ½ inch circular saw has a 10MM arbor. Since few saws sold in this country use this size blade and arbor, looking for Ryobi 5 ½ inch circular saw blades can save you headaches. This particular blade has 18 teeth, ideal for framing and rip cutting.
Best for cutting:
With Ryobi 5 ½ inch circular saws
2x lumber
Framing work where speed is needed
What we don't like:
Rough cutter
10MM arbor won't fit other 5 ½ inch circular saws
---
Irwin Metal-Cutting Circular Saw Blade, 7 ¼ Inch
The 7 ¼ inch metal cutting circular blade from Irwin turns your 7 ¼ inch circular saw into a metal cutting machine. It has carbide teeth to slice right through steel. The blade has a 5/8 inch arbor with a diamond arbor punchout.
Best for cutting:
Sheet steel roofing products
Light angle iron
Other thin or light gauge metal
What we don't like:
Not a blade for wood
Blade life isn't excellent
Not as good as a dedicated chop saw if you cut lots of metal
---
Blade Size
First, what size saw do you have? Common circular saws include 5 ½, 6 ½, 7 ¼, and 10 ¼ inch blades. Always use the correct size blade. Using a different sized blade is a great way to spend some time in the emergency room.
Arbor Diameter
Once you know what size blade you need, check the arbor diameter. The arbor is the mounting screw on the saw that serves as the axle for the blade to rotate around. The most common arbor sizes are 5/8 inch round or diamond-shaped, but there are other sizes. Use blades that fit your arbor or your blade can wiggle, causing poor performance or accidents.
Many circular saw blades have a 5/8 inch circular hole with perforations that allow you to punch out the middle to fit a diamond arbor. If you have an odd sized arbor, it may be worth it to locate a bushing that will let you adapt your saw's arbor to fit common sizes.
Teeth
The final number you need to know is the number of teeth. Using a blade with the correct tooth count for your job will produce much better results.
Blades with fewer teeth cut faster but leave a rougher edge. The fastest cutters are 24 tooth framing blades. Blades with more teeth are slower but leave a smoother cut with less splintering. For finish work on high grade plywood, look for a blade with as many as one hundred teeth per inch.
Specialty blades are also available to cut materials other than wood. Abrasive blades are made to cut metal stock. Diamond grit blades are used for cutting tile, masonry, and concrete. There are even blades designed to cut plexiglass and plastic.
Branding
You may be wondering if you should saw blades that are the same brand as the saw. You don't have to, but it is sometimes a good idea. For example, Ryobi 5 ½ inch circular saws have a 10MM arbor. This size is uncommon in America, and blades can be hard to find. Buying Ryobi blades guarantees you have the correct arbor size.
On the other hand, companies like Freud and Irwin specialize in making saw blades. They don't have to worry about making motors and housings and safety guards; they just make blades. These companies only do one thing, and they do it very well.
Best Circular Saw Blade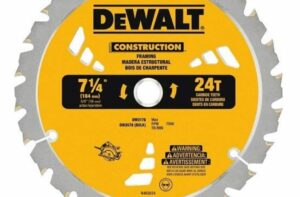 The best circular saw blade is the one that fits your project and your saw. Plan your work and select the blade that matches your task. If you need more information on circular saw blade sharpening, check out Everything You Need to Know About Saw Blade Sharpening.
For cabinets, trim, and furniture choose the Irwin 140T circular saw blade. For all-around work, look at the Freud 40T or the Concord 60T blades. For fast cuts in 2x lumber, get the DeWalt 7 ¼ 24T framing circular saw blade. If you have a Ryobi saw, choosing Ryobi circular saw blades is a good idea. If you are cutting metal, you definitely need a metal cutter like the 7 ¼ inch metal cutting circular blade from Irwin.