When choosing a chainsaw to accomplish your woodworking needs, Ryobi chainsaws are among the leaders in efficiency and brand recognition for value power tools. We have pulled together our reviews on some of their cordless chainsaws to help you find the best Ryobi chainsaw.
Are you looking for some general information on table saws or other tools? Check out our complete resource guides on Miter Saws, Table Saws, Chainsaws, Band Saws and Circular Saws. These guides have all the information you need. You will be able to find history, the differnt types of the tool, top brand sold, and more!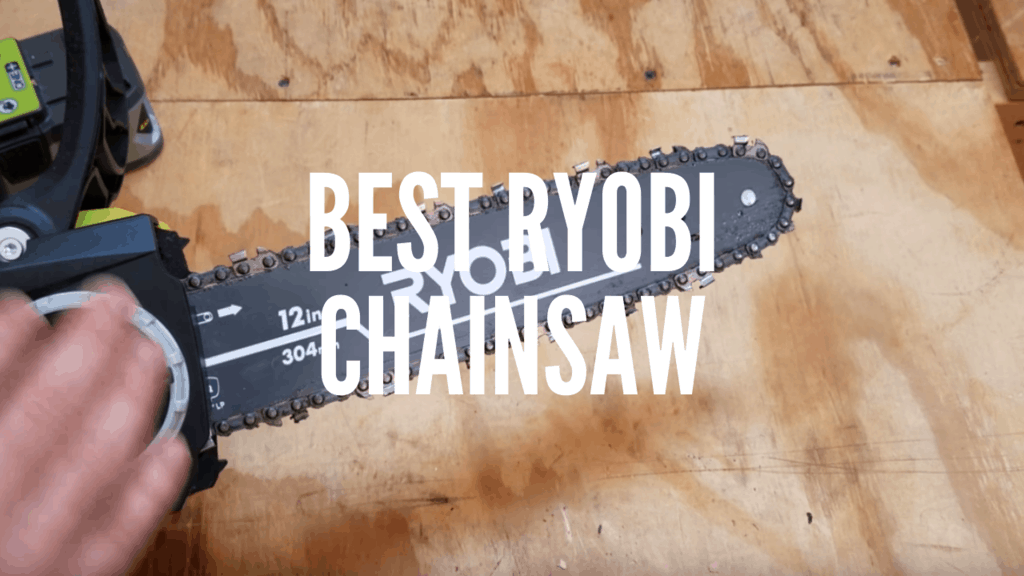 Ryobi Chainsaw Reviews
Ryobi's chainsaw product line features multiple chainsaws that vary based on your needed application. We will be focusing on two of their most prominent product lines, the Ryobi chainsaw 18v, and Ryobi chainsaw 40v. These power levels have multiple chainsaws within the line, ranging in chainsaw size and power source.
Ryobi Chainsaw 18v
An 18-volt Ryobi chainsaw is the optimal choice for non-professional use. If you need to use a chainsaw for seasonal work or cutting wood around your yard, the 18-volt should suit your needs. Ryobi offers two primary products at 18-volts, a 10-inch and 12-inch cordless chainsaw. These battery-operated saws require the charging of a battery for use.
The 10-inch Ryobi chain saw will be best for smaller trees and projects as the 10 inches describes the cutting diameter abilities. This is a lightweight chainsaw that is easy to manipulate in the yard and is powerful for its size.
The 12-inch Ryobi chain saw offers larger cutting capabilities and still serves as a lightweight, and powerful option for an 18-volt saw. The lithium battery provides similar performance metrics to those you'd expect from higher powered tools.
What We Like
Ryobi 18v chainsaws are lightweight and compact for easy maneuvering
They will tackle almost all home landscaping needs for seasonal and consistent work
They are surprisingly powerful given their lower voltage and specs
What We Don't
18v saws are not best suited for professional and commercial work
---
Ryobi Chainsaw 40v
The Ryobi 40v chainsaw will give you greater power, catering towards professional-grade needs and larger landscaping projects. While being battery-operated, the higher voltage works similarly to a powerful gas-operated saw. You should consider purchasing a 40v chainsaw if you will be cutting larger and thicker trees that will require more power to cut with ease.
The 14-inch Ryobi chainsaw is cordless and can tackle larger projects with a longer blade and more powerful motor. For its power level, it is still a lightweight and manageable tool that is useable for home needs and more frequent and heavy workloads. The battery is longer lasting than the 18v models and previous versions of the 40v.
What We Like
40v Ryobi chainsaws are a much more versatile tool than smaller saws
Speed trigger offers multiple speeds for controlled cutting with faster options
What We Don't
They may provide more power than you need for home projects at a higher price
The larger chainsaw and voltage will result in a heavier and bulkier power tool
---
Finding Ryobi Chainsaw Parts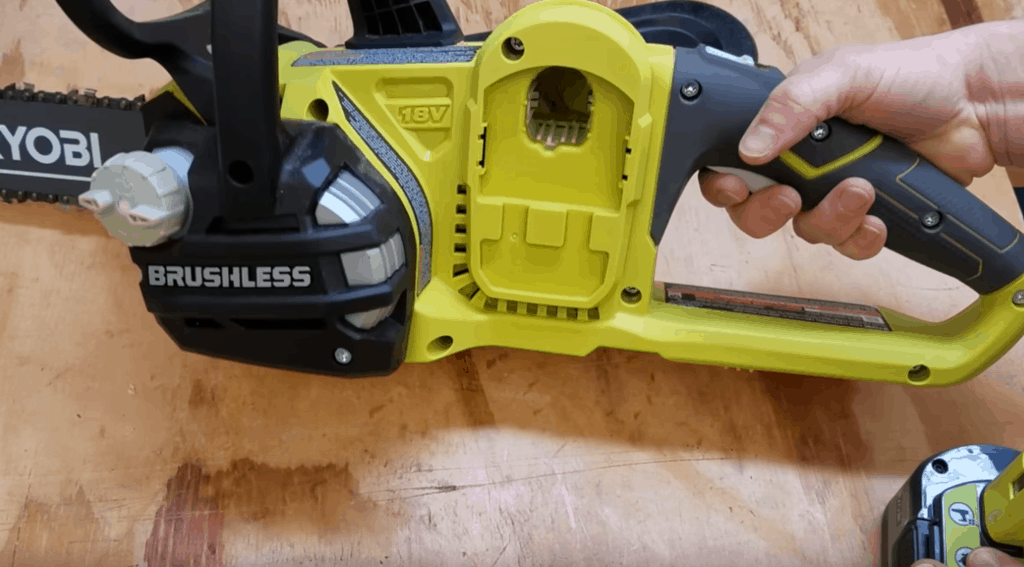 In the event that your Ryobi chainsaw has damage or needs maintenance, you may need to purchase replacement parts. These can be easily found online. We recommend purchasing Ryobi-specific parts since their design is made to work with your particular chainsaw. Generic parts may satisfy your needs but are not specifically catered toward the tool you purchased.
You can also order parts from Ryobi directly to ensure you are purchasing the proper parts. They may also serve as a resource in customer service for addressing any problems you experience with your tool.
The Importance of Voltage
When referring to different voltages in power tools, you are describing the power of a battery and its capabilities. Higher voltage batteries are able to produce more power because they can reach a greater energy level. Voltage comes from polarization, battery concentrations, and chemical reactions that allow the battery to produce power when charged.
For power tools, the type of battery impacts voltage and the functionality of the tool. Ryobi chainsaws use lithium batteries, which have allowed the tools to maintain their lightweight yet high powered function. Lithium batteries serve useful applications throughout our society, being very powerful and compact.
As battery technology continues to progress and develop, lithium battery size will decrease with a steady or increased power ability. In choosing a chainsaw, you want to select one that maximizes voltage without making the device too heavy or sacrificing the quality of the cuts with a lack of control.
Higher voltage has greater comparability with gas-operated chainsaws, which typically result in more effective cutting. 40v chainsaws and higher have actually proven to have similar effectiveness while avoided negative environmental outcomes and fuel costs.
While voltage is important, it should be your only consideration in choosing a chainsaw. You should also look for:
Cutting diameter abilities (saw length)
Chain quality
Durability
Ryobi Tools
Ryobi Tools is a subdivision of Ryobi Limited, which manufactures a variety of tools, electronics, and automobiles in Japan. They have built a reputation for quality and affordable power tools that are suitable for both professional-grade work and your everyday homeowner. They focus primarily on the consumer market, offering a wide range of products for a trusted value brand.
Wrap Up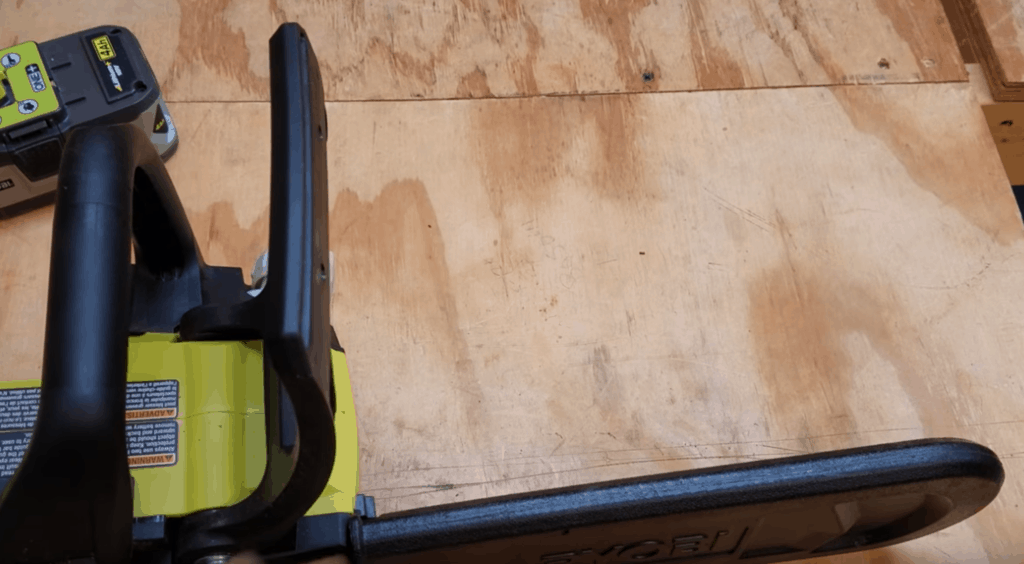 When choosing a Ryobi chainsaw, you will want to identify your intended use. We recommend the Ryobi chainsaw brand primarily for homeowners and smaller jobs. Their product line caters to value customers, making their product features straightforward and simple for any user.
In selecting a Ryobi chainsaw based on voltage, we recommend the Ryobi chainsaw 18v with a 12-inch blade to tackle most jobs. It offers a larger blade for greater tree needs while still offering enough power to get your work done. If you plan to use your chainsaw all the time and want to take on big projects, the Ryobi 40v chainsaw is right for you.
Chainsaw purchases can be large investments, making your research of brands and products important. We have provided you with the best offerings of Ryobi cordless chainsaws that will accomplish nearly all tasks you face in maintaining your landscaping and woodcutting jobs.
Are you looking for more guides on chainsaws? Check out some of our most popular guides, Husqvarna vs. ECHO – The Midrange Chainsaw Showdown, Review: Black + Decker CS1216 16-inch Corded Chainsaw, and Lowes Chainsaws | Browse Gas, Cordless & Electric.