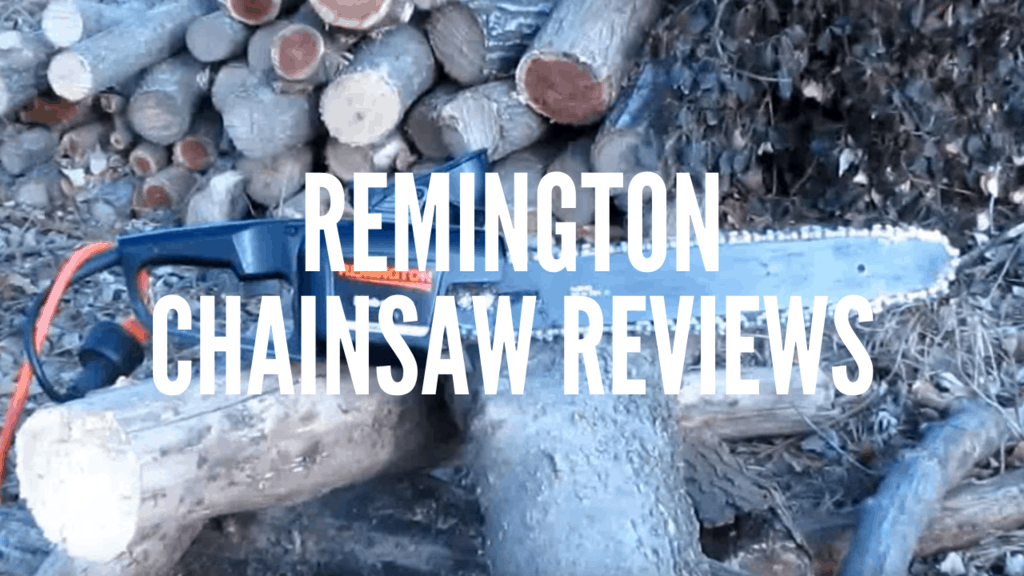 When it comes to cutting branches and even whole trees, nothing beats a chainsaw. Chainsaws are lightweight, portable, and are always ready to chew through lumber. But they come in such a range of sizes and power sources – how can you tell which chainsaw is right for you?
We've looked at some of the most popular Remington chainsaw models to help you find the best model for you. This handy guide will tell you the best models for pruning, cutting firewood, disaster recovery, and more.
Are you trying to find some general information on chainsaws or other tools? Check out our complete resource guides on Miter Saws, Table Saws, Chainsaws, Band Saws and Circular Saws. These guides contain all the information you need. You will be able to find history, the different types of the tool, top brand sold, and more!
Let's Get Started with Remington Chainsaw Rewards first
Remington Limb N Trim 14-Inch Corded Electric Chainsaw
The Limb N Trim 14-inch electric chainsaw is Remington's entry model. At just six pounds, it's about as light as chainsaws get. It has a fourteen-inch bar that can cut through surprisingly big logs. Unlike most chainsaws, this model uses an electric motor that plugs in.
Things we liked:
Lightweight makes it a breeze to prune branches
The electric motor always starts – no fighting a pull cord for half an hour to start it
Much quieter than other saws, especially when you aren't actively cutting
Things we didn't like:
Requires lots of extension cords if your property is very big
Not a good saw for disaster relief. If your power is out, the saw won't work.
Best for:
This saw is a fantastic pruner for small properties. You can pull it out, prune some trees, and put it away before a gas-powered saw is even started. It would also make a great saw for cutting firewood in a fixed location (if the location has power). You can bring in big logs, cut them to length, and set the saw aside to split or stack with no safety concerns.
---
Remington Ranger II Electric 2-in-1 Pole Saw & Chainsaw with Telescoping Shaft
The Ranger II pole / chain saw combo uses the same motor as the Limb N Trim, but with some different accessories. It comes with a shorter 10-inch bar and a telescoping shaft that extends up to ten feet long. This saw can either work way up over your head, or as a standard chainsaw.
Things we liked:
The chainsaw/pole saw combo gives you a lot of versatility
Pole saw is fantastic for cutting limbs from trees while staying safely on the ground
Uses the same reliable electric motor as the Limb N Trim
Things we didn't like:
The ten-inch bar really limits the chainsaw to pruning and only light log cutting
Best for:
Homeowners with lots of tree pruning to do. The requirement to plug the saw in limits the range of the saw, but this is a great tool for people with lots of big trees in the back yard.
---
Remington 16-inch Gas Powered Chainsaw
The 16-inch, 42 CC gas-powered chainsaw from Remington is probably what pops into your head when you think "chainsaw." It uses a two-cycle gas engine to run the blade. The bar is sixteen inches long, which is standard for general-use chainsaws these days. Unless you are cutting old-growth timber (shame on you!), this saw can handle everything you can throw at it.
Things we liked:
Sixteen-inch bar is big enough to cut even large logs if you cut in from both sides
Gas engine will run in the woods or when the power's out
Things we didn't like:
Some users report durability issues. It's a homeowner-grade saw, not a tool for a lumberjack to use every day.
Best for:
This is a great general-use chainsaw. It can handle pruning, cutting firewood, and storm cleanup. It's big enough to cut down fairly large trees, too. Unless you are cutting down big timber by the truckload, you probably won't find a job this saw can't handle.
---
Remington 40V 12-Inch Cordless Battery Chainsaw
The cordless 12-inch chainsaw combines the handy size and quiet operation of an electric saw with the portability of a gas chainsaw. This saw is fantastic for pruning and branch trimming in places an extension cord won't reach, without the hassle of a gas engine.
Things we liked:
The best of both worlds – light, quiet, and portable
Since there are no cords, it's even easier to use than the plug-in electric saws
Things we didn't like:
Limited in size and cutting power compared to the gas-powered saw
Unlike corded saws, batteries will run down after you've worked for a while
Best for:
This is a handy saw for light pruning and trimming away from power. If you need to get out and cut back bushes along the street or on the back forty, this is a great little saw. If you need to work all day, skip the batteries and go for a cord or gasoline.
---
Remington Chainsaw Replacement Chain
If you use your chainsaw enough, you will eventually wear out the chain. If your sawblade has a sag that the tensioner can't remove, or if there are chipped or missing teeth, you need a new chain. Chainsaw blades aren't manufacturer-specific; a generic blade will work on just about any saw.
When buying a new blade, you need to get a blade that matches the bar length and the rivet spacing. Rivet spacing will either be .325 inch (for smaller saws) or 3/8 inch. Check your owner's manual for the correct rivet spacing.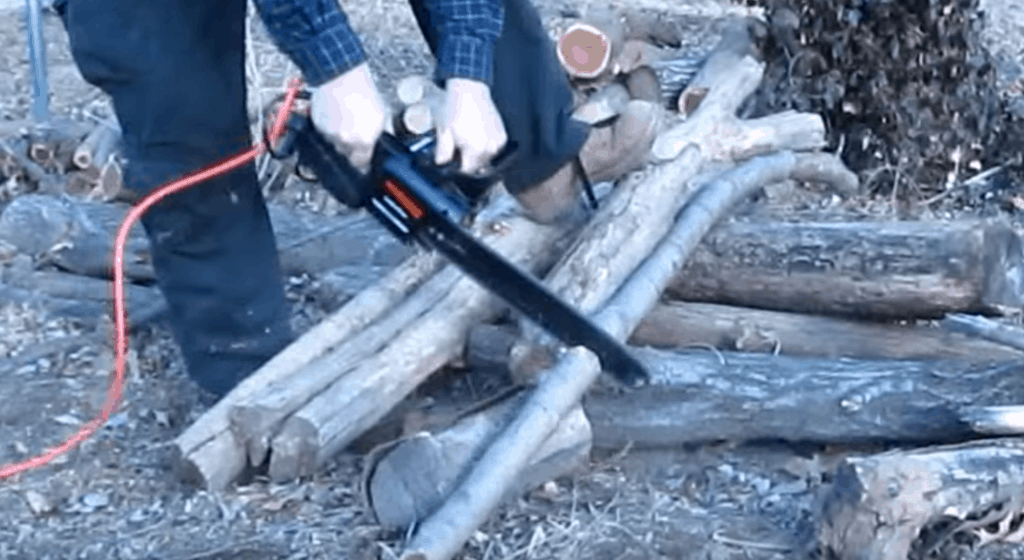 Our Recommendation
Our pick for the best Remington chainsaw model is…..a tie. These are all good saws, but they are made for different purposes.
If you are just doing some light pruning around the house, get the Limb N Trim. The electric motor will save you lots of headaches compared to a gas-powered saw.
For working up high, the Ranger II pole saw is the only choice. (Seriously, …it's the only one. Chainsaws and ladders don't mix).
If you need to work in the woods all day or clean up from a storm, a gas-powered saw is the only way to go. Grab the sixteen-inch gas-powered saw and put on your plaid shirt.
If you want trouble-free portability, you need the 40V cordless saw. You can take it anywhere and be cutting in no time.
Remington makes a lot of good chainsaws that will work in a lot of different ways. Pick the one that matches your jobs, grab your safety gear, and get to work.
Are you looking for more guides on chainsaws? Check out some of our most popular guides, Best Chainsaw Chaps 2019 – Reviews and Buyer's Guide, Review: Black + Decker LCS1240 12" Lithium Ion Chainsaw, Lowes Chainsaws | Browse Gas, Cordless & Electric, and Stihl Chainsaw Prices: Tips and Reviews.