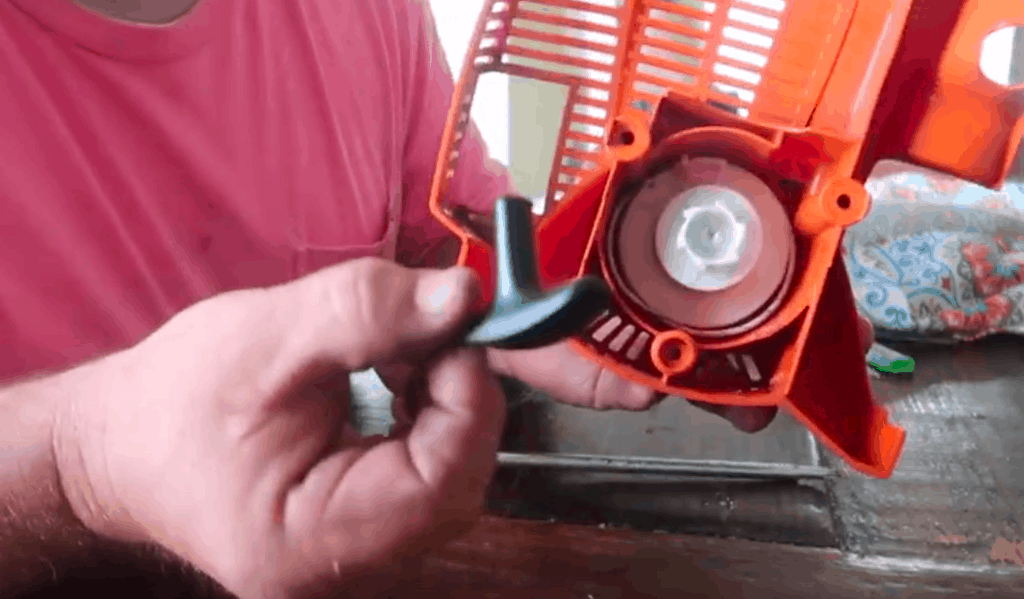 Have you lost some parts to your chainsaw, such as a sprocket cover? Or have you broken a part, and you now need a new one? There are lots to choose from, keep reading to find the best Stihl chainsaw parts.
Are you trying to find some general information on different tools? Check out our complete resource guides on Miter Saws, Table Saws, Chainsaws, Band Saws and Circular Saws. These guides have all the information you need. You will be able to find history, the differnt types of the tool, top brand sold, and more!
These Are Our Top Picks
Hipa Recoil Starter with Extra Pull Cord for STIHL
This is a replacement recoil starter that also comes with a 2-meter starter rope. The recoil starter is responsible for uncoiling, tensioning the spring, engaging the clutch, turning the crankshaft which ultimately starts the engine after you pull the rope's grip
What we like:
Good price
The sprockets will typically fit very well
What we don't like:
Some taps may too large.
Not very strong
---
Hipa Ignition Coil with Spark Plug for STIHL
This is a replacement ignition coil that is compatible with a majority of the Stihl chainsaws. Keep in mind that you have to replace a faulty ignition coil, and you cannot repair it. With this in mind, the Hipa will be the best ignition coil replacement available.
What we like
An excellent price
Easy to install once it arrives
Some report that it is a perfect fit
What we don't like
Some report that it has short lifespan
The hole may not fit, so you may have to grind it down
---
Hipa Air Filter, Spark Plug, Fuel/Oil Line Filter for STIHL
This package will give you a brand-new air filter, spark plug, fuel line, oil line, and filter. If your chainsaw isn't running correctly or it's just bogged down and having trouble cutting through thick wood, then these items will give you the top performance you want.
What we like
Bonus parts for the price of one.
These parts ft great in Stihl chainsaws.
The new parts fix many problems the user has.
What we don't like
Some report that the filters will have trouble fitting the original lines.
The fuel line may have kinks after installed.
---

Is Stihl Better Than Husqvarna?
Both manufacturers are widely known as the best makers of chainsaws in the world. When loggers and homeowners completed surveys, 50 percent prefer one while 50 percent the other.
Husqvarna is one of the oldest and largest manufacturers of power tools. The company began in Sweden in the 1690s. People know Husqvarna mostly by these features:
Larger fuel tanks give you longer working times.
Saws are more fuel-efficient because of X-TORQ technology.
Saws are easier to buy online.
They have a reputation for cutting faster than Stihl.
Stihl began in in Stuttgart, Germany, but is now headquartered in Virginia. People know Stihl mostly by these features:
They usually cost less than Husqvarna
They have a reputation for requiring less maintenance.
A smaller fuel tank makes it lighter and easier to handle.
Many users of Stihl say that it has more low-end torque, which makes it an excellent choice for tough cutting.
Why Is My Stihl Chainsaw Bogging Down?
This could be a sign that the carburetor isn't adjusted properly. The adjustment could have slipped, or you could be using the saw at altitude.
Most of the time, if the saw gets bogged down while it's cutting, the problem lies within the high-speed screw. If this screw is open too far, an excess of fuel enters into the combustion chamber, and it won't all ignite.
Before you adjust the carburetor, you should clean the air filter, spark arrestor, fill the tank, and start the saw so it can warm up for a few minutes.
How Do I Adjust My Stihl Chainsaw's Carburetor?
The carburetor regulates the air/fuel mixture in gasoline-powered engines. As you use the saw it can go out of adjustment. To adjust it:
Remove the air filter's cover and turn the knob counterclockwise and lift it off. Remove the air filter and clean it with some compressed air or wash it with some soapy water. Make sure that you wait for it to dry before you reinstall it and configure the carburetor.
Remove the cover from the muffler by unscrewing the screws that are being held by the Phillips screwdriver. Take the spark arrestor screen out from behind the muffler and clean it with an old toothbrush. Install it again replace the muffler cover.
You will see three different carburetors adjustment screws that are under the spark plug or under the air filter. There will be three of them that say "L," "H," and "LA" or "I," this depends on the model. They stand for low-speed, high-speed, and idle adjustments.
Before you adjust the low- and high- speed screws, determined the carburetor type you're dealing with. Turn the "L" screw clockwise until it won't go anymore, use a flat-head screwdriver for this. After this, turn it counterclockwise as far as you can. (one revolution is a type A while less than one revolution is a type B.
If you're dealing with a type A carburetor, you can return it to its factory setting by turning the "H" screw counterclockwise until it can't turn anymore. Also, turn the "L" screw clockwise until it is set and back it off one complete turn. The type B carburetor is very similar, but you will back the "L" screw off ¼ turn instead.
Let the idle screw warm up after you start the saw and adjust it until the chain starts turning and then back off ¼ turn.
How Do You Clean the Carburetor on a Stihl Chainsaw?
Any dirt or debris that makes its way past the air filter will likely cause a sticky and gummy mess that affects the carburetor's correct function.
Remove the bar and chain from your chainsaw with a chainsaw wrench.
Get rid of the air filter cover by using your screwdriver, remove the air filter element.
Get your chainsaw started.
With the throttle at about two-thirds, hold the chainsaw in one hand.
Spray a carburetor cleaner for one second into the empty space where the air filter was. The carburetor jets will suck in the cleaner, and it will go past needle valves and dissolve all the gunk.
For good measure, spray another wave for one second and let the motor run for a little bit to burn up any of the cleaning sprays, shut down the engine and reassemble.
Why Does My Chainsaw Die When I Give It Gas?
There could be a few problems that cause this, and luckily, this means there are also a few solutions:
Check the filters: The air might not be getting to the carburetor due to possible clogging.
Fuel issues: If you leave the chainsaw idle for an extended period of time, then it would be a good idea to add a fuel stabilize so that the carburetor and fuel line don't become clogged.
Carburetor Adjustment: If there isn't enough fuel in the carburetor it stalls, try adjusting the three adjustment screws.
Tuning up: Keep the filters and carburetor clean on a regular basis so that your chainsaw can keep running at its highest performance.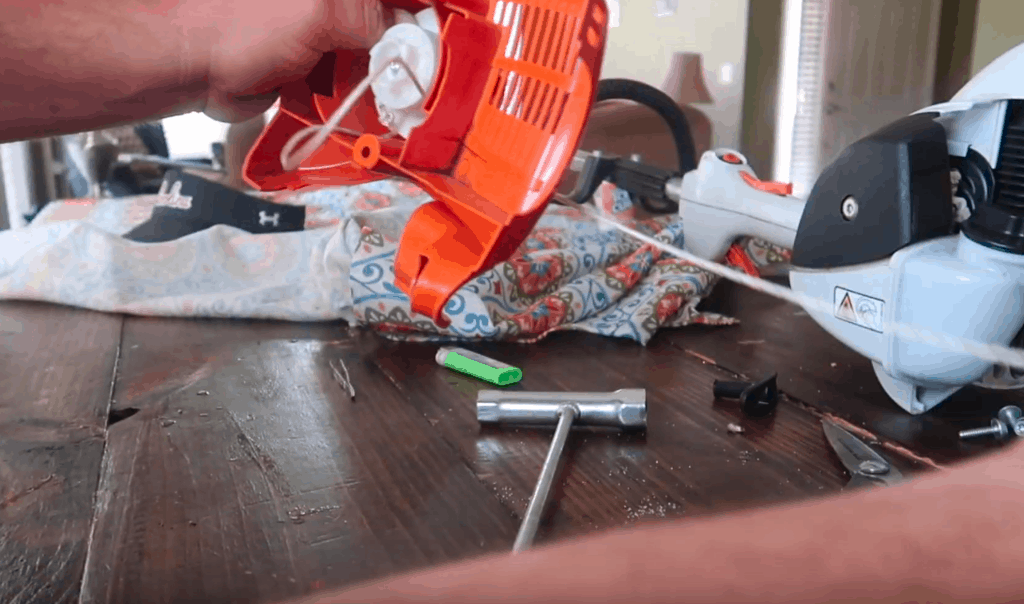 History of Stihl
Stihl began in 1926 by Andreas Stihl, who dreamed of a way to make wood cutting easier. They made the first portable two-person electric saw. They are currently in America with 11 regional branches. You can't buy these tools from a big-box store. They are only available from an authorized STIHL dealer.
The Takeaway:
To conclude, our top picks are:
Hipa Recoil Starter with Extra Pull Cord for STIHL
Hipa Ignition Coil with spark plug for STIHL
Hipa Air Filter, SPark Plug, Fuel/Oil Line FIlter for STIHL
These are excellent replacement products for your Stihl chainsaw because they are low priced and reliable fixes to get the optimal performance out of your chainsaw. If you have concerns about sizes or wrong fittings, which are a possible problem, but not likely, then you can get some replacement parts from the OEM (Original Equipment Manufacturer).
If these aren't the replacement part you're looking for, then try looking at chainsaw parts for STIHL. Make sure you know what is wrong with your chainsaw so you can specifically target that part to replace it.
Buy these parts now to get your chainsaw back to work, and you can finally finish all those projects that you've had to put off because they became too hard and took to long with a fault chainsaw.
Are you looking for more guides on chainsaws? Check out some of our most popular guides, Best Chainsaw Chaps 2019 – Reviews and Buyer's Guide, Review: Black + Decker LCS1240 12" Lithium Ion Chainsaw, Lowes Chainsaws | Browse Gas, Cordless & Electric, and Stihl Chainsaw Prices: Tips and Reviews.