The bow saw is a very popular tool with woodworkers since Roman times. Early bow saws were made of wood, and had a steel blade, and cord or wire that was twisted for tension. To be honest, the design hasn't changed much since the saws' introduction. It's been used for hundreds of years by craftsmen.
In current times, the bow saw isn't really used as a hand saw for general carpentry and furniture making. Actually, many people use the bow saw for woodland use, gardening, and roofing or framing work. Below you'll find some of the best bow saws and tips on how to find the best bow saw!
Before we begin, are you looking for some general information on tools like miters saws, chainsaws, table saws, etc.? Then, check out our complete resource guides on Miter Saws, Table Saws, Chainsaws, Band Saws, and Circular Saws. These guides have all the information you need. In addition, you will be able to find history, the different types of tools, the top brand sold, and more!
What to Look for When Buying a Bow Saw
Anyone who's browsed online or taken a trip to the hardware store has seen that there is a large selection of saws to choose from. There are bow saws, miter saws, circular saws, hack saws, crosscut saws, table saws, and so many more! Some of these saws are power saws and some of these saws are hand saws. Power saws really cannot compare to the affordability, portability, and simplicity of the bow saw. This makes it a great choice for survivalists, gardeners, roofers, and framers. Even though bow saws are basic tools, there are still features to take into consideration when buying one. Here are a few key characteristics to take into consideration when shopping for the best bow saw.
Blades
Blades on saws are usually rated by teeth per inch or TPI. The more teeth that a saw has, the smoother the cut that it makes will be. However, I would like to mention that a high TPI blade may cause sawdust that can get caught in the gaps between the teeth. This can overheat the blade which will shorten its life span and slow down the cutting process.
Bow saw blades are usually quite coarse, the saw can have as few as 3 teeth per inch and rarely more than 14 teeth per inch. This allows them to make fast and aggressive cuts. Low TPI blades are great for greenwood and higher TPI blades are better for cutting lumber.
A lot of manufacturers don't mention teeth per inch. Instead, the bow saw blade will be specified as either for dry cutting or wet cutting. For example, when cutting wet wood, it's more likely to bind to the blade. This means the blade will have fewer teeth or a lower TPI. The teeth may also be a "raker-set," which is where each pair of teeth is offset. Raker-set blades make wider cuts which clear waste as they go.
Prices to replace bow saw blades can vary, so I recommend shopping around when it comes time to replace the saw blade. A higher price often means the blade is of better quality and cheaper bow saw blades often cut poorly and rarely represent good value.
Tension Adjusters
In order for a bow saw blade to cut reliably and accurately, it needs to have tension. If it's not, it will twist or bend. This can make the saw difficult to control. This is particularly important when cutting two-by-four lumber for roof beams or partition walls.
In the original bow saw design, tension was applied by twisting a thin wire or cord. This pulled on the wooden frame of the saw. It worked but caused a point of weakness which caused the need for regular replacement. Modern metal-framed bow saws have either a cam lever or an adjustable screw (sometimes both) incorporated into the handle on the end.
Knuckle Guards
A bow saw can be used for a wide variety of things, cutting storm-damaged branches, trees, sawing logs, and general pruning, to name a few. Each of those tasks usually involves a full stroke that is done rapidly. It's a methodical action, but it can lead to pretty bad skinned knuckles.
Not all bow saws have a knuckle guard but the best ones certainly do. On lower-cost models, it's usually just a flat metal band. It's simple but effective. On higher-end models, the knuckle guard may be molded into the handle. Be sure to check that there is sufficient space for your hand between the frame/handle and knuckle guard while wearing gloves.
Folding bow saws regardless of quality, are the exception. Because they need to fold flat means a knuckle guard cannot be incorporated.
The Best Bow Saw for Professionals: Bahco Bow Saw
Source
If you're looking for a bow saw that's built incredibly well and will stand up to whatever you throw at it, then the Bahco Bow Saw is the best choice for you. The Bacho Bow Saw is made from high-quality materials, has a sturdy construction, and comes in a variety of sizes to fit any task you need to complete.
This saw has a number of features that make it stand out from the rest. It has a lightweight design that provides durability and comfort. The blade is made from high carbon steel which means it'll stay sharper longer than the competition. It also has an ergonomic grip, which is great for those who will use the saw for long periods of time.
This saw is great for a variety of situations because it can be used by professionals, DIY enthusiasts, and even beginners to yard work or woodworking.
The Best Bow Saw for Basic Use: Corona Saw
If you're an occasional bow saw user, then the Corona Saw is a great fit for you! The saw is easy to use and gives you a clean cut. It has a decent handle, it doesn't slip, is comfortable to hold, and is easy to sharpen. You can't go wrong wth this saw, it's reliable and will get the job done.
With all of that being said, if you intend to do more than light or medium use with this saw, I would recommend against getting it. For example, if you were to use this saw regularly for construction or carpentry projects, it wouldn't hold up well over time. The blade is weak and thin when compared to professional models that are designed for heavy duty work.
The Best Bow Saw Under $50: Gonicc Dual Cut Folding Saw
​​
Source
I think the Gonicc Dual Cut Folding Saw is among the best bow saws because of its portability, high-quality craftsmanship, and price. It comes with a lifetime warranty, which is huge because when working with saws you're putting a lot of strain on the tool. So this means even if something breaks or you find yourself disappointed with it at any point in the future, you can easily get a replacement.
The kerf of the Gonicc Dual Cut Folding Saw is wide enough to get through larger pieces of wood. Its teeth are also extremely sharp, making it capable of cutting with minimal effort.
The stainless steel blade on this folding saw is sturdy and will last a long time. I anticipate that this will outlast most wooden handles. The handle itself is very comfortable and can fit all hand sizes, giving users the ability to spend hours working with this tool without having to deal with pain and an uncomfortable rip. The folding mechanism makes this saw easy to store and portable. Even better, the folding mechanism prevents injury by keeping the blade safely stowed away when the saw is not in use.
The best part of this saw is the price, this saw retails for under $50 on Amazon! This makes it an excellent value that experienced woodsmen and beginners can appreciate!
The Best Bow Saw Under $100: Spear & Jackson Razorsharp Heavy Duty Bow Saw
Source
When it comes to value, the Spear & Jackson Razorsharp Heavy Duty Bow Saw is truly a solid option. The saw has a blade that is 22 inches long which is sufficient for most jobs. I would like to mention that the saw weighs just over 4 pounds, making it one of the heavier options we've listed but you can still wield it with ease.
This bow saw has the same type of tensioner knob that the Bahco Laplander Folding Saw has, this makes setting and maintaining blade tension easy and simple. Unlike other models that require a screwdriver or an Allen wrench to adjust tension, this tensioner can be adjusted with your bare hands. However, I would like to note that a knife or flathead screwdriver will make removing and replacing the blade much easier.
Now it's time for the downsides of this saw. While it is a great saw overall it doesn't have the power of my topic bow saw and its blades aren't readily available in the United States. This can be a problem if you need a replacement quickly. You can order extra blades from companies based in Europe because this is where the saw is manufactured but they will most likely cost more and take longer to arrive.
The Best Bow Saw for Pruning, Gardening, and Clearing Brush: ARS Bow Saw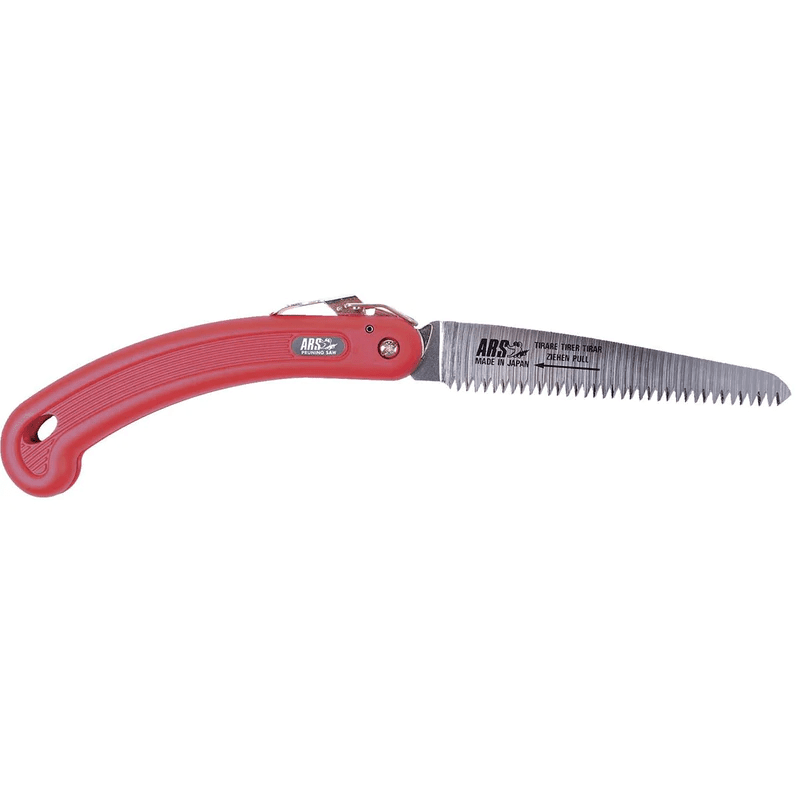 If the jobs your mostly going to be completing is yard work that involves pruning plants and clearing brush, then a garden saw is probably the better choice for you. Specifically the ARS Bow Saw. These saws often have a lighter weight than bow saws, making them easier to hold and use for long periods of time without getting tired. The blades tend to be shorter than blades seen on bow saws, so these kinds of saws are not quite as useful for cutting tree limbs that are on the larger side.
However, if you're looking for a heavy-duty tool that you can use for both big and small tasks, it might be your best to get the ARS bow saw. I like this specific saw because of the high-quality blade and materials used for its construction. If you're looking for the versatility of a pruning and gardening tool that has some heft to it to tackle bigger jobs, this saw definitely has you covered.
The Best Bow Saw Overall: Truper 31725 16-Inch Bow Saw
Source
For those of you who are still unsure of which bow saw to purchase and don't mind spending a little more than the other options listed, the Truper 31725 16-Inch Bow Saw is an excellent choice! As the name suggests, it has a blade that is 16 inches in length and weighs just 1 pound. This combination of length and weight makes it easy to carry around. This saw doesn't contain much plastic, its handle is made of fiberglass. This is an added bonus, fiberglass is an environmentally friendly material. The blade is made of steel, which allows it to easily cut through a variety of materials with efficiency and ease. The saw also has a comfortable handle ensuring that the user won't experience any wrist strain or fatigue.
Wrapping Up
There are the best bow saws! We hope this buying guide helped you find the best bow saw for you! Do you have a favorite bow saw from this list? Do you own a bow saw already? If not, are you considering purchasing one now? Please feel free to leave a comment; we would love to hear from you!
Did you enjoy this article? Check out some other articles I have written: