Ridgid Tools has been around for almost a century. Their decades of experience in the industry shows. Ridgid tools are very popular among professionals in the plumbing, electrical, and construction industries.
At A Glance:
However, since their inception, this company has branched out into high quality tools and accessories for the home carpenter. The Ridgid Table Saw is one of the better ones on the market.
Read on to find out more about the best Ridgid table saw in 2020 and the advantages they pose for a woodworker.
Are you looking for some general information on table saws or other tools? Check out our complete resource guides on Miter Saws, Table Saws, Chainsaws, Band Saws and Circular Saws. These guides have all the information you need. You will be able to find history, the differnt types of the tool, top brand sold, and more!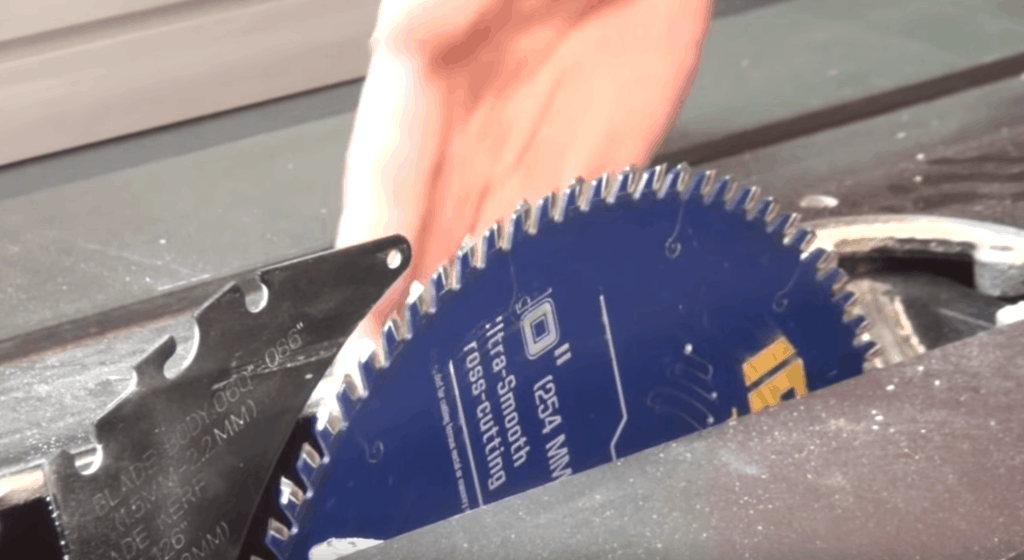 Ridgid Table Saw Reviews
Along with their traditional table saw assembly, which we will go over in further detail in the sections below, Ridgid also manufactures several other table saw varieties. Here are a few they have available:
Ridgid R451213 Amp Cast Iron Table Saw
This sturdy cast iron table saw assembly features a strong rip fence with wide gliding action that allows for good cutting ability along with constant safety. While this is not considered a high-precision saw, it still manages to make accurate cuts.
What We Like About It

Smooth sliding accurate fence: Gliding fence allows for easy adjustments in the middle of working, so the carpenter doesn't lose focus.
Precise cutting ability: Get a correct cut the first time without wasting materials and having to recut over and over again.
Quiet and powerful running action: This saw manages to have a softer sound than many comparative table saws, but is still strong enough to handle most cutting materials
Solid design: The sturdy construction of this table saw means that it was built to last for years if well-maintained.
Lifetime warranty if purchased through Home Depot: No matter what goes wrong with your saw, you can fix the problem through warranty technical support and repair or replace it if necessary.
What We Don't Like About It
Blade alignment difficulty: Blade can sometimes be difficult to align during assembly, which negatively impacts precision cutting
Warranty may be hard to redeem if you purchase outside of Home Depot: Some consumers have reported that Ridgid can be difficult to work with if their table saw was purchased through a third-party vendor.
Heavy construction: The massive bulk and weight of this machine make it unwieldy to install in the shop.
---
Ridgid Table Saw R4513
The R4513 is Ridgid's 10-inch table saw assembly model and features a number of engineering improvements to the basic table saw structure that make for a good improvement on overall function.
What We Like About It
Dado compatibility: With an optional throat insert, this table saw assembly can make dado cuts with ease.
Easy shift between transport and stationary mode: With an easy-press foot lever, you won't have any problem moving this saw or replacing it in its home at the shop.
Included wrench blade set: All tools included to disassemble the blade come with the table saw, so you'll have everything you need for assembly and disassembly right form the start.
Telescopic fence design: This allows for very wide cuts and maximum rip capacity.
Sliding adjustment with locking mechanism: The sliding adjustment of the locking mechanism means that the setup is both easy to tweak and easy to lock down and secure when it's time to start cutting, so you can be assured of both precision and safety.
What We Don't Like About It
Lack of micro-adjustment dial. The R4513 lacks this amenity, and it's a shame considering that the micro-adjustment dial is crucial for getting accuracy down to the last millimeter for fine woodworking projects.
Loud: At 4000 rpm, this is not a quiet table saw, but luckily to mitigate its loudness it does feature a soft start mechanism.
Weak motor: This table saw assembly does feature a somewhat weak motor in comparison to other table saws and can sometimes struggle to cut deeper than 1.5 inches on harder woods.
Ridgid Table Saw R4513
Not only does the Ridgid Table Saw come with all of the standard features you'd need in a sturdy saw setup, it also comes with Ridgid's strong company reputation.
Ridgid Tools feature training tutorials to teach laymen how to use their hand tools. They also offer a lifetime warranty on all of their parts. This means if the table saw breaks down, it is fairly easy to call in the cavalry for some technical support.
Ridgid offers many different varieties of consumer-level saws as well as accompanying accessories and upgrades, so no matter what your carpentry and construction needs are, you're sure to find something you like or need.
History of Ridgid Table Saws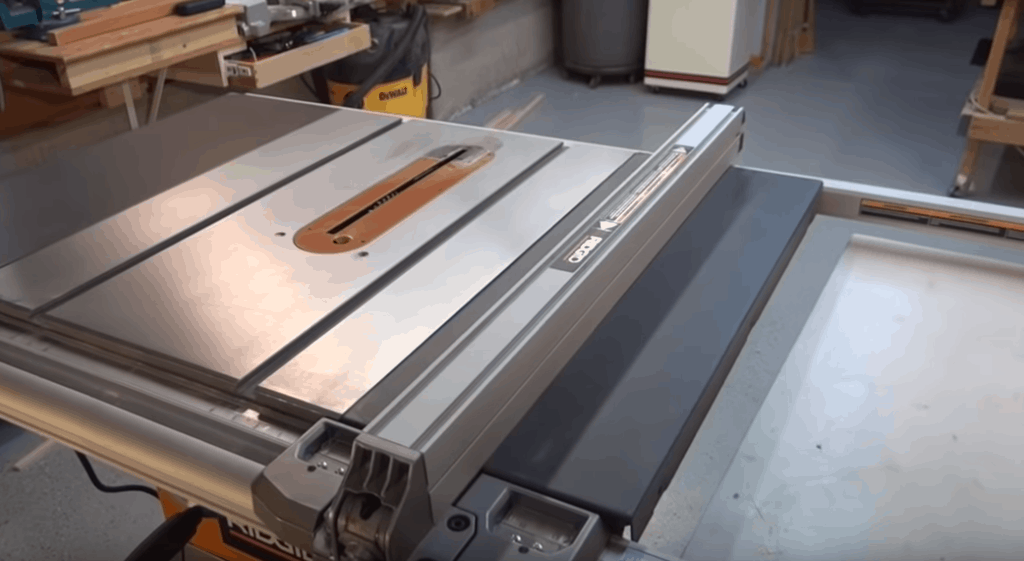 Founded in 1923 in North Ridge, Ohio, Ridgid manufactures over 300 different kinds of hand tools for a variety of uses.
This brand reached the height of its popularity in the fifties and sixties, and their rich red wrenches and tools became ubiquitous with the company's strong reputation. Because of the durability of these hand tools, many of them still exist and are functional today almost sixty years later.
Ridgid has moved into a variety of other home repair tools in the twenty-first century, including a line of shop vacs and table saws.
Ridgid Table Saw Parts
Barrow stand with bent rear leg for added stability
Eight-inch rubber wheels for easy transport
36-tooth ATB carbide tipped saw blade
Dust port for shop vac integration and reduction of wood dust in the shop
Storage for blade wrenches and spare blades
Extendable saw fence for safety
Rectangular throat plate increases ability to cut zero-clearance dados
Ridgid Table Saw Specifications
| | |
| --- | --- |
| Depth | 30.31 inches |
| Height | 17.32 inches |
| Width | 41.81 inches |
| Max Cut Depth at 90° | 3.5 inches |
| Max Cut Depth at 45° | 2.5 inches |
| Table Length | 30.25 inches |
| Table Width | 21 inches |
| Amperage | 15 amps |
| Blade speed | 4000 rpm |
| Rip capacity (left) | 12 inches |
| Rip capacity (right) | 25 inches |
Ridgid Table Saw Portability
Despite its fairly heavy weight at ninety-five pounds, the Ridgid table saw is built to be portable. For the most part its design reflects this.
The wide eight-inch wheels make it easy to wheel the table saw around while it is in portable mode. Most table saw wheels make moving the assembly doable, but unwieldy and tedious.
The foot lever to switch between a stationary setup and a portable setup also means less stoping. This is important for craftsman who are under constant demands to both energy and ergonomics does not go amiss.
Ridgid Table Saw Cutting Ability
The Ridgid Table Saw incorporates many design aspects. These design aspects reinforce the saw's cutting ability. Since the ability to perform precise, repeatable cuts is the primary objective of a table saw, the cutting ability of the saw is paramount to everything but safety.
The cutting features offered by the Ridgid Table Saw include the following:
Maximum rip capacity of 25 inches; capable of cutting four-by-eight-foot sheets of material
Measuring tape that is extended along the length of the fence for precision while cutting
Secure locking feature for safety, but moves easily for adjustment
Locks in square to the blade for perfect alignment
Accurate miter gauge
All-in-one blade adjustment dial allows for adjustment of height and angle from the same
knob location
As you can see, the Ridgid Table Saw system incorporates a lot of standard table saw design aspects as well as a few improvements that allow for higher quality results while cutting pieces. It also offers a spacious working surface that is suitable for a wide variety of projects.
By using a table saw system that emphasizes both safety and precision, you can waste less raw product with inaccurate cuts as well as turn out a finished product of professional level quality even from a home workshop.
Final Thoughts on Buying a Ridgid Table Saw
The Ridgid Table Saw assembly might not be a perfect table saw (I'm not sure the perfect table saw actually exists), but it does have quality craftsmanship and the strength of the Ridgid name behind it, and it's a brand that has maintained a good reputation for almost a hundred years.
If you consider their robust lifetime warranty policies and reports of efficient and friendly customer service, the Ridgid comes out as a good solid option for a table saw to base your entire workshop around.
Are you looking for more guides on table saws? Check out some of our most popular guides, Dewalt vs. Delta Table Saw Edition, Ryobi Table Saws – 10in Portable Saws and Parts, DEWALT Table Saws – 10″ Saws, Parts and Accessories, and The Best Portable Table Saws.