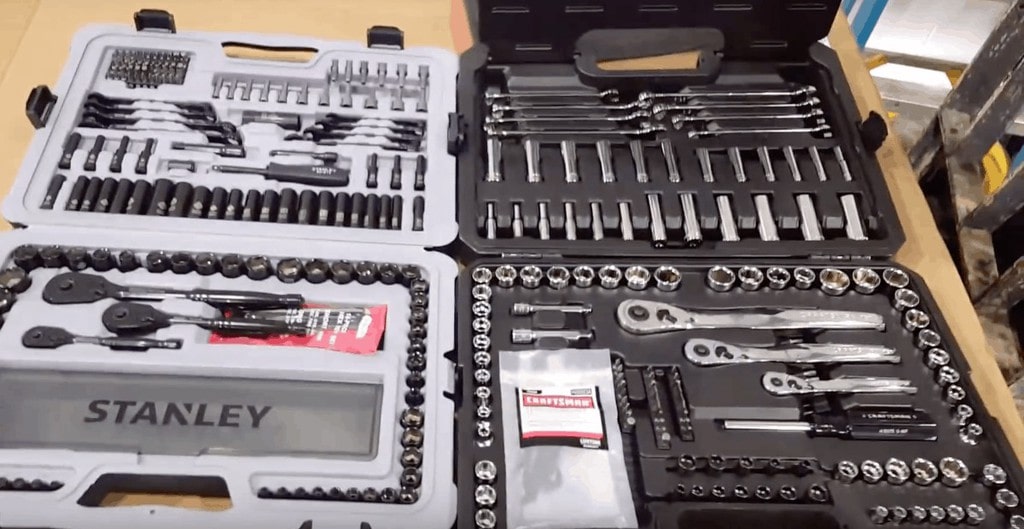 You wouldn't believe how many inquiries we get about Stanley vs Craftsman tools: which brand is better, who has the better warranty, etc etc etc.
Depending on who you're talking to, simply bringing up the topic is likely to spark a never-ending debate. And this is only concerning their line of sockets, ratchets, and drivers – forget about the power tools.
The thing is, it's common knowledge nowadays that both brands are more or fewer budget options – when it comes to professional quality tools, each is going to be far from the top of the line.
That being said, if you're planning on going out and spending a decent chunk of money on your first socket set or a new ½" driver, you're understandably going to want to make sure you're getting the best product for your money.
In this article, we'll dish out our opinion on the never-ending squabble of Stanley vs Craftsman tools, putting heavy emphasis on consumer feedback and the opinion of thousands of customer reviews.
As the old saying goes, after all, the customer is always right.
Stanley vs. Craftsman: Company Histories
Another thing you wouldn't believe how much we hear is folks going on and on about how loyal they are to a specific brand: "I've never touched anything other than a Craftsman tool for the past 30 years…"
Or, "Stanley makes the best &%$# tools in America, hands down. Don't even try to tell me otherwise."
And so on and so forth. Apparently, a lot of people out there are still living in the 1950s, completely unaware of the not-so-recent phenomena of globalization and outsourcing.
The fact of the matter is that nowadays, drumroll, please…. Stanley and Craftsman are now owned by the same company!
That's right, just a few months ago (March 2017), the massive conglomerate Stanley Black and Decker announced the $900M acquisition of Craftsman from Sears Holdings. Craftsman tools will continue to be sold at Sears locations, but in the coming years, they'll be manufactured out of the same exact facilities as Stanley tools, Black and Decker, DeWalt, etc.
What does this mean for you, the consumer?
Not much, really. Both Stanley and Craftsman products will still maintain their relevant places in the market, which as of now, sits somewhere between top-shelf names like DeWalt, Makita, and Milwaukee and full-blown budget options like Black and Decker.
So basically, in a nutshell, if you've been a fan of either brand because you thought they were American made or 'American owned and operated, you can pretty much throw that notion out the window. Granted, a few of their lines of tools are manufactured in US facilities, but the bottom line is that both companies are simply smaller divisions of much larger international conglomerates and have been for some time.
Stanley vs. Craftsman: Parent Companies
Stanley Black & Decker (SBD)
Stanley Black & Decker, also known as SBD, is the parent company of both Stanley and Craftsman. They own a wide variety of brands:
DeWalt
Black + Decker
Craftsman
Stanley
Lenox
Irwin
Stanley vs. Craftsman: Product Line Depths
Both Stanley and Craftsman sell a wide variety of products. Below, you'll find what each brand's product line consists of.
Stanley Product Line
Stanley sells power tools, outdoor power equipment, air tools, storage, hand tools, batteries, and accessories.
Here are some of the specific types of products you can purchase from Kobalt:
Levels
Tape Measures
Squares
Safety Knives
Pocket Knives
Utility Knives
Nail Hammers
Sledge Hammers
Hacksaws
Metal Handsaws
Lasers
Chisels
Bench Planes
Screwdrivers
Wrenches
Pressure Washers
Rakes
Automotive Tools
Dust Management
Toolboxes
Lighting
Workshop Storage
& More
Craftsman Product Lines
Craftsman sells power tools, outdoor power equipment, lighting, generators, storage, hand tools, batteries, and accessories.
Here are some of the specific types of products you can purchase from Craftsman:
Air Compressors
Compressor Combo Kits
Air Hammers
Air Ratchets
Batteries
Chargers
Power Tool Combo Kits
Drill Drivers
Hammer Drills
Vacuums
Dust Extractors
Angle Grinders
Polishers
Impact Drivers
Impact Wrenches
Belt Sanders
Orbital Sanders
Circular Saws
Miter Saws
Jigsaws
Chop Saws
Table Saws
& More
Stanley vs. Craftsman: Brand Reputation and Cost of Tools
Here we'll go over the reputations and cost of the tools of each brand.
Stanley Reputation and Tool Affordability
Most people say that Stanley tools are average when it comes to quality. This is especially true when you compare what they cost to other companies. It's widely accepted that Stanley tools are best for various uses around the house. This could be anything from DIY projects to light repairs. However, with all of that being said, Stanley tools are also known to be pretty durable. As well as comfortable and easy to use. Unfortunately, they are not tough enough for heavy-duty job site use.
I would like to mention that some Stanley tools are made in the USA. According to official stats, it's up to 40%. However, it's essential to note that the vast majority of Stanley's tools are only assembled in the USA. Meaning parts that were manufactured in foreign countries are being used.
Stanley is the more affordable option of the two brands. While they do have a range of prices, one of the main things that makes them so appealing is that they offer quality tools for less. On top of that, Stanley has slightly more expensive products for professionals and inexpensive hand tools for homeowners.
Craftsman Reputation and Tool Affordability
When it comes to Craftman's reputation, the company is often regarded as one of the highest-quality power tool brands. In 2011, Craftsman received the highest score possible from the Harris Interactive Poll for both Trust and Brand Expectations.
Additionally, not long after, the readers of Popular Mechanics voted Craftsman to be the best brand for hand tools. For those who may or may not know, Craftsman is the official tool brand of both the DIY Network and NASCAR. Regardless of where tools are created, Craftsman's reputation is that it's a high-quality tool brand.
The cost of Craftsman tools is very similar to the cost of Kobalt. However, I do feel that even though the cost is the same Craftsman tools are the better value because of the wider range of tools that you are able to choose from.
Stanley vs. Craftsman: Warranty Comparisons
Stanley Warranty
Stanley offers complete lifetime warranties for all of its mechanic's tools and limited lifetime warranties for garden and hand tools. For everything else, it's either a two-year limited warranty or a three-year limited warranty. You'll have to confirm what warranty you get after you buy the tool.
Craftsman Warranty
Overall, Craftsman does have good warranties. Especially since some of the products come with warranties that are several years in length. However, it is important to note that Craftsman doesn't have as many lifetime warranties as Kobalt does. Additionally, some warranties from Craftsman hand over the responsibility to Sears, which no longer owns the company. This can be problematic.
Tools: Stanley vs. Craftsman
Ok, so on to the actual tools. In this article, we'll only really be taking a look at each brand's line of ratchet/wrench combo sets. (If it's power tools you're interested in, make sure and check out all of our brand vs brand power tool reviews here).
As it currently stands, Craftsman tools are known to be a little pricier than comparable Stanley products, without any real superiority in quality. (In fact, we've come across dozens of people who out and out claim that Craftsman's 'new' line of raised panel ratchets are, to put it nicely, junk).
So where do they get off charging a higher price for similar (if not lesser) quality tools than Stanley?
For one, Craftsman tool has an excellent warranty service – one of the best in the business. If anything, and we mean anything, happens to one of your Craftsman hand tools, just send it in or take it to the retailer and they'll replace it free of charge, for life.
Also, like we were talking about earlier, the Craftsman brand has been banking for decades now simply on their name. For years the Craftsman brand logo was symbolic of the finest tools in America, and during this time they built up a rock-solid reputation in terms of quality. And while that quality in construction and materials has plummeted in recent decades, Craftsman still very much is a brand name symbolic of performance and good-value to many people.
Stanley tools are really no different, though, but when it comes right down to performance, materials, and quality of construction, if you were to take a consensus over the past decade or two, you'd likely hear a fair amount more people opt for them over Craftsman.
Without further ado, let's take a closer head-to-head look at the actual tool sets for each brand to get a better idea of what we're working with (no pun intended).
Tool Reviews: Craftsman vs. Stanley
TOP PICK: Stanley Black Chrome Laser Etched 69-piece Socket Set
If we were in the market to pick out one really decent socket set between Craftsman and Stanley, we'd probably go with the 69-piece black chrome set from Stanley.
In our opinion (and the opinion of thousands of consumers), Stanley have really upped the ante of their budget wrench/sockets with their laser etched Black Chrome lineup. These have been extremely well-reviewed since they were introduced a few years ago, and are actually now a best-seller on Amazon. Really nice, good quality tools that'll provide a lifetime's worth of around-the-home use.
The 69-piece set comes with both ¼" and ⅜" ratchets, with every size socket that you'll need for each. It does not however come with a ½" driver, which is unfortunate. For that, you'll need to pick up the full-size 229 piece set.
Stanley Black Chrome Laser Etched Socket/Wrench Set: 229-piece and 99-piece
If you find that the budget-priced 69-piece set doesn't quite include everything that you're looking for, Stanley also offers a 229-piece and 99-piece set in the Black Chrome lineup.
The slightly more expensive 99-piece set still doesn't include the ½" ratchet, but it does include several ratchet extensions which are virtually indispensable if you plan on doing any kind of automotive work. It also includes ten standard box wrenches, which is a nice bonus feature that you'll get a lot of use out of.
The full size 229-piece set includes anything and everything you could ever need for essentially a lifetime's worth of DIY ratcheting: all three size ratchets (¼", ⅜", ½"), plus a full range of standard sockets, extended sockets, and ratchet extensions. (It even includes an allen key set for good measure). Definitely a recommended buy if you're looking for that one-set-does-all combo.
BUDGET PICK: Stanley Standard 123-piece Socket Set
If the higher quality Black Chrome lineup has no appeal to you, don't fret: Stanley still offers its standard range of wrenches and sockets at a more "Stanley-esque" price.
Their 123-piece socket combo is a great pick that includes way more stuff than the 69-piece Black Chrome set, for almost the exact same price.
And lastly, for a complete range of budget options, they also offer the 'standards' in 40, 50, 60, 85, 145, and 201-piece sets.
Craftsman Mechanics Tool Sets: 108,165, 230, 311, 413-piece
Craftsman's line of Mechanic's Hand Tool combos are directly comparable in terms of price to Stanley's standard sets, and honestly, it's a toss up between the two in terms of quality.
We suppose if you really wanted to break it down, the Craftsman power tools offer slightly more accessories per volume than the Stanley sets do, but that's really getting nit-picky about things.
And like we said in terms of quality, it really is six one half-a-dozen the other, in our opinion at least.
Looking at reviews and consumer feedback, though, the Stanley line definitely has the upper hand; they have much stronger reviews overall, and like we mentioned earlier have become an Amazon Best Seller, which is not an easy feat to accomplish. When buying online, these kinds of things should not go unwarranted.
Bottom Line: Stanley vs. Craftsman
So when push comes to shove, if we had to choose one brand over the other, we suppose we'd go with Stanley in the timeless Stanley vs. Craftsman product showdown.
While there's not much between the two brands regarding their standard/budget lineups, we feel that the relatively new Black Chrome line from Stanley offers more than enough appeal in terms of price, quality, and reliability to garner our trust and support.
If you're looking for that one great socket/ratchet/wrench combo set for garage and around the house jobs, but not willing to squeeze your last penny on top-shelf, pro-quality gear, you really can't go wrong with something like the 69-piece Stanley Black Chrome set.
So is that it? Is the debate settled once and for all, then?
Doubtful….
Stanley vs. Craftsman: Frequently Asked Questions
Are Stanley and Craftsman the same company?
Yes, Stanley and Craftsman are the same company. They're both owned by Stanley Black & Decker.
Is Craftsman good quality?
Craftsman is often seen as one of the best tool brands that you can purchase today. They offer both brushless and brushed options, and the quality is great for DIYers and home use.
Are Stanley tools worth buying?
Some Craftsman tool tests have found that their tools underperform when compared to other top tool brands. However, Craftsman offers incredible value for its tools.
Are Stanley tools as good as Craftsman tools?
For the most part, Stanley has several tools that are right on par with Craftsman tools, but Craftsman does offer a wider variety of products when compared to the Kobalt product line.
Is Stanley better than Craftsman for cordless hand tools?
Craftsman tools are good quality and perform well. Stanley tools are about the same. The answer to this question is going to depend on your needs. Craftsman offers a wider variety of tools, so Craftsman will be the better choice for you if they have what you're looking for.
Do Craftsman batteries fit Stanley?
Although Craftsman and Stanley are in the same market space, they each have their own accessories, including batteries, to fit their tools. This is how companies ensure customer loyalty.
Did you enjoy this article? Check out some more articles I have written: