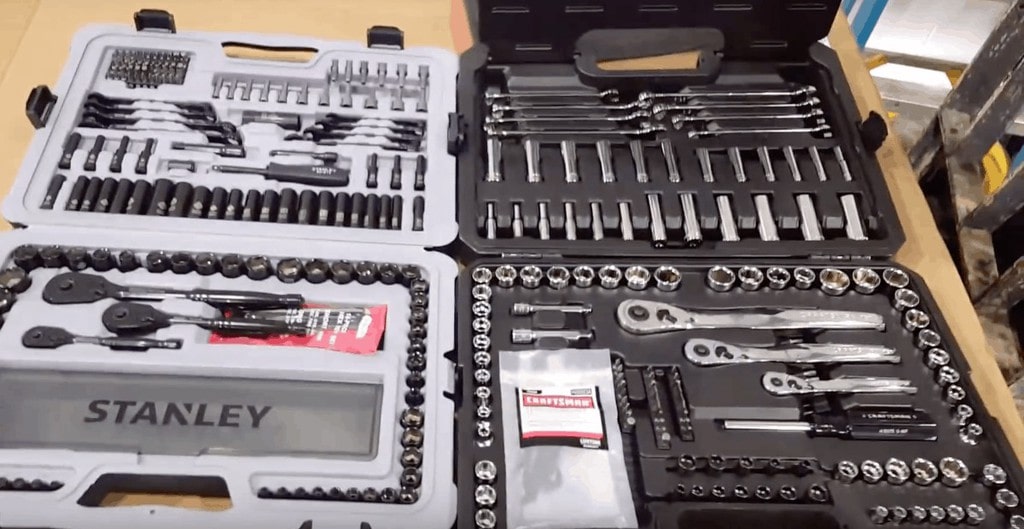 You wouldn't believe how many inquiries we get about Stanley vs Craftsman tools: which brand is better, who has the better warranty, etc etc etc.
Depending on who you're talking to, simply bringing up the topic is likely to spark a never ending debate. And this is only concerning their line of sockets, ratchets, and drivers – forget about the power tools.
The thing is, it's common knowledge nowadays that both brands are more or less budget options – when it comes to professional quality tools, each is going to be far from the top of the line.
That being said, if you're planning on going out and spending a decent chunk of money on your first socket set or a new ½" driver, you're understandably going to want to make sure you're getting the best product for your money.
In this article, we'll dish out our opinion on the never ending squabble of Stanley vs. Craftsman tools, putting heavy emphasis on consumer feedback and the opinion of thousands of customer reviews.
Like the old saying goes, after all, the customer is always right.
Top Ratchet Sets
Last update on 2021-09-27 / Affiliate links / Images from Amazon Product Advertising API
Brief Histories: Stanley vs. Craftsman Tools
Another thing you wouldn't believe how much we hear is folks going on and on about how loyal they are to a specific brand: "I've never touched anything other than a Craftsman tool for the past 30 years…"
Or, "Stanley makes the best &%$# tools in America, hands down. Don't even try to tell me otherwise."
And so on and so forth. Apparently, a lot of people out there are still living in the 1950's, completely unaware of the not-so-recent phenomenons of globalization and outsourcing.
The fact of the matter is that nowadays, drumroll please…. Stanley and Craftsman are now owned by the same company!
That's right, just a few months ago (March 2017), the massive conglomerate Stanley Black and Decker announced the $900M acquisition of Craftsman from Sears Holdings. Craftsman tools will continue to be sold at Sears locations, but in the coming years they'll be manufactured out of the same exact facilities as Stanley tools, Black and Decker, DeWalt, etc.
What does this mean for you, the consumer?
Not much, really. Both Stanley and Craftsman products will still maintain their relevant places in the market, which as of now sits somewhere between top-shelf names like DeWalt, Makita, and Milwaukee, and full-blown budget options like Black and Decker.
So basically in a nutshell, if you've been a fan of either brand because you thought they were American made or 'American owned and operated', you can pretty much throw that notion out the window. Granted, a few of their lines of tools are manufactured in US facilities, but the bottom line is that both companies are simply smaller divisions of much larger international conglomerates, and have been for some time.
Tools: Stanley vs. Craftsman
Ok, so on to the actual tools. In this article, we'll only really be taking a look at each brand's line of ratchet/wrench combo sets. (If it's power tools you're interested in, make sure and check out all of our brand vs brand power tool reviews here).
As it currently stands, Craftsman tools are known to be a little pricier than comparable Stanley products, without any real superiority in quality. (In fact, we've come across dozens of people who out and out claim that Craftsman's 'new' line of raised panel ratchets are, to put it nicely, junk).
So where do they get off charging a higher price for similar (if not lesser) quality tools than Stanley?
For one, Craftsman has an excellent warranty service – one of the best in the business. If anything, and we mean anything, happens to one of your Craftsman hand tools, just send it in or take it to the retailer and they'll replace it free of charge, for life.
Also, like we were talking about earlier, Craftsman has been banking for decades now simply on their name. For years the Craftsman logo was symbolic of the finest tools in America, and during this time they built up a rock-solid reputation in terms of quality. And while that quality in construction and materials has plummeted in recent decades, Craftsman still very much is a brand name symbolic of performance and good-value to many people.
Stanley tools are really no different, though, but when it comes right down to performance, materials, and quality of construction, if you were to take a consensus over the past decade or two, you'd likely hear a fair amount more people opt for them over Craftsman.
Without further ado, let's take a closer head-to-head look at the actual tool sets for each brand to get a better idea of what we're working with (no pun intended).
Tool Reviews: Craftsman vs. Stanley
TOP PICK: Stanley Black Chrome Laser Etched 69-piece Socket Set
Last update on 2021-07-27 / Affiliate links / Images from Amazon Product Advertising API
If we were in the market to pick out one really decent socket set between Craftsman and Stanley, we'd probably go with the 69-piece black chrome set from Stanley.
In our opinion (and the opinion of thousands of consumers), Stanley have really upped the ante of their budget wrench/sockets with their laser etched Black Chrome lineup. These have been extremely well-reviewed since they were introduced a few years ago, and are actually now a best-seller on Amazon. Really nice, good quality tools that'll provide a lifetime's worth of around-the-home use.
The 69-piece set comes with both ¼" and ⅜" ratchets, with every size socket that you'll need for each. It does not however come with a ½" driver, which is unfortunate. For that, you'll need to pick up the full-size 229 piece set.
Stanley Black Chrome Laser Etched Socket/Wrench Set: 229-piece and 99-piece
Last update on 2021-07-27 / Affiliate links / Images from Amazon Product Advertising API
If you find that the budget-priced 69-piece set doesn't quite include everything that you're looking for, Stanley also offers a 229-piece and 99-piece set in the Black Chrome lineup.
The slightly more expensive 99-piece set still doesn't include the ½" ratchet, but it does include several ratchet extensions which are virtually indispensable if you plan on doing any kind of automotive work. It also includes ten standard box wrenches, which is a nice bonus feature that you'll get a lot of use out of.
The full size 229-piece set includes anything and everything you could ever need for essentially a lifetime's worth of DIY ratcheting: all three size ratchets (¼", ⅜", ½"), plus a full range of standard sockets, extended sockets, and ratchet extensions. (It even includes an allen key set for good measure). Definitely a recommended buy if you're looking for that one-set-does-all combo.
BUDGET PICK: Stanley Standard 123-piece Socket Set
Last update on 2021-07-27 / Affiliate links / Images from Amazon Product Advertising API
If the higher quality Black Chrome lineup has no appeal to you, don't fret: Stanley still offers its standard range of wrenches and sockets at a more "Stanley-esque" price.
Their 123-piece socket combo is a great pick that includes way more stuff than the 69-piece Black Chrome set, for almost the exact same price.
And lastly, for a complete range of budget options, they also offer the 'standards' in 40, 50, 60, 85, 145, and 201-piece sets.
Craftsman Mechanics Tool Sets: 108,165, 230, 311, 413-piece
Last update on 2021-08-09 / Affiliate links / Images from Amazon Product Advertising API
Craftsman's line of Mechanic's Tool combos are directly comparable in terms of price to Stanley's standard sets, and honestly, it's a toss up between the two in terms of quality.
We suppose if you really wanted to break it down, the Craftsman tools offer slightly more accessories per volume than the Stanley sets do, but that's really getting nit-picky about things.
And like we said in terms of quality, it really is six one half-a-dozen the other, in our opinion at least.
Looking at reviews and consumer feedback, though, the Stanley line definitely has the upper hand; they have much stronger reviews overall, and like we mentioned earlier have become an Amazon Best Seller, which is not an easy feat to accomplish. When buying online, these kinds of things should not go unwarranted.
What About Warranty?
If you're a warranty-warrior who's always looking for that "fancy guarantee on the box", what Craftsman used to be far and away superior on compared to other brands is now no more: Stanley finally caught on to the fact that Craftsman's lifetime warranty was the one thing that they had over other brands, so they decided to match it: Lifetime warranties now come standard on all Stanley and Craftsman hand tools.
And finally, for a good bit of visual reference, here's a nice video directly comparing the Stanley Black Chrome set to a Craftsman Mechanic's Tool set. As you can see, quite the difference in quality and appeal.
Bottom Line: Stanley vs. Craftsman
So when push comes to shove, if we had to choose one brand over the other, we suppose we'd go with Stanley in the timeless Stanley vs. Craftsman showdown.
While there's not much between the two brands regarding their standard/budget lineups, we feel that the relatively new Black Chrome line from Stanley offers more than enough appeal in terms of price, quality, and reliability to garner our trust and support.
If you're looking for that one great socket/ratchet/wrench combo set for garage and around the house jobs, but not willing to squeeze your last penny on top-shelf, pro-quality gear, you really can't go wrong with something like the 69-piece Stanley Black Chrome set.
So is that it? Is the debate settled once and for all, then?
Doubtful….