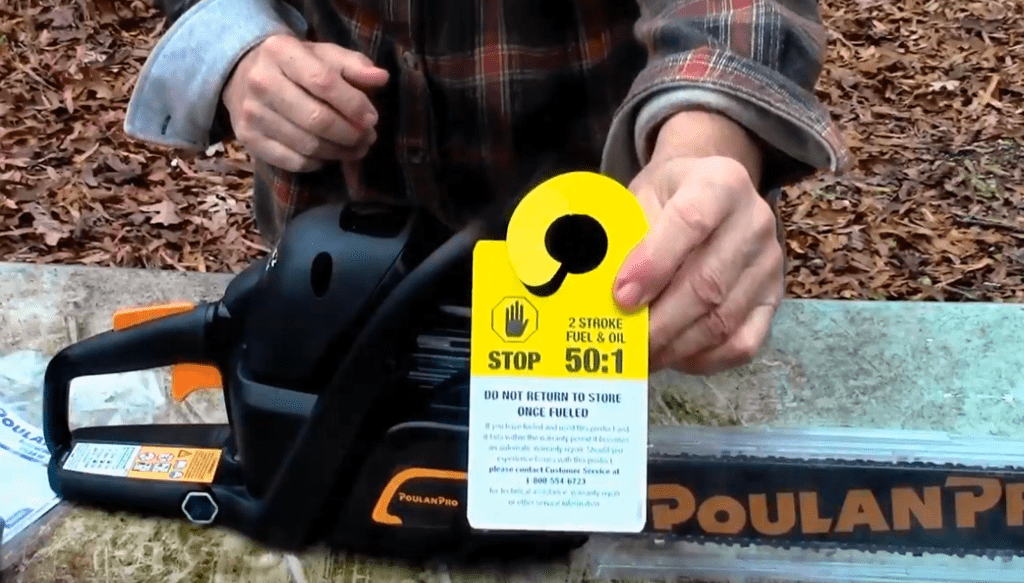 It is frustrating when you lose or break parts on your chainsaw. When this happens, it can be difficult to figure out what part or parts need replacing or repairs. Once you figure out what part you need, finding the right part is not always easy.
This article provides tips to make repairing your Poulan Pro chainsaw as easy as possible.
The most important advice in order to keep your Poulan chainsaw in great condition is to follow manufacturer guidelines for maintenance and always use the best parts and accessories. Keep reading Poulan Chainsaw Parts Diagrams to find all the information you need!
Are you trying to find some general information on chainsaw or other tools? Check out our complete resource guides on Miter Saws, Table Saws, Chainsaws, Band Saws and Circular Saws. These guides have all the information you need. You will be able to find history, the different types of the tool, top brand sold, and more!
Poulan Chainsaw Parts List
Poulan offers detailed parts diagrams for its chainsaws. These diagrams will help you figure out what part has dissappeared or broken. You can find diagrams on the Poulan website and show each part of the chainsaw broken down with the part names and numbers listed.
There are many parts on a Poulan chainsaw that might need replacing or repairs during the life of the chainsaw.
Some of the most common parts that will need replacing over time are:
Chain

The chainsaw chain will dull over time with use.
A dull chain will decrease the performance of the chainsaw and should be replaced.

Fuel Filters

A failing fuel filter will not remove dirt or other debris that might be in the fuel.
Fuel filters should be inspected regularly and replaced at least once a year.

Fuel Lines

Hardened fuel lines can crack or break.
A cracked or broken fuel line can cause a fuel leak and allow air into the engine causing engine problems.

Spark Plugs

If the engine does not start, it may mean bad spark plugs.
Spark plugs may need to be replaced every few years.
The spark plug must be removed in order to inspect it.

Air Filters

The air filter prevents dirt, dust, and debris from entering the engine.
Debris can plug the carburetor, making the saw run poorly (or not start at all).
Air filters should be checked frequently and replaced every year.

Carburetors

Can easily be clogged by any debris that gets past the air filter.
Carburetors may also be damaged if fuel is left sitting in the chainsaw.
A chainsaw will perform poorly or may not work at all if the carburetor is clogged.
Cleaning a clogged carburetor with carburetor cleaner might fix it.
The carburetor will need to be replaced if cleaning the carburetor does not work.

Primer Bulb

The primer bulb, when pushed, pumps fuel into the carburetor, pushing the air out of the carburetor.
The primer bulb will harden and crack over time due to constant contact with fuel.
A cracked primer bulb will not pump fuel into the carburetor, and this will make it hard to start the engine.
Poulan OEM Parts
You may be tempted to buy the cheapest replacement part you can find, which are often aftermarket parts, but it is best to use original equipment manufacturer (OEM) parts. Some aftermarket parts are just as good as OEM parts, but if the price seems too good to be true, it could mean the parts are of poor quality.
42cc Poulan Chainsaw Parts
A popular size of chainsaw used for home yard maintenance is one with an engine power of 42cc (cubic meters). This size is good for small and medium-sized jobs like cutting down small trees and trimming branches in your yard.
A popular Poulan model of this size is the Poulan Pro PR4218
Here are my top picks for replacement parts that you may need for this chainsaw.
Hipa C1M-W26C 545070601 Carburetor + Air Filter Spark Plug Carb Adjustment Tool for Poulan Pro This repair kit includes 1 carburetor, 2 gaskets, 2 primer bulb, 2 air filter, 2 fuel line, 2 fuel filter, 1 spark plug, 1 carb adjustment tool.
Positives about this part:
You are likely to have a part you may need to fix your problem since this kit includes so many parts
Duplicate parts are included for a great price
Negatives about this part:
The air filter that comes with this package may not fit, based on the model you have
Oregon Chainsaw Chain This chain will work with the Poulan chainsaw
Positives about this part package:
You will save some money opting for Oregon over the Poulan brand of chain.
Negatives about this part package:
If you do a lot of cutting, this chain may not last as long as the Poulan brand of chain.
Replacing the Chain on a Poulan Chainsaw
If your chainsaw is getting bogged down when making cuts, it is a sign that you need to replace the chain. You can attempt to file the chain, but with the affordability of chainsaw chains, many people choose just to go ahead and replace the chain.
Common Poulan Accessories to Keep in Stock
In order to keep your Poulan chainsaw running at full speed, be sure to keep fuel mix and oil on hand.
Chainsaws require a mix of fuel and lubricant oil to run smoothly. It is possible to mix your own fuel mix, but buying it already mixed will prevent mixing an incorrect ratio and potentially ruining your engine.
There are several quality premixed fuels on the market. Here are my top picks for price and reliability:
Husqvarna pre-blended fuel
TruFuel pre-blended fuel
The proper ratio for your chainsaw is a 40:1 or 50:1 mix, which are the correct ratios for two-stroke engines.
Most Poulan chainsaws have an automatic oiling system that keeps the chain and bar lubricated and keeps your cuts smooth. A chain that is not oiled properly will need to be replaced more often.
Poulan has its own brand of bar and chain oil. You can also use other brands of oil in your chainsaw. If you do not use Poulan brand, I recommend these brands:
Husqvarna motor oil
Oregon motor oil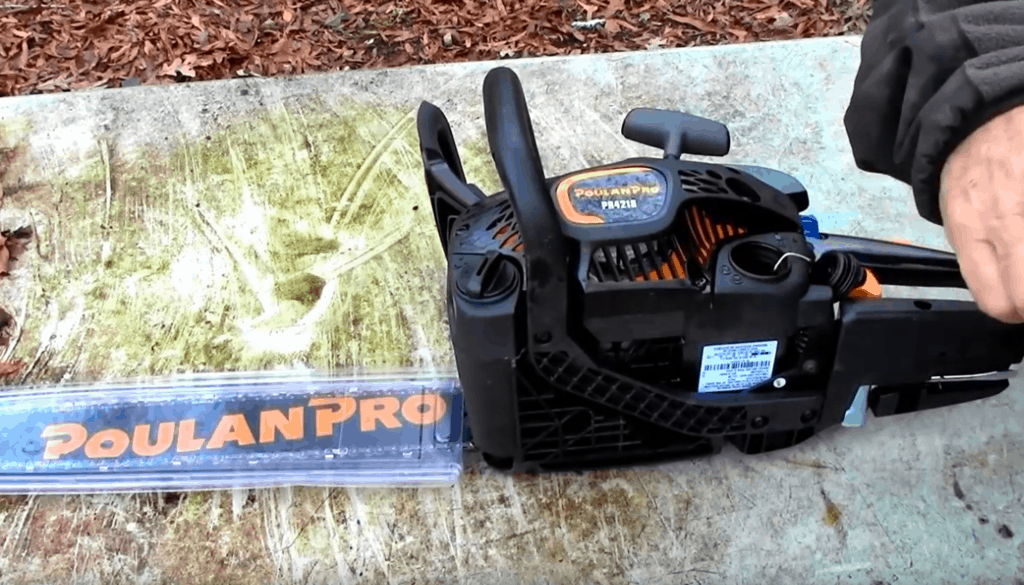 The Best Way to Keep Your Poulan Chainsaw in Great Shape
Whether you shop online or instore, directly with Poulan or from distributors, there are plenty of Poulan chainsaw parts available to keep your chainsaw in prime working condition.
Even if you do not consider yourself a 'fix-it' person, there are plenty of resources that can help you find the right parts and even step by step instructions on how to replace or fix a broken part.
Be sure the parts you buy are either original parts from Poulan or parts from an OEM. Trying to save money by going with a little-known brand selling aftermarket parts may end up costing you more in the long run.
Keeping spare parts and accessories for your Poulan chainsaw on hand will allow you to keep projects on track and help you get the most out of your Poulan chainsaw.
Are you looking for more guides on chainsaws? Check out some of our most popular guides, Best Chainsaw Chaps 2019 – Reviews and Buyer's Guide, Review: Black + Decker LCS1240 12" Lithium Ion Chainsaw, Lowes Chainsaws | Browse Gas, Cordless & Electric, and Stihl Chainsaw Prices: Tips and Reviews.