If you are in the market for a new chainsaw chain, you will want to consider which type of chain best fits your needs. There are standard chains that are specifically designed for non-professional users. There are also specialty chains designed to maximize efficiency.
Are you trying to find some general information on tools? Check out our complete resource guides on Miter Saws, Table Saws, Chainsaws, Band Saws and Circular Saws. These guides have all the information you need. You will be able to find history, the differnt types of the tool, top brand sold, and more!
Here we will guide you to the best chainsaw chain and how to maintain your chainsaw chain and what to look for when you are looking for the right chain for your job.
A Quick Glance:
Chainsaw Chain Sharpener
Portable chainsaw sharpeners such as the Oregon 30846 12-Volt Sure Sharp Chain Saw Sharpener are convenient for sharpening your chainsaw chain out in the field.
The sharpener comes equipped with a 12-volt car adapter and battery clips. It also includes a sharpening angle guide for accuracy.
Other popular sharpeners include the Timber Tuff CS-12V 12-Volt Portable Electric Chain Saw Chain Sharpener.
How to Sharpen a Chainsaw Chain
You do not necessarily need to buy a specialized chainsaw sharpener to sharpen your chainsaw chain. We have done our research and found several methods for sharpening a chainsaw with tools you probably already have on hand:
Filing a Chain By Hand- this is the most strenuous, and cheapest way of sharpening a chainsaw chain.

You will need a handheld round metal file and handheld flat metal file, such as the ones found in this set.
Use the round file to sharpen the cutters and the flat file to reduce depth gauges
We recommend using a bar-mounted filing guide to keep things even.
Begin with the shortest/most-worn cutter so that the rest of the cutters will match it when you're done.
Count the number of strokes you take on each cutter and keep it consistent
Begin at the inside of the cutter and move outwards.
You can find specific instructions on the manufacturer's sites, such as here.

Using a Grinder

We recommend investing in a chainsaw grinder if you will have to sharpen your chainsaw chains frequently.

PowerSharp Sharpening Kits

Kits come equipped with four parts that work together as a system. The four parts include:

The chain itself
A sharpening mount
The guide bar
A sharpening stone
Chainsaw Chain Types
You will find a variety of specialty chains on the market. These chains make your job easier, but if you don't know your way around a chainsaw chain, you won't understand the advantages of one type vs. another. Three common types of specialty chains are:
Low Profile Chain: the cutters aren't as tall as what you normally see on a chainsaw. We recommend these chains for users of low-power saws or electric-saws, which will need less strain to be put on the engine. An example of a low profile chain that we've noticed is quite popular is the Oregon 14" 52 Drive Link ⅜" Low Profile .050" Gauge.
Narrow Kerf Chain: the cutters are narrower on this type chain, meaning they will produce thinner cuts than what you normally see from standard chains. We recommend these chains for users of low-horsepower saws. We've noticed that the Husqvarna H30-72 501840672 18″ is one of the most bought and reviewed chains of this type online.
Ripping chain: these types of chains are what you want if you are planning on milling logs into planks of wood. The cutters on a ripping chain cut at an angle of 10 degrees while the cutters on a standard chain cut at an angle of 30 degrees. This chainsaw supply shop recommends ripping chains manufactured by Oregon, such as the OREGON 72RD084G 84 Drive Link 3/8-Inch
Standard Chainsaw Chains
Standard chains can come with safety features, such as reduced kickback features, for the non-professional user. Features that vary by specific model of standard chain include:
The numbers stamped on the guide bar of the chain
Length or how many drive links the chain has
Pitch: the most common pitches are ⅜" low profile, .325" and ⅜."
Gauge: commonly .050", .058", .063"
We've noticed that the Oregon S62 AdvanceCut 18-Inch Chainsaw Chain is one of the most highly-reviewed standard chains on the market.
Best Chainsaw Chain
When you are buying a chainsaw chain, you will want to consider:
The pitch, or distance between the drive links of the chain
The gauge, or the width of the groove where the chain fits into the bar
You can find more detailed instructions on how to measure the saw for your chain here.
Standard chainsaw chains will come in many different sizes, so you will want to ensure that the chain fits your saw.
When it comes to standard chains, we have found the Oregon S62 AdvanceCut 18-Inch Chainsaw Chain to be among the most recommended by industry experts.
What we like about this chain:
The low kickback design makes it a good choice for the average consumer who is looking to fell a few trees here and there. Low kickback designs are recommended by reputable shop supply companies.
The semi-chisel cutters are round and take longer to dull when exposed to debris. Industry experts recommend semi-chiseled cutters for non-professional users.
In addition to being semi-chiseled, the cutter chain is heat-treated and hard-chromed.
Wrap-Up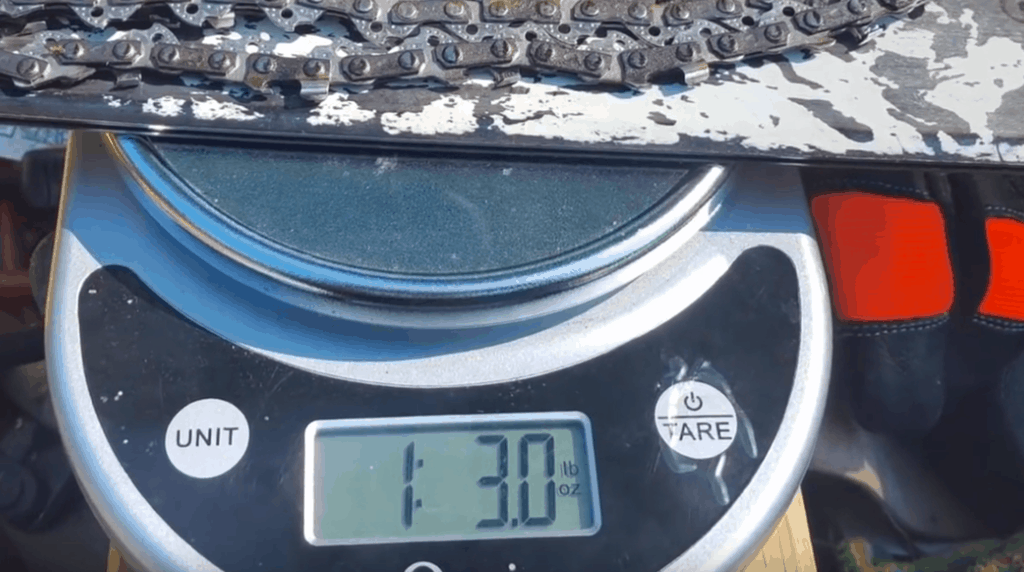 Our top pick among standard chainsaw chains was the Oregon S62 AdvanceCut 18-Inch Chainsaw Chain. The same company also makes a highly-reviewed 16-inch chain.
If you click the links to view the products online, you will be able to scroll towards the bottom of the page where you can find information from the manufacturer, such as the user guide and a product description showing the models of chainsaws that the chain will fit.
If you are looking for a low-vibration chain, the Husqvarna Chainsaw Chain 18″ .050 Gauge .325 Pitch Low Kickback Low-Vibration has that and is also designed with lightweight chainsaws in mind.
Are you looking for low profile chains, we recommend the Oregon 14"  52 Drive Link ⅜" Low Profile .050" Gauge.
If you are looking for narrow-kerf chainsaw chains, we recommend the Husqvarna H30-72 501840672 18″ .
For those in the market for ripping chains, we recommend you take a look at the OREGON 72RD084G 84 Drive Link 3/8-Inch.
Are you looking for more guides on chainsaws? Check out some of our most popular guides, Best Chainsaw Chaps 2019 – Reviews and Buyer's Guide, Review: Black + Decker LCS1240 12" Lithium Ion Chainsaw, Lowes Chainsaws | Browse Gas, Cordless & Electric, and Stihl Chainsaw Prices: Tips and Reviews.