Circular saws are the jeeps of the tool world. They can go almost anywhere and cut almost anything. Standard circular saws do have some limits, though. Since they have a cord, these saws are limited to working in places where there is electricity. They are also on the heavy side if you need to carry one around a jobsite. Enter the DeWalt 20v circular saw! But are these saws still able to cut like a heavyweight? For general information on circular saws, check out Circular Saws.
At a glance our Top Picks for DeWalt 20V Circular Saw:
DEWALT 20V Circular Saw Lithium Ion Kit
The DeWalt 20V 6 ½ inch cordless circular saw is one saw that can match up to corded saws. DeWalt tools are made for contractors, and this saw is no exception. It uses a 6 ½ inch blade running at 5,250 RPM. It cuts 2 ¼ inches deep on 90 degree cuts and 1 5/8 inch for bevels.
Things we like:
Just as powerful as a corded saw
Users report battery life is excellent
Has the cutting capacity and power to handle 2x lumber all day long
Sold as a kit with battery and charger
Things we don't like:
Comes with a 16 tooth blade. This blade is great for framing, but not so good for all-around work
Weighs in at 8.3 pounds, more than any other saw reviewed
Blade is to the left of the handle. Long-time users of traditional circular saws with the blade to the right have may have trouble adjusting to the change.
---
DeWalt 20V Circular Saw 6 ½ Inch Cordless
If you need a lighter saw, check out the DeWalt 6 ½ inch 18 volt cordless saw. At only 6.3 pounds, it is the lightest saw reviewed. It has the same 2 ¼ inch straight and 1 5/8 bevel cutting ability as the 20V DeWalt saw. The motor only makes 3,700 RPM.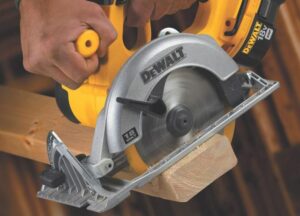 Things we like:
Lightweight saw is easy to take anywhere
Has enough power to cut 2x lumber
Thinks we don't like:
Battery life is limited
Doesn't come as a kit, just as a bare saw
Not as powerful as the 20V DeWalt saw
5 ½ inch blade can't handle materials as thick as the 6 ½ inch saws
---
Ryobi One+ Lithium Ion 18V 5 1/2 Inch Cordless Circular Saw with Laser Guide 
Ryobi makes entry-level tools for DIYers and homeowners. The Ryobi One+ 18V cordless saw is an excellent choice for a light-duty portable saw. The batteries are compatible with other Ryobi cordless tools. It will make 90 degree cuts in material up to 1 9/16 inches thick. The motor operates at 4,700 RPM. It will cut 2x dimensional lumber straight up, but not with a bevel.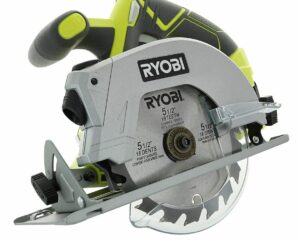 Things we like:
Lowest priced saw reviewed
Plenty of power for an 18v saw
Laser guide lets you see where the cut will go
Things we don't like:
Uses 5 ½ inch blades with at 10MM arbor. These blades are uncommon in America.
No kits with batteries are available; components all sold separately
Lacks the cutting power of bigger saws
---
Makita 18V LXT Lithium-Ion Cordless 6 ½ Circular Saw
Another lightweight saw is the 18v 6 ½ inch cordless LXT circular saw from Makita. This saw operates at 3,700 RPM and cuts material up to 2 ¼ inch thick. At just 6.5 pounds, it is only slightly heavier than the DeWalt 18V saw.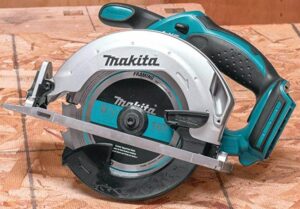 Things we like:
Cuts thick material well without getting bogged down
Machined shoe for making precise cuts
Comes with a rip guide
Things we don't like:
As with other 18v saws, battery life and power are limited
Doesn't come as a kit with battery and charger
More expensive than similar saws
---
Milwaukee M18 Fuel 6 1/2″ Circular Saw, Brushless
If you want a long-lasting cordless circular saw, look into the Milwaukee M18 6 ½ inch cordless circular saw. Milwaukee is another manufacturer of durable, high-quality tools for professional contractors. The motor runs at 5,000 RPM. Its maximum cutting depth is 2 ¼ inches.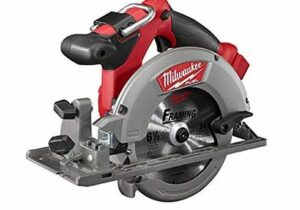 Things we like:
Brushless motor for durability
Good battery life and lots of power for big jobs
Saw comes as a kit with batteries and chargers
Things we don't like:
Blade wrench tends to work its way out of storage slot
Expensive
Like other 18v saws, lacks the power of a corded saw
Advanced Circular Saw Skills
Circular saws are popular because they can make all of the basic cuts needed for woodworking. In the right hands, circular saws are capable of a lot more. With a little practice, you can do advanced joinery work using only a circular saw. Are you looking for a compact circular saw? Check out, the Best Compact Circular Saw 2019.
Cutting Dadoes
One joint you can cut with a circular saw is the dado joint. A dado is a groove cut into a piece of wood that is exactly the width of the board that fits into it. These joints are stronger because they have more surface for glue contact and because the edges of the groove help hold the piece in place. Special dado blades are available to help open the groove.
To cut a dado, carefully mark the two edges of the joint. Set up straight edges along both sides of the cut so that the shoe of the saw will run along the edge and keep the blade between the marks. Set your blade to the depth called for in the plans. The blade depth should be no more than half of the thickness of the lumber. Start sawing and guide your saw back and forth down the groove to chip out all the material.
Our Pick
If you are ready to grab a saw and get cutting, our pick is the DeWalt 20V 6 ½ inch cordless circular saw. This saw has all the power of a 7 ¼ inch corded saw in a little package. Unless you frame houses every day, it is the only circular saw you will ever need. If you are on a budget, the Ryobi One+ 18V cordless saw is a great choice. It is a good saw at a great price. Are you looking for a cordless DeWalt circular saw? Check out, Best DeWalt Cordless Circular Saw: Our Top Picks.