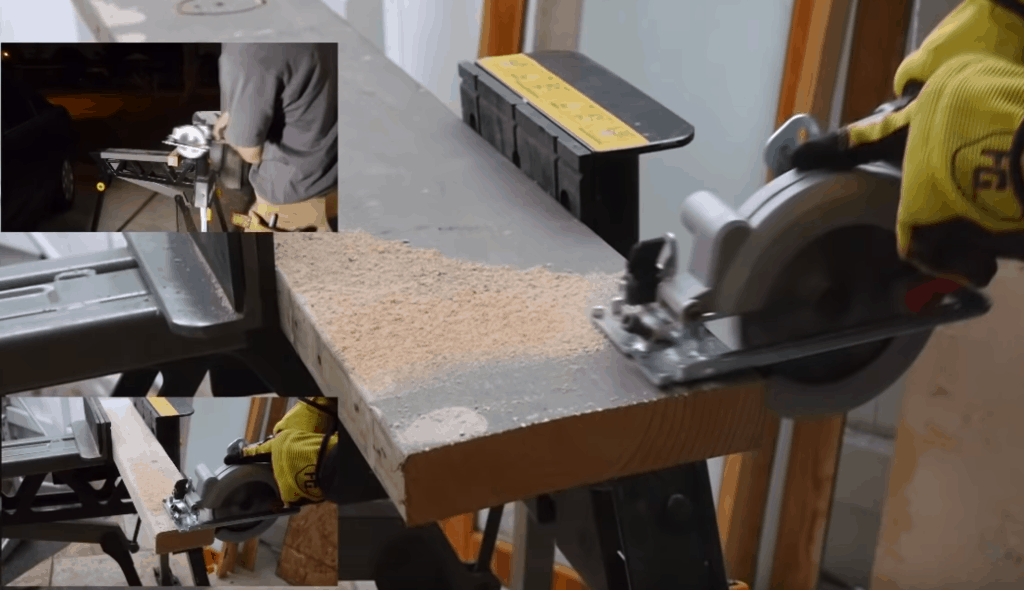 Mini circular saws are a good power tool to have in your woodworking arsenal. They can be used for a variety of different cuts in confined spaces, or with small pieces that might be awkward on a larger table saw setup. There are many mini circular saws available on the market. So read on to find the best mini circular saw in 2020.
Are you looking for some general information on circular saws or other tools? Check out our complete resource guides on Miter Saws, Table Saws, Chainsaws, Band Saws and Circular Saws. These guides have all the information you need. You will be able to find history, the differnt types of the tool, top brand sold, and more!
Mini Circular Saw Reviews
Checking out consumer reviews when purchasing a power tool is a vital part of the process. This stands even if you're just a novice woodworker or an industry professional.
Besides giving you a chance to check all of your options, it also lets you see what other consumers have said about potential drawbacks that might prevent you from choosing a certain saw.
Rockwell Mini Circular Saw
Rockwell has been a name in power tools for decades. Their corded mini circular saw offers the same precision afforded by their larger power tools in a more compact package. This saw offers powerful cutting action as well as a three-year warranty.
What We Like
Quality rip fence: The rip fence on this saw makes getting a precise cut easy, even on smaller jobs.
Good grip size for smaller hands: Those who find larger saws difficult to use or unwieldy will probably be more comfortable wielding this mini circular saw.
Portable and durable: This is a great little tool for carrying with you out of the shop for on-site work. It can handle regular use without burning the motor out.
What We Don't Like
3/8th arbor size: This non-standard arbor size can make finding aftermarket fittings and custom rigs difficult.
Flimsy locking screw: Several consumers have complained about a defective bolt securing the blade that can shear off. This causes the blade to fall out. This may only be an issue in a few units, but it's still a safety issue to watch out for.
Not designed with left-handed people in mind: The design of this saw makes it almost impossible for left-handed people to use due to the location of the safety switch and other controls.
---
WORX WorxSaw Compact Circular Saw
WORX may be a Chinese line of power tools (under the Positec Tool Corporation originating out of Suzhou), but don't let that fool you into thinking that their products are shoddy or cheap. These mini circular saws are reasonably priced and are sturdy for their size. They're crafted with high quality materials.
What We Like
Dust port: This circular saw features a dust port for shop vac integration. This is crucial if you want to avoid having to sweep down your entire workshop every single time you saw something.
Good cutting power: Despite the small size of this circular saw, it is capable of making some decent cuts that are acceptable for the amount of money you're paying.
Economical price point: This is one of the less expensive circular saws you'll find, so if you're a spendthrift wanting to add some versatility to your shop with as much bang for your buck as possible, this saw is a good choice.
What We Don't Like
Slow cuts: Despite the fact that this saw is powerful for its size, it isn't as powerful as a full-sized circular saw, which means it does make cuts at a slower pace.
Tends to bind: When cutting on thicker pieces, this circular saw can get bogged down. For thinner materials such as plywood this saw is a good choice, but not for larger, thicker pieces
of wood.
Awkward handling: The switch position on this saw is not ergonomic to handle, and it can cause significant hand fatigue after a short period of use.
---
TACKLIFE Mini Circular Saw
TackLife is a fairly young tool company, having been founded recently in 2015 by a small team of dedicated craftsmen, but their tools have been well-reviewed and popular in the years TackLife has been producing them, including this mini circular saw.
What We Like About It
Good for detail work: The small size of this saw makes it suitable for finishing work with thinner wood pieces.
Laser guide accessory: This circular saw features a laser guide that aids the woodworker in making precise, even cuts.
Comes with a variety of blades: This saw comes with a variety of blades suitable for cutting wood, tile, plastic, PVC, and soft metals. The TackLife has real versatility when it comes to cutting a wide array of thin materials.
What We Don't Like About It
On/off switch is awkward: The on-off switch can be somewhat difficult to use because of the positioning of the safety interlock.

Weak against thicker materials: You're not going to be able to cut thick, heavy pieces with this saw, it is meant more for plywood and other sheeting-width cutting jobs.
Heavy design: The heavy construction of this saw may make it durable, but it also makes it more difficult to use one-handed.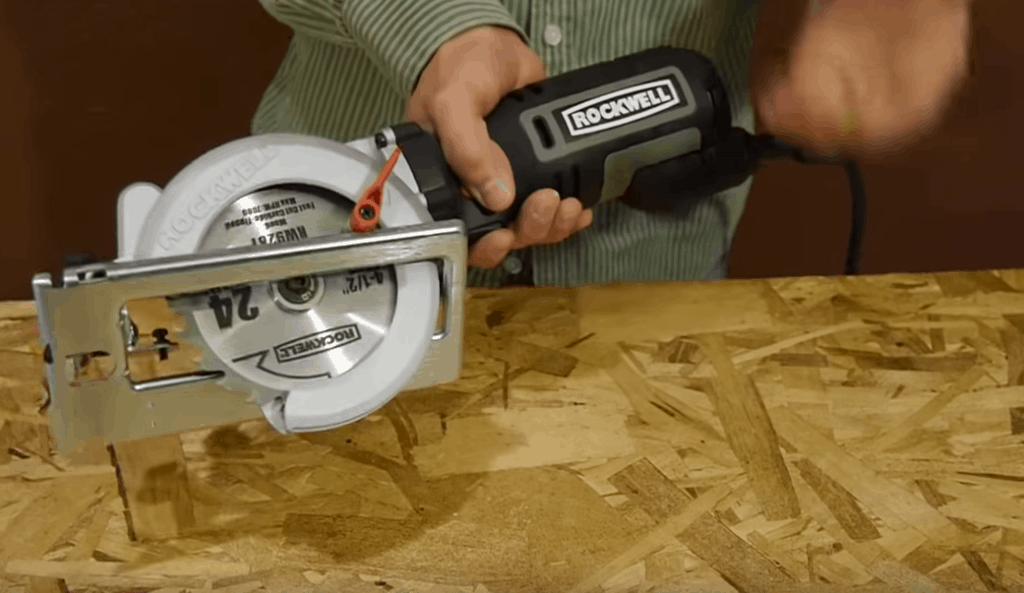 Choosing a Cordless Mini Circular Saw
You might be tempted to choose a cordless mini circular saw over a corded version, and with good reason. Going cordless affords a woodworker a lot more agility in the shop, and the ability to cut in very confined areas, especially with a miniature saw. 
Cordless mini circular saws can also be easily used in areas without an electrical hookup, such as houses that are still under construction. This is a useful ability for those woodworkers who have to work out on a job site rather than a home workshop.
There are also advantages to choosing a corded mini circular saw, however. Corded saws tend to be a bit more powerful than their cordless counterparts, and a corded power tool can keep going as long as you need to work, while a cordless saw will have to be recharged at some point.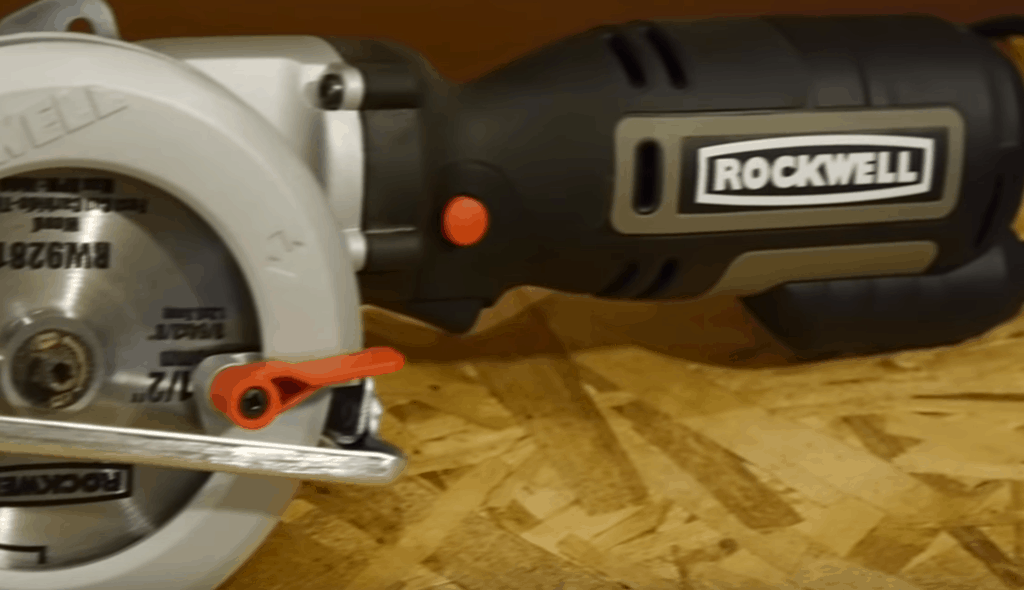 Best Mini Circular Saw
The best mini circular saw for you is going to depend on many individual factors, such as where you intend to use the saw, how much upper body strength you have, and what kind of projects you need the saw for.
With a little research, you should be able to find a mini circular saw that will fill all your finishing needs in the workshop.
Are you looking for more guides on circular saws? Check out some of our most popular guides, Best Circular Saw Blades – Buyer's Guide, Lowe's Circular Saw Buying Guide, ROTORAZER Compact Circular Saw Review, and Best Cordless Circular Saw: Which Saw Should You Buy?