Most woodworkers love working with robust miter saws since these types of saws make clean cuts, and also help you get your pieces to your exact specifications. Most miter saws are specialty tools mounted on stable arms and help a woodworker make more accurate and precise cuts. As is the case with most products, some brands of miter saws are better than others. One of the best and most renowned miters saw manufacturers on the market today is Dewalt, and Dewalt's compound miter saws are certainly worth reviewing.
Below we'll cover some Dewalt compound miter saws and we'll give you more perspective on the Dewalt brand in general. That way, you'll get the information you need and find the best DeWalt compound miter saw in 2020.
Are you looking for some general information on table saws or other tools? Check out our complete resource guides on Miter Saws, Table Saws, Chainsaws, Band Saws and Circular Saws. These guides have all the information you need. You will be able to find history, the different types of the tool, top brand sold, and more!  
A Quick Glance:
Last update on 2023-12-06 / Affiliate links / Images from Amazon Product Advertising API
The Best Dewalt Compound Miter Saws
To help save you a bit of time searching around for the best Dewalt compound miter saws available on the market today, we created the helpful guide below. We'll cover the features and benefits of owning some of the top choices in Dewalt compound miter saws, and then we'll tell you more about the Dewalt brand and reputation.
Dewalt Compound Miter Saw DW705 20V
If you're looking for something lightweight and fast, then Dewalt's Compound Miter Saw DW705 20V might be the product for you. With this product, you'll get quality Dewalt compound miter saw parts, including an adjustable stainless-steel miter detent plate. That plate also gives you eleven positive stops, which will help make you more efficient and accurate simultaneously. Plus, you'll also get an oversized bevel scale, which means making bevel angle adjustments will be faster and more precise with this product.
This miter saw also comes with a lightweight design and weighs only thirty pounds. That makes it easy to transport and store this miter saw. Or, you can keep this miter saw placed on a Dewalt compound miter saw stand since it will be easy to move and put on the stand.
Things we like:
Adjustment-free cut line makes cutting more accurate
Lightweight
Comfortable handle that makes cuts precise
Adjustable stainless-steel miter detent plate.
Things we don't like:
Machine could offer more durability.
Dewalt Compound Miter Saw DW715, 15 Amp
If you want something that's got a bit more power and durability behind it, then you'll probably love the Dewalt Compound Miter Saw DW715, 15 Amp. This miter saw gives you 15 amps of power with its 4,000 RPM motor. We also love the miter detent plate on this saw, since it's also designed to make your cuts more efficient and precise. You'll get an adjustable stainless steel miter plate with this product that offers fourteen positive stops, which is a bit more than the DW705 mentioned above.
Another positive feature this saw offers is the miter detent override, which means you can override the miter stops and then easily modify your settings without slipping the saw. You'll also get a full array of parts with this saw, including a carbide blade, vertical clamp, dust bag, blade wrench, and the comfy side handles provided by the miter saw. 
Things we like:
Machined base fence for cutting accuracy
14 positive stops
Easy to modify and adjust settings for accuracy
Durable
Things we don't like:
Saw may feel heavy or slow to some. 
Dewalt Compound Miter Saw DWS780
Another excellent option in miter saws is the mighty Dewalt Compound Miter Saw, DWS780, for those of you who need a very powerful and durable miter saw. This robust saw provides you with an innovative gearbox and belt drive, which helps allow you to make vertical cuts with more ease, accuracy, and precision. Plus, this miter saw also features the XPS cross-cut positioning system, which means you have free cut line indications without modifying the saw.
You'll also get plenty of power with this motor, which gives you 15 amps and 4,000 RPMs of power. We also love the adjustable stainless-steel miter detent plate that comes with this saw, too. With it, you'll get ten positive stops, which helps bring up your efficiency.
Things we like:
Powerful and durable
XPS cross-cut positioning system boost accuracy
Free cut line indications
Adjustable stainless-steel miter plate
Things we don't like:
Expensive
Could use more than ten positive stops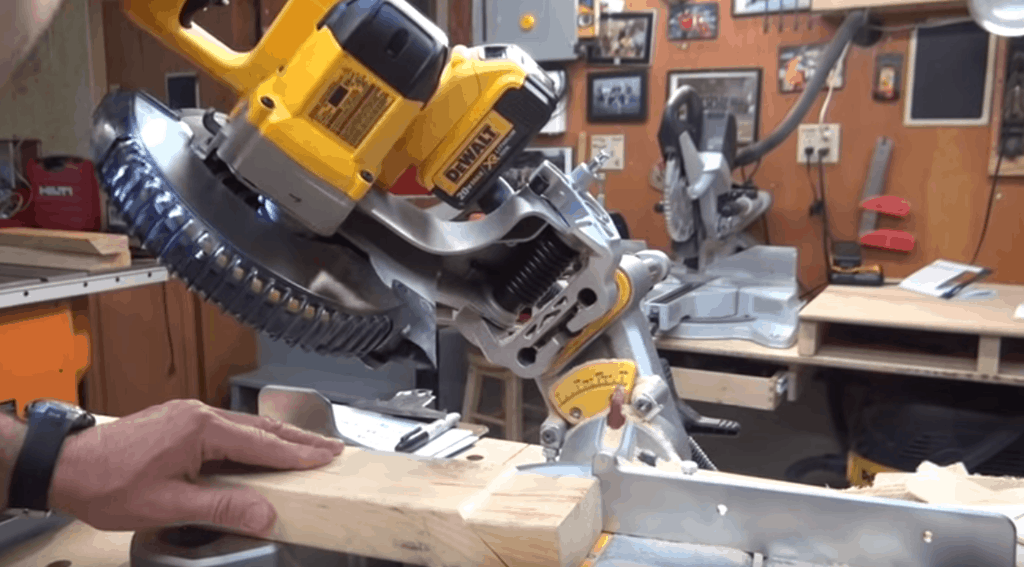 Benefits of the Compound Miter Saw
Compound miter saws are standard woodworking tools for several reasons. The miter saw offers many benefits, including being easy to use, saving time, providing different types of angles, improving the quality of your cuts, and improving precision and accuracy. Below we'll give a brief overview covering why the miter saw is so prevalent in woodworking today.
Ease of Use
Compound miter saws are designed to be so simple to use, a person that's never operated a saw before in his or her lifetime should still be able to perform the saw with a few simple directions. Since all miter saws arrive with instructions manuals that cover how to operate the saws, you'll be able to get going with a miter saw even if you've never used a saw before.
Time-Saving
Compound miter saws also save plenty of time when you are woodworking. You'll be able to cut things quickly using the shortest space of time possible in the industry when you utilize a compound miter saw. Compound miter saves also help make broader cuts when compared to other types of saws, helping to increase your efficiency.
Make Different Types of Angles
Another benefit if the compound miter saw is the fact that you'll be able to make several different types of angles quickly with this saw. That's very different from most other saws, which usually make you use the woodcutter when cutting the necessary angles.
Quality of Cuts
With a compound miter saw, you'll also make a better quality of cuts when compared to other types of saws. Compound miter saws are renowned for their smooth cuts on all kinds of materials.
Precision and Accuracy
Miter saws are also week-known for increasing the accuracy and precision of your cuts. Because a compound miter saw is a higher-quality saw, you'll get better and more efficient performance from this type of saw.
The DeWalt Chainsaw Company Brand
Back in 1923, Raymond E. DeWalt started the DeWalt Chainsaw company brand following his invention of the radial arm saw. The company grew and was reincorporated in 1947 as DeWalt, Inc. By 1960, Black & Decker had purchased the brand. By 1992, Black & Decker started using the DeWalt name to rebrand their tools with a hint of professional quality as a higher-end product.
Since its founding back in 1923, the DeWalt brand has always emphasized innovation and supporting inventors. You can find an "Invention Submission Form" on DeWalt's website today if you've got any great ideas for new products.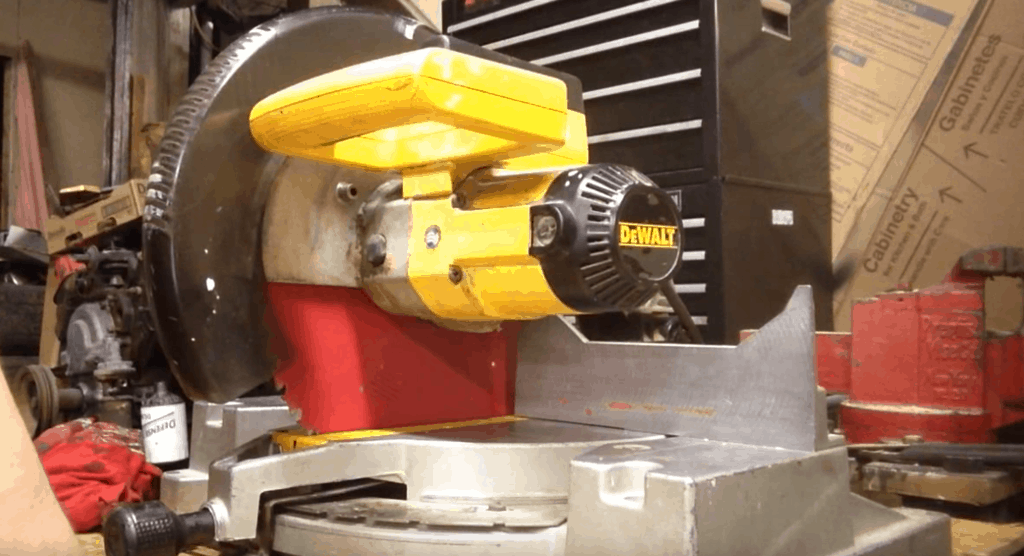 Wrap-Up
Depending on what you need in a compound miter saw, purchasing one of our DeWalt options should cover everything you need. If you need a lighter, cheaper miter saw and you're not overly concerned with power and durability, and you are shopping on a budget, then we recommend Dewalt's Compound Miter Saw DW705 20V. However, if you need a compound miter saw that's a bit stronger, but still on the more affordable end of things, then we'd suggest getting the Dewalt Compound Miter Saw DW715, 15 Amp. 
However, if you're after something that's got a little more power and budget isn't an issue for you, then we'd suggest purchasing the Dewalt Compound Miter Saw, DWS780. So, now that you know about these saws, it's time to get out there and buy a DeWalt Compound Miter Saw today!
Are you looking for more guides on miter saws? Check out some of our most popular guides, Best Ryobi Miter Saw 2019: Which One Should You Buy?, Home Depot Miter Saws Buying Guide: Our Top Picks, Best Chicago Electric Miter Saw – Buyer's Guide, Best Bosch Miter Saw: See Our Top 3 Picks, and Miter Saw – Everything You Need To Know.