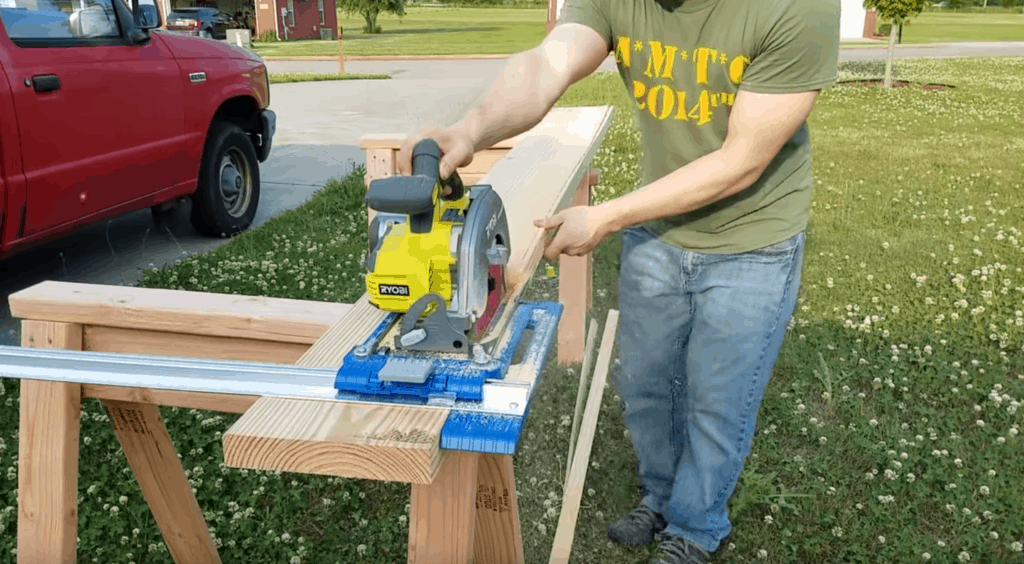 A circular saw is often the first power saw new woodworkers buy. You can do a lot with a circular saw, but it can be difficult to get really precise cuts with a hand-held circular saw. Once you start making more complicated projects, you will need more precision than a hand-held saw offers. Table saws are another option and are more precise, but they can be expensive.
Is there a way to get table saw performance from a circular saw? To get more precision from a circular saw you can use jigs and guides. They provide improved precision with a circular saw. These tools let you get perfect cuts that are straight and square from end to end. They don't turn your circular saw into a table saw, but they allow you to get table saw results from a circular saw.
Read on to find the best circular saw table in 2020 and to learn more about them.
Before we begin, are you looking for some general information on circular saws or other tools? Check out our complete resource guides on Miter Saws, Table Saws, Chainsaws, Band Saws and Circular Saws. These guides have all the information you need. You will be able to find history, the differnt types of the tool, top brand sold, and more!
Circular Saw Table Saw Adapter
There are lots of attachments that you can add to a circular saw to get precision cutting. Prices for these attachments range from the cost of a movie ticket to the cost of a new table saw. Here are the details on some that we researched.
Milescraft Saw Guide
The saw guide from Milescraft fits most circular saws, and it fits jigsaws too. It acts as a rip fence attached to the shoe of the circular saw. It slides down the edge of the board and keeps the blade running at the correct distance from the edge. You can extend the saw guide up to six inches out from the blade. It is marked in increments of 1/16 of an inch.
Things we liked:
Nice price. This guide is cheaper than a movie ticket.
Flexible – it works with both circular saws and jigsaws.
It can also serve as a circle guide with a jigsaw to get perfect circles up to nineteen inches in diameter.
Things we didn't like:
The six-inch depth limits your ability to rip big pieces of plywood.
Not the sturdiest tool.
Best for:
Keep this in your toolbox for working away from the shop. It's not a heavy-duty tool, but it is much more portable than a table saw or even a large rip fence.
---
Kreg Rip-Cut Circular Saw Guide
Kreg's rip-cut circular saw guide works on the same principle as the Milescraft, but it's a more serious tool. This rip guide extends up to twenty-four inches and uses a machined aluminum bar to hold everything together.
Things we liked:
Big enough to rip plywood in half lengthwise.
Sturdy aluminum and impact-resistant plastic is durable and resists bending or warping.
Compatible with other Kreg guides and parts.
Things we didn't like:
Takes practice to use correctly.
Some users report it's easier to cut straight lines freehand than with the guide.
Best for:
This rip guide is good for folks who want to increase cutting precision without breaking the bank, or for woodworkers who are all-in on the Kreg jig systems.
---
DCT Aluminum Pro Grip Clamp Straight Edge Wood Cutting Table Saw Guide, 50in
Unlike the previous two products, the DCT pro grip straight edge clamps to the wood rather than the saw. This guide is a long bar of aluminum that clamps across the surface of a sheet of plywood to provide a straight edge to guide the saw cut.
Things we liked:
Gives a perfectly straight edge for making cuts across large sheets of plywood.
Machined aluminum for durability.
Works with routers and jigsaws as well as circular saws.
Things we didn't like:
Some users report the clamping power is limited, so the straight edge can slip if you're not careful.
Not part of a bigger system, so you can't add any more capability later.
Best for:
People who need a straight edge. This is a simple system that gives you a perfectly straight edge to guide cuts. It takes a little bit of thinking to get it spaced correctly from the cut, but it will give you a perfectly straight cut every time.
---
Kreg Accu-Cut 48-Inch Guide Track System with Rip-Cut 24-Inch Precision Edge Guide
This is the big one. The Kreg Accu-Cut guide track system includes the twenty-four-inch edge guide with a clamping rip fence. It also includes a saw sled that bolts to the bottom of your circular saw to keep aligned perfectly with the edge guide or rip fence. You can buy each of the pieces from Kreg individually or buy everything at once.
Things we liked:
This is the closest thing you can buy to a conversion kit for a circular saw.
Has the parts to allow you to make rips or crosscuts on full-sized sheets of plywood or any length of lumber.
Anti-slip coating keeps it still on the workpiece without spending time clamping.
Things we didn't like:
Kind of expensive for a workaround tool.
Doesn't offer the precision of a true table saw.
Some users report that the quality isn't as good as other Kreg tools.
Best for:
Woodworkers who don't have the space for a table saw, or folks who break down lots of plywood.
Circular Saw Table Mount
If you are serious about turning your circular saw into a table saw, there aren't any commercially available products to help you. You'll have to build the conversion yourself. There are plenty of plans available on the internet.
Things we liked:
This is the only way you can get true table saw performance from a circular saw.
Potentially cheaper than buying a table saw if you have the right materials laying around.
Things we didn't like:
Using a circular saw as a table saw disables the safety features of the circular saw without adding the safety features built into a store-bought table saw.
A shop-made wooden table is unlikely to give you the same precision as machined steel and aluminum.
Potentially more expensive than buying a table saw if you don't have the right stuff handy.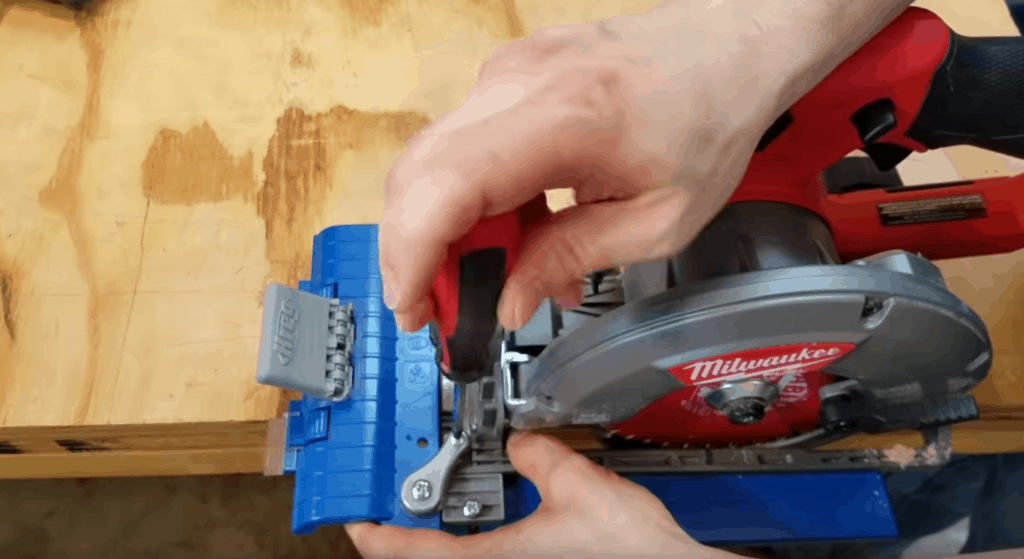 The Bottom Line
If you need more precision from your circular saw, we recommend the DCT pro grip straight edge. It is reasonably priced, and it will give you perfectly straight cuts every time. There is a little bit of a learning curve when it comes to setting it up, but once you figure that out, you will be all set.
We definitely don't recommend building your own table saw from scratch. You will be better off either using jigs and guides to improve your circular saw, or just biting the bullet and getting a real table saw. Woodworking can be a lot of fun if you have good tools, but it can be dangerous when you misuse tools.
Look into the jigs and guides listed here and find one that works for you. Just moving up from freehand cutting to using a solid guide will make a huge difference in the precision of your cuts. Get out to your shop and try it out today!
Are you looking for more guides on circular saws? Check out some of our most popular guides, Best Circular Saw Blades – Buyer's Guide, Lowe's Circular Saw Buying Guide, ROTORAZER Compact Circular Saw Review, and Best Cordless Circular Saw: Which Saw Should You Buy?