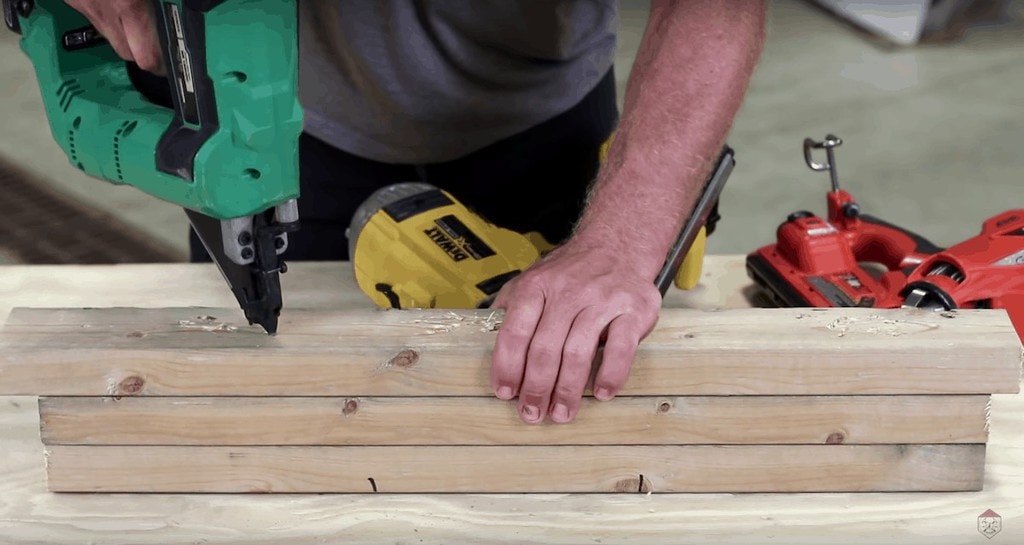 If you've used a nailer in the past, you've likely grown accustomed to its limitations. Traditional nailers are severely limited in their maneuverability and accessibility, primarily because of the cord that's attached.
With corded nailers, you can only go as far as the cord allows. Fortunately, manufacturers have begun producing cordless nailers to help address this problem.
If you're shopping for a cordless nailer, there's a strong chance that this is the first one you've ever purchased. When browsing online or through your local hardware store, you could find the number of cordless nailers available overwhelming.
Fortunately, we're here to help. Below, you'll find a cordless nailer buyer's guide. Not only will you find the best products available on the market today, but you'll also find a few of the criteria with which you should be most concerned when making your purchase.
Best Cordless Nailers of 2019
There are dozens of cordless nailers available on the market today. We tested numerous products and came up with the five best nailers you see below. If you're looking to purchase a cordless nailer, we highly recommend starting with these five products.
Our Top Reviewed Cordless Nailers
1. PORTER-CABLE 20V Max Lithium 18GA Cordless Brad Nailer
If you're looking for a cordless brad nailer, you'll want to consider this option from PORTER-CABLE. The product does not require you to use a compressor or power cord. Instead, the entire tool is battery-operated. You'll no longer have to purchase a compressor or gas cartridges to operate your nailer.
The company offers this nailer in different bundles. For instance, if you wish to buy the product with one battery, you'll pay about $180. If you want to purchase the nailer with two batteries, you'll pay around $235. And if you wish to buy the bare tool without any batteries, you'll need to pay about $110.
The battery that's included is a 20V MAX Lithium-ion battery. During testing, we found that this battery had extended durability and that it lasted longer than NiCAd options. Additionally, PORTER-CABLE added numerous features into this product design that help it stand out from competitors, including a tool-free release lever and depth adjustment wheel.
This was also one of the lightest products that we tested, weighing less than six pounds. The product measures 13.88" x 5" x 12". A charger and belt clip come included with this product. Additionally, the company offers a three-year warranty on all parts and workmanship.
What We Like
Consistent driving depth
Lightweight and portable
Different battery options
20V battery is powerful
What Could be Better
The max magazine capacity is 100 nails
Some customers said that the battery life became inconsistent after a while
2. VonHaus 18V Lithium-Ion Cordless 18-Gauge Brad Nailer with Staple Kit
If you're looking for an affordable cordless nailer, you'll want to consider this option from VonHaus. The battery is not as durable as some of the others on our list, as it is only 18V compared to other 20V options. However, the product is quite affordable, available for about $90.
This product is best when you're working with softwoods. It likely isn't powerful enough for hardwoods. But, if you're not looking to break the bank on an expensive cordless nailer, then this should be a suitable option.
This gun fires 18-gauge nails and staples. VonHaus also included an anti-jam mechanism that allows for uninterrupted nailing. We also liked that this product came with a contact safety switch, preventing accidental firing.
This cordless brad nailer comes with a charger and lithium-ion battery. It measures roughly 12.2" x 11.8" x 4.2". It's a bit heavier than some of the other options on our list, weighing a bit more than 7.5 pounds.
What We Like
Quite affordable
Versatile, with the ability to shoot both brads and staples
Anti-jam mechanism
What Could be Better
The product is a bit heavy
The battery could be stronger
2. Ryobi ZRP320 ONE Plus 18V Cordless Lithium-Ion Brad Nailer
The ZRP320 One Plus Cordless Brad Nailer from Ryobi is another excellent option. You can purchase this product on Amazon for about $100. However, the product does not come with a battery or charger. You'll need to buy these items separately, which could drive up your cost.
One of the features that stands out most about this product is the dry-fire lockout. Were a nail to become jammed, this device will prevent a dry-fire. The dry-fire feature could increase the longevity of your product considerably.
We also liked this product because it came with a low-nail indicator. It was easy to see when our magazine was running low and when we needed to reload nails in the gun. The product measures 14" x 11.7" x 7.5" and weigh about 6.5 pounds. It comes with a 90-day limited warranty.
What We Like
Dry-fire lockout increases the longevity of the product
Low-nail indicator makes it easy to see when you need to reload
Powerful enough to work with baseboards
What Could be Better
No battery included
Short product warranty
3. Freeman PE2118G 18-Volt 2-in-1 12-Gauge Cordless Nailer and Stapler
If you're looking for a product that will double as both a nailer and stapler, you'll surely want to check out this product from Freeman. The package, which you can purchase for about $170, comes with a cordless device along with two lithium-ion batteries. It also comes with a blow-mold case, 1,000 fasteners, and a quick-charging base.
The product is versatile, working with both 18-gauge brad nails and narrow crown staples. Users will find that they can switch quickly from bump-fire to single-fire modes, thanks to a control switch on the side panel of the device.
Users will also find that this product is safe to use, thanks primarily to its two-stage safety trigger and work-contact element. The product also comes with two side work lights, making it easy to see in hard-to-reach areas.
The battery on this product is 18V. The product measures 10.8" x 3.8" x 11.2" and weighs a bit more than six pounds. The magazine on this cordless gun and stapler can hold an astounding 500 rounds.
What We Like
The product comes with two batteries
Versatile as a nailer and a stapler
Freeman stressed safety when creating this product
Holds a 500-round magazine
What Could be Better
The one-year warranty is a bit less than others on our list
There are no anti-jam features
4. DEWALT DC619K XRP 18-Volt Cordless 16-Gauge 20-Degree Angled Finish Nailer Kit
If you think that you're going to use your cordless nailer frequently, you're going to want to invest in a high-quality product. If this is the case, there's no better option than the DEWALT 18-Volt Cordless Nailer Kit.
The product is a bit expensive, costing around $285. However, DEWALT is one of the most trusted names in the construction industry, and the purchase could be well worth your while. During testing, we found that this product consistently penetrated both hard and soft joints.
This product also stood out because of its two operating modes, sequential and bump. Users will find that these two modes will provide them with both access and speed.
We also liked that this product came with an easy-access nosepiece, allowing users to remove jammed nails easily. Furthermore, there is a contact trip lock-off that disables the trigger when you are not using the gun.
The gun comes with an 18V battery that charges in an hour. The product measures 12.8" x 4.2" x 12". It is the heaviest item on our list, checking in at nearly 8.5 pounds.
What We Like
The full kit provides you with everything that you need to complete your project
The product is built to last
Rapid charging allows you to complete a project in no time
What Could be Better
Cordless Nailers: What You Need to Know
If you're looking to purchase a cordless nailer, there are a few things that you should know. The following criteria are most critical when buying a cordless nailer.
Price
Cordless nailers are a luxury, not a necessity. They can be quite expensive compared to other nailers. Before buying a cordless nailer, we recommend setting a price limit. Don't allow yourself to go over-budget. You can still find a quality cordless nailer even if your budget is less than $100.
If you're not going to use your nailer frequently, it may not be worth it to invest in an expensive model.
Safety
Cordless nailers drive nails and brads out at a high rate of speed, which means safety is of the utmost importance. Be sure to look for safety features when browsing products. Many of the best cordless nailers offer some type of trigger safety, which prevents the gun from deploying when not in use.
Preventing Jams
Unfortunately, nail guns can jam frequently. Not only is this frustrating, but it could cause considerable project delays as well. To prevent this from happening, you should look for cordless nailers with anti-jams features. These may not be fool-proof, but they're a nice layer of protection to help ensure your cordless nailer remains functional.
Straight or Angled
The last thing you'll want to consider is whether the device is straight or angled. You don't always need to drive nails in at an angle. If you drive nails in correctly, they will hold flush even if you push them in straight. We recommend only investing in an angle cordless nailer if it's completely necessary for your project.
Frequently Asked Questions
What's the difference between a brad nailer and a finish nailer?
When browsing our list of the best cordless nailers, you'll find both brad nailers and finish nailers. A brad nailer does not use nails. Instead, it uses "brads," which have a thinner gauge. Brad nailers do not have the same holding power as a finish nailer.
How vital is magazine capacity?
When browsing cordless nailers, you'll find that the magazine capacity can alter drastically. Some nailers hold 100 nails, while others can hold 500. The difference comes down to accessibility and convenience. If you have a large project, you may find that you're going to replace your magazine frequently if your product holds 100 nails.
Is sequential firing necessary?
When a cordless nailer has a sequential firing option, you can hold down the trigger to "bump-fire" your nails. This is an added feature, but you should not consider it a must-have when browsing cordless nailers. Most carpentry projects will not require sequential firing.
Which Cordless Nailer is Best?
If you are looking to purchase a cordless nailer, there's no need to be overwhelmed. Hopefully, you found the information in our buyer's guide beneficial. While we feel that all five of the products that we listed are worth your consideration, we feel that there's one product which stands out above the rest.
If we had to pick the single best cordless nailer, we would have to go with the Cordless Brad Nailer from PORTER-CABLE. This product stood out to us for a few reasons.
First and foremost, the product was incredibly lightweight, something that is a must-have when you're taking a nailer with you on the go. Second, the product comes with a three-year warranty. Of the other products that we reviewed, not a single one had a warranty greater than a year.
We were also impressed by the strength of the lithium-ion battery. While all of the other options on our list had 18V batteries, the PORTER-CABLE product has a 20V battery. This could not only provide more power to your nailer, but it could allow it to last longer as well.
Lastly, the PORTER-CABLE product stood out because of its buying options. Customers could purchase the device with up to two batteries. We liked the flexibility that this granted customers when making their buying decision.
Our Top Pick Cordless Nail Gun
However, all of the products that we listed are high-quality options worthy of consideration. No matter which option you choose, you'll be well on your way to completing your next DIY project.