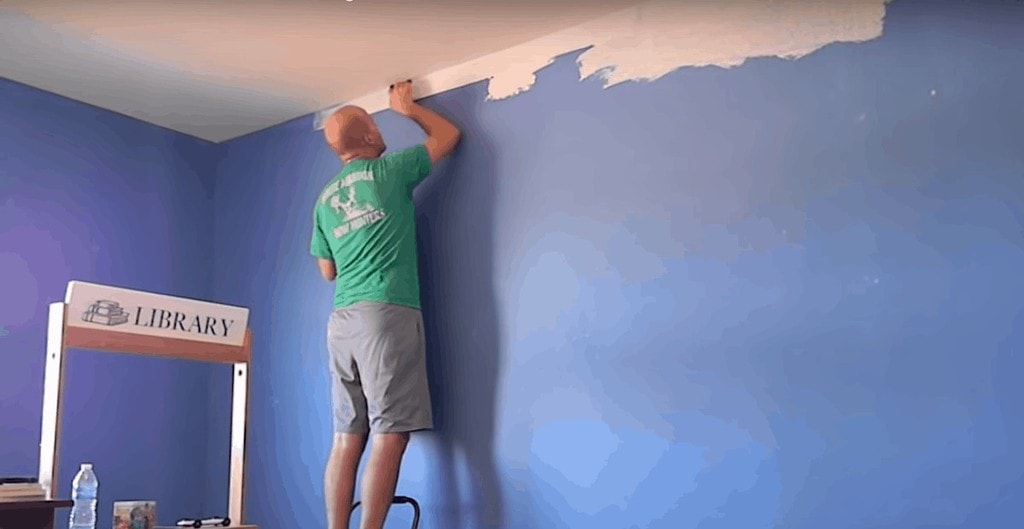 There's nothing more noticeable than a botched paint job. Having the best paint edger tool available to you can relieve the stress of having that happen.
If you enjoy painting or if you paint for a living you need the ideal tools for the job. That includes not just your paint brushes and rollers, but edgers as well.
Edgers allow you to get in really close where you need to be for the painting job. When you get into a corner, you can easily get the paint in there without having to 'cut-in' which takes time and practice. For a lot of at home painters and DIYers, this is the way to go.
Edgers make your life easier – plain and simple. Here's our list of the best paint edger tools currently available to you on the market, no matter the size of caliber of the job. Let's take a look.
​Best Paint Edger Tool Choices
Accubrush MX Paint Edger
​This 11 piece set is designed to help you cut-in directly to the edge of anything you need. It comes with 4 rollers as well as 4 brushes and the tool itself so you have plenty to help you get the job done.
Even better, the rollers are entirely washable and reusable so you don't have to worry about what to do the next time you need to do some painting.
There's a shield on the side of the unit which keeps you from getting over where you want to be and there's a 30-day money back guarantee that says you're going to love the way it works for you.
All you need to do to use this edger is fill the paint roller edger with paint and go. Push down firmly and it's going to give you the perfectly painted surface that you're looking for.
The plastic shield is great for covering up the corner and the side of the wall and the comfort grip makes it easy for you to continue to work even for extended periods of time. You just hold onto the handle and the edger is going to do all of the work for you, which is definitely what you're going for.
Things We Like:
11 pieces included
Comes with several extra brushes and rollers
Washable and reusable pieces
Comfort grip holder
A great all in one set
Things We Don't Like:
Not designed well for a textured surface like a textured wall.
Not mess free
Shur-Line 500 Premium Paint Edger
This premium edger is inexpensive, which is great for those who want to paint their own space on a budget. It also works great with any threaded extension poles so you can easily paint higher than you can reach and still maintain control over the unit.
The paint pad flush is made of a woven material that gives you straight lines that are also perfectly smooth. On top of that, you can be sure that you'll have perfect trim around doors and windows, which is just what you're looking for with this type of tool.
The design is simple to use and easy to hold, plus you get guide wheels that make it even easier to direct just where you want it to go. You'll be able to get your job done much faster and you can pivot or swivel the tool to get a straight edge.
Lightweight and complete with a lifetime warranty, this is definitely a tool that's going to make any painting job a whole lot easier for you. All you'll need is a few extra pads and you're ready to go for every painting project.
Things We Like:
Attaches to any threaded extension pole
Simple to use design
Includes guide wheels
Lightweight
Lifetime warranty
Things We Don't Like:
The guide/protector leaves a slight gap when used that may take some adjusting
Emery Edgers Paint Brush Edger Tool
This edging tool is actually a small paint brush that has a plastic shield attached to it. That means you can still get all of the flexibility and versatility that you expect with your traditional paint brush but you'll also have the convenience of keeping excess paint off the edges you don't want.
There's no dripping with this 1 ½" paint brush and it can be used with just about any material including paints, varnishes, lacquers, and stains. The shield can even be moved as needed and can be attached to a fabric paint pad to soak up any paint that tries to get through.
Inexpensive and lightweight, this is great for rough or smooth surfaces and allows you to get the job done without the use of painters tape or masking tape.
Even better, if the paint brush gets old or worn you can still use the edger pad because it will attach to just about any other 1 ½" paint brush with ease. That means you'll get unlimited uses out of the edging tool and you'll be able to easily get back to painting anything you need.
It gets in very close to the edges so you definitely won't have the lines and creases that you might get with other tools like this or by cutting in yourself.
Things We Like:
1 ½" paint brush with an edger
Edger attaches to other 1 ½" paint brushes
Works with most paints, stains, etc.
More like standard painting
Easy to attach
Things We Don't Like:
Not as intuitive as others, hard to learn the process
Point N Paint As Seen on TV Painting System
This edger is actually very unique because it looks a lot like an iron. There's a roller on the inside that you fill with paint and then you close it up and use it just like you would an iron on your wall, smoothing the foam paint pad (which is also shaped like an iron with a narrow point on the end) across the wall.
The ergonomic handle makes it easy to hold for an extended period of time and the design of the paint pad itself makes it simple to get deep into corners but without the concern for paint spilling over the edges when you do.
With this edger, there's no need for brushing at all because it's actually large enough and comfortable enough that you can use it to paint the entire space.
When it starts to run out of paint you just open it up and fill the roller again so it's ready to go. Very inexpensive, this painting tool holds up to 5x as much paint as a traditional roller and the paint tray makes it safer against spills.
Great for painting just about any surface (including smooth or rough walls) this tool is one that you'll definitely love to use and reuse again and again. All you have to do is wash out the pads and you'll be ready again.
Things We Like:
Iron design for getting into corners
Holds a large amount of paint inside the canister
Very affordable
Washable pads for reusing
Things We Don't Like:
A bit messy
Cheaper made than others of it's kind
Wagner Smart Edge Roller
Our final option is an edger with a roller and a tube installed. That means you can fill up the tube with paint and use the plunger attachment at the back to push the paint onto the roller as you go.
It holds up to 6 ounces at a time to get you across a larger section of your wall without having to stop for more paint, which definitely makes it more convenient.
Because of the design, you get sharp edges that you don't have to worry about taping off and the thumb trigger gives you even more control over everything that you're doing.
One full reservoir will cover up to 96 linear feet of space and the small size of the roller means you get good coverage without getting too far away. Because of the reservoir you also don't need to worry about a paint tray for your paint, just pour it directly from the can.
You'll be able to cut down on the amount of time that it takes you to tape with masking tape or to cut in on all of your corners with this painting tool and you won't need to worry about cleaning it off either, because it's washable and ready to go again in no time.
Things We Like:
Easy thumb attachment and plunger for adding paint
Small roller size for more control
Longer handle for added reach
Can be used for longer painting periods
Things We Don't Like:
Less coverage than other models
May require redo-ing a couple of times
Best Paint Edger Features to Consider
If you've never worked with an edger before, you'll want to take a look at some of the features and some of the different ways that they actually work. Each one is going to give you a little different style but it's going to be up to you how you prefer to work.
In general, however, the best paint edger tools are going to be one that helps you get the job done right and fast. That way you can make sure the room you want is painted and looks great, without the hassle of cutting in or taping it off.
A more old-school approach is using good ol' painters tape or masking tape to get the job done, which has it's place as well. However, an edger can save you a lot of time on your process and achieve similar results.
Roll-On Edger vs Smear-On Edger
A roll-on edger uses a small flocked paint roller that has a shield to make sure that it doesn't get paint where you don't want it.
A smear-on edger has a paint pad that helps to spread paint over any type of flat surface. You may have to fill the tube with paint or you may dip the paint pad into the paint like you would a brush.
A roll-on edger is similar to a regular roller in how you'll load it and the amount of paint that it holds (other than it's generally a little smaller). With a smear-on edger that only has the paint pad, you'll have to load it up frequently because the paint pad doesn't absorb a lot of paint at one time.
The smear-on edger that uses a tube, however, may be able to hold up to 50 linear feet of paint in one tube. That means you can load it up and get quite a lot done without even having to reload the tube.
Shields
When you do look at a roll-on edger take a look at the type of shield that it has (if there is one). A plastic shield may be less expensive, but it's not quite as firm as a metal one.
The shield may be made with plastic or metal depending on your personal preference. Not all of these styles have the shield, however, so it's important to look at them and decide whether you want or need it.
With a metal shield, you get a very solid and sharp connection against the wall so no paint is going to leak through but you're still getting right to the edge.
A plastic shield can have a little more of a lip to it which means you get a little less accuracy with this type of shield. You'll still keep paint out, but you may not get as close to the edge.
Size
You want an edger that's easy for you to hold and use, but it also needs to be large enough to get the job done. You don't want to spend three times as long painting an area because your edger is too small.
Make sure you consider different versions of edgers and look for something that you can easily handle and still get the work done in less time. If it slows you down too much you could be better off with the other options for painting those edges.
It's also important to consider what surface you're going to be painting on, aside from just the size of the area. If it's a wall, it's obviously going to be larger and require a different style of edger as opposed to painting furniture.
Extenders
Some of the best edgers even attach to an extension pole or other tools that will give you more height. That way, if you need to paint all the way up to the popcorn ceiling, you won't need to get up on a ladder.
You can attach the edger to an extender and then load it up and go. This can greatly cut down on the amount of time that it takes to get the painting done as well because there's no need to get the ladder, move it around or climb up and down in order to get more paint when you need it.
Material
No matter what type of edger you choose, it's important to choose an applicator that is made of a material that's appropriate for the type of paint you plan on applying. Stains and oil-based paint work well with roller-type edgers and brushes that have natural fiber covers and natural bristles. Use a roller cover or brush that's made with synthetic materials for acrylic paints and water-based latex. Paint pads can be used for either water-based or oil-based paints.
Brush vs. Pad
Paint edgers that have pads use the smear method to apply paint. These pads have absorbent materials that work like a sponge to soak up paint from the paint tray; these edgers have a textured surface that offers a clean finish. Pads can apply an even, smooth, full coat in one pass.
Brush edgers work like regular paint brushes. These edgers hold less paint than pad edgers, so it takes longer to paint. The guard on a brush edger cannot maintain as crisp of a line as a pad edger can. This is because the bristles on the brush need to move in order to release the paint. Brush edgers are usually a better choice than pad edgers when you're painting a textured surface.
Final Thoughts
Whether it be your walls, your deck, or any other personal project you might be diving into, it's important to show up equipped with the best paint edger tools available to you to make accurate strokes and save valuable time and money on repainting.
Accuracy for your paint job is essential, so make sure your edger is durable and won't go flimsy on you when you use it. You don't want to get paint everywhere and deal with an unnecessarily large mess at the end of things.
Of course, the specific style of edger that you choose is going to be up to your personal preference and ease of use.
Our personal choice for the best paint edger tool out there today is the Accubrush Paint Edger MX for its versatility and incredible multi-use purposes. Sporting eleven different tools at your disposal, you really can't go wrong with it.
Did you like this guide? Check out some other articles I have written: