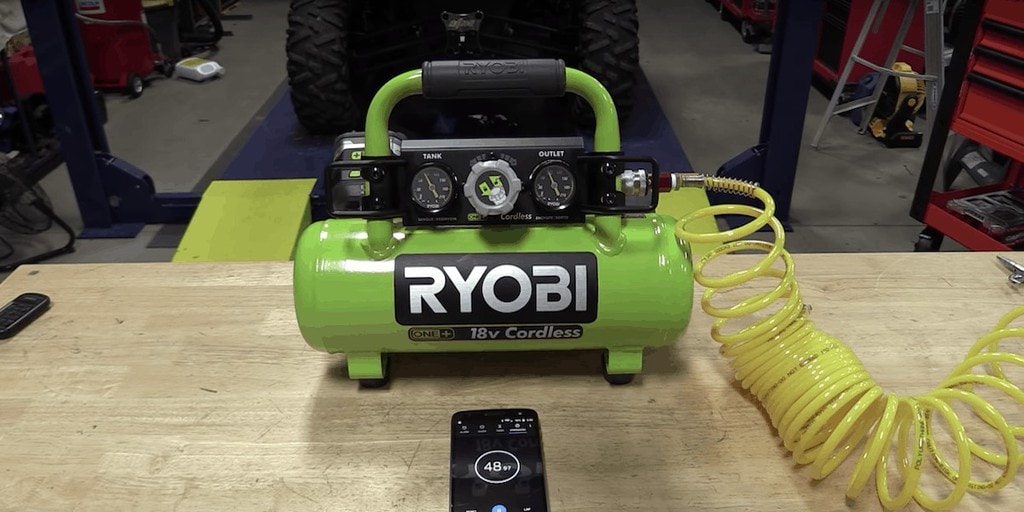 A portable air compressor is a necessary device for home builders, mechanics, and car owners all over the country. You need a reliable compressor that will allow you to smoothly and efficiently perform your job duties without having to worry about leaks and other issues.
When it comes to purchasing a portable air compressor, it can be confusing to understand all the features. There are only a few primary things you need to worry about when shopping for these devices, so it's important to keep those in mind.
We'll be covering our picks for the best portable air compressors as well as giving you some insider information on things you should be looking out for you when you are shopping around for compressors.
Best Portable Air Compressor: Our Top Picks
Tacklife Tire Inflator DC 12V Portable Air Compressor
This air compressor/tire inflator does 40: per minute and can fill up a flat tire in approximately two or three minutes. It has 120W 10A and working noise below 80db, so you don't have to worry about blowing out your eardrums when you go to inflate your tire.
To use the air compressor, all you have to do is plug it into a 12V cigarette lighter socket and press the power button. The compressor will automatically shut down when you reach the preset value.
What we like:
Low noise
Easy to store
Fast inflation
What we dislike:
Cannot use with pneumatic tools (car only)
Tirewell 12V Heavy Duty Portable Air Compressor
This versatile portable air compressor has a maximum air pressure of 150PSI, and it can inflate a tire in approximately two minutes. It has a fuselage with a four-rod design that effectively reduces noise and vibration while using the compressor. It also comes with rubber feet that prevent it from sliding around.
In addition to the traditional hose, it comes with a five-meter extension hose with a battery clamp to meet the needs of a long wheelbase. For this device, it's as simple as plugging the cord into your cigarette lighter and turning the switch on. Operation is straightforward for people who may not have a complete understanding of how to use a portable air compressor.
What we like:
Easy to use
Included battery clamp
Comes with an extension
Portable and lightweight
What we dislike:
EPAuto 12V DC Portable Air Compressor
This portable air compressor plugs directly into the cigarette socket in your car, and it powers to 10-15 amps. You can use this air compressor to inflate tires on cars, bikes, and midsize SUVs. It has a maximum psi of 70 and an easy to read display that tells you the PSI, KPA, BAR, and KG/CM.
This air compressor boasts a rating of 4.4 out of 5 on Amazon with many users expressing the fact that they love the power this product has for its small size. Other customers state that this compressor runs quietly, and it effectively pumps their tires promptly. The verified purchasers also love the autofill button that allows you to fill your tires while performing other work on your car.
What we like:
Quiet operation
Fills tires quickly
Simple and easy to use
Autofill feature
What we dislike:
Issues claiming warranty
Concerns over pumps dying quickly
Kensun Portable Air Compressor 12V DC Car and Home
Here we have a versatile air compressor that you can use to pump up your tires from the cigarette lighter quickly. With this portable air compressor, you also have the option of taking it inside your home and plugging it into a 110V wall plug.
The unit itself features easy to read classic pressure gauges that display PSI, bar, and KPA. You can inflate tires on your cars, bikes, and SUVs. The device also comes with attachments for balls and inflatables.
You also get a simple and easy to screw on the hose that enables a tight connection, so you don't have any air leaking. All their products come with a lifetime customer support agreement, but there is limited information available about their warranties.
What we like:
AC/DC compatibility
Compact design
Easy to read pressure gauge
What we dislike:
Short power cord
Issues with units smoking
Helteko Portable Air Compressor 150PSI 12V
Lastly, we have a fancy looking air compressor that plugs directly into your cigarette outlet. The device gets made from durable materials and stainless steel. It comes with an auto shut off that will immediately stop pumping the air when you reach your desired PSI.
The compressor features an LCD with a high precision and ultra-bright screen. You can fill a standard mid-size car tire in approximately four minutes using this portable air compressor. It also comes with an 18-month warranty.
What we like:
Sleek design
Simple and easy to use
Easy to read display
18-month warranty
What we dislike:
Short cord
Difficult to get the attachment to fit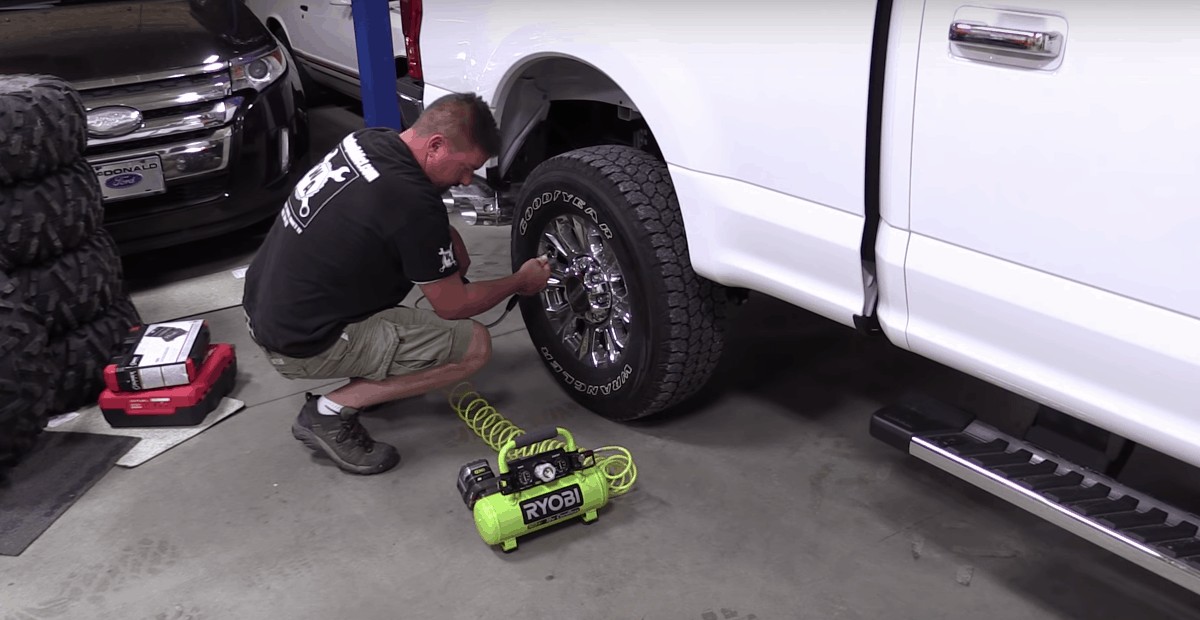 Portable Air Compressor Buyers Guide
You're shopping for a portable air compressor, so you have a general idea of what you're looking for. If you don't have a lot of experience with these devices, you could get confused and end up with something that doesn't get the job done or has too many unnecessary features that you don't need.
Either way, you want to make sure you are purchasing the right portable air compressor to meet your needs.
Factors to Impact Your Buying Decision
When you're thinking of committing to a portable air compressor, there are a few things you should have in the back of your mind. You should be thinking about how you plan to use it, what you plan to do with it, and where you're storing it. These factors all impact the type of compressor you get and what features you need to look out for.
Here are some important factors to always have on your mind when you're shopping around for a portable air compressor.
Work Space
There are many different types of air compressors besides the portable ones. These do the trick if you are trying to power a nail gun or use it to inflate tires. There are also standing air compressors that are used for heavier tools and more frequent pneumatic needs.
Make sure you understand the differences between a portable and stationary air compressor before you commit to one over the other.
Noise
Noise is always one of those things we want to say we don't care about when we do. You need to think about where you plan on using the air compressor. If you are using it as a backup in emergencies, you won't likely worry much about noise then.
If you are planning on using the air compressor regularly in a garage, you might want to go for an air compressor that is known to run quietly and has stoppers on its legs to prevent vibration.
Tool Requirements
If you're looking to use your air compressor to power tools you want to make sure you get the right amount of power to handle the devices you are looking to power. Each instrument requires different pressure and volume, so make sure that you purchase the right compressor for the job.
Many portable air compressors will not work for most pneumatic tools, so you want to take a look at your current situation and shop accordingly.
Portability
Air compressors vary dramatically in size from extremely heavy to really light. If you plan on working in a garage all the time with your air compressor, then portability might not be much of a concern. The type of compressor you get depends entirely on what you plan on using it for.
You also want to pay attention to the cords that come with the device. In emergencies, you never know where you'll end up so you would be better off going for a compressor with a long hose if you need it.
Appearance
Air compressors come in a lot of different shapes and sizes, and while this is not a direct reflection of performance, it has a lot to do with functionality. The primary styles you'll find are a pancake, pontoon, and twin-stack.
The pancake compressors are flat and round, pontoons are taller and horizontal, and twin-stack compressors have two tanks stacked on top of each other to maximize air capacity without compromising space.
PSI/Power
If you're consuming the air faster, then the compressor is providing it that means you'll be standing around waiting for it to catch up and that's never a desirable situation. You want to make sure that the portable air compressor provides a high enough PSI to get your jobs done and enough horsepower as well.
These are not usually issues that become a problem with compressors, but you should still keep it in mind.
Power
For power, you have a few different options. If you always have a readily available power source, you could use a plug-in compressor, but if you don't, you might have to go for a gasoline-powered or 12V DC plug in the car.
Some air compressors even run on rechargeable batteries. You have quite a few options, so make sure you choose wisely.
Individual Buyers Guides
Let's face it. Everyone needs an air compressor for a different purpose. The reason a mechanic might need one will not be for the same reason a homeowner needs one. Everyone has different intentions, so why focus on one buyer's guide?
How about we do a buyer's guide for each situation so you can learn more about how to use an air compressor for your specific needs.
If You're a Homeowner…
As a homeowner, you always want to be prepared for whatever life throws at you, and having a portable air compressor is one way to do that. Once you get a portable air compressor, you'll suddenly discover all of these things in your home that needs fixing that you didn't notice before.
You'll have the ability to use pneumatic nail guns to fix the deck and retrim the entire house.
As a homeowner, you are not looking to fill tires (unless you live in an RV) so you might want to go for a stationary air compressor so you can utilize it for your tools. These air compressors offer more power, longer cords, and more versatility for the type of work you want to do.
If You're a Professional…
An air compressor will make your job a lot easier, and the last thing you want to have to worry about is whether or not the air is going to hold up long enough for you to finish the job.
Professional grade air compressors are built to last a long time and also be portable enough to move around job sites. The specific duties of your job will determine the level of power you need in your air compressor. They come in a variety of different power ratings, and tank sizes so are sure to choose the one that makes the most sense for your profession.
Why Get an Air Compressor?
The last question you might have is "is an air compressor necessary?" You might be wondering if you need one at all, maybe you could get by without it. There are many reasons why someone would like to use a portable air compressor; let's remind you of some of those reasons.
Time – It's no secret that portable air compressors speed up any process that involves air. Whether you are nailing, drilling, or pumping; having a portable air compressor will take the amount of time it takes to get that job done and slice it in half.
Energy – Ask anyone who has worked for 40 plus years and see if they could have benefited from all the tools and devices we have today. A portable air compressor allows you to take a lot of the stress off your body and put it on the compressor. Less manual labor means less pain and a higher quality of life down the road.
Quality – Not only does a portable air compressor allow you to fill tires and complete jobs faster, but it also helps you to do them better. When you can take some of the manual labor out of the equation, you start finding that your work looks better even though you are working faster. Using a portable air compressor allows you to do a more professional job.
Best Portable Air Compressor FAQs
Why use compressed air over other power sources?

With forced air, you have increased safety, the tools are more lightweight, and air tools are more affordable.
How much pressure do I need?

A: Most tools have a usage rating, and tires have a PSI rating as well. The type of tool or tire will determine how much pressure you need.
Can I keep my air compressor outside?

No, you should not keep your compressor in a place where it will come in contact with the elements. You want to install it or store it indoors whenever possible.
Our Verdict
Technology is always helping us to improve the way we do everything. Gone are the days of having to pump up your tires by hand. If you feel that you could benefit from having your own portable air compressor you might want to look further into the EPAuto 12V DC Portable Air Compressor.
This air compressor combines functionality and design to bring you everything you would need from a portable air compressor.