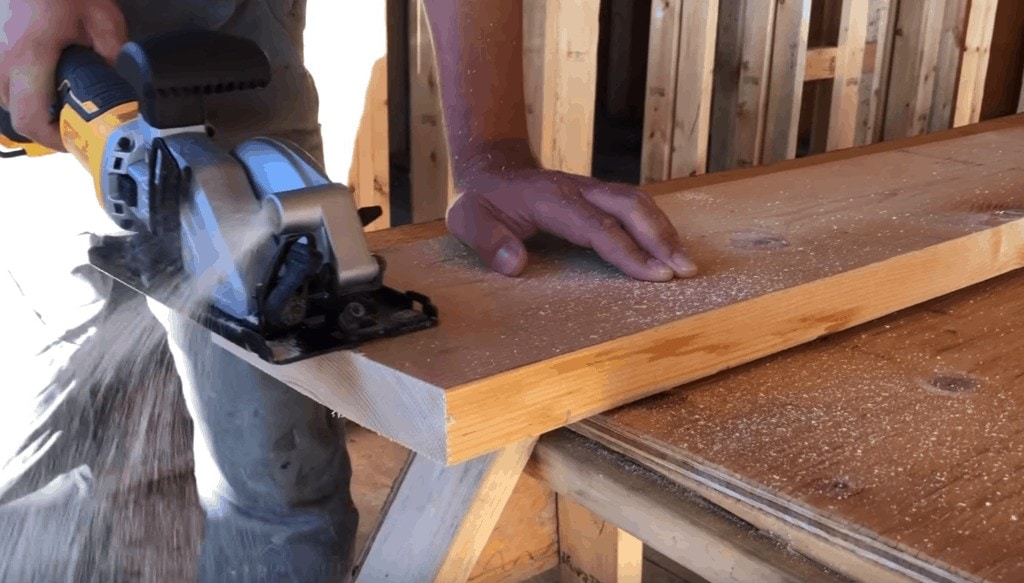 Small Circular Saws are a pretty common power tool, but they also don't get the correct respect in the tool world. There is no universal small circular saw, and each small circular saw is made for a specific purpose. Some are 4 and ½ inches, others are 3-3/8th inches, what job you want to do would influence what small circular saw you need. Keep reading to find the best small circular saw for common household jobs!
Are you looking for some general information on circular saws or other tools? Check out our complete resource guides on Miter Saws, Table Saws, Chainsaws, Band Saws and Circular Saws. These guides have all the information you need. You will be able to find history, the different types of the tool, top brand sold, and more!
Dewalt Small Circular Saw
The Dewalt compact 20 V 4-1/2 Atomic circular saw is a worm feed small circular saw that is capable of cutting up to 369 Feet of a ¾ inch plywood. The clearance is actually 1-9/16ths, which is just enough to slice through a 2 x 4 with ease. This saw works with all 20v DeWalt batteries.
Things We Liked
The rafter hook is extremely convenient and makes it easy to access the tool. There is a rubber bumper on the rafter hook to prevent scratches on the saw.
The depth gauge was easy to adjust and well marked. There is a push-down handle with a guide to let you know exactly how deep the cut is going to be.
It cuts 2 x 4's! The max depth is 1-1/2 Inches, and it still manages to saw through 2 x 4's with no problem!
Things We Didn't Like
It comes up short on the 45-degree cut, so it doesn't quite make it through the 2 x 4 successfully.
With the larger batteries, the saw feels misbalanced, but if you use a smaller battery, the battery doesn't last long enough.
Best For
Framing houses and cutting a lot of 2 x 4's in a short time. There is no need to carry the tabletop saw, or heavy circular saw around, or bend over and have to pick it up a hundred times with this saw.
---
Makita Small Circular Saw
Makita 3-3/8 inch cordless circular saw does not try to overstate its capabilities. This is a small trim saw, and it does exactly that. I use this to cut smaller pieces of plywood. I use it to trim cabinet pieces or make small adjustments to the trim.
Things We Liked
Light and compact, and cuts a 1-inch depth at 90 degrees.
1500 RPM's is not too much, but not too little either. The smaller level makes this saw to do what this size saw was designed to do.
Lithium-Ion batteries, with expandable battery packs.
Things We Didn't Like
The handle is really thin and feels almost too light, and the trigger is slightly too soft.
The battery doesn't really last as long as I would hope. You have to recharge the battery more frequently than expected.
The blade guard is made out of plastic, which gives very little protection if the saw gets dropped.
Best For
Cutting smaller pieces of wood or cutting drywall. If you have a drywall section that needs light fixtures cut into it, this is the perfect tool. Or if you are a hobbyist who needs small pieces of wood, but doesn't like using the table saw.
---
Ryobi Small Circular Saw
The Ryobi P506 5 -1/2 inch circular saw is just short of the standard 7-1/2 inch blade, but it is a great saw. Ryobi often gets a bad rap. It is not a professional-grade saw, but for DIY projects, Ryobi products are a good value. The maximum depth is 1- 5/8th, so it will cut through a 2 x 4.
Things We Liked
The low Price is really too good to be true, you do get a lot of value for your money, and it is lightweight.
It's cordless, which is pretty awesome for this size saw.
The saw is really light and versatile for a circular saw. I was surprised at how light this saw was.
Things We Didn't Like
The blade guard is made of plastic.
This saw has low power, and the battery needs to be fully charged for an afternoon home project. This is not a good all-day job tool. The battery seems like it is not strong enough.
Needs a lot more oil maintenance than a standard saw. Because of its design, the bearings wear out fast if you don't oil it regularly.
The saw blade size is not very common and difficult to find.
Best For
The DIY homeowner who only needs to cut a 2 x 4 a few times a year. This is also a good first saw for a new woodworker to learn how to use a circular saw.
---
There Are a Few Things to Consider When Looking for a Circular Saw
You want to make sure you get the correct saw for the job, some things to consider are the blade size, and the job that you are trying to complete.
Blade Size
All circular saws take a specifically sized saw blade, usually 7-1/4 inch diameter. You can always adjust the cutting depth, but the blade size does not mean that it will cut something the same size. Every saw will have a different depth range, which is important depending on what you want to cut. These saw blades also go dull and need to be replaced periodically.
Making sure that the circular saw that you intend on purchasing has a universal arbor so that you have no issues finding some replacement blades.
Power Rating
There are different power ratings for circular saws, 15 amp saws are pretty standard and work for around the house, or infrequent use. If you plan on cutting really long pieces of plywood or using the saw in an industrial setting, you may want to consider a higher power rating, including speed.
Sidewinder versus worm feed
Wormfeed has a higher torque because the motor is in line with the blade; this is ideal for cutting hard surfaces, like concrete or wet lumber. This saw is made for heavy use and is resistant to kickbacks.
The Sidewinder saw is what most people think of when looking for a circular saw. The motor is on the side of the blade, making one side heavier than the other. This type is ideal for home projects and cutting projects.
Brand Info
Dewalt
Dewalt tools have been a market leader with 9 innovation awards in 2018 alone. When thinking of interesting, tough power tools, Dewalt is usually the name that comes to mind for home use. Dewalt also makes on the Jobsite ready tools, that can keep up with the competition as well. No wonder they offer a 3-year limited warranty on their products. You will never have an issue finding any service centers for Dewalt if you need to.
Makita
Makita is over 100 years old and has been innovating ever since its start. They do make strong tools for commercial-grade equipment for construction workers. Makita has a number of service centers available in multiple areas if you have any issues, or need to use your 3-year limited warranty.
Ryobi
Owned by Techtronic industries of Hong Kong, Ryobi has worked with major manufacturers, such as Craftsman, and Milwaukee. Their product line is only sold in the United States at Home Depot department stores. They do provide a 2-year limited warranty on their power tools, but it is difficult to find a service center.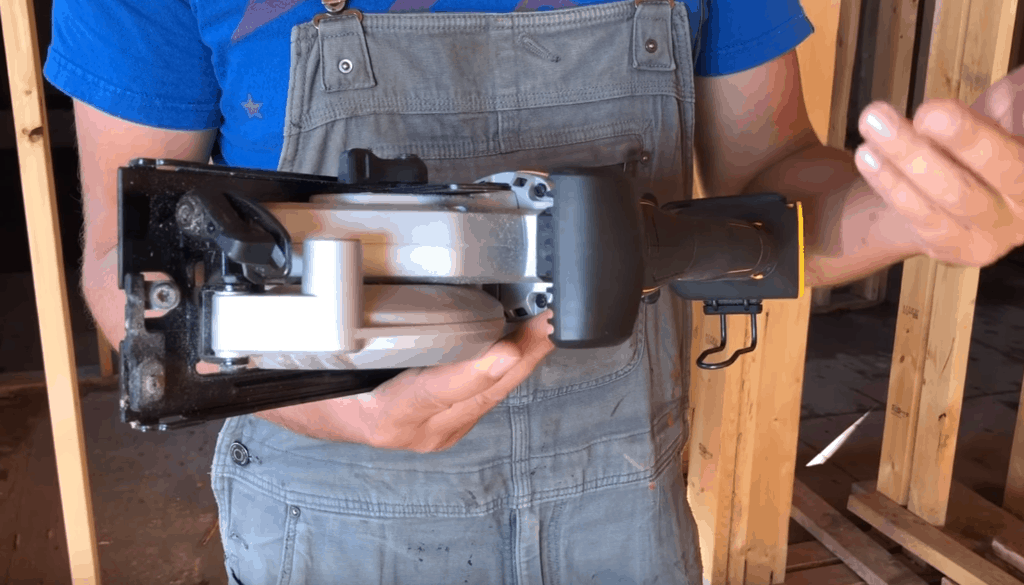 The Best Small Circular Saw: Our Take
All three saws are great and used for different purposes, we like the Makita 3-3/8th for cutting drywall, and our pick for 2 x 4's is the Ryobi. The Dewalt is a cool looking and exciting power tool, but after the excitement wears off, I don't think I am going to use it as often as I intended to.
The Dewalt Atomic 4-1/2inch small circular saw is really flashy, shiny, and new, which makes it an attractive option, but when it comes to making the important cuts, it falls short.
The Ryobi cuts through 2 x 4's and other pieces the same exact way the Dewalt does for a much lower price. The only downside to the Ryobi is that the replacement saw blades are difficult to find anywhere except Home Depot.
Are you looking for more guides on circular saws? Check out some of our most popular guides, Best Circular Saw Blades – Buyer's Guide, Lowe's Circular Saw Buying Guide, ROTORAZER Compact Circular Saw Review, and Best Cordless Circular Saw: Which Saw Should You Buy?