In this post, we are going to focus on woodworking projects for the garden. Creating things for your garden instead of buying will save you money and give your yard a touch of creativity. We have gathered 25 woodworking projects for the garden to help save you money and inspire you to create fun and creative things. For more woodworking ideas check out 50 woodworking projects you can sell online.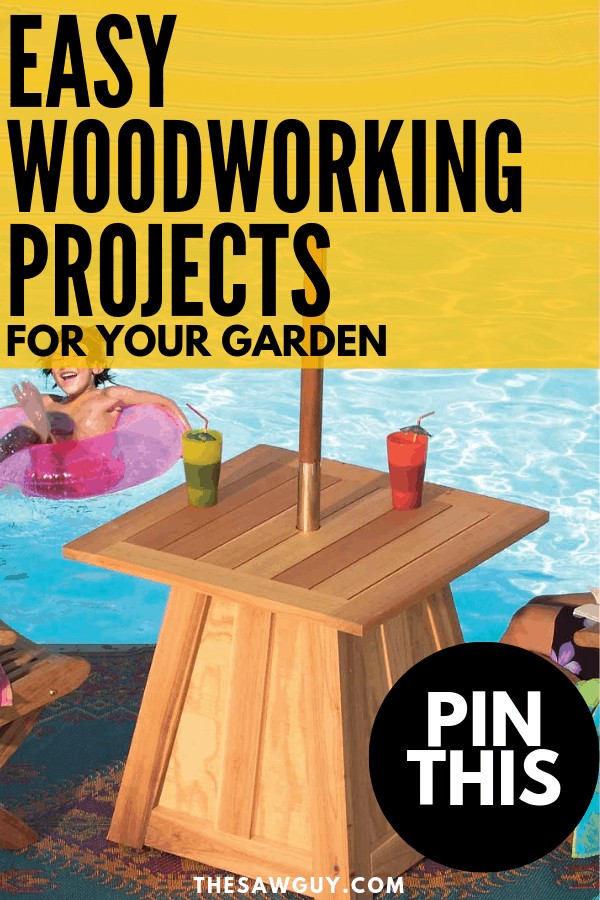 1. Wooden Tree Bench
This wooden tree bench is a great way to spice up your garden. It is a simple yet awesome design. It will naturally take on a hexagonal shape to fit around your tree. You could create one that is circular but if you want it to fit the base of the tree as best as possible the hexagonal shape is the way to go.
2. Sandbox with Built-in Seats
Are you looking for a project that'll be fun for kids? This sandbox is perfect for that. This sandbox has built-in seats so you and your kids can play in the sand comfortably
3. Garden Trellis
Climbing plants are a great way to add charm to any garden. However, they need a place to grow without compromising your other plants. This trellis can help with that. You can have a few climbing plants grow on this trellis, and once it fills in it will look amazing.
4. Planter Box
This planter box is a very simple plan and the process of making it is simple as well. Another great thing about this project is the style of it can go with any style patio.
5. Potting Bench
Do you need a place to prep and pot your plants? If so, this potting bench is perfect for you. You will be able to store things like soil, pots, tools, fertilizer, gloves, etc. You will be able to prepare everything you need and it will help you keep everything organized.
6. Picnic Table
Do you want a picnic table that looks a little more modern? This pedestal picnic table is perfect. You will be able to tie this picnic table into any part of your yard. It is modern enough to stand out but simple enough to blend in with any space.
7. Patio Table
This patio table is perfect for those who have a smaller space. It's small enough to fit anywhere but is still big enough to hold your drink, books, and food.
8. Modern Style Birdhouse
This birdhouse takes the common birdhouse and brings it up a notch. It is colorful and modern-looking which really makes it stand out next to plants and trees. This is a very cute project that won't take long to complete.
9. Raised Planter
This raised planter is super easy to build. It is great for planting fruits and herbs. This planter also has a place for storage. You can store pots, soil, tools, etc.
10. Porch Swing
Porch swings are a great addition to your home. Whether it is on your porch, or in your yard or garden. They are a great way to relax and de-stress. Another great thing is your yard or porch doesn't have to be huge to incorporate this project. Kids and adults alike will love this porch swing.
11. Patio Garden Pond and Planter
This patio garden pond and planter is capable of holding water plants and regular plants. It is a great way to add a little water feature to your space. Also, you will coat it in a rubber lining that will protect it, meaning it'll last for years.
12. Wheelbarrow Planter
This wheelbarrow planter is a really cute piece of decor. You can add a variety of plants to make the entire piece stand out. For more garden ideas check out 119 raised garden bed ideas.
13. Three Tier Planter
This is a great project for your garden. It is great looking and fully functional. A few other great things are is it is very simple to build, durable, and affordable. This planter is simple but still very elegant looking. For more planter ideas check out 25 unique ideas for a DIY pallet planter.
14. Drum Planter
Are you looking for a planter that has a DIY style? If so, this drum planter is perfect for you. This drum planter looks great but shows off that it is a DIY project. This planter is great because you can use scrap pieces to create it, meaning any left over materials you may have can be used.
15. Wine Caddy
This woodworking project is not something you see very often, but it is a great idea! This wine caddy is a great way to hold your wine bottle and glasses during an outdoor event like a party or get-together.
16. Island Deck
This island deck is great if you don't have a patio or deck. Fortunately, it is super easy to make and you can have it done within a few days.
17. Umbrella Table
This umbrella table will protect you from the sun. You can enjoy a drink by this stylish project. This is another project that isn't too hard to build.
18. Folding Chair
These folding chairs are amazing. They are really easy to build and they're very functional. It has a simple design. It has a handle cutout in the back so you can easily carry it.
19. Tiered Plant Stand
With this tiered plant stand, you will be able to show off your favorite plants. This tiered plant stand is super easy to make and you will be able to fit it almost anywhere.
20. Butterfly House
Do you love butterflies? If you do this butterfly house will give butterflies a safe place to live. Butterflies like dark, sheltered areas when hiding from predators or when the cold weather comes around.
21. Porch Trellis
This porch trellis is great for growing climbing plants and giving you privacy. You can attach it to any part of your porch and you can build more than one to add to the appeal.
22. Garden Cart
This garden cart is a must-have because it is a lot easier to handle compared to a wheelbarrow. You will be able to do everything a wheelbarrow can with less strain on your back.
23. Garden Arbor
This garden arbor will be a great addition to your garden. It comes with a swing to add to the level of relaxation. It may look like a difficult project but it really isn't.
24. Self-Watering Planter
Do you forget to water your plants sometimes? If so, this project is a must-have for you. Add a self-watering planter your garden and never worry about forgetting to water the plants again.
25. Pond in a Box
If you were considering a pond in your garden area this pond in a box is a must-have! This project is safer and faster than putting a traditional pond in. You don't have to dig, all you have to do is build!
There are 25 woodworking projects for the garden! We hope these things help inspire you to start creating woodworking projects for the garden. The great thing about this is you can create almost anything. Have you ever created projects for your garden? If so, what have you created? We would love to hear your thoughts, please feel free to leave a comment. For more woodworking ideas check out 26 of the best woodworking projects for kids.