Pallets are a great way to add a creative spin to your garden, they are so versatile! You can create so many things with them. In this post, we are going to focus on unique ideas for a DIY Pallet Planter. Creating a DIY pallet planter for your home instead of buying one will save you money and give your yard a touch of creativity. We have gathered 25 unique ideas for a DIY pallet planter to save you money and inspire you to upcycle pallets into fun, creative planters.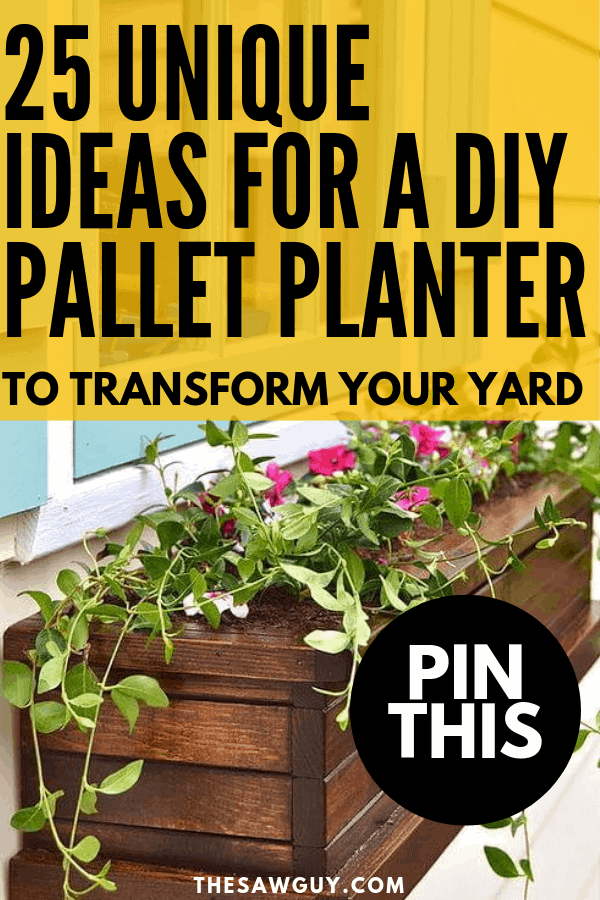 1. Plant Your Herbs in This Pallet Herb Planter
Herbs are beautiful, they smell great, they're easy to grow, and you don't have to spend a ton of money on herbs at the grocery store because you already have what you need at home! This planter is really easy because all you do is hang a pallet on the side of your house and configure it to allow plants to sit in it comfortably. That's it!
2. Keep Everything Organized with an Upright Pallet Garden
Do you like to keep things organized and do you like to save space? These upright pallet gardens do just that and they look really cool! Since this upright pallet garden has so much room you can plant a variety of things. For example, one side could be herbs, one side could be vegetables, one side could be flowers, etc. The possibilities are endless.
3. Use Pallets as Raised Garden Beds
Raised garden beds are lifesavers for people who live in locations that don't have great soil. However, buying garden beds can be a little pricey. Fortunately, there is an easy and cheap way to get raised garden beds, use pallets! All you need to do is place the pallets on the ground and fill them with dirt and then plant your seeds. More DIY Garden Ideas you can build today.
4. Attract Butterflies with a Pallet Butterfly Planter
Do you want to attract butterflies to your yard? You can do that by putting specific flowers into this planter. It's cute and functional without having to take up too much space. While the planet itself doesn't attract butterflies you can plant the right flowers and those will!
5. Vibrant Colored Pallet Gardens
These vibrant colored pallet gardens have the same idea as the pallet herb planters. You can hang these up outside and configure them to hold plants. However, before you do that you can spray paint. If you want something on the cheaper side and colorful you may want to consider these pallet gardens! If you want more DIY Decor ideas, check out 22 rustic DIY home decor ideas for 2019.
6. Use Pallets to Create Pots for Your Indoor Plants
These unique ideas for a DIY pallet planter apply to the inside of your house as well. Do you like the look these pallets give off and want to incorporate them into your house? Well, you can do that with this DIY. You can use pallets to create pots for your indoor plants.
7. Keep Track of Your Succulents with a Vertical Succulent Planter
To create this planter you need to first, cover the front of the pallet where there is just enough space for the succulent to grow. Next, cover the back of the pallet to ensure the plant and soil stays in place. That's it! You can customize it from there if you want.
8. Plant an Array of Flowers in a Vertical Flower Planter
Flowers are beautiful, they smell great, and they add vibrancy to your yard. This planter is really easy to make. All you have to do is modify the pallet to hold soil and flowers. You can place it wherever you want and you can add whatever flowers you like. Easy right?
9. Pallet Planter with Wheels
This planter is great for anyone who needs to move or transport their plants. This planter is tiered which gives you the opportunity to utilize it as much as possible.
10. Small Tiered Pallet Planter
This small tiered pallet planter is similar to the planter listed previously. It is a compact version. Unfortunately, this one doesn't have wheels, but I'm sure you could customize it to have wheels if you want. If you need pallets there are a few ways you can get them for free, for more information check out 10 tips for finding free pallets.
11. Hanging Pallet Organizer for Pots
This hanging pallet organizer for pots is a really easy way to keep track of all your small potted plants. You can hang this up or have it lean against a wall. For example, you can organize your plants by type, age, size, needs, etc. You can also add labels to the organizer to keep track of which plant is which.
12. Pallet Planter with Hanging Flowers
Getting that beautiful hanging flower look can be difficult. That is because when you try to achieve this in a flower pot the flowers strangle each other or get trampled by wildlife. They have no protection. With this pallet planter, all of those issues are fixed. The flowers are protected and have their own space to thrive.
13. Pallet Bench Planter
This pallet bench planter is a great way to utilize pallets. You get two for one, you get a planter and a piece of furniture! You can customize the bench when it is complete with pillows and cushions.
14. Tiered Pallet Planter for Herbs
If you don't have a big yard or just want your planter to fit on your patio or deck this planter is perfect. You can fit it right in the corner because it is L-shaped. The organization you can have with this planter is great because you can organize your herbs from smallest to largest.
15. Window Flower Box Made from Pallets
Flower boxes are a simple way to add charm to your house and tie your yard together.
16. Stacked Pallet Planter Boxes
This project works well in any space. This is because it is vertical, meaning it doesn't take up much floor space. You can customize the boxes to fit your needs.
17. Pallet Hanging Planter for Flowers
Store flower pots can be expensive. With this hanging planter, you can create the size you need and customize it to fit the style of your home.
18. Triangular Pallet Planters
This project is a great way to add a modern twist to your yard! These planters are definitely a statement piece.
19. Pallet Planter for Strawberries
Strawberries can be a difficult plant to grow, not because of what they need but because once they start growing they grow quickly and can become hard to manage. Fortunately, with this planter, you can easily take care of and manage your strawberry plants!
20. Create a Simple Greenhouse from Pallets
There are many plants that thrive in greenhouses. However, purchasing a greenhouse can be quite expensive. Fortunately, there is a cheap and easy way to get a greenhouse! You can use pallets!
21. Use Pallets as Garden Frames
These pallet garden frames are eco-friendly and great for organization. The best part about this project is there is no need to modify or change anything. All you need to do is plant the seeds!
22. Create a Window Planter from Pallets
This window planter is a great way to display your herbs. If you are going to use this planter be sure to check and see what herbs do best in these types of planters, some do better than others.
23. Pyramid Planter Made from Pallets
This planter looks really cool and can be created in a day. It's almost like a puzzle. You have to cut the proper shapes and then slide them together.
24. Unique Pallet Planter
Do you want a regular pallet planter with a little bit of flare? This uniquely shaped planter is just like all the others but it has a modernized flare to it.
25. Recycled Pallet Planters
This planter is a great way to display plants. You can use used pallets for this project, making this project very eco-friendly. Do you want more projects to work on? Check out 10 weekend – friendly pallet project ideas.
Now you have 25 unique ideas for a DIY pallet planter! Hopefully, you found at least one unique idea that you like and hopefully this inspires you to get creative and create some great, useful creations. Have you planted herbs, flowers, or vegetables in pallets before? If so, how did it go? Are you going to try any of these ideas? We would love to hear from you so please feel free to leave some comments below! If you need information on how to properly disassemble a pallet, check out how to disassemble pallets – 2 easy methods.